AV Room Extended Interview: Jason Bonham
If you hear the name Bonham, you instantly think rock royalty—two-fold. Everyone knows that the late John Bonham of Led Zeppelin had a son, Jason, who's been a drummer since he could see the top of a hi-hat. We caught up with Jason while he was touring with Foreigner, and he made time to do some bench-racing with us. What many people here in the States don't know is that while Bonham may have legendary drumming bloodlines, he's a motocrosser at heart.
Racer X: I hear you're good friends with Ricky Carmichael. How did that come about?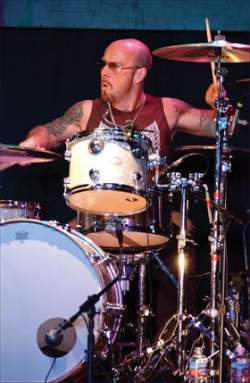 photo: Marty Temme
Jason Bonham: I've become quite friendly with Ricky over a period of time…. It's kind of a long story. I first met Ricky in Paris when he was just a kid, not even riding, just there to check it out. I was over there with [Jeff] Emig. Then, years later, I was on the infield at Anaheim and he [Ricky] shouted out to me, "Hey, Bonham!" I didn't think the guy would remember me. So, we kind of kept in touch. He's very, very cool. He's a very wonderful, very nice guy.
Have you had a chance to ride with him?
Not yet. We're going to try to, but our schedules are so busy. I live down in Florida, too. We were trying to get together over the holidays. My son, he's so funny, he went straight up to Ricky at Anaheim and says, "I'm going to tell him, Dad," and I said, "You're going to tell him what?" He says, "Ricky, my dad bought a Kawasaki." Ricky just looked at me and said, "Thanks." It was just one of those things. My connection with Kawasaki goes back to when I was 11; I got picked up by Kawasaki in England. My dad actually became part of Team Kawasaki's financial backing in the U.K.; he did so for three or four years. My whole family, believe it or not—my dad and myself—we have been into motocross racing since I was 10.
What year was that?
That was from '78 onwards. That was with Kawasaki. Kawasaki came in and said, "We want to sponsor your son." Dad said, "If you want to, but financially, we're okay. But what about if we pick a few riders and make it a big thing [race team]." That size of the operation was intimidating to the guys with just pick-up trucks and trailers, when we showed up in the big Kawasaki trucks. It was a great way for Kawasaki to start picking other riders. We used to have the real thing. We used to have the full-on 125 works bikes, none of this production thing. You could not buy them. It was very cool.
Who else was on your team?
When I first started, Dave Thorpe was on the Kawasaki team with us—we used to go riding with Dave—a guy called Mervin Anisty, who ended up being a GP rider; Jeremy Whatley, who also ended up being a GP rider; and Brian Wheeler, who was another GP rider in the U.K. Kurt Nicoll was one of my main rivals. He was a couple years older than me. I went to into a class a year earlier than I should've been, and I remember the learning curve. It was intimidating being beaten by Kurt. That's when I first left Kawasaki and went to Mugen Honda—the first Mugen Honda, the first water-cooled Honda that was ever in England. It wasn't a great year for me.
My best year was the year after my dad died, which was a shame. I got second in the U.K. British Championship, which is like the Amateur championship, like you have Loretta Lynn's. We had three divisions, and it was a two-day event. You went in, you qualified, you raced, you qualified, you raced; then the second day, you qualified and raced.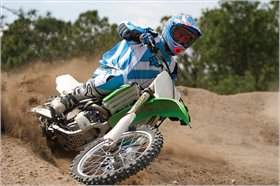 photo: Glenn Gardner, G2photos.com

What class was that?
125. It went by ages and bike size, so it was like 125, 13-15 and the next class was 15-17, and I was in the 13-15-year-old class. And that was amazing—a great feeling. A Kawasaki guy actually won it; he was on a factory bike, and I was on a stock Suzuki. Just the feeling, back in those days. I remember it like it was yesterday, I really do. I got the holeshot in the last race and kind of disappeared. I had to win and the guy on the Kawasaki had to finish seventh or higher to win the title. I think two corners from the end, the guys in third, fourth, and fifth went down. And he just went around them, and me, and I just lost it. It wasn't meant to be. Soon after that I just put the bike away and concentrated on drumming and got into music. Then it was one of those things where I couldn't leave the bike alone. Every now and again, I'd get a bike and still ride when I'd get some time off. Obviously, it's not the best thing to do if you're playing drums—to ride a dirt bike.
Backing up a moment, what year was is that you got second in the championship?
That would be '81. Mark Bennett won it. Stewart Coil, who went on to be a GP rider, came in third. Jeremy Whatley won next class up. That was his year before he went pro. It was a lot of fun. There were some great riders around then. This is how I became friends with Jaime. Paul Mailin and Jaime Dobb were in the 9-11-year-old class; they were riding 80s. I was the only kid who used to have all American JT racing stuff, because dad would send it over for me. So I was the ultimate poseur; I had the Scott boots. I used to say, "If I'm not going to win, I'm going to look good."
The old plastic Scott boots?
Yeah. It didn't matter how uncomfortable they were, if nobody else had them, I wanted them [laughs]. In England, our heroes were like, Brad Lackey. When my dad met Brad Lackey, he was so in awe of my dad, because the Led Zeppelin thing was so big in the States. This was when Brad was on Kawasaki, around '79. He was in awe of my dad, and I was in awe of Brad because he's American! And if you were English at the time, anything American was just amazing, because they looked the coolest. I guess that's kind of stayed the same, really.
How did you get started in motocross?
My first bike was an Italijet, an Auto Italijet. I was 9. We saw it in the south of France on holiday, on vacation, it was in a supermarket. And I said, "I want a bike like that." And Dad says, "When we get home, we'll get one." When I look back on those pictures, I laugh: I had on the old aircraft goggles and no visor, and for my first race shirt, I wore a Chicago Blackhawks hockey jersey—so uncool.
Here's a funny story: For my first race, my dad put a hitch on the Rolls. So we turned up in a Silver Spur with this little Italijet on the back. People looked around and said, "Oh my god, look what has just arrived." And of course, my dad was young at the time—and had long hair—and people just weren't really into it at the time. But it soon got better. Within two races, people said to him, "Your son has got a natural flair for it, so why don't you get him a bike?"
The next thing to evolve was the '75 Honda four-stroke. I had a couple of really good races on that in the 11-year-old class. And somebody says to my dad, "You'd better get him on a two-stroke." I think that was the year that Suzuki brought out the first 80cc, so that would be about '78. I was second in the British Championship back then when I just started, but I didn't really know too much about it. It was just a race I entered. And I remember everyone just jumping up and down—and I said, "I don't know." Dave Thorpe was still riding Suzuki in the Schoolboy level; he hadn't gone pro yet. He was still, like, 16, kicking everyone's ass.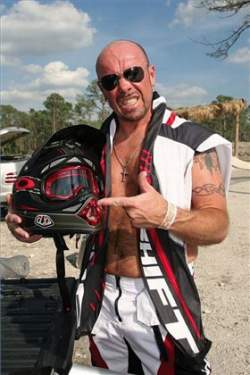 photo: Glenn Gardner, G2photos.com

You mentioned Kurt Nicoll—he's still thumping the younger guys.
There's a certain level of natural talent. There's so much you can do with it after pushing yourself. Ability on a motorcycle has a lot to do with it, like pacing yourself and knowing the lines. Going back to the Kawasaki times, I enjoyed it tremendously, when the pros would give the younger guys advice. I was talking with the Kawasaki team boss now about Alec Wright, who was the team boss back then. Alec was ahead of his time with his teaching. On a normal clubman race, where it didn't really matter, he would give us objectives and goals—like riding without putting our feet down in one event. We'd have to go up to the line and weren't allowed to touch the ground with our feet. And then there'd be a race where we'd have to stand up the entire time from start to finish, and Alec would have spotter around the track who would throw stuff at us if we didn't. It was a good learning curve. He taught me how to ride dirty from the time I was 11. If you're in trouble and the guy behind you is faster, you brake-check him and bring him down, then you carry on. And I was like, What!? Basically, whatever it took to win a championship. And if you had to take one for the team, you'd take the other guy out so you can win the race. In the end, the corporate guys came into the racing in England and took over the little fun bit—it's a shame. It's a big thing now. Yes, Alec—his son went on to run the Ducati road race team, I think.
Do you follow road racing?
No, I'm pure motocross. I'm the guy who can't even wait to watch it the next day on TV. I have to get it sent to my mobile [phone]. And I still watch it even though I know who's going to win.
Do you get to ride much when you're on tour?
Not when I'm on tour. But I found a great venue, out in the Seminole Indian reservation down where I live, which is right in the middle of Alligator Alley. It's got two styles of tracks: an outdoor track and a supercross-style track. That's kind of daunting, because in England, most of the tracks—for safety reasons—there are no doubles or triples; they're all table-tops, bigger or smaller, or timing sections. So here, when they were doing some pretty big doubles and quads and smaller quad and timing sections, they were kind of daunting at first. I basically latched on to another guy and followed his pace for a couple of laps so that I could do it. And I must say, even today it's still one of the best feelings in the world. When you come into a section that you're struggling on, and all of the sudden you get it right and you do the quad, or you do the triple…. I still find that's one of the greatest natural highs you could ever want in the world, and nothing else can ever top it—apart from playing in front of 75,000 people.
When did the drums really take over from dirt bikes?
Up and down—it's pretty much like a badly-made movie [laughs]. I basically left the motocross scene, for a short time, when I was 16; I got basically way into the music. I went from the 80s to the 125s, had my second success in '81, then in '82 I raced one more year in semi-pro, but in the outdoor mainly, where it was a lot of older people. Which was pretty good. Then I thought, You know what? I don't want to do this anymore, so I went into playing drums and toured extensively with bands like Queen and AC/DC, opening up. I was in a band that signed with Atlantic records—I was, like, 17, and we toured all over Europe. It was great. But I missed it [riding]. The next thing you know, I had a bike again. I was riding again within four years, and in the odd few days, I'd race—when I had time off. It's been music, basically. Then, about 5 years ago, I made a big decision in my life: to turn my life around and take away some of the demons that kind of haunted me, so I basically cleaned up my act, and one of the things I took up again was motocross. I never used to think about partying or getting drunk when I had my dirt bike. So, you know what? I'm going to do it again. And I had four really good years racing amateur every weekend, gave up the music for a while, and just did that. For two years solid, I didn't even bother playing the drums—I just raced for two seasons. And that, to me, was a great way for me to start my sobriety, and it was just fantastic.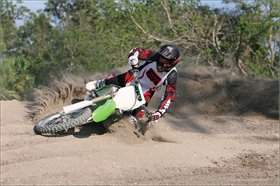 photo: Glenn Gardner, G2photos.com

What was the last race you participated in?
My last race was last September, back in England. I only just gave up my bike. I had an '03, 04', and an '05 Honda, and I just got rid of it when I moved back to the States last year. Then, when it got to the end of the year, I went out and bought the new KX 450 four-stroke, just after Christmas. I find it really easy to ride. And it's good in some ways that I really haven't ridden in 12 months, so to compare it to anything is too far back. Although I would say that the tracks I'm riding on in Florida are very sandy, very loose. So it's hard really to tell at the moment of the grunt that the bike's got. So all I've done is put two extra teeth on the rear, because I shift early, to try to get me back in the powerband. Instead of changing my style, I change the bike a bit. I'm too stuck in my ways to turn it around—the greatest invention was when they brought back the four-stroke; my racing career in England went from fifths and sixths to seconds and winning the odd race. In '04, I won one of the rounds of the four-stroke amateur championship in the U.K.—that was one of the greatest feelings, being back on the podium after all these years in a big race. It was the look on one of the dad's faces, when he pointed to me and said to his son, "Look what just beat you. He's old." It was a classic. I still very much enjoy it.
Does riding help your drumming, or vice versa?
The timing, I suppose. It's always timing and figuring it out. But obviously it keeps you physically fit; it keeps you where you are. I can play a lot longer and harder. For me, it's just a great way of switching off. When I'm not working, it takes a hell of a lot of stress off me. My mind—I can go off and start thinking some dark, weird stuff. And I just enjoy having something to switch over to—from music to motocross—and I'm still ordering far too much stuff and it keeps showing up from UPS. My wife says, "Hold on a minute—you're just riding for fun, right?" Yeah, yeah sure. The she says, "But you've got three boxes from Troy Lee, and all these other boxes." I can't stress how much I enjoy it, and I'm going to be going to a lot more races. My ultimate dream—I was going to ask some of the Kawasaki guys if they could do it for me—would be to ride at Unadilla on amateur day, cause this year it's my 40th birthday, but next year just to turn up on a 450 and just go out and ride it. It's kind of one of the tracks I'd dream of as a kid. And just to do it once and say, "You know what? I did it." It would be a lot of fun. Or Steel City—just ride Steel City on amateur day. I love the situation at Steel City.
Last time I rode in the States was in '96, and McGrath and Emig came down on amateur day and shat the deuce. I wasn't having a great day. I couldn't believe the length of time; my first race was, like, 10 in the morning, my next race was like, 5, in the afternoon—it was in Hangtown.
There was one situation, my uncle would come to the races when my dad was touring, and he'd hold three or four visors. If I crashed and broke my visor, I wouldn't race. I'd have to pull in and put a new visor on. I couldn't be uncool. That was what was important.
Did your dad ride?
No. He tried once, very miserably, and said, "Come on, I'll take you out riding," and he crashed very badly. The greatest thing about the bike thing was that dad didn't do it. Well, he was into it, but it scared him to death, and he was so nervous about me racing. It wasn't a naturally passed-down thing, like with my drumming, wherever I go in the world, or what I do, I'm the son of John Bonham—who is possibly the greatest rock-drummer in the world. It's a hard act to follow. It's like, if Ricky has a son, or McGrath's kids ride. It used to cause me some problems in the old days.
Well, your kids are going to be known as Jason Bonham's motocross kids!
Well, I must say that one of the greatest feelings in the world happened when I was talking to Jeff Emig. I saw him in an airport and I couldn't quite figure out what band he was in. He said, "I'm not in a band." "But I know you from somewhere," I said. Then he told me his name and I said, "Wow." He said to me, "You're pretty good," and I said, "At drumming." He said, "No, riding." I was so pleased that he knew I rode. That just made my day. It really did make my day.
Jeff was such a huge Zeppelin fan. When he won one of the outdoor titles—do you remember the picture when he had the four Zeppelin symbols on the back his pants with 10 Years Gone on them? That was one of his favorite Zeppelin songs. On the internet, sometimes, there were places that weren't being too nice about Jeff and me being friends and blaming me for being a bad influence. You know what? We're all big boys and we all make mistakes, and Jeff has turned his life around. He's in fantastic shape. It was a shame about his injury. He still has a lot of great things to offer motocross. Jeff and I have been back in touch again and talking possibly about doing something in the future.
Do your kids ride?
My son, Jagger, does. Before we left England he had a KTM, which was ridiculously fast. So, he's really into it. But he's at that age where he's into everything at the same time—soccer, football, lacrosse, baseball—he wants to play basketball. My dream would be for him not to play drums but to race. I would love to be able to go to the races and see him there.
Well, Florida is prime riding and training territory, with Ricky, James, and Chad around.
Also, the tax benefits are wonderful [laughs]. Another thing is obviously the weather down here is a benefit—you can ride all year. When you're at that level, being fit and being bike-fit is two different things, I find. You can get a guy who can run a marathon and run rings around people, but it's a big difference if you put him on a bike. Riding time is definitely a major thing. No matter how fit I thought I was, I never used to do as much training as I do now. When I jump back on that bike, I go four laps and I'm like, "Oh my god!" And that's the thing. It's hard to keep that pace, but those guys can do it lap after lap after lap. That was the difference with the top guys. You start losing a second a lap, or two seconds a lap, because you're getting tired—you're gone. You're 20 laps down. You're history.
I've met Stephan Everts a couple times. He's a drummer. He likes to drum, and Ricky does, too. That's the thing I told Ricky—you teach me how to ride better and I'll teach you how to drum better [laughs].
When you go to the races to race, not just to watch, does your whole family come along?
Yes. That's one of the great things about motocross. In England, at the time, it was a big, social, family thing. Living over here, it's difficult with me working. I miss that. I miss my friends from all those Sundays, from all walks of life. Those guys really don't know me as Jason the drummer; they just know me as Jason the poser [laughs]. And they say, "What is it that you actually do?" I tell them I play drums in a band. And they're like, "No, what do you really do for a living?" That's the cool thing about it. I'm just known as another guy on the starting line. Nobody treats me any differently. Nobody thinks about my dad's band. I'm just another guy on the starting line, who's probably annoying everybody. I'm really good friends with Rob Ward, Doc Wobbles, And my mechanic, Andy Willards, worked with Doc when Paul Edmondson came over here. So, I used to have my bike prepped, and I had my own guy there and everything. The bike looked like a factory bike. I had the red hubs, and my Honda looked like a factory bike. You just have to be cool, you know. I'm really into it; I was having factory stuff sent over, I was having 480 barrels put on.
Do you run a motocross camp?
We did something through the Police Athletics League, which was done with Jeff Emig. When I was doing the album In the Name of my Father, we were only doing it for fun. I was doing Led Zeppelin songs and I was a bit uncomfortable about releasing something like that. So, I said if we're going to do it, we're going to do it for charity. So that's when my manager basically contacted these guys and they did a motorcycle camp, which took some kids who would never have a chance to ride dirt bikes and who were on the borderline of becoming problem kids, and took them out and showed them how to ride. That's been a few years ago. I'm not too sure if it's still going on, but I'd like to think it is. We supplied them with a few bikes through Kawasaki. We had some good times. I'd like to do something like that again—maybe a concert to raise money or create awareness, maybe at a National. That would be my way to get there, then say, "I'm here, might as well race!"
That's kind of how the Jason Bonham Band got started in '96. My manager was working out a deal, at the time, with the supercrosses—where we would open the supercross. The band would do a 35- to 40-mintue slot. We actually got to play at three supercrosses in '96. It was '96 where McGrath won everything but one race—Emig won that one race in New Orleans. It was McGrath's last year on a Honda. We went to Houston, Tampa, and Dallas. We played at those places, which was kind of cool. That was a great way of getting there, so I could be part of it. Play and then watch the race—I was in heaven.
Tell me what's going on with the musical side of things.
We're on tour right now. I basically got together with Foreigner about 18 months ago—Mick, the main guy in Foreigner, and I got together, and I brought in Jeff Pilsen [Dokken] on bass, and Mick brought in two guys who've been with Foreigner for 15 years. So, we got together, then we found Kelly, who is our new singer. So we had to go out and prove to the true Foreigner fans that Kelly could cut it, 'cause obviously with a voice like Lou Graham [the original singer] it was going to be a hard act to follow. But Kelly is amazing, absolutely amazing. He's an amazing singer live, and he's a really nice guy, too. It's coming across to the fans. If you go to www.foreingeronline.com and read the reviews, you'll see tans are hooked once they go. They go with the skepticism of, "Well, we'll check it out, just in case," then they walk away thinking they should've never doubted it. It's a great feeling.
The music is great. It's classic rock, and everyone knows the Foreigner songs—"Cold as Ice," "Feels Like the First time," "Hot Blooded"—so the whole show is a hit list. For me, it was a great touring opportunity. We started last year. We did 60-something shows, basically just getting out there and playing and getting some shows under our belt. This year we're hitting the rest of the world. In March it was South America, New Zealand in May, Europe in June, then it's back to the States in July, August, and September, Japan in October, and we're already starting to book shows for February '07 in Key West. Our manager is great—she calls it the "Follow the Sun" tour. Basically, we're going to all the warm places, not the cold ones [laughs].
So for me, I obviously don't get to ride that much, but at this point in my life, it's security for my family. And I'm living down in Florida. We're there temporarily, but we're thinking of possibly staying there, and thinking this is what we want to do. It's nice to know that we can carry-on looking at nice things, because if all of a sudden the work stops, what's the point of living here? Do we want to stay? So, hopefully, the way it's going, we're going to be here for quite some time and I'll get a chance to actually ride a few races on amateur days. I'd love to plan it where we could tour the outdoor circuit. I could ride amateur day on Friday, then play a gig in the town that night. I'd love to plot a tour like that [laughs].
What was the name of the town where you grew up and did most of your riding?
A small village called Cutnall Green in Worcheshire, England.
How old are your kids?
Jagger is 9, and my daughter, Jaz, is 12.
Does she have any interest in motorcycles or music?
She kind of does and kind of doesn't. She's into dance. All of the sudden, she's that teenager age, it's the freak-dad-out stage of life. I really don't know what she's wants or what she's interested in, other than boys, at the moment. It blows my mind. I'd rather not think about it [laughs]—payback's a bitch. She's a great kid. I love my children. They're my world, and my wife, Jan, is wonderful. People tell her she's a lucky lady, and she says, "What, I get to do everything my husband wants [laughs]?" She's a good girl. She's never stopped me from riding, never stopped me from playing my music. And that takes a lot. There are a lot of musicians and people in the motocross world who are very selfish people. We want to do what we do when we want to do it. So, for me, when I'm back home—and I'm not touring—which is sometimes for a couple of days, she doesn't mind me going out and riding for a day. She's probably does, but she knows it's easier for her to let me go riding than to be miserable. She's cool.
Does she go on the road with you?
Not really, because it's hard—the kids are in school. We strongly believe in the education system. We don't like to pull the kids out of school just to travel with dad on the road. It's not fun going from the hotel, to the tour bus, to a new town overnight, and basically living out of a suitcase. For one person, it's okay. You can deal with it. And you're with a bunch of guys. But for a family, it would be hard. It would cause stress. Unless you had a separate tour bus, like a Ricky-mobile [laughs]. But he doesn't even travel in that! That just shows up! That driver of his has a really nice life [laughs]. He gets a cool place to hang out, and Ricky just flies in.
Thanks for your time, Jason.
I really appreciate it. I said to the guys in the band, "I've made it—I'm in a motocross magazine!" My dream was always to be in a motocross magazine. I remember when I did this thing for a newspaper in England called Trials and Motocross News and they did a big feature on me riding. They used to have the exotic bikes on every page 3—that would be a picture of a factory bike or a really hot-looking bike. And one week they had mine because it had so many modifications on it. And that, to me, was the coolest thing in the world. If I wasn't behind the drums, motocross would be my life.
I'd like to give special thanks to the whole Carmichael family, and to Ricky, for just being one of the coolest, most genuine guys I know. I thank him for taking me in and making me feel like I'm part of the whole thing.