Finally, it's time to moto again. Racerhead is coming to you from a Starbucks just off of the 114 near Texas Stadium, home of the Dallas Cowboys and Round 14 of the 2006 Amp'd Mobile AMA Supercross and Round 15 of the 2005 FIM World Supercross tour. There's a tie in the latter series, while the former's points leader controls his own destiny.
If that's not confusing enough, Ricky Carmichael—the leader of the AMA series and champion of both—explained to me on Wednesday that his primary goal is to win the AMA title, but there was a sort of media blitz this week on the FIM title, where James Stewart is tied with RC and carrying all the momentum.
Now it's time to get back to business, which is why I am in Dallas. In fact, it seems like a lot of folks are revved up (as Andy Bowyer would say) about seeing some new races. Jeremy McGrath just flew in from a vacation in Hawaii on the same plane as Simon Cudby, and he's amped as well.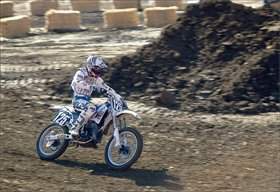 Old school Jeremy back in 1991 on his Peak bike …
photo courtesy of Moto Verte
And it looks like Jeremy is the next man to have a tribute bike and graphics available for fans—and who better? The
Davis brothers
at Throttle Jockey, located on the mean cul-de-sacs of Kokomo, Indiana, showed their new MC '91-inspired bike graphics at the Indy Trade Show. It started out as a fun project for a couple of moto-loving, sticker-making brothers, but the demand has been so overwhelming that it looks like it's on now.
The kit is available through Throttle Jockey dealers or you can check out their wbsite: www.throttlejockey.com And if MC shows up and races in this next year at Anaheim or even his own SX Invitational in early October, I will personally GUARANTEE him the cover of Racer X!
Of course, Jeremy is not racing this weekend, but there's plenty of talent here, including the addition of Davi "The Duke" Millsaps to the 450 class. The recently crowned AMA 250F East Region Supercross Champion spoke with Eric Johnson earlier about his hopes and goals for the class, plus a more detailed description of the "bold new graphics" Davi himself has on his chest now. Check out EJ's interview right here.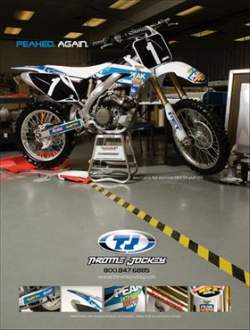 …. and what a current CRF250 or 450 can look like now!
The 250F West class is back in action after a really, really long layoff.
Andrew Short
,
Grant Langston
,
Nathan Ramsey
and
Billy Laninovich
all still have a shot at this title, though it will be the first race for all but Lano in the last nine weeks—the travel pattern caused a quirk in the schedule where six West races started the season, followed by seven straight East rounds, a two-week break, then the last two West races before the Las Vegas Shootout.
I spoke to privateer Billy Swapp about the crazy schedule as we rode into the rental center together on the bus. He said he couldn't wait to get back racing, because nine weeks off can make you lazy. He also said that while it seemed like the West guys have it better with the races spread out, the East guys do get it over with quickly, then have time to focus on the transition to outdoors. But at the same time, the coverage a 250F rider gets in those first six weeks when the whole motorcycling world is focused on the Amp'd Mobile Supercross races makes it arguably more beneficial to do the West.…
Anyway, if you want to listen to the Supercross Live! webcast of the Dallas Supercross tomorrow night, check out www.supercross.cc.com at about 7:00 p.m. Central time. And I just clipped this from our RCA Must-See Moto TV listing: This Sunday, April 23, don't forget to tune in to SPEED at 6:00 p.m. EST for coverage of the 450 class from Irving, Texas. Also, tune in to OLN this Saturday, April 22, at 3:00 p.m. for coverage of the Bike class from The General GNCC in Georgia.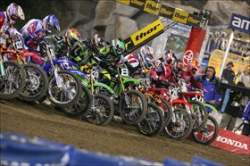 It will be good to see these guys on the track again
photo: Simon Cudby
Over the SX break, Live Nation Director of Supercross
Todd Jendro
stopped by
Ricky Carmichael
's place in the Southwest corner of Georgia to discuss a few things with the champ and just visit what might be the fastest corner of any state in the nation.
James Stewart got more mainstream media this week about his own plans to do what Ricky wants to do in the near future: drive over into NASCAR. Everyone I've talked to down here is still buzzing about just how ungodly fast Stewart has been these past few races. His front-end problems are gone, which leads me to believe that someone at Kawasaki is kicking themselves in the butt for not finding that soon enough to keep him from going down at races like Anaheim 2, Anaheim 3, and St. Louis.
Also, Racer X will once again be working with AMA Pro Racing and the NPG to air the live webcasts of every round of the 12-race series.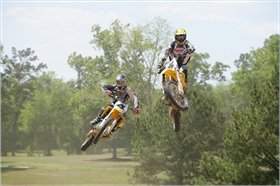 The champ and the director enjoyed their supercross summit.
photo: Simon Cudby
Did you see the posts going up about
Mike Metzger
's plans for Caesar's Palace? It wasn't that long ago that
Evel Knievel
shocked the world in 1968 by trying to jump what seemed like an impossible distance.… Now the Metz is going to backflip it? That's evolution for you.
EJ's Renthal Great Races piece about the strange day that Mike Healey showed up in a little van after a cross-country drive and won the last moto of the Steel City 125 National is a must-read. When Andy Bowyer saw it over in the MX Sports office, he wrote, "You know, I raced Mike Healey in my very first pro race at Mammoth. I pulled the holeshot, but in the second turn at the top of the hill, I got slammed by this HUGE guy that had the back of his jersey cut open so his 'HEALEY' tattoo that was written in Olde English could show through. I don't think I ever remember being so intimidated!"
Let me turn this over to Ping right here.
The break in the Amp'd Mobile Supercross series was much-needed for the riders. And I don't think fans mind, either. It's been a long 13 weeks. Or was it 14? Weege?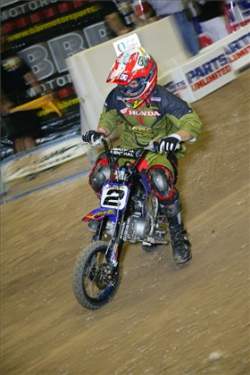 Jeremy is getting ready to go after Ping and Little Goose in Vegas
photo: Simon Cudby
Either way, it was nice. I noticed some fresh piles of dirt as I drove past
Jeremy McGrath
's old house yesterday. It was a brand new supercross track, but it looked a little small. It turns out The King is taking this years MiniMoto Supercross a little more seriously than he has in the past. His friend
Randy Menenga
(who is also building the course at the Jeremy McGrath Invitational SX) built the track for Jeremy to practice on leading up to the Las Vegas event. Last year, MC was caught off guard by how competitive the event became in one years time. The highlight of his weekend was being blown off a berm by
Jimmy Fishback
in the 12" pro class. Jeremy won't make that mistake again.
The annual Stateline Supermoto warm-up race took place at Buffalo Bill's Casino last weekend. Motocross legend Jeff Ward won the event, followed by his TLD/Honda teammate Chris Filmore and Australian dirt track phenom Greg Herfoss. Mickey Dymond, Kurt Nicoll and many of the Supermoto regulars were in attendance getting ready for the series opener on April 29 at California Speedway in Fontana. Who's the series favorite? Between Doug Henry, Wardy and last year's champion, Jurgen Kunzel, it's a toss-up. Should be good racing.
Over in Europe, Stefan Everts and Tyla Rattray will each try to make it three in row in the MX1 and MX2 classes, respectively, then the FIM World Motocross Championships move to Portugal. Everts now totals 89 career GP wins, and he's opened a nice lead on Tanel Leok and Sebastien Tortelli in the point standings. You can subscribe and watch that races live on www.mediazone.com, or you can check out Geoff Meyer's www.mxlarge.com all weekend for updates and photos and more.
Racer X reader Mike Dune sent this link over to us, which is this week's must-read blog: www.flatbiller.com. They've traced the roots of the flatbiller to motocross, and more specifically, to freestyle motocross. You simply have to check this out.
With Alloy MX out of it completely now, Simon just told me that Travis Preston is probably going to be wearing Fox gear now. After wearing Alloy even after company went belly-up, Preston has been looking for new gear and Fox, a longtime affiliate of Team Honda's, wanted to help him out. It will be cool to see a Rider Rider in Fox gear again..
And I'm hearing that Broc Hepler will likely be in Thor when he returns at Hangtown. Hepler's been nursing his broken foot, which has had some complications in healing. But he has been staying in shape, and he's about to release a training video along with UPMC that might just become this generation's Rolf Tibblin or Ake Jonsson Guide to Motocross.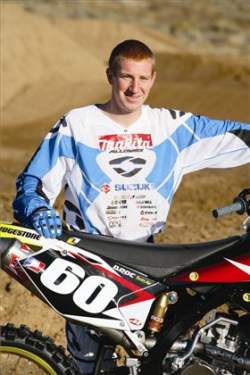 What's Broc going to be wearing when he returns?
photo: Simon Cudby
Speaking of Hepler, it seems like forever since we last saw him racing, and that came when he had another horrible
Glen Helen
day at the last national of '05, which followed a solid 1-1 sweep the week before at
Steel City
—neither Broc nor fellow Pennsylvanian
Branden Jesseman
ever do well at GH). But even though he's been parked, I expect him to come out swinging at Sacramento.
Last week's Racerhead was all about safety, and I have since received a lot more ideas and suggestions, like this letter:
"There are so many talented people involved in motocross and dirt bike riding and by getting them to work together problems will be solved. It was interesting to hear the various ideas. Some common themes definitely came through. Given all the injuries associated with riding, why not add a column on healing and recuperation? I also think riders need to know who the top specialists are in orthopedics around the country. The bad ones do more damage than good. I just had a wrist injury and worked with a specialist at Wake Forest named Jon Li. He is one of the best in the country with wrists and hands. I use a alternative stuff like arnica and acupuncture which get me amazing results and yet I never hear anything about either one. Acupuncture is extremely effective with pain management (and much better than the highly addictive painkillers). At 41, I make sure that I load up on the protective gear. Chad was laughing at me at the dealer show because I kept checking out all the body armor."
Ed Kuhlenkamp
"
I have to introduce you to our product the Leatt-Brace™ MOTO GPX. It is a neck brace system that is designed by a medical professional and motorcyclist, Dr Chris Leatt, to help prevent injury to the cervical spine (neck) without compromising rider comfort and mobility. We have already have riders such as Paul Cooper (4 x British MX Champion) and Cyril Despres (Dakar Winner), as well as Hamish Dobbyn (New Zealand 85 and 125 rider on the Yamaha Australia team) not to mention many South African national and regional enduro, supermoto and MX riders (mini and adult) using our brace. The response from all is overwhelming…. Please visit our website for more information
www.leatt-brace.com
"
Karl Ebel
But then I got this "Letter of the Week":
"Yea its all good reading....but not for racerhead.!!!!!!!!!! This is a dangerous sport and theres alot of money and with that goes presure! The top 3 check out each week and nobody notices I guess????? The AMA should promote something they can handle (county fairs) . The races are much better when the tracks are easier but the AMA probably just cant fathom this??? Again this is a lame issue to build a complete racerhead around....but then again you guys always find writing racerhead a pain.....dont you?????"
Craig Seymour
Dear Craig,
Since there was no racing other than Europe, and two kids were in the hospital with broken necks, I thought it was a timely piece. You can always skip it if you find it "lame," but I thought it was a pretty responsible thing to do, opening a forum like that for people who give a shit about the riders.
Sorry, lost my temper there. It's a touchy subject, but it's important. Look for more safety letters and suggestions next week.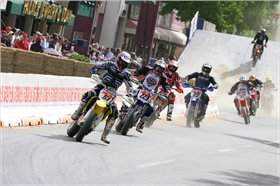 The AMA Supercross Series is getting ready go!
photo: Simon Cudby
Here's something from
CJ
:
The 2006 AMA Supermoto Series kicks off next weekend at Fontana's California Speedway, which will also be hosting the third round of the AMA Superbike Series. The series hasn't exactly been on the radar lately, but Gavin Trippe checked in this week to tell us that Hot Wheels, Red Bull, and 70/30 (Lockhart-Phillips' Supermoto line) are all signed on as official class sponsors. The Aprilia V-twin is also expected to be in action. For more info, check out CJ's Road Racerhead today over on www.roadracerx.com.

Speaking of Road Racer X, our little bro is putting on a cool contest in conjunction with Suomy helmets. Basically, the idea is to design the Suomy lid that Ducati Marlboro rider Loris Capirossi (currently leading the MotoGP points standings) will wear at the Red Bull USGPat Mazda Raceway Laguna Seca in July. The winner will get an all-expenses-paid trip to the race, will meet "Capirex," and will take home the (autographed) helmet. If there are any Racerhead readers out there with an artistic bent, check this out.
Hey, if anyone is interested, we've set up a new e-mail notification program. If you want to get e-mails with breaking news, event cancellations or changes, etc., click on the link and choose which newsletters you want to subscribe to. Unsubscribing is easy, so if it doesn't work out for you, you can always opt off the list.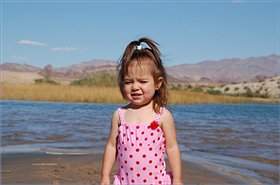 Happy birthday, Kira!
photo courtesy of Bill Savino
Time to say happy birthday once again to
Kira Savino
, who will turn 2 tomorrow. Hope you and your folks have another great year ahead!
There's racing at Loretta Lynn's this weekend, but not motocross—the 2006 Suzuki GNCC Series will travel to Loretta's, where Alan Brutto and the ranch gang are beginning a 25th anniversary celebration of hosting motorcycle races there. But just like always, the track is never open for practice—at any price—and the only motorcycles ever allowed to touch tread on the track are this weekend's GNCC riders and then the 1,344 finalists in the 2006 AMA/Air Nautiques Amateur National Motocross Championships, presented by Toyota. Beyond that, it's for horses.
And speaking of off-road stuff, Ryan Hughes is laying it on the WORCS guys. He won again last weekend (with old nemesis-turned-friend Mike Alessi there to cheer him on) at Victorville to open a big lead in the points. Hughes has three wins, a second, and a third in five races so far.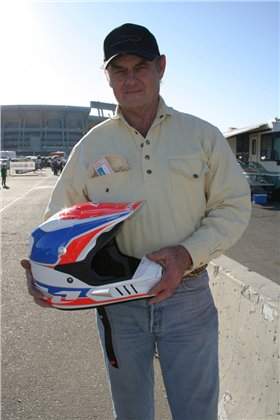 A motocross-apparel legend
photo courtesy of One Industries
Back on blue is
David Vuillemin
, of course, and he
posted news about his progress
on his own website.
Did you hear the one about the MX Oasis brothel? Crazy stuff right there.
Do you know who this man is? That's John Gregory of JT Racing, a sure AMA Motorcycle Hall of Fame candidate, holding the One Industries Bailey '86 tribute lid, plus an Anaheim ticket in his pocket.

Gregory still turns at the races up now and again from his home somewhere out in Idaho.
And speaking of the old school, here is a link to an old-school Euro SX minus the dirt, but be warned: It's a big download.
It's a big download, but it's pretty cool—nice, pre-freestyle footage of Mike Jones!
Okay, that's it—gotta go to dinner. Thanks for reading Racerhead. See you at the races.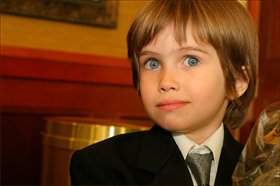 Kira's future prom date.
photo: Matt Ware