Between the Motos: Ricky Carmichael
Seems like it's been a while since we've heard from Makita Suzuki's Ricky Carmichael. Maybe that's because the last two weekends have been idle for Amp'd Mobile Supercross, and the three weeks before that were the James Stewart Show, where #7 led all 60 laps on his way to three straight main-event wins. But Carmichael is still the points leader in the series, once again seemingly looking at the bigger picture of seasonal championships over individual race wins. However, the World Supercross GP title is still up for grabs, and RC knows he's got three weeks to get back ahead of Stewart, whom he's tied with right now.
We rang up Ricky this morning on an unrelated topic, but when he picked up, we asked if he was interested in catching up with his fans right here for Suzuki's Between the Motos.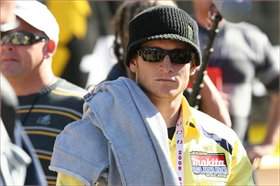 After two weekends off, Ricky Carmichael is ready to get it all ramped up again.
photo: Matt Ware

Racer X: First of all, RC, it's rare to catch you on the phone like this. I mean, you've been pretty busy since you were, like, 17 or so.
Ricky Carmichael: [Laughs] Yeah, I have. But I always take your phone calls!

Yeah, right!
You know what? It's been a heck of a ride. It's been a great year for me. I'm really pumped on how I've ridden this year, and I'm looking forward to the last three races and moving on.

You just mentioned that you were taking the day off. What have you been doing for the last 17 or so days since you were last racing supercross?
Basically, just riding and trying to improve a little bit. Suzuki and I have been working on trying to get a little better setting and just trying to improve.

When someone says "a better setting," what exactly does that mean? Are we just talking about fractions here and there with the suspension and gearing, or the rake of the front end, or tire selections…?
It could be anything. One week it could be suspension and one week it could be the engine. We're trying to get a better combination that we think will be better for racing for the future and for these last three races.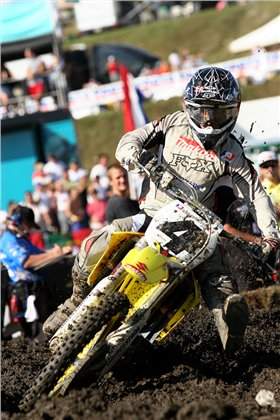 Carmichael has been quietly doing outdoor work here and there to get ready for summer
photo: Matt Ware

You went on a mid-season tear that really separated you from Chad and James, with three straight wins. But that last three races before we took time off, it's been all James.
It has been. I got the three and then he got the three. He definitely set a great pace. I'll be honest with you, he's riding really, really good. The last two races, I felt my speed was there, but I need to get a little bit better at the beginning of the race. He definitely stepped it up, and now it's my turn to step it up again.

I was watching the Orlando race just a couple nights ago, and when James got that holeshot and went for the triple right out of the first turn, at the same time, you were almost colliding with Ivan Tedesco. Did that surprise you when you saw #7 launch like that?
[Laughs] I didn't even see it! He was killing me by a couple seconds a lap, and I was like, "Damn!" because I was trying my hardest. I never felt comfortable that whole night, so once he got out front, I tried my hardest but wasn't getting the job done. So I've definitely improved a lot since that race, no doubt.

You've grown up a lot. I can remember back when you were coming up through, you would've just pinned it to the stops until you caught up to those two seconds! Early on, that always cost you, but now you ride much more patiently.
Yeah, but it's tough. I know the last couple years I've always kind of slowed down [toward the end]. But this year, in all honestly, I am trying my hardest, and I'm doing the best that I can do. I don't know if it's something in me that makes me do this, but I'm trying my best to win. I want to win a couple more races before the end of the year. I know it's going be tough.

You have one championship that you have a nice hold on, but at the same time, the World Supercross GP – that thing is all tied up, right?
Yeah, James and I are tied, and we're both in a must-win situation, as far as that title goes. But I've also got to look at the AMA title and kind of secure that one if I can. That's still the most prestigious one, so if I could win that, it'd be great, but I definitely would like to try and get both.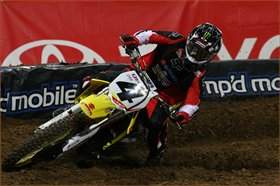 RC is still trying to find the perfect settings for his RM-Z450
photo: Matt Ware

Looking ahead, you all get one night off for the banquet in Vegas, then it's right into the outdoors. But I have a feeling you guys are already well into the outdoors.
Oh yeah, we all are. We have a great base off of last year, and we've improved quite a bit with the engine settings. And of course, suspension is always trying to improve. The main thing I'm happy about is that we have a year under our belt on this bike, so it's going to be a lot easier. We were testing pretty much every race last year, so we're good. It's going to be a great series with myself and James on the 450, so may the best man win.

What else is going on around you? How is Ben Townley doing?
I guess he's doing okay. He's just busy doing rehab and all that stuff. He's not at the track much, obviously, because he's not riding. But I know he's been working hard and he's doing as much training as he can do with Aldon, but he's just been rehabbing. I don't know when he's going to race, I haven't really asked him. I know he's shooting for Hangtown, so hopefully he'll be ready to go.

Is he a good kid and a hard worker?
Yes, absolutely. He's just been riddled with bad luck since he's been here, so hopefully everything will turn around.

Do you ever hear that new 450 your neighbor Davi Millsaps has across the woods?
[Laughs] No, I haven't heard him across the woods. I don't know what's going on with that, but I'm sure he's riding a lot, too.

Well, did you get to take any time off here in this brief break? I know it's just the way the rent goes with the stadiums and how the holidays go, but 13 races in a row – wow, that's a lot.
Yeah, it's crazy. It was kind of good for me. We have a majority of them out of the way, and we only have three more. These last three weeks will fly by. But I had a great time. We went to the beach both weekends, and we really enjoyed our time there. We have a place there on the coast and I have a new boat, and we took that thing out and had a bunch of people come over. It was a great time.

I'm glad to hear it. I guess we'll see you down in Texas over the weekend. One last question: Team USA at the Motocross des Nations: You going to go over and tell #7 you need him there, too?
For sure. We definitely need the #7, that'd be good. It would be fun, and it would be a great time. It would be a special team, for sure. Obviously, every year is special, but it'd be nice to get him to go. I think everyone else is probably willing. Regardless, I'm definitely in, as you know, and that'd be sweet.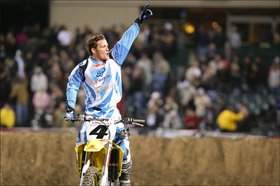 "We need #7," says RC of his Team USA hopes
photo: Simon Cudby

Well, good luck these last three rounds.
So how are you doing. How's Vance? How's your wife's store doing?

It's good. Maybe when you get out here to High Point, if you have some free time, you could stop by and check it out. I think you'd be impressed with what has become of the old Racer X building [now Vance's Blues].
I think I am coming in early because I have a dealer show that weekend.

Perfect! I think she'd be glad to see you and one of your big bonus checks walk in to Vance's Blues.
[Laughs] That's right. Well, I look forward to seeing you. In Dallas, right?

I'll be there, yes.
Me too.