Great Races: Mike Healey and the 1992 Steel City National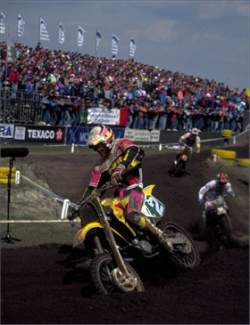 Mike Healey had spent the 1992 season chasing Donny Schmit around the 250 Grand Prix circuit.
On August 18, 1991, at the Grand Prix of Japan at the fabled Suzuka circuit, Costa Mesa, California's Mike Healey lost the 250cc World Championship to fellow American Trampas Parker by four points. For the tattoo-emblazoned KTM rider—known as "Stray Cat"—it had been an amazing, breakout season. So much so that Healey was tapped to be Stefan Everts' teammate on the powerful Bieffe Suzuki factory team for the 1992 World Championship chase.
The '92 250cc Grand Prix season started in the Netherlands. Dressed in funky pink, black, blue and yellow Bieffe gear, Healey rode his number two Suzuki to mechanically plagued 0-0-13 moto scores (Note: In 1992, each round of the 250cc World Championship Series consisted of three motos). It was an abysmally bad day for the Californian and one that would be a portent for things to come. It was all downhill from there, as he and the bike and the team just did not connect. The series concluded at Suzuka on August 23, and Healey placed seventh in the first moto and failed to finish the last two. Upon pulling into the pits after the final moto of the year, Healey out his bike on the stand, packed his gear bag and returned home to California, never again to return to the Grand Prix circuit.
Back home in Costa Mesa, the week before the 1992
Steel City
National (then the penultimate round of the AMA 125cc/500cc National Championship) Healey loaded a well-worn Suzuki RM125 into a minivan and started a marathon drive to Pittsburgh, Pennsylvania. Pulling over and sleeping in his van, Healey made it to
Steel City
in time to compete in his first 125cc National in years.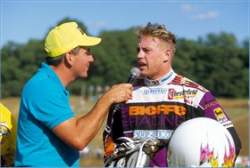 After his surprsing fourth in the first moto at Steel City, Healey gets interviewed by Tim Cotter
With only two rounds remaining in the championship, Jeff Emig (Team Yamaha) and
Mike LaRocco
(Team Kawasaki) were locked into a titanic battle for what would be the first #1 plate for either of them. Mike Healey was there to just try and get some attention from the American motocross industry, which had, for all intents and purposes, forgotten about him.
"This is the same bike that Suzuki gave me back in January to ride in the Golden State Series," said Healey before the opening moto. "It's just a practice bike now and its pretty hammered, but Pro Circuit flew some parts out for me. I put it in a mini-van and drove out here from California. When I got tired, I just stopped and slept beside the road in the front seat."
When the gate dropped for the opening moto, it was a young Kawasaki support rider named Ryan Hughes out front, with DGY Yamaha privateer pilot Doug Henry immediately behind him. Henry quickly went by, as did Team Suzuki's Larry Ward. Far down the leader board was Healey, who had gated poorly. By the end of the moto Emig, who had raced through the pack after a bad start, crossed the finish line to win the moto over Henry and Ward. Healey had fought his way back to an admirable fourth-place moto result.
"The track wasn't that bad, " said Healey, who, at nearly 190 pounds in weight, had pushed his RM125 for all it was worth. "It was kind of slippery because it was hard, and it was in between wet and dry. I didn't do too bad for an old timer!"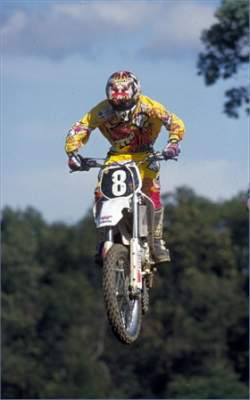 Jeff Emig was the half of the 125cc
National Championship battle that
Healey stepped into
When the gate clanked into the dirt to start moto two, Mike Healey—open-face helmet and all—raced out of the first corner with the holeshot. He then put the hammer down and started to open up a gap between Hughes and Henry. Back in the pack, Emig and LaRocco (who had broken down in the first moto) were desperately trying to get to the front after experiencing trouble at the start.
As the moto entered its waning stages, Healey continued to lead in that funky riding gear, but Ward and Emig, who had hooked-up in a type of flying formation and displaced one rider after another, pulled up on Healey's yellow rear fender. With a handful of laps to go, Healey, Ward and Emig were locked together, dazzling the 10,000 fans lining the
Steel City
fences. But when the checkered flag was unfurled and waved, it was Healey holding on and crossing the finish line first with Emig, who had berserked it around Ward in the last turn, finishing second.
"I'm stoked!" was all Healey could say after the moto. It was an understatement to say the least. Every else was left scratching their heads at how such a big guy on a little bike—a privateer ride at that—had won an AMA National moto!
"I remember that day at
Steel City
so well," laughs Jeff Emig, some 14 years later. "I had known Mike Healy for years since we had raced mini bikes back in the 1980's. Mike was a bit older than me and I always looked up to him while I was growing up. That guy could ride a motocross bike pretty fast and the race at
Steel City
proved it. He was on that privateer bike that day and went out and kicked everyone's ass in the second moto. It was really pretty impressive because at the end of a motocross season, the points leaders are normally dialed in and don't usually get beat by someone doing a one-off race or two.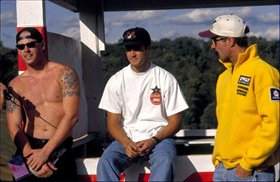 The unlikely Steel City '92 125 podium (left to right): Healey, Jeff Emig and Larry Ward
"Mike was so pumped afterwards," continues Emig, who went on to clinch the 125cc National Championship one week later on a rainy, dreary day at
Budds Creek
. "He really had something to prove to everyone and it was great to see him do what he did. I wasn't to upset at getting second in that moto because I picked up a load of points on LaRocco in the championship [note: LaRocco's carburetor fell off during the second moto]. I guess that was a good day for both Mike Healy and myself."
In 1993, Mike Healey placed fifth overall in the last-ever AMA 500cc National Championship. Although he would continue to race into the mid-1990s, he was never again able to experience the thrill of victory like he did at
Steel City
. Today, Mike Healey lives in California, where he teaches motocross schools and shows up at the occasional veteran race.