5 Minutes with ... Davi Millsaps
Three weeks ago in Houston's Reliant Stadium, 18-year-old Davi Millsaps realized a lifelong dream of becoming a professional supercross champion. In winning the AMA 250F East Region in Houston, the kid from Cairo, Georgia (by way of Orlando), clinched his first AMA Pro Racing title. For the former minicycle standout who has devoted his young life to the sport, it had all come together. Now Millsaps is putting his Honda CRF250R up on the stand in order to ride the 450F this Saturday night in Texas Stadium.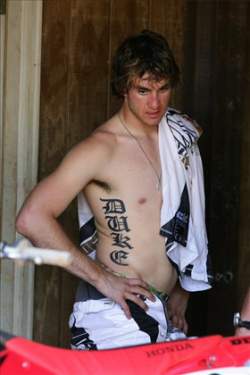 Davi's got bold new graphics
photo: Simon Cudby

Racer X: What's up, Duke?
Davi Millsaps: Duke?

That's your real name, right?
It's my middle name.

We heard you have a new tattoo....
[Laughs] Yeah, it's on my side. It's vertical—up and down.

Did it hurt?
Dude, it hurt so bad! I'm a girl. I thought I was tough. I didn't think it would hurt that much.

How long did it take?
Four hours.

That's like a major surgery!
I told you it hurt.

Did you get the tattoo on impulse, or was this something you have thought about for a while?
No, I thought about it. In fact, I think I'm even going to add onto this one.

So it's a work in progress?
Yes. I can't tell you what I'm going to do, though. I can't tell you my idea. I don't want anyone to copy what I'm doing.

What's your mom think of it?
My mom? She's not too happy with it.

What's it look like?
It says "Duke" in Old English. There are a lot of Old English-style tattoos, but I had a certain style I wanted. I had been thinking about it a long time. I wasn't sure if I wanted a tattoo with my first name, my last name.… Everyone has their last name tattooed on them, so I decided to go with my middle name. I think I have a cool middle name, so that's why I went with Duke. I'm really happy with it. A dude in California named Chad did it. He was super cool and hooked me up. If I add on to my tattoo, I'm definitely going back to him.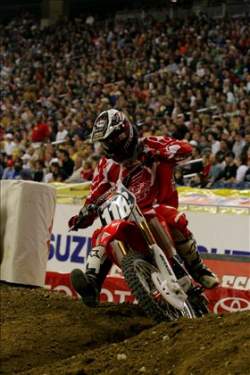 Millsaps took four out of seven wins in the 250F East Region

Solid. You got a new haircut, too, huh?
Yeah. Shaved head, tattoo—everything.

Did you join the Metal Mulisha?
[Laughs] No. No Mulisha.

Shifting gears, how does it feel to be a champion?
Like a dream come true, man. To be a champion is everyone's dream. Supercross, motocross, whatever it is, to be a champion is a dream come true. It hit me that I was a champion after the race in Houston, but it really hit me hard a few days later. But then, a few days after that, the feeling was gone. Now that I have the #1 plate, it's not like I'm walking around saying, "I'm the man!" I've got it and that's all that matters.

Is it a relief to have the pressure of nailing down a title gone?
For sure. I'm glad it's over. The last few rounds, I felt like I had the weight of the world on my shoulders. Now I can relax and focus on riding the 450 class.

Tomorrow night in Dallas, it's you on the 450, huh?
Saturday night is it.

Have you put a lot of time on the bike?
The last few weeks, I've ridden it every day. But no, it's not like I've been riding it forever. The past few days, I've done a lot of testing for the outdoors. I felt good outdoors on the 450.

So you feel comfortable on the bigger motorcycle?
It's all right. It's definitely more tiring, but I'll work through it. I've been training a lot, so I'll be okay.

Do you have a goal for Dallas?
I don't want to have to do a semi or a last-chance qualifier. I want to go straight to the main. My goal for the main is to be in the top five.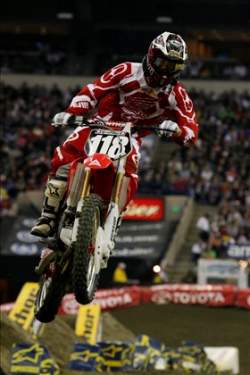 Millsaps says he's looking for a top-five in Dallas tomorrow night

In regard to the 450F class, has Honda been encouraging and supportive?
Oh yeah. Erik Kehoe [team manager] is really stoked. He called me this week and told me how good he feels about me riding the 450 this weekend and in the outdoors. He told me he is really looking forward to it and so am I.

Come main-event time, you'll be lining up behind the gate with Carmichael, Reed, Stewart, Windham, and all the other usual suspects. Are you going to try and treat it just like any other race?
I don't feel like I'm just another guy on the line, just like I don't think RC, James, or Chad Reed is just another guy on the line. I don't know, man. It's not like I'm thinking, Oh my God! RC! James! Chad! They all put their pants on the same way I do. Whatever.

Will you ride the 450 in Las Vegas or do the East-West race?
The East/West [on the 250F].

Have you put a lot of thought into setting goals for the outdoors?
I just want to run up front. I'd like to get on the podium when I can and run in the top five in all of them. I hope to be in the top five all season.

What is your height and weight now?
I'm 6 feet tall and weight 185 pounds. I want to leave it at that. I was up to about 191 pounds, but I lost all that. I've gained some muscle. I'm getting buff!

Okay, pal. Good luck with that tattoo and in Texas Stadium on Saturday night.
Okay. Thanks, dude. Thanks for calling.