Hello, everyone, and welcome to the Rev-Up. Well, its break time, ladies and gentlemen. The boys have two weeks of long-overdue hibernation from now until Dallas arrives. In a way, I relish seeing the break in the action because it gives me another opportunity to write outside the typical Rev-Up parameters. If you didn't hear, I have relocated to the friendly confines of the MX Sports/Racer X Illustrated headquarters in Morgantown, West Virginia. I have only been here for a week, but I already have enough stories to write a book, or at least a good article.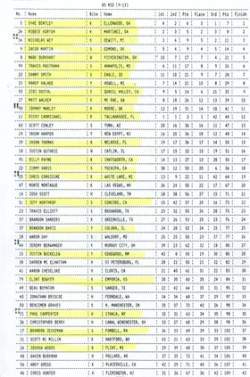 This might be the most stacked 85cc class of all time
Be that as it may, I have been put to work. And being the "F.N.G." that I am means I am starting at the ground level. For example: Mike Farber and Matt Ware are conducting a photo shoot with
Josh Demuth
's new girl and Ducati supermodel Leticia Cline. Fubar gets to help with the wardrobe—yes, this includes undergarments—while Matt snaps off the shots. Meanwhile, I am here in the MX Sports office, keying results from Loretta Lynn's 1993 into our database. Ah, but beauty is in the eye of the beholder. While pecking in thousands of lines of results, I ran across some names that left their mark on me, some in very different ways than others. Sometimes all it takes is the right flash of words to take you directly back to a certain point in time. As I typed in some of the names from the graduating Loretta Lynn's class of 1993, it felt like I was back on the starting line watching Big Dave scrape off the mudcake from the starting line before my 85cc 14-15 class. The more I thought about it, 1993 was an incredible year.
The starting gate at the 1993 Loretta Lynn's Nation was chock full of what are now household names. For instance, take a guess who won 250 C stock title that year. Clark Stiles! As I typed in his moto finishes of 2-1-4, I was reminded of an argument I had with Loretta Lynn's Race Director Tim Cotter. I was skeptical of what I think of as the "nervous" class having any place at such a high level of racing. But Clark proved that a novice rider could one day be making 450F main events. And if Clark wasn't enough of a surprise to me, the 17th-place finisher in the 125 Stock Schoolboy class pretty much floored me—it was none other than pre-"Kung-Fu" Ronnie Faisst! Meanwhile, his future Metal Mulisha general, Brian Deegan, took home third place in the 250 A class.
Loretta Lynn's 1993 was the year that Scott Sheak owned the A classes and
Kevin Windham
swept the Schoolboy events. But the real action at LL '93 was in the minicycle events. Jose Gonzalez, the Team Green manager of the time, had a grand plan to build super-duper-looper superminis for the baddest of the bad 85cc pilots. He handpicked Brock Sellards, Jason Partridge, and
Ricky Carmichael
to ride the insanely modified bikes in a futile attempt for more championships. As irony had it, none of the "chosen ones" was able to capitalize on the prowess of their works bikes and spray champagne on Tim Cotter. In fact, Ricky lost his third moto and the title to bitter rival Derrick Shae Bentley when he slid out on his "jet bike" and was unable to restart.
I was fortunate to enjoy a little glory in 1993 myself. It was my last year on 80s and I wanted to go out with a bang. Well, that effort almost came to an end in practice the week before at Ponca City when I crashed on one of the doubles and broke my foot. After sawing off my cast upon my return from the hospital, I soaked my swollen leg in a bucket of ice until I could squeeze it into a one-size-larger AXO boot. I still nailed down the 85cc 14-15 Stock title at Ponca and came into Loretta's ready to knock off perennial 85cc ringer Charlie Bogard. But really, all I wanted to do was beat that punk Jason Partridge, a really great guy but also the kid who was chosen over me to ride one of the special Team Green 80s!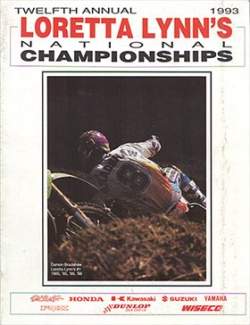 Damon Bradshaw remains one of the most popular Loretta Lynn's alumni ever
The final moto of 85cc Mod 14-15 was a complete mudder. We were the first moto of the day for that race and the track was a mess, especially the start. I was alone in my decision to skip the hot lap, which was a smart move, because not only did I save 50 pounds from attaching itself to my Tuf Racing-powered steed, but I got to watch with a smile as Big Dave scraped the starting line down to the dry dirt. I knew if I got a decent jump, I would be able to bang the holeshot.
And holeshot I did! With time running out on the moto, and with it my last chance to beat Partridge, I saw ol' P-Dizzle gaining ground on me. With three laps to go he was on my ass, but as I looked up to see Captain Russ Bennet give me the "2 Card," I looked back and saw no Jason. It was only when I reached the back of the course that I saw him pushing his super-works Team Green special along the swamped sidelines with a blown motor. Damn, that still makes me smile today! Between Bogard getting disqualified for an illegal rear wheel in the stock class and Partridge blowing up in the mod classes, I had quite a year! In addition, Andy "Regis" Harrington took home eighth and Ryan "Solitaire" Clark tallied fouth.
But without a doubt, the most stacked class of 1993 was the 85cc (7-11) class, which consisted of names like
Travis Pastrana
, Justin Buckelew, Johnny Marley, Matt Walker,
Paul Carpenter
,
Billy Payne
, Josh Woods, Kevin Johnson, Chase Reed, Aaron Lindsey, Jonathon Shimp, Tyson Hadsell,
Jeff Gibson
, Branden Jessemen, and Ben Riddle. Are you kidding me? Every one of these guys would eventually become a Loretta Lynn's champion!
Coming in a close second based on parity was the 85cc (9-13) class, which hosted
Ricky Carmichael
, Robbie Horton,
Nick Wey
, Jacob Martin, Mark Burthart, Pastrana, Marley, Danny Smith, Jiri Dostal, Walker, Payne, Jeff Northrop, Jimmy Varis, Brandon Bartz, Buckelew, Carpenter, Jessemen,
Jason Thomas
, and my little freaking brother, Clint Bowyer! It's absolutely amazing to see the Loretta archives in the manner I have in my first week on the job.
But in all of the good memories and good feelings I enjoyed while robotically typing in every single moto finish of every single rider in the 1993 event, a couple of names really hit me in the center of my chest. Typing in JD Collins' and Charlie Dunaway's results was really, really hard. Growing up at Loretta Lynn's teaches most all of the life's lessons … even the painful ones.
In other arenas, a cat running #15 had begun winning 250 supercross main events in 1993 wearing Sinasalo gear. He was another Loretta Lynn's alumnus, and nearly a decade later he would be known as "The King." Did I mention that his title in 1987 came in the C class?
It was a great year.
Thanks for reading, see you next week.