Hello, everyone, and welcome to the Rev-Up. As predicted, the 2006 Amp'd Mobile AMA Supercross Series is coming down to the wire. There have been several factors that have allowed us to enjoy this drama, none more so than a rash of unexplainable bad luck that has followed the series the whole way. Bike failures, first-turn crashes, and untimely injuries have kept the points tight, and as we draw closer to Houston, the fat lady isn't even close to singing.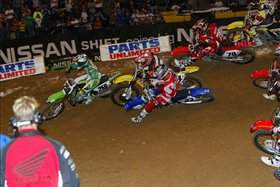 Dallas 2005: Stewart holeshots while Chad runs it in on Carmichael.… Wow, remember those two-strokes?
photo: TFS
It's been almost a decade since we have seen the series go this long without a four-race win streak. Jeff's Emig's 1997 championship run was the least-dominated supercross series until now. While it's been Ricky Carmichael and
James Stewart
doing all of the winning, their inconsistency, bad luck, and one very determined
Chad Reed
have kept the fire burning in this smoke wagon. Ricky is holding onto a 10-point lead coming into this Saturday night, but Reed and James are still very much in the fight.
With four rounds to go, business is picking up. I made the trip to Detroit last weekend and came away thoroughly satisfied with the show and the state of the motocross union in general. So this week I want to talk about my experience, but still try to get you good folks Revved Up for Houston.
First and foremost, I was given a sticker last weekend that put a huge lump in my throat. It's hard to imagine a tiny adhesive carrying so much weight, but when it says "Ernesto 10" and Jimmy Button gives it to you, that sticker becomes a very powerful possession to a fan like me. I didn't have that sticker in my hands for 20 seconds when I turned around and saw
James Stewart
touch the ground three times in a series of 11 jumps. After tucking my eyes back in my head, I took another look at that sticker, then took a pull off my cold beer (thanks, Jeff!) and let out a long sigh. Supercross is gnarly, and every one of those guys are warrior-poets. They deserve money, power, and respect. Which brings me to the next event of the weekend that left its mark on me. It involved the cat that has the aforementioned words of distinction tattooed across his chiseled six-pack.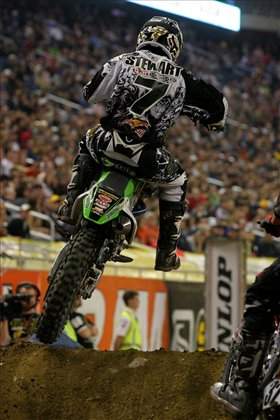 As if it wasn't enough that Stewart's doing next-level stuff, that bike is amazing!
photo: Matt Ware
There is no room in AMA supercross for the kind of behavior Tyler Evans displayed in Detroit. Rubbin's racin' and all of that, but turning right in a left-handed hairpin banked turn and deliberately ramming somebody off the track the way he did is idiocy. Sadly, this was as professional as it got for Evans because after committing this move he proceeded to pull off his jersey and flex for the crowd. I grit my teeth as I saw a small group of kids leaning over the fence and flexing along with him. It was ridiculous, and I booed as loud as I could. You know, there's not much money given out for finishing last in the LCQ, very little power is earned by not making the main, and absolutely zero respect is given to professional athletes that behave like that on the racetrack. Sure, he can whoop my ass and probably anybody's on the track, but if that is his passion, then I would like to see him in the Octagon on pay-per-view rather than racing supercross and taking out guys like Doug DeHaan. Come on, Tyler, cut that crap in half and put more effort into being the bad-ass racer that you are.
But I have to say the event that had the biggest impact on me was watching
James Stewart
live and in person. He is absolutely on fire right now! The word on the streets is that Kawasaki and James found a new setup. Whatever combination they found has made the guy even faster—and who knew that was even possible? I was watching the heat races with Button and we were eying Stewart and Michael Burne's progress on the track when Jimmy asked me, "Dude, do you realize how good
Michael Byrne
is? He is an amazing supercross rider and look how slow he looks compared to James!" The man who used to be #259 is doing things that just don't seem possible with a dirt bike.
Ricky and Chad are flying, too. They are riding as fast or faster than they have all year, which really puzzles me about Chad. It's like he's riding faster with an injured shoulder than he did at Phoenix, where he almost won – and had two healthy shoulders. Hmmm…. I did hear from a very credible source that Reed has only been on a bike three times since his unfortunate practice crash.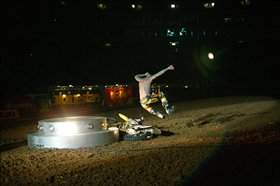 Has Tyler Evans' act jumped the shark tank?
photo: Simon Cudby
Another thing that kind of raised an eyebrow with me was the brake-check Ricky put on him. Remember last year in Dallas when Chad ran it in on Ricky in the first turn and RC was claiming dirty tactics? That brake-check might have unceremoniously ended Ricky's right to make such a claim if a similar instance occurs in the upcoming Texas events. Chad is still very much in this championship, as 10 points can vanish in a flash. And here is a kicker for you: We have a two-week break after Houston. If Chad's shoulder is hampering his speed, he only needs to gut it out for one more week, then take advantage of the 14-day healing period so he can be really fast when Dallas arrives! Right?
In my opinion, Houston is going to be one of the most pivotal rounds of the season. The two-week break I just mentioned might give the boys a little extra motivation to push the envelope. RC has said before that he always likes to win the ones before the breaks. I don't know … I just have another one of those feelings about this one. Maybe we could see the fourth different winner this time around? The history of the 2006 series shows that just when things appear to be sorting themselves out, a shell hits. Could it be time for another bombshell or two? Well, if it is, let's just hope it involves insane racing action and an even tighter points battle.
And just one thing about the 250F class: When in the world did Josh Grant get so good? Is it Ryno? Is it the rivalry with
Davi Millsaps
? Had Josh not thrown the bike away at the opener in St. Louis, we might have one heckuva finale here this weekend, but instead, Millsaps will get to earn his first championship—he's definitely deserved it, but it would have been awesome to see a real last-race showdown….
Till next week, keep your thoughts and prayers with Ernie and do your duty as a supercross fan: Listen to Weege and Holly Saturday night, watch Ralph and Denny on Sunday, and make sure TFS has it right on Monday!
Thanks for reading, see you next week!