Time to drag the couch back in the house.…
Last night was tough. No, not in a silly staying-out-too-late way, or a even a serious way like somehow getting hurt on their motorcycle. I'm talking about the painful, heart-wrenching, our-team-lost way. If you're a regular reader of Racerhead, then you probably know all about my love of the West Virginia University Mountaineers. Last night, the clock struck midnight for our basketball team (though it was about 12:25 a.m.) when some kid from Texas swished a three-pointer as time expired in their "Sweet Sixteen" game of the NCAA Basketball Championships. Just like that, the season ended.
Since then I've received condolences from countless friends, including everyone from Live Nation's Charlie Mancuso to the AMA's Tom Lindsey to Tex-SX fan Jim Whitten. Sure, I'm bummed, but it's been a pretty good run, as my wife reminded me as I sat on the couch I was planning on setting alight if we won it all (it's a hard-to-explain and rather embarrassing and dangerous tradition here in Morgantown). The Mountaineer football team won the Sugar Bowl, the Pittsburgh Steelers won the Super Bowl, and most importantly of all, Team USA won the Motocross des Nations. Three out of four ain't bad.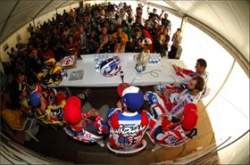 At least these guys won
photo: TFS
But to get my mind off basketball, a road trip is in order, so tomorrow morning I'm loading up the
Racer X
Rover and heading to Detroit for supercross! That's where we'll see if
James Stewart
can string together his first two-race winning streak of 2006 (and after watching Orlando, I think he's a good bet) and
Josh Grant
(likewise) can do likewise.
Besides, I gotta be there to see the first SX in Michigan outside of the old Silverdome. I've been going to that race since 1978, and I raced it a bunch of times when they used to have that crazy amateur-day chaos that started right after Saturday night's main event and lasted well into Sunday afternoon.
True story: I once had a solid second going in the 250 A class in 1983, then got passed by some skinny and flat-out flying dude on a Team Dynamic Yamaha. So I rammed him in the next corner, and it knocked my pipe off and I DNF'd. The kid was named Keith Bowen, and that was the last time I would ever get that close to him on a motocross track.
Detroit is in the Eastern time zone, so the races begin around 7:00 p.m. tomorrow night if you listen online to the Supercross Live! webcast on supercross.cc.com. And it's always a good idea to click on amamotocross.com all day (and night) long to see lap times, lap positions and more. There's also next-day coverage on Speed TV, so check it all out.
Stewart was the winner last week, of course, and he was doing next-level stuff. That triple he uncorked out of the first turn was amazing, and so was the wheelie through the whoops in that heat race. James is undefeated in heat races so far in '06, which led him to make a funny comment on this week's jamesstewartonline.com newsletter: "If there was a championship for heat races I would be the guy."
There's not, of course, but I think it's safe to say that James is going to be the guy someday real soon. In the meantime, he's got a lot of points to make up on Ricky Carmichael, who might be going into conservation mode right now and just watching Chad Reed in the Amp'd Mobile AMA Supercross standings. Yes, Stewart is right there in the World Supercross GP standings, but I'm not fully convinced Carmichael would risk the AMA title just to hold onto the world title as well.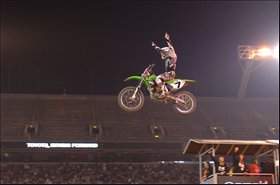 He was doing some next-level stuff at the Citrus Bowl
photo by Carl Stone
Anyway, you can read all about Detroit and
get Revved Up
with
Andy Bowyer
's Thursday column right here. Or you can check out
TFS
'
Monday Conversation with Stewart
or even
Bad Billy Ursic
's
Privateer Profile
with Orlando podium finisher
Nick Wey
.
And I would like to welcome Andy Bowyer aboard as a new full-time employee of MX Sports here in Morgantown. That's right, Mr. Rev-Up, himself a former Loretta Lynn's champ, pro motocross racer, and all-around good guy, has a new gig under the same roof as Racer X and Road Racer X. He moved to Mo'town today, and he will be a District 5 regular this summer (if he can pry himself away from the TV and little brother Clint's NASCAR races). Welcome aboard, Hattica!
The last feature article Andy did in Racer X was about David Vuillemin's move to Texas for a new gig with BooKoo Honda. Well, unless you were stuck all week watching that amazing 22-hour Supercross Classics DVD I mentioned recently, you must know by now that David's season on reality TV was canceled by the mutual decision of both parties.
There was more to the story, obviously, and our own Bad Billy tracked DV12 down all the way over in France for the inside scoop. As for the BooKoo team, they have added the veterans Brock Sellards (who will race this weekend in Detroit) and multi-time Arenacross Champion Josh Demuth, who will begin in Houston next week.
A promising photographer from the Dallas/Ft. Worth area named Aaron Remkus snapped off a photo of Demuth doing some testing on a bike that still carried the number of a certain Mototalker we used to call "Le Cobra."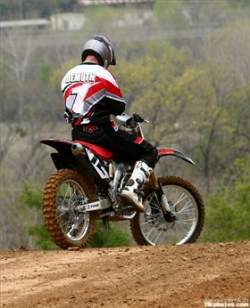 This picture sums up an upcoming episode of

The Reality of Speed
photo: Aaron Remkus
Moving right along, Mike Farber's question on
supercross.cc.com
was this: What do you plan on doing after you retire from racing? He spoke to a wide range of folks, including
Branden Jesseman
,
Matt Walker
,
Tommy Hahn
,
Jake Weimer
and more. It's good stuff—make sure you check it out!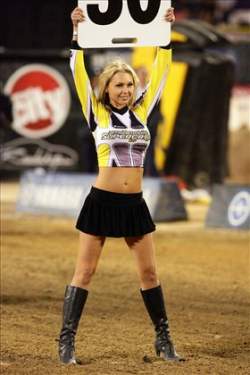 Miss Orlando was just right
photo by Paul Buckley
Farber was also pretty excited when he called me last Saturday from Orlando to tell me that he had found a new
Racer X
model named
Leticia
. She was the Leo Vince girl, as well as the 30-second-board girl at Orlando last week. I said it a lot growing up, but I'll say it again now: Thank God for Gainesville, Florida.
Last week I predicted that Chad Reed would have a tougher time riding with that separated shoulder than he had at Daytona, and I was right—believe me, it came from experience. Regardless, what he's doing to stay alive in this championship is just top-shelf stuff.
In a recent issue of Stuff magazine, they did a piece on the toughest obstacles in motocross, including an excellent Simon Cudby morph shot of Reed doing a big whip. And in usual lad-mag style, they over-embellished a thing or two. But one thing they did have was their handy sidebar called "The Crying Game: How to remedy a dislocated shoulder."
In case you missed it, check out the four tips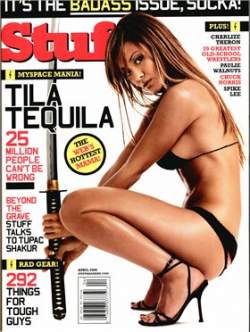 Hope Chad has a subscription
1. "My arm feels funny." Nowhere near a hospital? Have your injured friend lie on his back an get someone to hold him down.
2. "What the hell are you doing?" Wrap a sheet around his upper body to stabilize his torso, grasping the ends on his uninjured side.
3. "So, is this gonna hurt?" Firmly pull on his wounded limb, rotating the elbow outward and back like a pitcher's windup.
4. "Sweet f@#!%! There is no god!" Brace yourself for his blood-curdling screams as the humerus bone pops violently back into place.
Okay, I wasn't at Orlando, so let me turn this over to Jason "SX Live" Weigandt for is view from the press box:
Well, how many faces can this 2006 Amp'd Mobile Supercross Series have? In just a manner of weeks, the series has seen Chad Reed, James Stewart and Ricky Carmichael all get, and then lose, control of the series, some by their own work, some by the work of others, and not all of it even happening on the track. And that's just the last few weeks. Don't forget the ups and downs have been going up and down since December. And what's more, the field hasn't even had a single weekend off since New Year's. If you think about that, then you realized that the most impressive feat of all is that the "big three" are just out there still racing at all.
Not that they haven't all taken on some bumps and bruises. Carmichael's big crash in the St. Louis whoops tweaked his wrist pretty bad, and he has to have hurt a lot of other things that he's probably not talking about. And Stewart, well, that Daytona crash had to hurt. But the biggest pain right now is Reed's. It's just unbelievable that he is riding with that bad shoulder – twice now. We can recall a few circumstances when a rider had a shoulder injury like that and went out and raced – one was Grant Langston in that infamous Southwick 2001 battle with Travis Pastrana. Langston gutted it out that day, going 9-4 with basically one arm to finish sixth overall on June 10, 2001. But the real killer came the next weekend, on June 17, when Langston was unable to race at Budds Creek.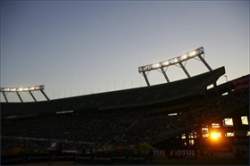 Orlando was the House of Pain for Chad Reed
photo: Paul Buckley
See, the riders can nurse it, barely, through that first weekend with a numbing shot from the docs and some serious teeth-gritting, but things are even worse the next weekend. Still, I remember that epic
Southwick
'01 race like it was yesterday. There were so many elements at play there – so many that the
Racer X
coverage of the event contained stories by four different riders who played into the afternoon: Pastrana, Langston,
Mike Brown
and
Brock Sellards
. It was a wild one, but unfortunately, Langston had to give back all the points he saved that day by sitting out at Budds.
Reed would know how much worse things can be the next week, because one year later, on June 9, 2002, at the very same track, Southwick, Reed separated his shoulder, too! Chad was coming off of his first American MX National win at High Point (amazingly, that's still his only American MX victory), and he was in the thick of the points battle, so he had to gut it out. He did, finishing third in moto two. Reed was actually able to ride the next weekend at Budds and went 2-4, but he wasn't the same for the rest of the summer, and Stewart pulled way out front in the points.
Unfortunately, Reed is facing the same fate now. His second-place finish at Daytona was downright amazing. But really, his fifth in Orlando was even more impressive, because things were probably even worse a week later. Plus, Chad had a rough road to the main. First, he didn't ride the second practice. Then, he skipped the whoops and rode back off into the pits during the scheduled "hot lap" between him, RC and Stewart. Then in his heat, he got into a big battle with Nick Wey and Tyler Evans, and Evans, well, he's the last guy you want to be around when you need a break. As Wey tried to pass the title contender politely on the outside, Tyler ran Reed up high on a berm and Reed went down. So he was off to the semi for laps he really didn't need. He won it and skipped the podium interview with Terry Boyd to prepare for the main.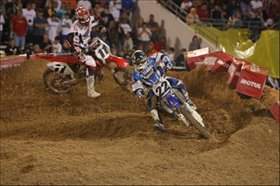 Chad's tougher than most of the rest of us on the planet
photo: TFS
Things didn't look good there for Chad early. He was in about fifth but was getting passed and yarded fairly easily, slipping back to about ninth as Carmichael, and the points, roamed way out in front. It looked like it was all catching up to him – the week of pain without being able to ride, all of those rough laps at Daytona, and the tough night he had already logged in Orlando. But then, amazingly, Chad dug deep and actually got it together for the final five laps of the main. He passed a bunch of riders, like
Kevin Windham
and
Michael Byrne
, and managed to get into fifth. It was one of the all-time gutsiest rides.
One thing Reed has on his side is Jeff Spencer, who is probably the best in the business at getting injuries stabilized quickly. I saw Jeff coming out of the elevator on Saturday morning and he was carrying a big zip-lock bag full of trainer's tape. I'm sure there was plenty of it on Chad's shoulder last Saturday night.
What's not on his side is time. We still have races in Pontiac—oops, I mean, Detroit—this weekend, and then Houston, before the field gets a merciful two weekends off. It can't come soon enough for Reed.
Two other things to mention before we leave the Reed shoulder issue. First, when he won in St. Louis, he apparently made some sort of "weight lifted off of his shoulders" gesture that might be misconstrued by his rivals as an NBA post-dunk, read-my-number-bitch type deal. The thing is, if he were able to win another one, well, maybe he won't be physically capable of doing such a gesture but I'm sure it would feel even better, although in some ways worse, than that win in St. Louis.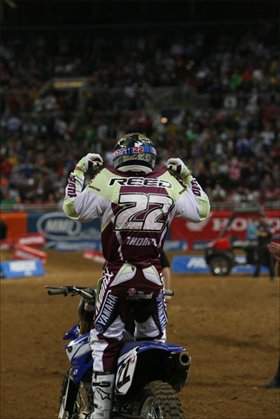 Reed after his St. Louis slam dunk
photo: TFS
Second, remember when Reed busted his shoulder up playing pool with
Nathan Ramsey
on the eve of the European rounds of World Supercross GP in December 2003? But then he was ready to go, and win, in Anaheim a few weeks later. This guy has been through a lot!
Now let's move to Stewart. What a shame for him. He's not injured, but someday he'll look back on all of the points he lost somewhere along the road to the 2006 Amp'd Mobile AMA Supercross title. Stewart has been fast, fit and healthy all year, and honestly, in any other series or race in his life, that's basically all he needed to clean house. But now he's up against the GOAT, and when it's the irresistible force against the immovable object, well, right now the immovable object has a 23-point lead. But Stewart is closer in the Amp'd Mobile WSXGP, thanks to those two wins in Canada and the fact that Daytona's rough night doesn't count in that series. There's a strong possibility that Stewart could win the World Championship this year and Carmichael could win the AMA crown. Stewart is down just six points in the WSXGP.
Anyway, there has been a lot of talk that when Stewart doesn't crash, he wins. But of all of the wins he has this year, none of them were as convincing as Orlando. He was just in another zip code all night long, or all day long, really, if you look at practice times. There was absolutely no one close. And then he finally got the clean start he needed at Phoenix, A3, the ATL, and Indy. But is it too late? Is Ricky already into defensive mode?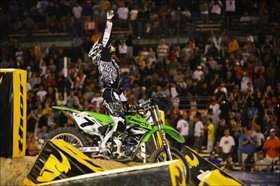 James celebrates the future in Orlando
photo: Paul Buckley
And isn't it nuts that Carmichael could even be in this position? Just four weeks ago we were in fuel-gate and Reed had a 31-point lead and RC was threatening to drop out of the series. Now, he's the man to beat again.
This has been one heck of a series. Do yourself a favor and memorize it, and then reference it for the future. You'll want to keep the bench-racing going for a long, long time on this one.
How about Josh Grant? That kid has been hauling this year, and he has shown he has every bit of the speed that Davi Millsaps does. But he doesn't have the points. Grant gave up 25 points when he crashed and then got taken out at the season-opener in St. Louis. And how many points behind Millsaps is he now? Yup. Twenty-five.
Grant had Millsaps covered at Indy, but he crashed with a lapper and threw it away late. He had him in O-Town, too, but this time he held on to win it. As for Millsaps, I think he's just trying to hang on and win the title now. He's just too darn heavy for the 250F, so he's going to do what he needs to do to get this done and then go race a 450 for the rest of the races. Millsaps said he was just getting pulled coming out of the corners on that 250F compared to the much smaller Grant. I'm not sure where 'Saps will stand when he moves up to the 450s, but if they were to ever bring those big whoop sections back, look out.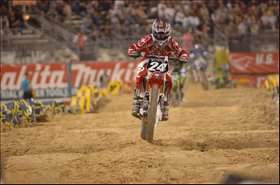 This kid is going to be tough outdoors, too
photo by Carl Stone
And if you think Grant is impressive, what about
Nick Wey
? The guy came from behind to get a damn podium in Orlando. I mean, he battled with
Byrner
, dropped him, and then just ran
Ivan Tedesco
down and got him. It was pure heart and maybe a little bit of sand expertise. But Wey, he's on a production bike all the way. I asked him about maybe getting some help from Honda, and he said he's not switching teams at this point, because the MDK/Motosport Outlet/MSR team had his back in December when things were a lot different. So good on him for being so loyal. But he said he wouldn't be opposed to maybe getting some technical assistance (read: parts) from Honda if they offered. Let's see. The #2, #5 and #10 CRF450s are parked for the season. Don't they have any parts laying around somewhere?
But the #14 is back. It was awesome seeing Kevin Windham out on the track, although I know Jim Holley and myself already miss his help on the Supercross Live! webcast. But we found a nice replacement for the evening, as Ezra Lusk stopped by and helped us call the 450 heat races. Ezra is done as a full-time racer—we even joked about seeing a different rider (Travis Preston) riding the #11 Honda now. He said he's actually really into tennis right now, and he's also helping his brother, Shane, come back from his spinal injury from a few years ago. In the wake of the James Marshall and Ernesto Fonseca situation, it's very, very refreshing to see someone on the road to recovery. And Shane is making a comeback. He is walking with the help of a cane, and he and Ezra hit the gym together three days a week. And Shane is now going to college in Tallahasse. It's just so awesome to hear such good news.
As for James and Ernesto, everyone is still pulling for these guys. I heard one very high-placed executive in the industry say how normally, and sadly, this industry has a tendency to run from its issues at times, but luckily, that's not happening this time. Surely, no racer wants to stay focused on what can be a very, very harsh reality. But, everyone is proud of the way the Marshall and Fonseca matters are still very much on the front burner, because these guys need the support and encouragement.
One more plug from The Weege – he writes a Racerhead-like column covering the world of GNCC Racing every Thursday on GNCCRacing.com. It's called Quick Fill, and if you like riding in the trees and like reading Racerhead, you'll like it.
Speaking of the GNCCs, the series resumes this weekend in North Carolina. Juha Salminen continues to Juhaul away from the pack. The guy is just amazingly smooth, precise and talented over some very ugly terrain, and if the pack doesn't pick it up soon, we could be talking 13-0 soon. But, the field did get much, much close at the second round in Georgia then they were at the opener in Florida. So there's still hope. Unfortunately, Rodney Smith and Barry Hawk have already logged DNFs this year, so Juha is looking good in the points. But for now, everyone is just working on winning one race – just like the competition usually does against RC every summer.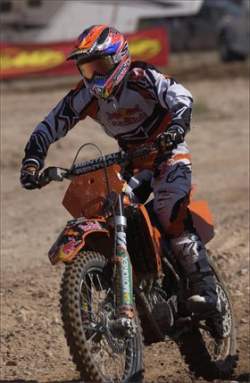 Mike's getting ready for outdoor motocross with some WORCS racing
photo by Kinney Jones

Mike Alessi and Brett Metcalfe used an off-weekend to race the Lake Havasu WORCS Series and ended up 1-2 on a very rough track. After the race, Mike called it "the toughest thing I have ever done." Series leader Ryan Hughes suffered his first loss of the season after a crash early on left him playing catch-up all day. He still ended up third, which is like a win when you consider that this is the only race 250F supercrossers Alessi and Metcalfe will probably do in the series.
And now it's time for Ping….
The coolest butt-patch of the year, hands down, goes to Chad Reed last weekend in Orlando. It read, simply, "Rule #76." All week, people have been guessing, researching, and trying to read between the lines, thinking that there is a hidden message in there somewhere about fuel regulations or points deductions. But riding with a separated shoulder is tough, and Reedy turned to the best movie in the last decade for inspiration. Wedding Crashers Rule # 67: "No excuses. Play like a champion." Reed toughed out a fifth, keeping himself in the game for another week. Nice work, you old sailor, you. You motor-boatin' S.O.B. But it's getting down to the home stretch and Chad is going to have to stand on top of the box soon if he wants a shot at this title.
Another hot topic this week is Josh Hansen and his withdrawal from the East Region 250F Series. There was speculation that he was exaggerating his injury so he didn't reach the 100-point mark, assuring another three years of Lites-class eligibility. Well, squash those rumors right now because Hanny didn't earn any points in 2004: He was signed up in the West and switched to the East after failing to break the top 10 in the early California races. Back then, a rider could compete on the opposite coast if they weren't in the top 10 in their series but they did NOT earn top-10 points. Hanny would still have another year of eligibility even if he scored 100 points this year.
Li'l Hanny has been hurting too
photo: TFS
The truth is, Josh really does have some back problems right now. I spoke with his team manager,
Larry Brooks
, earlier this week and he explained that Josh has a herniated disk in his back that has gone undetected by several physicians. "I've taken him to see three or four different doctors and they all just said he pulled a muscle or something," Brooks said. "I was starting to wonder if he was B.S.-ing me or not.
Jeff Spencer
gave us the name of a back doctor in L.A. that he really trusted and we went down to see him. He did another MRI, but he did his while Josh was standing up. He said that in younger kids, the herniated disc will suck up into the vertebrae when the patient is lying down for the MRI and it won't show on the film. When he did the MRI his way, he was able to see what was going on. So we know what the problem is and know he is just working on getting it fixed."
I hope Lil' Hanny can get healthy and show everyone that he can ride outdoor motocross as fast as anyone—if he commits himself to the project.
This Monday, the Outlaw Ride day at Glen Helen Raceway drew a large group of pros, fans and riders to the San Bernardino area. The weather wasn't cooperating, but it didn't stop Rick Johnson, Grant Langston, Ryan Villopoto, Andrew Short, Troy Adams, Ryan Morais, Colin Morrison, Kurt Caselli, Johnny Cambell, Jimmy Button and many others from coming out to support fellow rider James Marshall.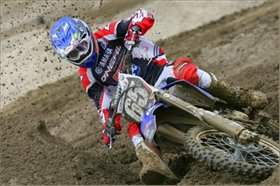 Check out all of Simon's Outlaw Ride Day pics here
photo: Simon Cudby
Between donations at the gate, raffles, and a truckload of gear and goodies to be auctioned off, there was probably a significant amount of money raised for James' recovery effort. He's going to need it. The latest update is that James is in great spirits, his lungs are strong, and he is breathing on his own again. That is very important step in his recovery. The next several months will be critical for him so please keep James Marshall in your prayers.
If you're out and about in California and looking for some quality racing and riding, check out the Competitive Edge website, ridecemx.com, for updates to races and practices. Kristin Oehlhof let us know that they are now open every Tuesday, Wednesday, Saturday and Sunday with three tracks available to the public (and the adult pit bike track will be opened the middle of April once they have the first big race on it). By the end of May, they will have yet another track, plus the 65/85 track open too. That's a total of five tracks that will be available to ride four days a week! They also have the Loretta Lynn's Area Qualifier coming up April 1-2.
Thanks, Ping.
Time for me to round this out and then go babysitting, er, parenting at home.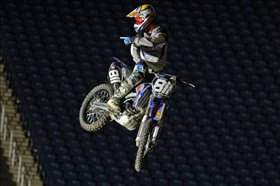 Tony Scavo is going to light up Ford Field and riders like Jay Marmont (and safely, he promises)
photo: Tony Scavo
Photo man
Tony Scavo
is bringing the cool lighting techniques he picked up in FMX and then mastered during the BooKoo Arenacross Series into supercross this weekend. He finally got the green light from Live Nation to bring a few remote strobe lights and have partner
Danya
help set them all up and keep an eye on them. The look is really unique for supercross, so stay tuned to some cool stuff this weekend.
Have you been watching Greg White's supercross reports on 2-Wheel Tuesday over at Speed? It's good stuff. He's a racer-turned-broadcaster, and he's turned into a great voice for motorcycling in general.
While the Amp'd Mobile AMA Supercross season is only five rounds from its completion, the folks over in Europe are just gearing up. The MX1 series kicks off next weekend in Zolder, Belgium, while in the tarmac world, the MotoGP series gets started this weekend in Jerez, Spain. That's a big deal for our little brother, Road Racer X, and a lot of top motocrossers follow MotoGP as well. You can watch the racing on Sunday at 3:00 EST on Speed, and study up by checking out CJ's "Road Racerhead" over at roadracerx.com.
Speaking of which, be sure to give a listen to Red Bull's MotoGP Weekly Dispatch at redbullusgrandprix.com. It's hosted by the very busy CJ (who has taken to calling himself DJ CJ!), and who will be checking in with MotoGP riders Nicky Hayden and John Hopkins (both of whom are very good motocrossers, by the way) on Fridays before all 17 MotoGP rounds. Oh, and Road Racer X is the title sponsor of Fantasy Racer's MotoGP Fantasy League. It's free, easy, and fun, so head on over to fantasyracer.com and pick your team.
It's almost time for the FIM World Championships to get started. Check out MXGeoff's GP preview from earlier today right here.
Finally, a note from Las Vegas: As the supercross season closes in on the final in Las Vegas, we were reminded by the promoters that for for those going to Vegas to also check out the Maxxis MiniMoto SX on Friday night, May 5. From what we hear, all race classes are full and tickets are selling at an all-time rate. The top riders signed up for the event should make for some great racing. Names like McGrath, Cooper, Browning, Antunez, Hofmaster, Gibson, Costello, Abrigo, Willow, Coen, Thain, Matiasevich, Hagseth, Ripple, Dietrich, Sciacqua, Dudek, Lacy and yes, even our very own David Pingree.

We also understand that the women's class will be full of top-ranked talent. Sarah Whitmore, Tarah Gieger and Jessica Patterson are confirmed to take on last year's winner, Jen Krick, and the very popular Jamie Little. This should be quite a race. For tickets to the event call 888-234-2334 or buy them on line at orleansarena.com.
Oh, and if you like poker, you're going to love the new Moto-X playing cards from No Limits. The playing cards retail for $7.95 per deck and are only available at legitimate dealers worldwide. Or go to: 4nolimits.com.
Okay, that's it, but that was a lot. See you at the races in Detroit. Thanks for reading Racerhead.