MX Geoff's Grand Prix Preview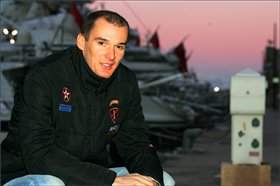 Stefan Everts is retiring after this Grand Prix season
In a week's time, the World MX1 and MX2 Motocross Championships will begin. Of course, the most interesting thing about the 2006 season is the fact that the greatest Grand Prix rider of all time, Stefan Everts, will retire at the end of the year. What this means for the sport is that not only do we need to say goodbye to Everts, but we need to find a replacement. Steve Ramon summed it up perfectly when he said, "Finding a replacement for Stefan Everts is not going to be easy, if not impossible."
So far, this preseason has seen Everts win five events in five starts, 12 moto wins from 14, and his confidence is sky high. With just 16 GPs remaining in his career, Everts needs little in the way of motivation.
"I have never needed to find motivation," Everts says "It's just there, inside me. I hate losing. I feel maybe better than ever with my preparation. Many people have asked me if I am ready too early, but I just feel really good. The big improvement for me is the bike. Out of the starts, it's better, but I also feel like I can push better. I don't need to get close to the edge to push."
For the Rinaldi Yamaha-mounted Everts, the final season of his career is not something that has emotionally drained him; instead, he is looking at it with pleasure. The rider we are seeing at the moment might just be the best Stefan Everts we have ever seen.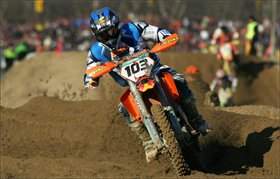 Sebastien Tortelli returns to Europe for '06
"Many fans are coming to me, emotional, saying I shouldn't retire. It has not hit me yet," he admits. "I mean, I have had some emotional moments. I don't think it matters where I end my career. I mean, I had my biggest moment in my career in Ernee [France], winning the three motos [in three classes on the same day in 2003], so I guess ending in Ernee is a good place [this September], but for me, the final race of my career will be a big memory for me anyway, so whether it be Ernee or anywhere else, it does not matter. I have already heard from so many people who are coming to Ernee, making their bookings, family and friends. It's going to be a special day for me. I am not sure I can do better this year than I have in the past. I mean, for me, 2003 can't be bettered, with so many moto wins in both MX1 and MX2, plus the triple GP victory in Ernee."
Of course, there are many quality riders in the MX1 class this year: Coppins, Tortelli, Pichon, Ramon, Strijbos, and De Dijcker. Any one of these riders can be a future world champion, and any one of these riders has the potential to reach for the stars, just as Stefan Everts has done in the last 15 years.
Let's start with Josh Coppins, the 2005 series runner-up. There is not doubt the CAS Honda rider holds the strongest position within the big six. His speed in recent years has been better than ever. His desire and will to win has also improved, and his confidence is at an all-time high. In the preseason races, Coppins didn't push too hard, but he showed enough to give the impression he will be hard to beat in some races in '06.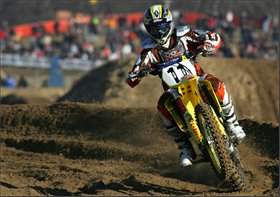 Steve Ramon could be the next Everts
Of course, KTM team riders Tortelli and Pichon also have the speed to match Everts, but do they have the luck? The preseason races saw both battle with Everts at different moments, although they also spent some time trying to get their orange bikes started. Mechanical problems have often been a problem with the always-developing KTM team; let's hope this year their riders can fight for the title without having to come back from a DNF here and there.
To me, the two biggest dark horses for GP glory are Suzuki's Steve Ramon and Kevin Strijbos, both Belgians and both young enough to take the sport to another level. As for talent, this is probably the most talented pairing in the paddock, and the Suzuki machines have come a long way in the last couple of years. Stijbos has beaten Everts in the preseason, and at the opening round of the Belgian championship battled hard with Stefan, eventually falling short as he struggled with sickness. Ramon, well, we all know he is the next Stefan Everts; all we need now is for him to know it! Even the great Everts himself feels that Ramon has more talent than anyone else in the GP paddock: "In some things he is even more talented than me—he can find lines like nobody else."
The final piece of the MX1 puzzle is the Belgian giant Ken de Dijcker of the CAS Honda team. A year ago around the Zolder circuit, de Dijcker shocked the world by finishing fourth. Twelve months later he is ready to do it again. Known for his natural talent but lack of stamina, de Dijcker has worked hard in the winter and is looking strong as the new season begins. Don't be surprised to see him win a GP in 2006, and his chances of finishing top three in the world are good. De Dijcker has also worked hard with CAS team manager Neil Prince, and Prince was not surprised when De Dijcker actually beat CAS lead rider Josh Coppins in the opening round of the British MX1 championship.
"Ken is working hard," Prince says. "He has found some changes in his riding, and also in his condition. I think he will surprise a lot of people with his improvement, and we already saw in England that he is motivated to really rock the boat."
The Grand Prix season kicks off in Zolder, Belgium, next weekend.