Hello, everyone, and welcome to the Rev-Up. The 2006 Amp'd Mobile AMA Supercross Series will roll north from the sunny climes of Orlando to the chilly confines of the Motor City for the inaugural Detroit Supercross, which replaces the suburban Detroit destination of Pontiac on the schedule. I sometimes like to talk about the cities our riders are venturing into a bit to help build a vibe for the upcoming event, so before we get into the upcoming racing, here is some history on Detroit, which I gleaned from Black History in Detroit: From GM to Motown by Matt Borghi.


Josh Grant celebrates his second win of the season
A couple of decades after the Civil War saw the arrival of Henry Ford and his efforts of producing the world's first affordable automobile. The industrial boom that fell in its path brought with it the need for cheap labor. While Detroit succeeded in becoming the industrial capital of the world, the racial tension the factories created would eventually cause its near cataclysmic demise. The riots of 1967 left a scar that is still visible today, but the city that gave birth to Motown Records has made a comeback in recent years. Gone for the most part are the years of racial turmoil, which saw the "white flight" into the 'burbs and left Detroit with an 82 percent African-American population as recently as 2001. But the past decade has seen steps forward. Once the youngest mayor of a major city in America, Detroit's Kwame Kilpatrick started out as a polarizing figure, but the whole city has begun to rally behind him. They've seen the return of the Detroit Symphony after 50 years of seclusion, the construction of a new Detroit Tiger's baseball park, along with the state-of-the-art Fort Field, which played host to Superbowl XL (and this weekend's supercross). Did I mention the NBA World Champion Detroit Pistons? And of course Detroit is the home of Eminem and his band D12. And shiver me timbers if it isn't round 12 of the 2006 supercross series! Those Live Nation guys sure are very intuitive, aren't they? Unfortunately, "DV12" will be missing, but Bad Billy talked to David Vuillemin earlier for this enlightening interview.
Okay, that's your civics lesson for the day. So without further ado, let's jump back into the racing itself and get Revved Up for the Detroit Supercross!
250F Class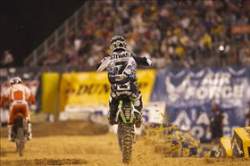 James Stewart had 20 of the most perfect laps we've ever seen at Orlando
Josh Grant has become quite a young man. About three years ago I was at Loretta Lynn's watching the 125 A class and seeing
Broc Hepler
and Davi Millsaps dominate the division. Then, one moto, there was a smaller kid on a Honda that was killing it around the track and actually pulling away from the two Suzuki superstars-to-be. His bike had Honda of Houston plastered all over it, but I didn't know who he was. I asked a shirtless preteen kid next to me, "Who the hell is that?" He looked at me and rolled his eyes and said, "Dude, that's
Josh Grant
. Duh!"
The California-born Texas transplant has quietly been establishing himself as one of the sport's next big stars. He has done some major damage in the two previous outdoor seasons, and now he has two SX victories in the last month, including last week's fabulous come-from-behind win in Orlando. Still, as this class rolls into Detroit, the championship is all but out of reach—consistent 1-2-1-1-2 finishes for Millsaps have him in the driver's seat with just two races to go. But the rivalry between Grant and Millsaps is just beginning to heat up. With Davi rumored to be moving to the big boys for the nationals, this might be the last time we get to see these two teen phenoms battle for a few years. They have been glued to each other all season and I don't see the adhesive wearing off for Detroit.
Behind them, time is running out for would-be podium finishers. Thomas Hahn needs to visit the steps very badly, and you just know that Branden Jesseman liked the view he saw up there in St. Louis. Chris Gosselaar will be tough to stay ahead of as he and his fire-breathing Monster/Pro Circuit 250F go for yet another podium in what has been a very good year for the likable Californian.
450F Class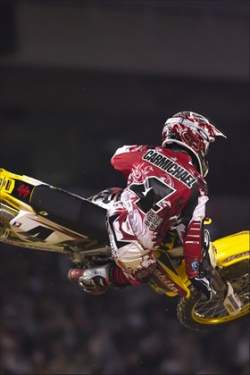 RC lost to James but gained six more points on Reed
Well, we saw a butt whoopin' in Orlando. It's been a while since James Stewart has gone out and embarrassed the field the way he did last week. While the dirt and track looked a lot like that of his practice track, this similarity is not why he was so fast. I have watched the race about three times this week, and I found a couple spots where James was gaining those two seconds a lap. He was using a much faster outside line after the finish line, and his speed through the whoops was incredible. I think he was at least a gear higher in them. Ricky and everyone else bikes looked to slow down as their tires slapped the top of each sandy mound, whereas James' bike simply shot over them while losing very little momentum. In addition, I think James' bike is the fastest on the track. In his heat race, Tyler Evans had two bike lengths on him till they hit third gear, then the green machine just about sucked the yellow off of One Punch's steed! James' bike sounds downright rude out of the corners. Rick Asch knows his stuff.
I don't believe Ricky is ready to lay down just yet, though. If he plans to hold his world supercross title lead, he needs to beat James at least twice before Vegas. Like I mentioned, it's been a while since RC has been outperformed the way he was in Orlando. He was having an off night, which we have seen out of everybody so far. But I think we'll see the GOAT come back and be faster this Saturday night, though he's also a very practical champion: RC knows what he needs to do to with the AMA championship, and that's just stay up and stay ahead of
Chad Reed
and everyone else—no matter where Stewart finishes.
As for Reed, he's been a warrior these last two races with that bum shoulder, and he's only dropped nine points to Carmichael along the way. He deserves full respect for staying out there, and while we know that's Rule 76 in the Wedding Crashers' handbook, Rule #22 should be changed to "Ride through the pain—be a champ like
Chad Reed
."
But, folks, the real racing will be behind these three (if Reed's well enough to get back up there). The
Nick Wey
/
Ivan Tedesco
/Michael Byrne/
Travis Preston
freight train was chugging along last weekend—pushed along by a returning
Kevin Windham
and the veteran Tim Ferry. I expect to see Wey go faster in his hometown race (DeWitt = Detroit when supercross comes to town) and Windham might be settled enough to move up into the top five—or better.
The race for privateer supremacy is coming down to the wire and again in the thick of it is
Ryan Clark
, and you know what? I have to give it up for the Clarkstar. I banged bars with Ryan for almost 10 years as an amateur, and it's great to see how much he has gotten done as a professional. He has his own team, he is a father, and the man is getting faster every year. It blows me away to see that skinny kid I grew up with from Arizona holding down 10th in the standings. Good luck this weekend, Team Solitaire!
You know, I briefly touched on the subject of race above, and I want to talk about it a little more, as it pertains to racing. As the series makes this first stop in downtown Detroit, site of some of the most terrible racial conflict in American history, I think back on how and where I grew up. Being in Kansas, I was not exposed to much cultural diversity. At least not until motocross came into my life. Very soon, I was traveling all over the country, going to big cities and deep-country tracks in places like Florida, Texas, and Tennessee. I became aware of some new slang I had not heard before, but I also learned to get along with kids my age that looked, talked, and acted different than my buddies in Emporia.
For instance, Erick Vallejo became a friend of mine while I was on 80s, and Tony Haynes was the first black kid I ever saw at the races, and oh man, was he fast! He was also a really nice guy, and everybody enjoyed hanging out with him and his dad. I saw
James Stewart
and his family shortly after, and later on I became acquainted with Sean Hackley and his very cool parents. What is great about our sport is that in all of my years of racing and traveling to races, I have never seen an instance of racism associated with any these families. I am sure they have all experienced some unpleasantness along the way here and there, but for the most part, motocross is one of the most race-friendly motorsports there is.
Last week, NASCAR was making an almost over-the-top push for recognition for Bill Lester, who became the first black man in 20 years to race in a Cup event, mentioning time and again how the great Wendell Scott quietly won a race in the Deep South in the early '60s (though he was barely allowed to celebrate for fear it might get all of those good ol' boys in the grandstands mad). NASCAR is trying very hard to lose their redneck, stars-and-bars reputation—a problem motocross has never had, at least not in my lifetime.
Of all of the publications and media entities surrounding motocross, the mention of James as a black athlete has been virtually nonexistent. In our arena, we do not care if you are black, white, yellow, brown, or green—just fast, fair, and fun. If you show up to the line and ride hard, you will have as much respect as anyone else.
About 10 years ago,
James Stewart
was asked by our own DC if color was ever an issue for him at the track, and James said simply, "We all look the same with our helmets on." That's why motocross remains my favorite sport. In my time, I have been beaten by fat guys, tall guys, black guys, French guys … hell, I even got beat by a girl! But I didn't really care about who beat me; I was mad about just getting beat.
The rules and attitude of motocross reflect the way I like to live my life, and it makes me proud to be a part of it all. Thanks for reading, see you next week!