5 minutes with ... David Vuillemin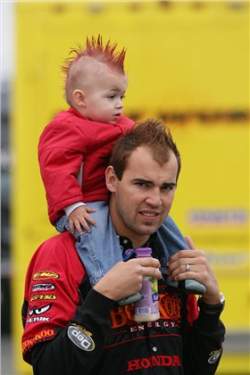 DV12 and DV1.5 earlier this year

photo: Simon Cudby

If you've been paying attention to Racer X Online lately, you surely noticed the press release we posted yesterday stating that David Vuillemin is no longer a member of the BooKoo Honda team. David is a former factory Yamaha rider in both Europe and America and has seven career 250 SX victories, three 250 National MX wins, and four 125cc SX main-event victories. We tracked DV12 down today (on the other side of the world!) to see what the plan is from here on out. He didn't want to talk much about what happened with BooKoo Honda and Holigan Racing, but he is looking forward to finding something new—and soon.
Racer X: David, everyone is probably aware that you and Team BooKoo parted ways earlier this week. First of all, what's next? Will we see you in Detroit this weekend?
David Vuillemin: Actually, no. I'm in France right now at my parent's house. I came here to just relax a little bit and look for some houses for the future and to see my grandma. I think it's a good time with my problems I've had recently; and also to have my sore ankle checked. I went to see my doctor, and I'll be fine with my ankle. Everything is going good and I'll be back in the United States next week.
I bet everyone is glad to see you back in France.
Yeah, it's good to see my parents. They've been working really hard and it's always good to see them. I also went to my grandma's 80th birthday the other night. It was kind of cool because there was a lot of family on my mother's side, and some of them I haven't seen for five years. It was good to see everyone and catch up with stuff that's going on around here.
Did you take the family over with you?
No, I just came by myself. It was a last-minute thing. But I was planning on bringing the family over in the summer because I wasn't going to race the nationals, but I don't really know what I'm going to do. If I race the nationals I'll probably bring them here for a couple weeks after that. I really want to bring the kids here so they can see everybody.
It's probably tough not knowing what the next step it.
You know, we just issued the press release with Holigan Racing yesterday, so I couldn't talk about going anywhere else until that was out. But the short-term plan is that I'm going to still ride and just find a way to do what I do. I race bikes, and that's what I want to do. I'm really motivated. For me, it was a big disappointment with my results, but I'm already back in the training mode to race the nationals. I don't know for who, but we're only in the first day with negotiations. Fred Bramblett has been doing a great job with Sharon and Tanya at OMS, but now the short-term plan for us is to find a ride. The nationals are a couple months away, so I have time to get ready for them. It was cool; I rode yesterday with one of my dad's bikes. He has a race team for Schoolboy riders and I took a bike and rode a little bit yesterday, and it was really fun.
What kind of bike was it?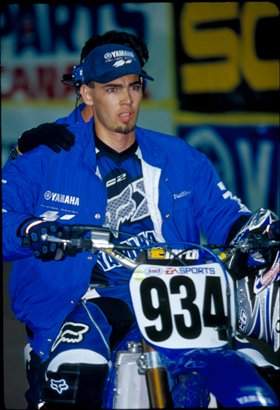 DV in 2000
photo: Mike Balzer
It was actually a Yamaha YZ250F. It was kind of cool just to have fun with those kids. Those kids are actually pretty fast for Schoolboys!
It should be easier going into the outdoors this year with more time to prepare than usual.
Yeah, but the thing is that I wasn't planning on doing any. I was just going to race a couple. It's a new challenge for me. I like outdoors, but I had the opportunity of not doing them and just spending time with the family. But it's not because I don't like outdoors; I think they're great events and the fans are very hard-core. We have great tracks and they're really fun. So we'll see if I can get some good equipment to race them, and it should be fun. I just need to get a bike when I come back into the U.S. and start riding.
Is it hard to totally focus on racing when you have a wife and two small children?
Yeah, it's tough, but Michael Schumacher has three kids, and he drives fast in Formula 1, which is 100 times more dangerous than what we do. I think people think I do badly because I'm a family man and a businessman, but I'm really not. I love what I do, but not really lately because I had some tough times. But you need to regroup. And what I love to do is ride a bike, and I don't think kids and a wife changes that. And I don't think the desire changes because I'm married and have kids. Kevin Windham is an unbelievable rider, and he's married and has kids. But like I said, I'm not a businessman, and I don't have a career plan. What I want to do is ride at my best potential. If I do that, I'll be up front, but I'm just upset that I haven't been able to do that lately.
Your first priority is obviously finding a ride back here in the U.S., but what about other issues, such as your living arrangements? You moved to Texas and bought a house prior to the supercross season, so do you plan on selling that and moving back to California?
I was in Texas because of the TV show, so my house is already on the market. I don't need to sell the house to move back to California. I have a house there and can move back. We have a bunch of friends that we can stay at just for now, to go and ride and get ready. Yeah, we moved everybody and it was a big deal to move. We did everything ourselves! From all the trophies and old gear – everything. So we have to move it all back. But I threw away a lot of stuff, and I'm just keeping the minimum. We can sell everything in Texas and just start over in California. I don't think that's a big deal. It sounds big, but it's actually not too bad.
You mentioned that the reason you had to move was to be on the TV show, The Reality of Speed. Was being on TV all the time fun, or was it a nuisance?
No, it was actually fun. It wasn't that bad. The guys were doing a great job staying out of the way if they had to. It was not a big deal. It was kind of awkward at first when you were talking to somebody and the camera was on. But after a couple weeks, it was fine and I did my thing. They actually filmed a lot of stuff, but it's sometimes hard to put a couple weeks in to a 30-minute show.
We saw your crash with Ryan Clark in the heat race at Daytona, and it was brutal. What happened there?
I hurt my ankle there and got the wind knocked out of myself. I landed really hard on the ground and twisted my ankle really bad. It took me a while to breathe good again, so that's why I laid down and caught my breath. I was kind of struggling in a section right there and Ryan went to the inside, and I didn't see him coming and he kind of took my front wheel away and I crashed really hard. It was a pretty big crash, but I was kind of lucky.
Daytona hasn't been that good to you, has it?
Well, it's actually not too bad. The first year I got third and the second year I got fourth. And then I broke my shoulder when I was leading the championship and I couldn't race there. In 2003, I broke my back. In 2004, I got fourth, and in '05, I got fourth again, I think. It's not really good to me, but it's not too bad. I don't believe in luck, and I'm not superstitious. It's just a coincidence, and it's nothing to do with Daytona.
You've accomplished a lot through the years and won a lot of supercross races. Looking back, do you have any regrets?
The only regret I have is just getting hurt for a stupid thing in '02 when I was leading the championship. I'm not saying that I was going to win the championship, but I had a chance to. I was leading with 20 points or something, and I just wanted to know if I could've had it. It would've been interesting to race against Ricky for the championship. After I got hurt, I rode with a broken shoulder for the rest of the season and it was really tough. That, and maybe leaving Yamaha last year. If I had to do it again, right now I would've just stayed with them. I made some bad choices in my career, so those two are the ones that really stick out. But there is nobody to blame but me. I made those choices and that's it.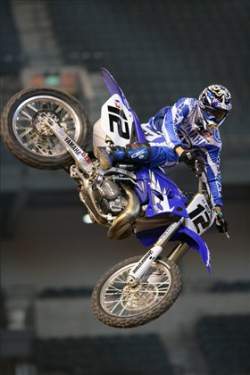 Vuillemin was with Yamaha from 1997 through 2005 here in the United States

photo: Simon Cudby

Did you ever think about riding GPs again?
This year would be almost impossible, because the first GP is next week. But I had a lot of fun doing GPs when I was running 125s and 250s in '98 and '99. But GPs have changed a lot since then. Right now it's not what I want to do. I would race them later in my career for fun, but just not right now.
You mentioned you were riding a YZ250F the other day. Would you ever consider racing a 250F in the outdoor nationals?
No, I don't think so. If I had the fastest bike, maybe, but it's tough for a big guy like me to ride a 250F. But those guys are all really fast. It just depends on the opportunities. I would like to ride one season of 250F outdoors. I don't know about this year, but one day I think it would be fun.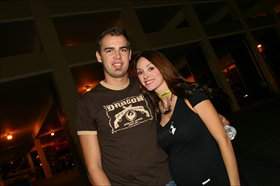 David and Erica Vuillemin at the 2004 U.S. Open

photo: Simon Cudby

We see you on the Mototalk message board interacting with fans all the time, and pretty much all of the members on there are really supportive of you. Right now there is a big thread going with tons of old photos of you throughout the years, which is really cool. You have anything you want to say to all the Cobra12 supporters?
Yeah, I like those boys. Especially now. It's kind of a tough time for me, and there are guys that like you or don't, but I really thank those guys that support me. Some have supported me from day one, but I want to thank the guys who don't like me, because they have good input. They say stuff sometimes that could make me smile, but sometimes the stuff is true. So I can't get pissed at somebody that pretty much tells the truth. Some of them go over the line sometimes, but for the most part, they're all good. You can't be liked by everybody, but I'm there, and I don't want to be anonymous. I want to be there and be able to give my take on stuff. I don't feel that I'm any different from BobbyM or TFS or Hammertime. I'm one of those guys, and when I have time, I try to make it to the Mototalk meetings at Dave and Buster's or wherever. But I can take a lot of heat, and I know I'm going to get it when I go and post on there, but like I said, it's all fun.
Well, thanks for your time and we'll see you at Hangtown.
Okay, thank you, Billy.