Hello, everyone, and welcome to the Rev-Up. I decided to go with a simple theme for this week's column. The word "Daytona" alone sends shivers down my spine and clams up my palms. Daytona is synonymous with competition, speed, and glory. Some of the most historic and tragic events in motorsports history have taken place within the confines of Daytona International Speedway.


I can close my eyes and see visions of Johnny O'Mara launching off the finish line in a vain attempt to pass Ricky Johnson at the 1984 event. I can see Ron Lechein hucking himself headfirst into RJ's spinning rear wheel at the 1987 mudfest. I can see
Ricky Carmichael
's dirt-caked smile after his first win in 2000. I remember watching the Daytona 500 a year later and hearing Darrell Waltrip cry out screams of joy for his brother's first Cup victory, then ask, "I hope Dale's okay … surely he's okay, right?" And I can easily recall the night
James Stewart
won his first Daytona event and spray painted a huge "3" in the Daytona infield grass.
They do not call this place the World Center of Racing for nothing. You can ask newly appointed AMA Hall of Fame member Jeff Emig what some of his most cherished accomplishments were, and his win at the 1997 Daytona Supercross will be near the top of his list. As motorsports go, no place in the world holds as much magic as the majestic Daytona facility.
This year's event arrives with some gray clouds and uncertainty surrounding it. Since the inception of the Daytona Supercross, the track design has been a Gary Bailey original. Dirt Wurx will handle the track building for 2006 on the heels of The Professor's recent legal turmoil. And in the middle of all of the prestige, pressure, and hype will be a universal mindset surrounding Ernesto Fonseca. Once again, the dark side of our sport has shown no clemency and struck down one of our greats. Let's keep all of our thoughts and prayers with Ernie, shove past the hurt, and get ourselves Revved Up for the biggest supercross of the year.
250F Class
There is blood on the moon as we head toward the drop of the gate for the 250F class this weekend. The bad blood between
Josh Hansen
and Josh Grant began at last year's Daytona event. With early favorite Davi Millsaps going down early, Grant jumped out to a holeshot and a huge lead. Slowly but surely, Hansen ate away at Grant's lead and, on the penultimate lap, the two riders came together in a heap.
Josh Grant
has been trying to seek revenge ever since. With Grant riding incredibly and Hansen against the ropes and riding in pain in 2006, this rivalry might have lost a little steam as Friday night closes in on us. Although, if there is a place on the globe where a rider can harness a little extra mojo and determination, Daytona is it. And I say Hansen will be going for it.
Chris Gosselaar
, Branden Jessemen, and Thomas Hahn will also be looking good for their first wins of the year, although it's still been the
Davi Millsaps
show through three rounds and the road to Daytona glory goes through #118.
And keep your eyes peeled for
Martin Davalos
. The kid has shown amazing speed on the indoor courses and rumor is, he is even faster outdoors. With Daytona being more outdoor-rider-friendly and Martin riding on familiar soil at the Millsaps Training Facility, we have a legitimate dark-horse contender in The Matador from Ecuador.
450F Class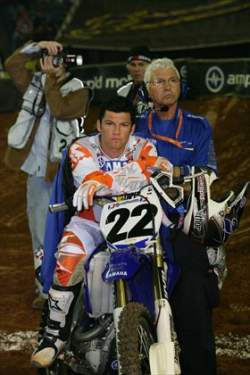 Chad has to dig deep if he wants to stay in the game.
I have two words for the 450F class this Friday night: "revenge" and "redemption." At the top of the revenge list is
Ricky Carmichael
. I remember watching last year's main event and saying to myself, "Watch RC toy with
Chad Reed
, wear him down, then blow past him with five to go." But the Thunder kept rolling, the laps kept clicking off, and suddenly I was saying to myself, "Reed has him in the hurt locker." And I was right. Ricky kept charging but Reed remained steadfast. In one of the biggest upset wins in Daytona history,
Chad Reed
took the checkered flag, then deftly motored his YZ250 to the tri-oval grandstands and did a burnout that would have made Earnhardt proud. That race would have been a record breaking fifth consecutive win for RC, in front of his hometown fans and at the site of his very first supercross. When Ricky pushes to the line for the main event this Friday night, there will be one thing on his mind: the smell of Reed's blistering rear Bridgestone from a year ago.
Next up on the revenge list … well, you know who it is.
James Stewart
is doing things on a motorcycle that have us wearing out the rewind button on our remotes! The guy is absolutely amazing. The dirt and design of Daytona typically delivers with the most diverse terrain of any track of the year, and no one can navigate a motorcycle through such terra firma like Stewart. He will be going with full-blown, wheel-slapping, bump-skipping, jump-scrubbing abandon. If he stays up, I do not think the almighty himself can stop him. Let's say that again together: "If he stays up, he wins." Thank you.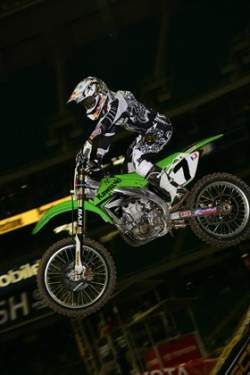 Let's say that again together: "If he stays up, he wins." Thank you.
Chad Reed needs redemption, and he needs this win. He doesn't even need the win, he just needs to get in the ring and fight for 20 laps with the Floridian duo. Stamina, speed, equipment … he has what it takes to get the job done. As the defending Daytona Supercross champion and current points leader, Chad has to dig deep if he wants to stay in the game. Last year was where he got the ball rolling, so damn it, go out there and do it again!
And everybody keep an eye out for
Nick Wey
! I was jumping up and down last weekend as he held a handsome set of hands on the handlebars in second place. And can somebody please remind me why he doesn't have a factory ride?
Before I go, I want to touch on the subject I briefly hit on above: the dark side of our sport. I have heard a lot of recent noise about the danger of our sport in the wake of Ernesto's heartbreaking injury this week. Now, I do not want to be insensitive here, but where was all of this talk two weeks ago?
Ricky Carmichael
suffered a similar crash in St. Louis and I hardly heard a word of concern. Granted, he escaped without serious injury, and we are all still holding our breath for good news on Ernie, but folks, this happens somewhere almost every weekend. And it has been happening since the first rider threw a leg over a bike. We were closer than you can probably imagine to losing Ricky in that St. Louis crash. Ask him. Of course, the difference is simple: Ricky got up and Ernesto didn't. The point I am trying to make is that what we do is dangerous, and it has always been dangerous. I have lost friends and have been within a thread of losing my own life riding motorcycles. I have learned the hard way just how dangerous and deadly riding and racing motocross is. What do we do about it? Unlike most sports, we have done virtually nothing.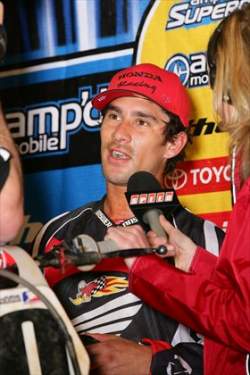 Ernesto Fonseca
The NFL (the most spinal-injury-prone sport) requires players and coaching staff to make neck exercises a strict part of calisthenics. In addition, the pads and uniforms have been reinforced to help prevent neck and back injuries. Just five short years ago, NASCAR lost their biggest icon and an American legend when Dale Earnhardt Sr. slammed into the wall on the last lap of the 2001 Daytona 500. They immediately instigated safer barriers and designed new head and neck restraints, which have been proven to save lives ever since. We have lost some of the biggest icons in our sport, and we are still losing them.
What has been done? What is being done? Sadly, not a damn thing. It's time to start doing something. If scientists can make a tree grow 15 feet in a year, we can construct a protective device that better protects the neck and back. It needs to be made, and the AMA, FIM, Clear Channel, or whoever the hell runs this show needs to enforce it as required uniform. What is stopping us? Are we more afraid of litigation than we are of losing our riders? For now, we do nothing. We accept the danger. We send our riders to the line in nothing more than a helmet, maybe some knee guards, long pants, and a long-sleeved T-shirt. Pro motocross and supercross is the admiration of the entire sporting world. Professional boxers, NASCAR drivers, stick and ball icons, they all come to watch us and most leave with a the same words: "Those guys are nuts."
And they're right.
Thanks for reading, see you next week!