Thursday Rev-Up: "Beautiful Disaster"
Hello, everyone, and welcome to the Rev Up! I am still in relapse from the surreal events of last week. Just when I was ready to give up on the "Perfect Storm," with the series beginning to manifest itself into a two-rider slugfest, disaster struck—for two of them, anyway.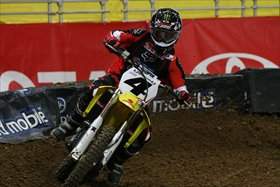 RC's weekend was maybe his worst as a 450 racer. Now he needs to shake it off and fight back.
They say bad things come in threes and last week's St. Louis event only reinforced that saying as far as the points leader goes. Ricky Carmichael was lighting up the first East Coast track and set lap times nearly a full second faster than his nearest rival. In his heat race he was cementing his practice-time speed when the first bombshell, in the form of his front wheel, dropped in the tricky whoops section. I have watched the crash over a dozen times throughout the week, and after watching it the last time in slow motion, I don't think we all realize how close we were from one of those terrible crashes like we saw James Marshall suffer in San Diego. Everything physics-related was working against RC as he pile-drove himself into the tacky terra-firma. But maybe all those years in the gym, on the bike, and away from McDonalds played a vital role in keeping our GOAT galloping here—plus a lot of luck.
With the shockwaves still hitting us from that awful crash, the second bombshell hit with full impact by way of RC's first mechanical breakdown in AMA Supercross and Outdoor competition since
Southwick
's 1998 AMA 125 National. Seeing RC ride off the track and into the tunnel was absolutely surreal! Until Krista Voda spoke to him, I thought it was his back, but again—upon further review—you can see his rear end not moving as he rode off with a broken shock collar.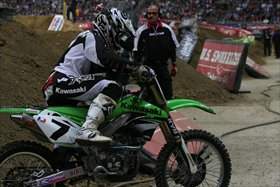 Stewart's 450 would not refire after his crash and subsequent stall.
But just as the walls appeared to be crumbling down for Carmichael, the third strike of this St. Louis championship disaster came when
James Stewart
hit the deck and could not restart his KX450F —something DC mentioned all the way back at Toronto when Stewart fell but kept the bike running. This time he stalled it, then took a full two minutes to finally get it going. His 17th-place finish minimized the damage of RC's 20th, but only as far as the two of them go.
Newton's Third Law reads, "For every action, there is an equal and opposite reaction." Chad Reed riding to victory and into the points lead proved this theory to be spot-on once again. While it's hard to argue that Ricky or James had very negative St. Louis experiences, it was nothing short of a beautiful disaster for our sport and the 2006 Amp'd Mobile AMA Supercross Series. Once again we have a race on our hands, folks. And Chad Reed is right where he wants to be as we approach the second half of the season. So let's dive right into round eight in Atlanta, and get Revved Up for what in the hell can possibly happen this time!

250F class
The late, great Jimmy Valvano, coach of the '83 NCAA Final Four Champion North Carolina St. Wolfpack, left us with a simple motivational speech: "Don't give up, don't ever give up!" Well how about Branden Jesseman and Chris Gosselaar, ladies and gentlemen? Brando and Li'l Goose have been near the top of the mountain of our sport, but recently they've been in the ditches. With new teams, new hope, and new podium finishes at the East Coast season opener, Jessemen and Gosselaar are back. They're two of the nicest guys you will ever meet in the pro pits, so let's cheer them on as they rise again.


Davi Millsaps
appears to have turned over a new leaf. Riding for Team Honda typically does a couple things for a racer. It will sharpen your focus and eight times out of ten it will bring you wins and championships. It's still early—will Millsaps be Steve Lamson or Scott Sheak?—but Maverick is the man so far.
Josh Hansen and Tommy Hahn also made it through the all-important opening round with top-five finishes (though what's with the big fade for Li'l Hanny?). It's been a war in every series so far in 2006, and I see this East Coast group on their way for a major damage plan! It's just too bad that guys like Broc Hepler, Ben Townley, Troy Adams, Jeff Alessi, and Jay Marmont all got hurt before they could contend for wins and the title. And don't count out Josh Grant just yet….

450 class
I cannot remember a race where I saw so much drama and raw human emotion displayed. The close-up shot of Ellie Reed's face as she watched her husband conduct his victory interview is a prime example of why those guys do this. That depiction of pure, heartfelt emotion is what makes a sport great. The parents, brothers, wives, and fans share the up and down times for their rider. They might not be on the bike, in the gym, or on the starting line, but the human heart is an amazing thing. When a beating heart truly loves another, it is connected to the adrenaline, the pain, and the thrill of victory its counterpart experiences. It's been a very trying year for the Reed family, and if that shot of Ellie didn't warm your heart, nothing wil l…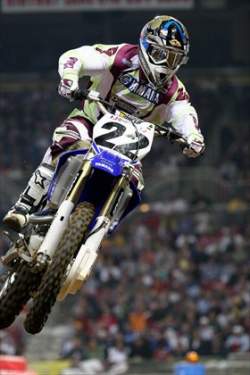 After riding in the roost of RC and Stewart for two months, Reed got two breaks in St. Louis.
… Well, you might be in the Carmichael or Stewart camp. Love is pain. And the RC/JBS duo saw no love and a large dose of pain at round seven. But that's racing, folks. There are no certainties with a machine—especially a
four-stroke
machine. At the beginning of the season, the big noise was all about the reliability of a four-stroke. It took a while, but that possibility became reality in St. Louis. Now, you can argue this all you wish, but I guarantee you that if James would have been on a KX250SR after his crash, he would have started it right back up and been gone. In Carmichael's case, a broken shock can happen anytime—four-stroke, two-stoke ... hell, even a three-stroke! But before I get off on a tangent, I'll stop. The Big 3 made their choice before the season started and now it's live by the sword, die by the sword.
Well, it's safe to say this smoke wagon is rolling now! Coming into this Saturday night, Reed holds a nine-point advantage over Ricky, who holds an eight-point lead on Stewart. It's going to be at least three races until this point separation mathematically evens itself out. Or will it? Ron White says, "Its not that the wind is blowin', its what the wind is blowin'!"

Do you hear that rumble in the distance? Can you see the clouds beginning to gather and darken? The wind of competition is at a gail, and on its heels is the arrival of the real Perfect Storm! With the 2006 season nearing the halfway mark, it just got ugly. It's a beautiful disaster. This will, without a doubt, be the steamiest Hotlanta of all-time!

Thanks for reading, see you next week!