Privateer Profile: Shawn Clark
Team Unbound/VRM.com Kawasaki's Shawn Clark thoroughly dominated the 2006 AMA Arenacross Lites class, so much so that, after winning 10 of the 20 Lites main events, he is now recognized as the "unofficial' overall champion of the class. But why unofficial?
In 2006, the primary focus of the Toyota AMA National Arenacross Series was shifted to the premier AMA Arenacross class. (In the past, the title was won through a rider combining points from both the 250 and 125 classes.) The Lites class—and its 250F-lined starting gates—ultimately served as the warm-up act for the Arenacross class. Somewhere along the way, the AMA decided that the Lites class was not worthy of championship status. Nonetheless, after finishing out his Lites tour in Denver, Clark packed up his van and drove toward St. Louis for the opening round of the AMA East Region Supercross Lites Championship. Along the way, he got us up to speed on his past, present and future in racing.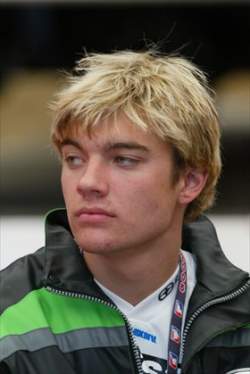 Shawn Clark

Racer X: Shawn, where are you from?
Shawn Clark: I'm from southern Indiana.

How long have you been racing?
Since I was 3 years old.

Did you do the major amateur races while growing up?
Yeah, I made it to Loretta Lynn's from age 7 through 18. I raced 11 years in a row. I never won a championship there, but I was runner-up four times and had some top-10 finishes.

When did you turn professional?
I turned pro at 16. I rode the Schoolboy and Pro classes at Loretta Lynn's. Then I started racing the arenacross series.

When did you begin racing supercross?
Last year was my first full year. I did three races in the East Region to get my feet wet. I would have done a lot more, but I ended up getting injured.

Did you make the show in any of the races?
Yes, I made the main in two of the three main events.

While there was no AMA Pro Racing #1 plate created for the class, you were the 2006 AMA Arenacross Series Lites Champion in 2006.
Yeah, I had a lot of success. I won half of the main events. Everything went really well. I would have won even more of them, but I had some bike problems. Even though I ride for Team Green, I was on 2005 bikes. Also, unlike last year, I was a lot healthier this year. I feel really comfortable on the small bikes in arenacross. As the Lites class, we served as kind of a sideshow to the Arenacross class this year. The top five guys in the Arenacross-class points could not ride in the Lites class, but the racing was very good. I mean, I went to do a round of the BooKoo series and won a night there, so I know I'm competitive against anyone. I think the win made me more "credible."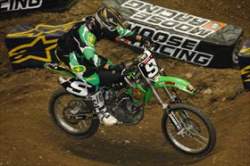 Shawn won the Arenacross Lites title for the 2005-'06 season

Did you also compete in the AMA Arenacross class in 2006?
Yes. I placed seventh overall in the Arenacross class, which is okay. My bike wasn't really dialed in, because we were concentrating on the small bikes.

So how does it feel to be an unofficial champion?
Um … it's okay. At the awards banquet I was disappointed because they didn't have any sort of award for the Lites class or anything. I won 10 out of 20 main events and easily led the points and there was no thank-you from anyone and no notice of what I had done. I did get a lot of press, though. Speed Channel and magazines like Racer X took a lot of notice of what I accomplished. Clear Channel, or Live Nation, never did.

Did the industry step up to lend you more support for supercross?
A little. More people took notice of me, but I'm still working out of the back of my van. I don't know.… I recently heard one team say, "Shawn Clark didn't have to race with anyone to win a title." That hurt me. I felt like I raced against "somebody." But here I am in St. Louis, still a privateer and working out of a van.

Before I called you, I read that you used the arenacross series to "get in shape for supercross." True?
Exactly. That's totally what I did. I don't have the money to go down and stay in Florida for weeks at a time, so the only way to get ready for supercross for me is to race arenacross. I like arenacross. I was racing two main events every weekend this winter. The guys I'll line up against on Saturday have not had a race since the last national.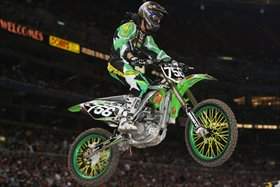 St. Louis didn't go as planned for Clark, as he was unable to qualify for the 250F main event.

Are you ready for East Region?
Yeah, I finally have new bikes. I had to go look for them. I ended up working out a dealer deal and Pro Circuit helped make my Kawasaki KX250Fs run good. I'm still doing my own thing. Thankfully, Unbound Energy and VRM.com are supporting me. They really stepped it up for me. I'm hoping to get in the top 20 at each race. I think that is a plenty realistic goal. I want to shoot for being in the top 20 each weekend. I'll then go from there and try working on getting in the top 10.

Will it be intimidating to line up next to guys with millions of dollars of financial and technical support behind them?
I love being the underdog. I'm not in awe of lining up against guys on big-dollar machinery. Yes, I'm on a stock bike—with a few modifications—that anybody can buy, but I'm not intimidated. I don't look up and down the gate at the other guys. I like the opportunity of being the guy that can turn some heads out there on the track.

What's your goal for the 2006 Amp'd Mobile Supercross Series?
This year, to be the total privateer guy who can run well and turn some heads. My goal is to get on a team. I had the opportunity once [with Richmond Racing], but I got hurt. Now I'll have to work backwards to get there. I know I have the speed of the guys under the tents. My goal is to get on a team where I can do arenacross, supercross and the nationals. I want to do it all. I'm a racer. I like to race. I don't like having a break between seasons.

I'm going to go out on a limb here and say you're excited to do the East Region Supercross Lites Series.
Yes! I love it! I'm from southern Indiana, where we don't have a lot of supercross tracks to ride on. So I'm very anxious to get out on the tracks here and ride them. I really want to do well. I can't wait for practice. Yeah, the racing is great, but my favorite part of the weekend is riding practice. I just love to ride.


Shawn Clark's sponsors: