Between the Motos: Clint Bowyer
We don't give NASCAR a lot of coverage here on Racer X Online, but when a Loretta Lynn's alum finishes sixth in his first Daytona 500 (which also happens to the be the first race of his rookie year on the Nextel Cup circuit), we just have to give out some props. Ex-motocrosser Clint Bowyer impressed racing fans everywhere with his strong finish in Florida last weekend, and he and the folks behind his Jack Daniel's Chevrolet hope to have another strong race next weekend when the series heads to California Speedway in Fontana. We caught up with Clint "Between the Races" to talk racing, two wheels and four. (And yes, Clint's big brother Andy is the man who does the "Rev-Up" right here every week.)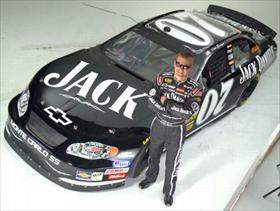 Clint Bowyer
photo courtesy of clintbowyer.com

Racer X: First of all, Clint, congratulations on your sixth-place finish in the Daytona 500. That's not a bad way to start your first Nextel Cup season!
Clint Bowyer: Yeah, it was a really good way to get the year started. I'm really excited about getting this opportunity with Richard Childress Racing to drive that Jack Daniel's car. It's going to be a cool ride to have over the next couple of years. We got it started right and I'm looking forward to the rest of the year.

How were you feeling in the days leading up to the race?
There's so much testing and practice, and drafting practice, and just so much that goes into the Daytona 500, that by the time the race comes, it's kind of just second nature. You have qualifying races, and there's just so much preparation that goes into it all that, by the time the race came, I was just ready to go. I was focused, and I knew what I had to do. I was ready.

What was it like to be up front as the race neared its end with drivers like Tony Stewart in front of you and Dale Earnhardt Jr. behind you? Were you surprised to be up there with those guys?
Well, as history has shown in the Daytona 500, you usually want to start in either the front or the rear of that thing. Either start in front and get away from them or, if you can't, go to the back and take the Dale Jarrett approach. We've seen him in the past go to the back and ride three-quarters of the race and, come 30 laps to go, Dale Jarrett is racing for the win. That was kind of our game plan – we started 37th. That's the neat thing about Daytona: There's really not a bad starting position. The only benefit to starting up front is a good pit stall. Our pit stall hurt us all day long. We were stuck in between two teammates, Tony Stewart and Danny Hamlin, and we had trouble getting in and out. But we had a fast enough hot rod out on the track that we could drive ourselves up to the front.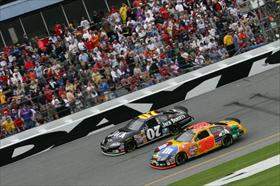 Bowyer (07) dices with Elliott Sadler at the 500
photo: Simon Cudby

Well, you came through, man. I know you raced a lot of motocross as a kid. Did you ever think back then that you'd get a check for over $400,000 for finishing sixth in a race?
[Laughs] You know, that's why they call it the Daytona 500. Growing up and racing motocross, that was my first dream. I always wanted to be a professional motocross racer. When I was little, growing up watching Ricky Johnson and Jeff Ward battle it out, and then on to Jeremy McGrath and all of those guys, those were the guys that I wanted to be. But when I was about 16 years old, I went to a dirt track and I fell in love with car racing. I saw a future in it, and I've just never really looked back from there.

Jimmie Johnson won the race, and like you, he used to be a fast motocrosser as well. He was even a Suzuki R&D rider at one point. Do you think motocross helped you guys to become better drivers?

I think any kind of racing helps. It's the competitive nature of racing and the will to never to give up and the will to win – once you have that, it's something that they can't take away from you, in any motorsport. But there are certain specific things, too. Traction and balance, for example. Believe it or not, a lot of people don't know it, but car racing is a lot like motocross, in that you have to have good balance. On these cars, you have to be able to put them out on the edge and run 'em really loose, and you're basically trying to keep them on top of a razor blade. It can go either way pretty easily. The guys who are fast and the guys who win races are the guys who can keep that car up on top of that razor's edge each and every lap.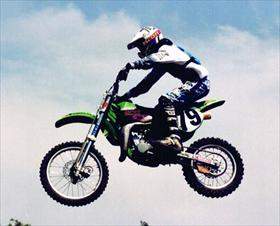 Clint grew up racing motocross but fell in love with car racing

photo courtesy of the Bowyer family

You and Jimmie both started racing cars at a pretty early age, but now there's talk of Ricky Carmichael racing cars eventually, and we even hear that about James Stewart from time to time. What do you think about that? Can these guys who haven't grown up behind the wheel actually compete at the top level?
It's no different than if we, at this age and at this level, went over and tried to beat them in a 250 main.

Really? You think so? Because I think that's impossible.
Right off the bat, no, there's no way that they can come right into the sport and dominate like Ricky Carmichael has and dominate right off the bat. Do I think, with a couple of years under his belt and with some seat time, and with really good equipment, that he can get the job done? Yes, I do. If he starts in a truck series and then the Busch Series and then goes on to Cup, he could do it.

Before Sunday's race, I'd seen exactly one NASCAR race in its entirety. On Sunday, I was jumping up and down in front of my screen like a madman cheering for you, and I didn't miss a single lap. How does it feel to know that so many people from the motocross industry are behind you? It's almost like you have a built-in fan base.
It's really cool. A lot of that comes back to the friendships we've had over the years. I mean, Ricky came to the race on Sunday. He left St. Louis and came to the Daytona 500 on Sunday. It is really neat to know that you have friends from another sport you used to be in who still follow you and are still big fans today.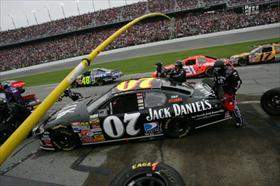 Bowyer, now 26, has a bright future in NASCAR
photo: Simon Cudby

Do you have enough time to follow the supercross series?
Oh, yeah. I watch every chance I get, and I always know how Ricky did come Sunday morning, that's for sure.

Who do you think will win the title?
My money's on Ricky, I can promise you that! Time and time again, even when he hurt his knee, a lot of people wrote Ricky off, and then he'd come back in dominant fashion. I don't think Ricky's done yet – I think he's got a lot to prove. He's just solid. He's the odds-on favorite for a championship. I think Bubba, he'll win some battles here and there, but I don't think he'll win the war.

So, do you still have a bike or two in your garage?
I don't right now. We had an RM-Z250, but the main thing is that there is so much riding on getting hurt. The thing about car racing that's a little bit different from motocross racing is that guy like Ricky Carmichael can't be replaced overnight. In car racing, there are thousands of drivers – well, there are at least twenty drivers, anyway – who, with the same equipment, can get in a car and do the same as, say, Jimmie Johnson or myself, or even Dale Earnhardt Jr., if given the right opportunity. In the sport of car racing, and in NASCAR racing in general, we can definitely be replaced more easily than in professional motocross. If a guy like myself were to get hurt riding a motorcycle – if I broke a leg or something – and a young kid gets in my car and sits in for three or four weeks and wins a couple of races, I'm going to be out of a ride. That's a risk that I'm not willing to take.

Right on. Nice talking to you, Clint. Good luck out in California – a bunch of motocross fans will be pulling for you.
Thanks!