Where Are They Now: Ake Jonsson
Introducing a new regular feature here at Racer X Online—finding old motocross heroes and friends! Our first find: 1972 Trans-AMA Champion Ake Jonsson.


Motocross fans from back in the day certainly must remember Swedish star Ake Jonsson. Back when the Scandinavian country was a motocross power, Jonsson was one their very best. Ake ("AH-key") started out as a Husqvarna rider, just like so many other top riders in the late 1960s. But in those days there were no Husky dealers; you dealt directly with the factory to buy your bikes and parts. However, with world champion riders like Bengt Aberg and Torsten Hallman already in front of him in terms of sponsorship, Ake realized he needed to go elsewhere for support. So in 1969, he broke tradition and was recruited by Maico to race the 500cc World Championships.
Unfortunately, Jonsson seemed to break the Maico almost every week that first year, but things started looking up in 1970 when he placed third overall.
The year 1971 was one both Maico and Jonsson are unlikely to forget. In front of the series with the last event to be run over two motos to decide the 500cc World Championship, Jonsson held a slight lead in points over Belgium's Roger DeCoster and his Suzuki. Unfortunately for Jonsson, the spark plug unscrewed from his Maico's head while he was holding a substantial lead in the first moto over DeCoster, who of course won. Jonsson won the second moto but lost too many points to win the title.
For American fans, Jonsson is most famous for his stunning 1972 Trans-AMA Series performance, when he won nine straight races to close the series over DeCoster and Heikki Mikkola on the #27 Maico.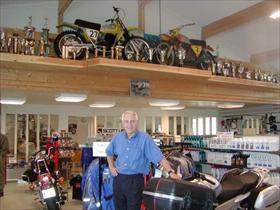 Ake Jonsson today
The following year, Jonsson switched to Yamaha to campaign their YZ360 Monoshock in the GPs. Jonsson said the money was so good to switch to Yamaha that he could not refuse, but he had many mechanical troubles and felt that, had he stayed on a Maico, he could have won the title. He also said, "No, those weren't Maico forks on my works Yamaha," as was the popular rumor at the time. "They were special-built works forks from Japan."
Ake raced a couple more years but never won a world championship or another major title. Today he owns a successful Yamaha franchise in Sweden, where he has his Trans-AMA-winning motorcycle on display. He does not ride competitively anymore, but he does enjoy trail-riding with his family.
Got someone you want us to find? Letters@racerxill.com.