Privateer Profile: Paul Carpenter
A few years back, 24-year-old Paul Carpenter was put on the motocross map by winning four Four-Stroke National Championships aboard a White Brothers-backed Honda CRF450R. He then raised some eyebrows after he was signed by the Kawasaki factory team to pilot their KX250F in 2004. Carpenter then moved over to the Monster Energy/Pro Circuit squad in 2005, and now he finds himself back on the brand that helped get him to the top: Honda. Paul is currently wearing his lowest national number to date (#35) and is a member of the Motosport Outlet Honda team. We caught up with him today for this installment of the Sponsorhouse.com Privateer Profile. Be sure to show Paul and his sponsors some support by clicking on the links at the bottom of the page.

Racer X: Hey Paul, nice riding last weekend in Anaheim!
Paul Carpenter: Yeah, thank you! It seemed like everything finally came together and it went halfway decent.

So, how's life on the Motosport Outlet Honda team treating you?
You know what? I can't complain one bit. It's kind of better than I expected, and everything is coming together really nice. We have a good group of guys and everybody works really hard to try and make the team the best they can, even though we don't have all the great parts.

You've been to the top echelon of the sport as a member of Team Kawasaki and the Monster Energy/Pro Circuit team. What's the biggest difference between teams at that level and the Motosport Outlet Honda team that you're on right now?
There's a couple things. One is the budget we have for parts – that's probably the biggest thing. Where at Kawasaki, if you broke a part you can get one instantly, it's not that easy now. And then test tracks. We have a test track, but it's not like a factory test track. But it's still good and works, but it's just a little different.

But is the bike that far off from those Kawasakis?
No, absolutely not. My race bike is really good. It seems like it's better in some areas. But maybe it's just the feel of the Honda to me that fits me a little bit better. It's got good power. It's not quite like my Pro Circuit bike, but to be honest, it's not that far off, and it's totally capable of winning.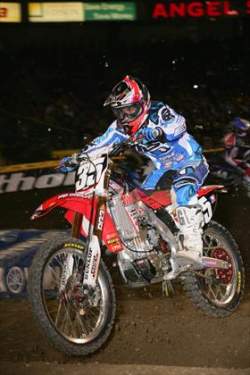 Paul is currently sitting eighth in West Coast Lites points

You actually still use a Pro Circuit motor though, right?
Yes, Pro Circuit does our motors but we have RG3 doing our suspension. It's a very good combination. Mitch has been behind our team 100 percent, and so has Rob at RG3. I think we have the best of both worlds with those two companies.

Paul, it doesn't seem that long ago that you winning Four-Stroke National titles on a Honda 450F. So how does it feel to be back on the brand that kind of put you on the map?
That's one of the biggest things for me – I've kind of always been a Honda guy for some reason, but I couldn't really tell you why. In '02 and '03 I rode Hondas and got the four Four-Stroke titles. But it's cool because, for some reason, when I'm on that bike I have more confidence than I do on any other bike. I don't know what it is.

You're currently in eighth place in the West Coast Lites points standings. Is this the toughest series you've raced in or what?
Well, I think there are a lot of fast guys. If you look at just the finishes of everyone, it's been so tossed and turned. The West Coast always has a handful of fast guys. I wouldn't say it's the toughest series, but you have to be more consistent than ever.

Well, you're being pretty consistent, with 4-6-7-8 finishes, but what happened at Anaheim 2, where you finished 14th?
I actually got tangled up on the start. I didn't crash, but I got jammed up. I was coming through the pack and got a little trigger-happy trying to make passes. And if you saw Anaheim 2, the track was almost like an arenacross track, and it was really tough to pass. I just made a bad decision and tried to dive underneath a rider and he kind of froze and I hit him. I got up and was really trying to go fast and ended up almost crashing again. So I finally decided to settle down and get what I could get, even though it wasn't where I wanted to be. So I had to settle for 14th.

Speaking of tracks, the track building has been under scrutiny this year. What's your take on that matter?
Well, I see both sides of the deal. I see Live Nation's side, where they're getting the ratings up on TV and they're getting more people to come out for more exciting racing. As a racer, I don't agree with it, because it makes for guys who have a little more trouble with technical tracks or tougher whoops – those guys are actually up there and going fast, so it makes it tougher as a racer to pass them, and I think it makes the start more crucial. But in the same sense, it's the same track for everyone, and Ricky and Bubba are still winning, so everyone else should be doing the same thing.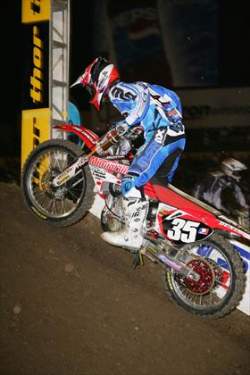 Paul is coming off his season best Lites finish with a fourth at Anaheim 3

What's your winter routine like during supercross? Do you live in California or fly back to New York?
I actually live in California during supercross. This year I'm staying with Ivan Tedesco. But in years past I usually rented a house or an apartment, and I stay out here usually till after Vegas. It's a full six-month deal, and then I go back to New York state for the summer.

How's everything else going outside of racing?
Everything is good. I don't get to see my family that much, but I saw them for Christmas and they're doing okay.

You have anyone you'd like to thank?
First and foremost, I'd like to thank my dad, because I wouldn't be here without him. He gave me everything I have. I want to thank the Motosport Outlet team and all of our sponsors, and I want to thank my trainer, Steve Hatch. He's been helping me in a couple different areas and it's working out well.

Will we see you racing any more GNCCs next year?
You probably will! I really enjoyed that, and I'll definitely race Unadilla again, and possibly in Ohio and Indiana. Those were really fun!

Well, what can we expect out of Paul Carpenter this weekend in San Diego?
I think you can expect me to be doing the same thing I've been doing all year. I'm going to go out and ride my own race.

Good luck, Paul.
Thanks, Billy!