The big night is almost here. It's the green-and-black versus the yellow-and-white, a final showdown to see who can claim the championship. There will be fireworks, global media coverage, a sellout crowd—everything an event of this magnitude demands. No, I'm not talking about Stewart vs. Carmichael in the battle for the Anaheim Supercross Championship, but rather the Super Bowl football game: Seattle against Pittsburgh.
Actually, I could very well be talking about the big race, with the black-clad Kawasaki rider James Stewart representing the upstart (and supremely talented) Seahawks, and the Suzuki of Ricky Carmichael in the role of those working-class, black-and-gold Steelers—four-time champions now going after their "one for the thumb" Super Bowl ring, just like number 4 in supercross.
And if that weren't enough, that bitterly disappointed blue-and-white team (the Indy Colts in the football sense, but
Chad Reed
and Yamaha here in supercross) is still trying to figure out what the hell happened in January. I honestly don't know which competition I'm more excited about.
Okay, it's the Super Bowl, but only because I'm going (sorry, had to throw it in there). But if you're not going to either, you can listen to Anaheim 3 tomorrow night beginning at 10 p.m. EST on www.supercross.cc.com or on XM Radio (Channel 152, I believe). And the race will get next-day coverage on Speed Channel, so check your local listings there. Lap times and race results will be online all day long over at AMAMotocross.com.
It's hard to believe that, with all of the excitement and drama that's already gone down, we are still not yet a third of the way through the championship. As supercross fans, we don't normally get battles this close. By the time we leave Anaheim, someone usually has the series under control. Instead, like the playoffs, there's been mud (and mud slinging), a fumble in every game, second-half passes for the lead, and last-minute drives for the win. If this were the end of the season and not just the end of the "Anaheim" season, we would be calling it the greatest series of all.
James tied the January score against RC at two all
photo: Carl Stone
How long can it last? That's up to the three principals—James, Ricky, and Chad (and I still include Chad because, believe it or not, he's in a better position now at the end of January than he was in 2003 or 2005). Last Saturday night's San Francisco mud bog was just an amazing race. It showed how determined all three of these guys are, as well as how thirsty fans are for a real battle for the championship. The SFSX fans stuck it out, just like the riders did, and it all came together for an amazing race, in spite of the weather.
Stewart and Carmichael lapping everyone was amazing, which makes what RC and Reed did last year at a dry San Diego—they did lap fourth and almost had third-place Mike LaRocco at the checkered flag—even more astonishing in retrospect. But it's hard to research whether what James and Ricky did ever happened back in the day or not. Regardless, it gets my nod for one of the best races ever.
Somehow, last Saturday night I managed to shut my computer down, turn off my cell phone, and generally avoid all things moto until the race aired on Sunday at noon on the East Coast on CBS. So I watched without knowing the outcome, and I have to admit I was on the edge of the couch, screaming at the TV, and so was Vance (though he was screaming for me to put Stuart Little 2 back on). I have to agree with Ralph Sheheen: That was the slowest but most exciting race ever.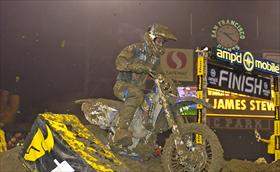 Chad may have looked out of it, but he's not
photo: Carl Stone
I also agreed with
Denny Stephenson
when he said that Reed's title hopes were virtually gone as he struggled to pick up the #22 bike, as it looked like he was done. But his comeback was downright incredible, and I was shocked to see that he had finished fifth and salvaged his title hopes. He's the only thing that can make this championship better, and I expect him to step up soon. That's when the banging is really going to begin.
Here's a letter we got from a reader this week:
Dear Racer X,
I gotta ask you guys something: In the outdoor nationals, James Stewart lands on RC's back in a race and all hell breaks loose, but last weekend in San Francisco RC lands on Jeff Gibson and nothing is said. Is this because Gibson is a privateer? I don't get it. I think if Gibson landed on RC Gibson would be verbal bashed by the RC camp. I think RC gets away with to much. He needs to be parked on the track and beat down. Thanks for your time.
Dan Kochanek
Of all the people in that race, Carmichael got the most grief on the boards for landing on the back of Gibson when the Subway/Coca-Cola Honda rider holeshot the second heat, then did not jump a double that RC did try, only to slam into the back of Jeff. It sucked for Gibson for sure, but there's no way that was intentional, just as I think that what happened with Stewart and Carmichael last year at Unadilla wasn't intentional; it was an act of racing—in both cases,
According to Rupert X. Pellett, Racer X contributor and bona fide FOJ (Friend of Jeff's), Carmichael came over afterward and apologized for the accident. Anyone who's raced in the mud knows that shit happens out there, especially in traffic.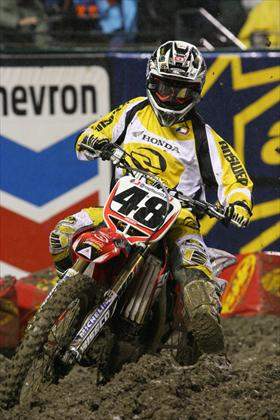 Gibson was rear-ended by Carmichael while leading his heat race
photo: Matt Ware
And if RC had wanted to do something nasty, he would have brake-checked Stewart right after he passed him in that heightened hairpin corner. It was the moment before he bobbled and lost the lead back to James, and he looked over his shoulder to see where the Kawasaki was and could have checked him right there but didn't. When I asked someone in the Suzuki camp why he didn't do it, he laughed and said, "It's still too early for that kind of stuff." Good point, though all seems fair in mud and war!
Finally, Stewart's win was absolutely his most impressive on a big bike to me. I really forgot how good he was in the mud. I had seen him ride in the wet stuff many times at Loretta Lynn's, and he dominated the muddy Hangtown race as a rookie. But what he did Saturday night, leading RC the whole way, then fighting back for the lead as soon as he lost it, was the stuff champions are made of, and that's what both of these guys are.
In case you missed it, James has a pretty interesting letter up on his website about the SFSX, including this admission: "One thing's for sure, I won't be saying that track was too easy! That was the worst track I ever raced on, worse than even Anaheim 1 last year. It felt more like a bull wrestling match than a Supercross race."
Congrats to Nick Wey on his best ride ever as a premier-class competitor. Wey is one of the very few guys who have pointed out of the 125 class, which puts him in limbo when it comes to the factory teams. The vast majority of jobs out there go to SX Lites guys—right now, there are a grand total of 10 full-time factory jobs in the 450 class, counting Mike LaRocco and Kevin Windham—and they are all taken. So Wey, who is ranked fourth, is doing it as an independent, and he's proud of his results and expecting more, as he told me in this week's Between the Motos feature.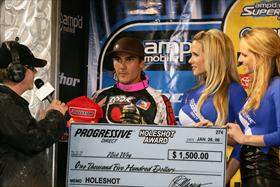 Nick got his first SX trophy in the big class
photo: Simon Cudby
And he did tell Team Honda advisor
Jeff Stanton
that he would be the guy to get on the podium in San Fran: "I talked to him during the week and told him I was going to get third this weekend," said Wey. "Then I text-messaged him on Saturday night before I went to bed and said, "I told ya!"
Another letter:
Dear Racer X,
In regards to the Motosport Outlet article by Billy Ursic, he stated that Nick Wey had not won a race as a member of Pro Circuit back in 1999. Well, fortunately for us Michiganders, he did win the 1999 Millville National, his first and only overall win. I am a huge fan of the website and an original subscriber of the magazine, but I am also a huge Nick Wey enthusiast. Please make a note of the correction. By the way, I do have that race on tape!
Keep up the great work,
Nick Reeser, Lansing, MI
Dear Nick,
Thanks for reading our stuff, and we are certainly well aware of Nick's win at Millville in '99. But that was a national (a bigger race for sure) that had no bearing on his being forced out of the 125 SX class. There is no "pointing out" in outdoor motocross, and Nick could ride the 125 Nats this summer if he wanted to, but he has no choice in supercross and can never go back without sitting out a season. So that's why Billy mentioned that it was strange that Nick had never won (an SX), whereas Nathan Ramsey has won 15 and a title (as well as a 250 SX!) and can stay in that class for potentially another year (to defend the title if he wins).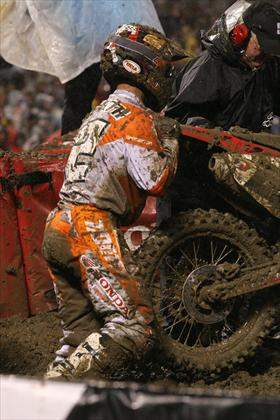 Jeremy: I didn't sign up for this!
photo: Matt Ware
I spoke to
Jeremy McGrath
early this week and he laughed about how muddy it was. MC quit after derailing a chain in his heat race after bending his chain guide. "That wasn't what I signed up for," he joked about the mud. I also asked him about the reports that his younger, full-time Honda teammates weren't real happy with his beating them at both Phoenix and Anaheim 2—particularly
Ernesto Fonseca
, who finished right behind him.
"No, not at all. I'm sure he was a little upset with himself, but there was no way he was upset with me for not pulling over to give him the points or anything like that," said McGrath, who will do just two more races this year—A3 and San Diego. "He knows I'm going to be gone after a couple more weeks. He and Travis might both be frustrated that I'm the top Honda guy, but they're working hard and I'm trying to help them."
The hot, hard-to-believe Rumor of the Week was this: Ganassi Racing signed James Stewart to a development deal for NASCAR. Supposedly, it starts in 2009. So we rang up David Evans, James' agent, and asked him straight-up if it was true. David laughed, "No, that particular rumor is false, and James is 100 percent focused on SX/MX for the foreseeable future."
Why would NASCAR want Stewart? We've been through this before, and it will come up again, but here's the deal: NASCAR wants a good black driver more than anything right now. Minorities are where they can gain the most market share, and Stewart (or any other charismatic and talented minority racer) would be an instant media star, worth millions. Someday, though, I'm betting James will go there, just as I think Carmichael is destined to go there, too—the hand-eye coordination that supercross requires comes in handy when you're racing around in circles.
You know who was a really, really good race car driver? Broc Glover. But the six-time champ just couldn't get a deal going without spending all the money he made in motocross, so he eventually parked his race car ambitions and still works the supercross series as a VP for Dunlop. He was on TV last week explaining how self-cleaning mud tires work, and I honestly laughed out loud when Krista Voda said she wished she had those for her oven.… Wow, I even laughed when I typed that! She's doing a great job, but that comment was kind of out there.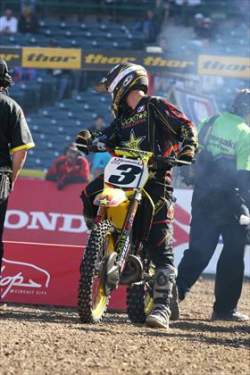 Brownie may no longer need premix oil
photo: Matt Ware

Mike Brown on a 450? Simon Cudby just checked in to tell me it's going to happen this weekend, which means ... well, that's all, folks. That might be the end for two-strokes, depending on when Robbie Reynard comes back from his arm injury (he had a staph infection) and what the privateer is riding.
In the Lites class (which you can watch tomorrow over on Speed at 6 p.m. Eastern time), Nathan Ramsey had a convincing win, just barely beating Yamaha of Troy's Brett Metcalfe at the checkered flag. It was a huge win for the Red Bull KTM rider, as title hopefuls Andrew Short and Grant Langston had tough nights. Ramsey, the fourth winner in four rounds, is also the fourth new points leader in four rounds. What's going to happen this weekend? I predict a fifth new winner—Billy Laninovich hasn't won yet, and Ryan Villopoto just might get one his good starts and take off with it. And don't count out Mike Alessi just yet—the tracks are getting easier just as he's getting more comfortable out there.
Metcalfe, by the way, could win one of these in the dry with the right start and a little bit of patience. He's leading a resurgent YOT team right now, as West Region teammate (and fellow Australian) Andrew McFarlane is out with a broken foot after stepping off, and Branden Jesseman and Matt Walker are slated for the East. Team manager Dave Osterman told me yesterday that McFarlane won't be back until Dallas, and they plan on getting an early start on outdoor testing when last year's MX2 World Championship runner-up gets back on the bike.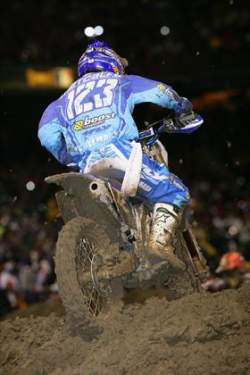 It was a career-best second for Metcalfe in the mud
photo: Simon Cudby
"Why push it?" Osterman offered. "He's got his Etnies skate shoes on now, but probably not running shoes yet, so he's got a ways to go anyway."
As for his East guys, Osterman says both look good: "Branden looks real professional, he's working real hard, he has his own plan in his head how he wants to do it, and I am respectful of that because he's won a title before," said the manager. "Matt is also riding as well. Both guys, lap-time-wise, are close to Metty's, but each guy says he's not even pushing it yet."
Another letter!
Dear Racer X,
This is in regard to the RC record #123 posted on Andy Bowyer's Rev Up. I've heard this a lot lately that RC has never lost a points lead once he got it, but if my memory serves me right didn't he lose the 125 National points lead in 1998 to John Dowd after the mud race at Southwick? Leave to ol' John Dowd to keep RC from another record! Thanks for a great magazine.
Travis Pilant
Travis,
Good eye! Dowd won the '98 Southwick National when RC's bike grenaded in the first moto while dicing for the lead with JD. But it ran the whole time the second moto, and RC could only muster second behind the then-Yamaha factory rider on the wet sand. At the end of the day, Dowd had taken the lead by 13 points over RC, 173 to 160. That's in the 125 class. On the big bikes RC has not lost a points lead. Either way, great eye!
DC
Quick trivia question for everyone: Who got second overall with a 3-3 that day in the 125 class at Southwick, and which team was he riding for? The answer is further down.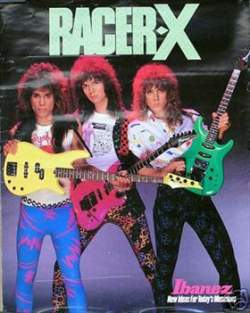 The April cover?

Dave Laurie sent us this old album cover as a possible suggestion for the next magazine cover. Doesn't Simon look funny with all that hair and a guitar?
Congratulations to Etnies' Matt Chapman, who popped the question this past weekend in Aspen. He's now engaged to his longtime girlfriend, Valerie.
And speaking of Aspen, holy smokes—I thought Mike Metzger and his fans were going to burn the scoring tower down! The Godfather of Freestyle was really, really mad that he did not make the finals in Winter X, and he went up into the tower to confront head judge Andy "Regis" Harrington. They must have showed Metzger's trick a dozen times, and then Jamie Little interviewed both the rider and the judge, and Metzger was still heated up. It just reminded me of why I was only a judge ONE time in freestyle—it's hard, and it's impossible not to make a lot of people mad.
Jeremy "Twitch" Stenberg got the gold, of course, with a backflip (of course). Mat Rebaud of Switzerland flipped to silver and Ronnie Faisst flipped for bronze. Everyone flipped, pretty much, though Metzger's was more of a flip-out.
Okay, let me turn this over to Ping for some California news….
One of the biggest surprises in the Lites class this year is Ryan Villopoto. Mike Alessi and Jason Lawrence, the other big-name amateur riders that entered the pro class this year, overshadowed Ryan throughout most of their days on the amateur circuit. While everyone knew Villopoto had talent, I don't think many people expected him to be doing as well in supercross as he has. It seems like there is always a learning curve in the stadiums. Young riders can show up at a national and do well (i.e. Mike Alessi) because they have raced on motocross tracks their entire lives. A supercross track, however, is completely foreign and it takes a while to adjust for most riders.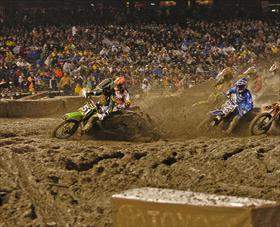 He's the exception so far
photo: Carl Stone
Villopoto is an exception. He led for half of his first main event in Anaheim, he set the fastest lap time of the night at Phoenix (on the last lap), and he might have gotten his first win in San Francisco if he hadn't gone down. After all, he is from the Northwest, and everyone knows that the two things people from that region can do well is play grunge music and ride in the mud. And Ryan doesn't play music. So don't be shocked if little R.V. gets his first SX win before the series ends, because he definitely has the speed and the fitness.
I spoke to Ryan earlier in the week while he was riding at Perris Raceway. My first question was, "Why are you riding at Perris the week before a supercross?"

"I just haven't ridden on an outdoor track since last summer. It's fun to change it up once in a while," he answered. When I asked about his chances of winning a race before it's all over, he said, "Well, I was really nervous and tense when I holeshot the opener and I was leading. I didn't ride as fast I know I can. My starts have been great, and if I can get another holeshot now, I think I have the speed to stay up front. But we'll see. I hope I can win one!"

Another young kid to keep your eye on is Austin Stroupe. The Kawasaki rider was riding with Villopoto and pretty much matching his speed on the Perris track. That kid is going to be good.

With the way the current supercross season is going, it looks like the Vegas round could be the showdown for the points title, but don't forget, the Friday night before the Vegas race, the MiniMoto SX returns to the Orleans Arena for what has to be considered the biggest minibike race in the world. There's $15,000 up for grabs, plus a handful of AMA #1 plates. The MiniMoto SX is one of those events that is just plain fun, and if you are in town that weekend, make sure to order tickets now. I spoke with Tim Clark, one of the promoters, and he claims that this year's event is "going off the charts."

They plan to cap entries at around the 500 level, and they have already received 300-plus. In Clark's word's, "Last year we didn't even have entries available until mid-February, now we already have over 300 on the books. Guys have signed up from Australia, the UK, France, Canada, Germany, Norway.... I'm telling you, this race is getting a lot of interest. Tell your boys if they are serious about racing, they need to get their entries in now!"

Clark also mentioned that tickets to the event are also flying out the door. For more information about the event or to enter, go online to www.MiniMotoSX.com and to buy tickets, go on line to www.orleansarena.com. The Red Baron team will be there in full force, and I plan on returning to defend my title in the MM10E class against other guys with very short legs.

And speaking of MiniMoto, if you haven't seen the latest issue, you need to check it out. This magazine is dedicated solely to the minibike industry and provides lots of insight on what's new, what works and what doesn't. Check them out at www.MiniMotoSX.com.

That's it from Ping.

Eric Johnson had a talk with Roger DeCoster about how San Francisco stacked up as a mud race compared to Anaheim 1 '05.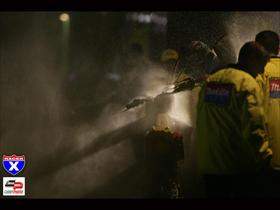 San Francisco was not kind to motorcycle parts or mechanics in general
photo: Simon Cudby
"It was worse than Anaheim 1 last year, for sure," said The Man. "It's been a long week. Our equipment we brought back from San Francisco was basically destroyed. The bikes had to be completely torn down and we had to throw a lot of things away. There was a type of lime in the dirt that caused heavy damage to the aluminum frames and other aluminum parts. And the mud was different than the mud at Anaheim last year. The mud in San Francisco was stickier; it wanted cling to everything. The bikes were so heavy after the race, a single person couldn't lift them up onto the stands!"
Good pics? Check this out.
Want to see something really interesting, like maybe the first backflip? http://www.recklessrex.com/index.html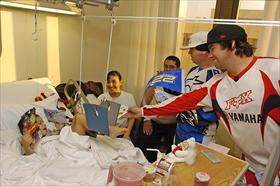 photo: Carl Stone
Earlier this week,
Steve Bauer
of Wonder Warthog Racing gathered some friends in the motocross industry for his annual visit to the Loma Linda Children's Hospital. Bauer is a hard-core former pro motocrosser who has a warm place in his heart for these kids, and it's hard to put into words just what a wonderful thing this is that Steve does. As you can see from the pictures here from
Carl Stone
, the kids and their families really, really appreciate the efforts of Steve and folks like
Jeff Emig
,
Andrew
and
Jacki Short
,
Mike Alessi
,
Ronnie Renner
,
Tommy Clowers
and more.
I asked Carl Stone to tell us more about the visit, which included a freestyle exhibition out in the parking lot that Bauer calls the Big Air Kids Fair: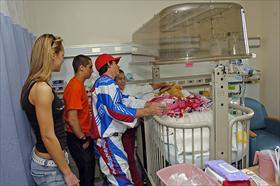 photo: Carl Stone
"Going to the Loma Linda Children's Hospital was a humbling experience. Seeing all those young kids laying in rooms in hospital beds makes you realize that whatever problems you may have, they are not that bad.
"The kids, as well as the staff of the hospital and the parents, really enjoyed the show the riders put on and the time they took to go from room to room giving them t-shirts, toys and autographs. It was awesome seeing the kids get all that attention and smile, it really tugs at the heart.
"A big thank-you must go out to Steve Bauer for putting this whole thing together for the fourth year. It surely was a huge effort on his part. Big props also go out also to all of the companies and industry sponsors that donated all of the items to be given out to all the children.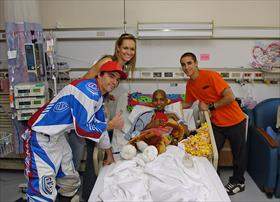 photo: Carl Stone
"And lastly but most importantly, the riders and industry people that took the time to see all the children personally, it really made a difference to them all. Hopefully, next year more riders will be able to attend. I know I will go back."
Shortly after Carl sent the words above, he received an e-mail from a woman named Cindy Samu. Her son Jacob was one of the boys that were visited by the riders at the hospital. Here is the e-mail:
Thank you, Carl. Jacob really enjoyed your visit. You guys made Jacob's day! I can't tell you how much it means to get a positive distraction from the hospital routine. Jacob is still in the hospital. Today they had to place a naso-gastric tube in that goes from his nose to his stomach; tomorrow they are doing tests to see if he has cancer or leukemia so we are praying and keeping our fingers crossed. He had us put up your posters and banner and he tells everyone who has come to visit about you guys. Jacob has been riding quads since he was four years.
God Bless,
Cindy Samu
Mike Muday just got back from a business trip to Japan and dropped us a line about some things related to supercross: "I stopped in a bike shop while I was there, but no real motocross bikes at the one I went to. It was interesting seeing brand new 2006 models that looked like they were from the 1970's (except with disc front brakes) and street legal off-road bikes that looked like they belonged on a Supermoto track.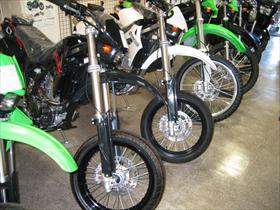 Next year's models?
photo: Michael Muday
"Oddly enough, I did not see one can of Red Bull, Monster, Rockstar, etc. there. I guess they must not have invaded that country, yet, or at least not in the area I was at. I did drink some sort of energy drink type soda there called 'Bionic Drink,' though. It tasted more like Coke's 'Vault' than a real energy drink.
And speaking of Japan, here's another one of those unbelievable Honda commercials.

Racer X Publisher Scott Wallenberg is very proud to announce that we have filed our latest circulation numbers to the Audit Bureau of Circulations and, subject to their audit, the August, September, and October '05 issues all sold over 80,000. This is an all-time high for Racer X and we thank all of the readers and members of our industry who have supported us along the way as we've built a quality book, with a quality readership. And I promise, the book will only get better.
Reed has switched to KTM! Actually, that's Chad's little cousin Jason, who has just switched to KTM off Yamaha down in Australia. Thanks to Johnny McLean for sending that in!
TRIVIA ANSWER: Chaparral Yamaha's Jimmy Button ran 3-3 for third that day back in '98 at Southwick when Dowd won, RC broke, and the Junkyard Dog took over the points lead.
Check out some amazing backflip footage from Nicolas Ortuño from Spain at WWW.marcianoFMX.COM or WWW.GOODTIMESFMX.COM.

Here is a GIF of the Anaheim '86 sticker that Trent Howie did for One Industries. As soon as we get our hands on some of them, I promise we will pass them on to you.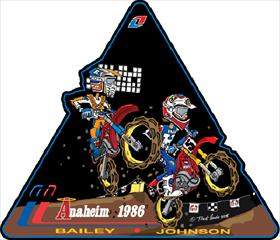 The celebration continues
Finally, in totally-unrelated-to-anything news, my big brother,
Tim
, and his, wife,
Jessica
,
went to Punxsutawney for Groundhog Day in a motor home and actually tailgated all night. In the morning, the groundhog (an East Coast prairie dog) saw its shadow, which means six more weeks of winter.
Did I mention that I am going to the Super Bowl? So are Bevo and Jeff Cernic and Racer X Managing Editor Bryan Stealey. Bryan's driving right now, and we're almost to Toledo, then it's on up to Detroit. And it's time for me to sign off and start drinking some Iron City.
Thanks for reading Racerhead. See you at the races.