Bench Racing Ammo: Nick Wey vs. Nathan Ramsey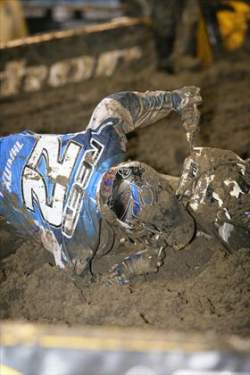 Reed salvaged some valuable points in SF
photo: Simon Cudby
Mother Nature can sure throw a T-handle wrench into the works, can't she? This past weekend's Amp'd Mobile Supercross in San Francisco's SBC Park was the season's first mud fest. That marks the second consecutive year we've seen a mud race in California in January seriously impact the points chase, although this year it wasn't as bad for
Chad Reed
as last time around.
Last year's opening-round mudder hurt Chad's title hopes in a big way, as he slithered to 16th in the opener. Things looked bad for Reed this past weekend, as he was in 17th at one point, leading CBS announcer Denny Stephenson to say that Chad's title hopes were virtually gone at that point, and we agreed! But miraculously, Reed worked his way up to fifth by the end of the 12th and final lap in the rain-shortened race and salvaged valuable points.
Reed finishing fifth also meant there would be someone different on the podium for the first time this season: MDK Motorsport's
Nick Wey
took a step on the box for the first time in his AMA Supercross career. It's pretty tough to imagine that this race was Nick's first "250-class" podium, as it seems like he's been a front-runner for several years—mostly as full-on privateer.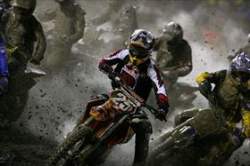 Although he's in his eleventh year of Supercross Lites racing, Nathan Ramsey has yet to point out of the class
photo: Simon Cudby
Now think back to Wey's early days in 1999 as a member of the Pro Circuit Kawasaki team, alongside then-teammate
Nathan Ramsey
and a certain
Ricky Carmichael
. After four years in the Lites class, Nick had no supercross wins or championships, yet he pointed out, which means he is ineligible to compete in the Lites class for the rest of his career. That lowers his stock by more than you're probably thinking right now….
But you should strive for getting moved up to the "premier" class after a few years, right? Well,
Nathan Ramsey
, on the other hand, is currently in his 11th year of Lites competition and has one championship, 15 wins (and one 250 SX win back in '02) and is currently leading the points in the West Region Lites division, yet he hasn't pointed out and still has a very lucrative factory contract. And if he wins the title this year, the veteran – he'll be 32 in August – gets to defend it next year, too.
Ramsey is doing exactly what the rule book allows, and no one can blame him, but it's a shame guys like
Nick Wey
are penalized for years (he pointed out in 2001) just for being more consistent – scoring 100 points or more three years in a row – than others who win races and titles but don't keep it together for three years in a row.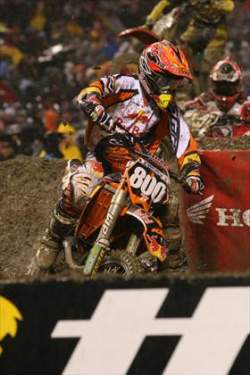 Mike Alessi scored his first Supercross Lites podium
photo: Matt Ware
And speaking of KTM, it sure was a good weekend for the boys in orange. Not only was it the first time that two KTM riders finished on the podium at the same race, but it was also the career-best finish for young
Mike Alessi
in supercross.
While we're on that subject, San Francisco happened to feature career-best finishes for many riders. Although he won the U.S. Open in the Lites class last year, Yamaha of Troy's
Brett Metcalfe
notched his best Amp'd Mobile Supercross Lites finish with his strong second-place finish and went from seventh to sixth in points. It was also a best-ever ride for fourth-place
Jason Lawrence
, the Rockstar Suzuki rider who came from way behind.
In the Supercross class there were several other riders who recorded career-best finishes, including the aforementioned
Nick Wey
, Team Bloodshot/Rockstar's Tyler Evans, who finished sixth, and Team SoCal's
Jacob Marsack
, who is on the road to his first national number after scoring eight points with his 13th-place finish.
Finally, after recovering from his heat-race collision with
Ricky Carmichael
, Team Subway/Coca-Cola's
Jeff Gibson
came back to finish eighth in the main event, tying his previous best finish from last year's muddy Anaheim 1. Well done, Jeff!