Between the Motos: Nick Wey
On Saturday night in San Francisco, MDK's Nick Wey did what was starting to look impossible: He knocked one of the Big Three—James Stewart, Ricky Carmichael, and Chad Reed—off the podium. In one of the best privateer rides in AMA Supercross history, Wey holeshot the muddy main event, then survived 12 laps on a rapidly deteriorating racetrack to make the podium in the premier class for the first time in his career. Now he's the top-ranked Honda rider in the field—with three factory Honda riders behind him—and he's looking to keep making things happen on the #27.
We checked in with Nick yesterday to discuss his career, his current situation, and the whole "pointing out" thing that has kept him in the big boys' class for years while younger (and older) riders with more wins and titles and much, much bigger paychecks were staying down in SX Lites.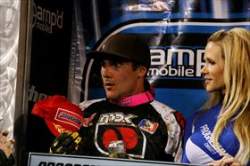 Nick Wey hopes to finish top-five this weekend at Anaheim, whether it's wet or not

Racer X: Nick, I'm so stoked for you – as probably every fan in America is – to finally see you get on the box in the premier class of supercross!
Nick Wey: Yeah, I'm really pumped too! There have been a lot of people calling me and telling me they're stoked for me. I've been working really hard, and it's a bummer that I got a podium at a mud race, because you don't get as much credit for riding well, but I think I'm going to be able to do it again before the season is out.

I have faith in you, because while this may have been a mud race, the other three weren't, and right now you're fourth in the standings.
That's right.

So there you go. Well, you talked about people calling you, and TFS did his Monday Conversation with James Stewart, because that was a thrilling win ahead of Ricky and then you. But we got a lot of like, "Hey, where's Nick Wey?" notes, so this is the makeup call.
[Laughs] No problem!

Sorry to track you down on a Tuesday, but how has your life changed now that you're on the podium? Has Good Morning America tracked you down?
[Laughs] No, not at all. I'm trying to do my thing and just trying to get better and better so I can get up there again. I want to keep improving and get up there and race with the leaders before this season is out. I think there are a lot of guys that are in a pack behind Chad, Ricky, and James, and I want to try and close that gap to where I can race with them. It's going to be a tall order but I have a lot of work to do, so I can't really sit back and sip on my Unbound Energy Drink too much.

Well, Jeremy, in his column this month, said that finishing fourth at Phoenix almost felt like a win because of those three guys. But you were able to take it a step further. So when's the last time you got the holeshot in a supercross?
I was thinking about that! Actually, I got the holeshot award in '04 when I rode for Suzuki, but I kind of messed up in the first turn trying to go for the holeshot and came out, like, 10th on the first lap. So I don't think I'd ever led a Supercross main, so that was definitely good. Like I said, I've been working on all that stuff, and I hope I can continue to do well.

The gang at MDK Motorsports has to be ecstatic.
For sure! Last year, with them coming in, we bought everything from bikes to oil. And with them joining up with Motosport Outlet this year and us being pretty much a privately backed team, they couldn't of been happier.

I hate to bring up kind of a sore subject, or a controversial one, but in this week's Bench Racing Ammo, Billy Ursic mentioned that it's odd that here you are, a full privateer, and have been so for a few years, and been in the Supercross class for five years, and then you have a guys still eligible for the Lites class with half-million-dollar contracts. Do you ever feel like you're just the odd man out when it comes to those kinds of deals?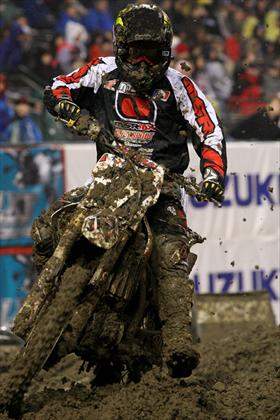 Wey put the mud-riding skills he learned growing up in Michigan to work this weekend
Well, I definitely have taken a rough road, because like you said, if I had that opportunity to switch back to the Lites class, I may have had some much better opportunities over the last five years, instead of just making do with some of the situations and really taking some of the sponsorship duties and ordering parts into my own hands. But I couldn't be happier with the team I'm on this year. MDK joined up with the Motosport Outlet team and we're all in one ship. Honda has come through with bikes and parts, and with MSR backing me like they have, I really wouldn't have changed anything. I just want to be the best that I can in the Supercross class. Honestly, to me, in the Lites class, if I was to win, I wouldn't put that much value into it. I was there for three years, got my podiums and whatever, but the premier class is where I want to be.
The problem is a lot of the guys who write the paychecks do put more value in that class. And it hurts a guy like you who's not only committed to the premier class, but to some extent, you're stuck there.
Exactly. I guess my mentality has kind of changed about the priority of the Lites class because I'm not able to ride it, that's for sure. But like you said, it would be nice to get that opportunity to ride in the Lites class and get some more of the limelight, but I really don't have a choice, and I'm just trying to do the best that I can in the premier class.

I know you and Jeff Stanton go way back. Was he there this weekend?
No. It was funny because I didn't ride as well as I liked at the last Anaheim, and I talked to him during the week and told him I was going to get third this weekend. Then I text-messaged him on Saturday night before I went to bed and said, "I told ya!"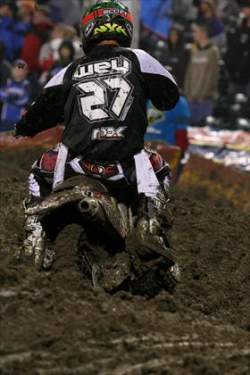 Nick is now the highest-ranked Honda rider in the Amp'd Mobile AMA Supercross Series

Okay, how about making a prediction for Anaheim 3 – where are you going to be?
I'm for sure going to be in the top five, and I just want to get a good start and run with the leaders. That's the only way that I'm going to be able to bridge the gap between myself and them, and that's to ride with them. And guys like Ivan and them, they're trying to do the same thing. With Ivan racing Chad at the last Anaheim, that proves there's a lot of the guys in the class that don't want to just roll over and get fourth or fifth. We want to get up there in the top three and mix it up.
Don't you kind of feel like you owe it to your mechanic after the amount of work he had to put in over the last couple days saving that bike?
Oh gosh, I stopped by the shop last night to get some new tires put on and get my bike worked on a little bit, and I was looking at my bike and, wow, it was hammered! My mechanic, Ryan Calma, is just doing an awesome job for me and I really thank him—especially for this week.

Last question: It's almost that time of year again – time for the Racer X/MSR Nick Wey coloring contest!
Oh yeah!
Your gear this year is already looking sweet, but I have a feeling there are some inspiring gear designers that might be able to drop something totally different on your man Dave Casella at MSR. So are you in for judging about 2,000 entries again?
Yeah, that would be sweet. I don't want to talk for Dave, but I think we can probably make a set of gear for whoever we pick. That would be sweet!
Well, that will be the goal, then. People reading, you heard it here first—the Nick Wey Coloring Contest is coming soon to Racerxill.com! Okay, Nick, on behalf of all of your old-school East Coast friends, and also the Pittsburgh Steelers, who are invading Michigan this weekend, congratulations!
Thanks a lot. I couldn't do it without the MDK Motorsports team, the Honda guys, MSR, Unbound Energy, Gaerne, HJC, and Scott. And good luck to your boys in the Super Bowl.
Good luck at Anaheim, Nick.
Thanks!