Thursday Rev-Up: No Quarter
quar·ter n. Mercy or clemency, especially when displayed or given to an enemy.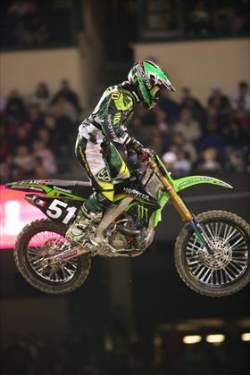 Will Villy be the fourth different winner in the Lites division?
Hello, everyone, and welcome to the Rev-Up! The 2006 Amp'd Mobile AMA Supercross Series makes its third and final journey this season to Anaheim for Round 5. And let me tell you, folks, this one is going to be special. Anaheim 3 has a penchant for producing barn burners, most notably the 2001 edition, which saw the official changing of the guard between Jeremy McGrath and
Ricky Carmichael
take place.
I was there to see that amazing race with my own two eyes, and I remember everything about it. Two memories from that night stood out the most to me. The first was the parade-lap whip RC uncorked over The King's head. McGrath had some janky pyrotechnics set up on his helmet that were supposed to be triggered by touching a couple fingers together. As fate had it, "Showtime" was over for MC, as the pyrotechnics failed, and when Jeremy looked over he was met with the top of Carmichael's helmet, as he was showing drain plug next to MC's ear. You could almost see that #1 on his YZ250 disappear.
The other memory was the chest-caving roar the crowd let out when RC made his pass for the lead that night, on lap 14, to pass McGrath and effectively take the reins of U.S. supercross dominance. This is old news for most of you, but I want to get your mind right as we draw close to Round 5. Do I think this race will mirror that magical and powerful Saturday night in 2001? Yes. The house will be packed, the racing will be fierce, and the whips are going to be huge. Will this race mark the beginning of a new era of supercross dominance? Not by a damn sight!
It matters not who wins this weekend. There has been no quarter given thus far, and I do not see anything by the way of mercy heading down the pike. This series is going the distance. It's time for Round 5. Let's turn the heat up in here and get Revved-Up for Anaheim 3!
Supercross Lites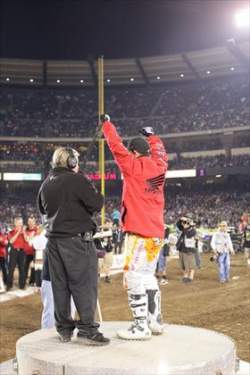 Jeremy is coming home this Saturday night!
Not since Skid Row opened up for Bon Jovi has an opening act outstaged the premier performers the way this year's tiddler class has, at least as far as sheer mayhem goes! It's been a juxtaposition of the youth, and the not-so-youth-gone-wild! Hell's bells, ladies and gentlemen, I think we have a new hero emerging, and I think his name is
Ryan Villopoto
. I'm going to call him "The Flying Freckle Cubed." His appearance mimics a young Jeff Ward, his determination matches a 1997
Ricky Carmichael
, but his heart is all
Ryan Villopoto
. The 17-year-old phenomenon currently ranks fifth in the standings, a scant 15 points from the leading tally of the class. Keep an eye on number #51 this Saturday night, because he just might be the fourth different winner in five West Region races.
Ahead of FFC is the veteran freight train of
Grant Langston
,
Andrew Short
, Billy Lano, and
Nate Ramsey
. It's been a back-and-forth power struggle between these warriors, and I reiterate, this class will be going off this weekend.
Supercross
Ricky Carmichael
record # 123: Never lost a points lead.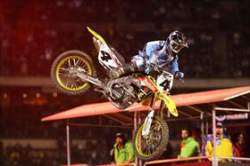 RC record #123: He has never lost a points lead in Supercross. Will this weekend be the first?
I am at a loss for words to better build up the drama for this week's race, other than that fact of supercross history. Now, The GOAT knows all too well that points do not matter until Vegas, but all the same, he will be looking for victory.
I heard a lot of noise about the Big Three sweeping the podium in 2006.
Chad Reed
was the first to balk, as he succumbed to the awful muck of San Francisco and finished the hardest-fought fifth-place of his life—kind of like James' fifth at Anaheim 1 after about a dozen falls. Now is it time for RC or JBS to stumble? As I hold a finger to the wind, I'm getting an eerie feeling about this Saturday night. My spider senses aren't so much telling me that the points leaders will falter as much as they are telling me that something big is going to go down in the brisk Southern California air for Round 5. An old racing fanatic like me gets a hunch from time to time when I feel an important race approaching. Maybe I've had too much coffee Or maybe it's something else?
Be that as it may, the time has come to return to the "Machine City" of our industry. Anaheim holds the heart of our sport, and as we draw closer to this weekend's racing, the supercross heartbeat is pounding at 170 bpm. I will be there, too, on special assignment for Racer X magazine. Look for me near the entrance of the tunnel, trying to catch one last whiff of two-stroke smoke!
Oh yeah, one more thing: The King of Supercross is returning to his castle for what may really be the last time. Lock the doors, kill the lights, and pray for a holeshot: Jeremy McGrath is coming home this Saturday night!
Thanks for reading, see you next week!