Between the Motos: Ryan Hughes
While the supercross battle was heating up in Phoenix, another race was taking place right down the road, and Team Suzuki was as pleased with the outcome there as they were at Bank One Ballpark. That's because Ryan Hughes was making his debut as a full-time WORCS rider, and his first ride of 2006 was a winning one at Speedworld MX Park.

Racer X: Well, it was a good weekend for Suzuki, with Ricky winning in Phoenix and you winning the WORCS race.
Ryan Hughes: Wait, was there a supercross? Hmm, I thought our series was the biggest one.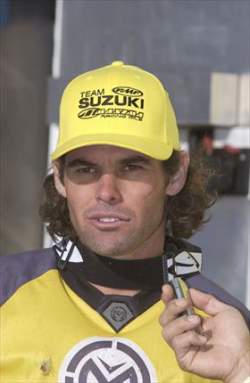 Hughes is happy competing in WORCS

photo: Kinney Jones

[Laughs] Did you go to the supercross?
No, I didn't go up there. I wanted to stay there and make sure I was properly rested and ready to go because one WORCS race is equivalent of six supercross main events—two hours long—so you've got to make sure you're rested and ready to go.

Well, comparing supercross to the WORCS, I know you did a race at the end of last year, but this is really your first official day on the job for your new career. How different did it feel pulling into a WORCS race and knowing what was ahead of you as compared to say a supercross, national or grand prix?
Well, I also did a WORCS race back in '03, but it was kind of cheating because it was at Glen Helen and it was all motocross—there was no off-road. So I had a little experience back then, and then the one in Mesquite last November didn't go so well. The difference with the national, well, I raced those for 16 years, so going into that I knew exactly what, when, and how to do it. Going to this, I didn't know what to expect! I mean, you kind of forget how long two hours is on a motorcycle when you're out there. It's a long, long time. And each track is completely different. You wonder, what are they going to put in front of me, how long is it going to be, how rough is it going to be, how dusty will it be? There are a lot of questions and you wonder if your plan is going to work or if you're going to get tired. There are some questions that need to be asked, and I guess this weekend I kind of answered them to myself.

Well, did you get tired?
Actually, no. I guess I was kind of lucky that way. I believe my fitness is the best there. But I kind of had a little break with [Kurt] Caselli making a mistake, so I had a big lead, so I could kind of just ride my own race and the last two or three laps I just really put it on cruise control to not make any mistakes and to save the bike. But for me, the whole race I didn't make a bobble, so it was pretty much a perfect race for me.

Well, I can understand that line of thinking because I remember a couple years ago when you did the GNCC in Florida, for two hours and 55 minutes you were right there battling with Watts and Hawk for the podium, and then you banged a tree a mile from the finish and ended up last.
Yeah, my bike wouldn't start! And that's the thing, you always read about how all of us out here can do this but we can't do it at the GNCC. Well, I think the same goes for those guys—they can't come out here and beat us. It's what you're used to: We're in California, and we don't have trees, so I don't know how to go about going through those, but maybe a Barry Hawk doesn't know how to go fifth-gear down a dusty straightaway with rocks and square edges and sand whoops. Each series is very difficult.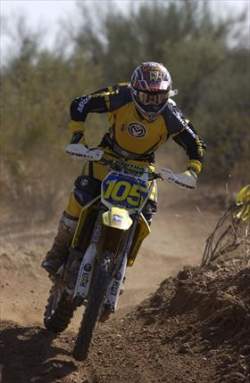 Ryno won the first WORCS race last weekend at Speedworld in Arizona
photo: Kinney Jones

In that regard, could you compare how different GP motocross is to American motocross?
Yeah, if anyone watches GP motocross on TV, it's fast, sweeping turns and not too rough, and not too many jumps or ruts. You get here to the United States and it's completely different. It's rough, it's hot, and the tracks are a little slower, speed-wise, with a lot more jumps. And I think when the Americans go over there, they struggle a little bit and vice versa, until you kind of get used to the way the racing is.

How did the WORCS guys welcome you?
I'm sure the promoters were probably pretty stoked, and I think the riders were happy, too, if bringing me into that series gets more press. But I'm also sure nobody likes to get beat or likes somebody else coming in there, taking their prize money. And some races that might not happen, but this weekend was my weekend. But everybody has been really cool, and even Caselli was giving me some tips, so I couldn't ask for anything better. I'm very happy with the series I'm doing and the sponsors that I have and the people that are involved with that series.

Wait a minute—so you're saying when you went to the starting gate at, like, the '97 High Point National, Damon Bradshaw didn't lean over on the starting gate and say, "Hey, Ryno, you should try this out of that corner!"
[Laughs] No, he didn't come over and give me any advice like that. It was just more off-road stuff, like I couldn't get my water system to work, so I barely had any water the whole race, but then Kurt gave me a tip about it to help me out. It's not so much about lines because they're so different, but yeah, it was good and everyone was really cool and down-to-earth. They were all down-to-earth.

From a testing perspective, what's it like being a factory motocrosser compared to being a factory off-roader? Is the testing less intense or more about durability than handling?
Testing is a little different because you have set your bike up for a two-hour race. So you go, Okay, I've got to set my suspension up a little different than I would for an outdoor national. With the engine, you don't want to make it fast because the bike then becomes unreliable. So I just run my bike completely stock, because that's the most reliable a bike can be. And with the Suzuki, those things are pretty much bulletproof stock, so I leave it like that and put a nice dual FMF muffler on it and that's about it. So I just try and get my suspension to where I need it and that's it.

How about the fans? You go to a supercross or national and it's pretty cut and dry, like where you are and aren't allowed to go, autograph signing times, etc. With the WORCS, enduro, and GNCC series stuff, it's pretty much wide open, isn't it?
Yeah, it's awesome. People can go wherever they want. My kid can ride his motorcycle through the pits, and he raced twice this weekend. That was really cool about it. I got to see my son race, and I got to race on the same weekend. It's not like a national where even the rider can barely go in certain places. So that's what cool about those kind of races—if you do have family, they're right there with you.

Out of the guys racing supercross right now, which of those riders do you think would make a good candidate to be an off-roader—either on the east side or the west side?
I would say guys like a Ricky or a Bubba, or even Chad Reed…. It's hard to tell, because some people can adapt to it, some can't. Some people can go fourth gear across bumps wide open and some can't, so it's hard to say. But I can imagine that the top five guys would do really well because the WORCS races are more motocross-driven and GNCC is more tight woods, and you have to grow up in that stuff where it takes a couple years to get a handle on it. So maybe the motocrossers back east would like the GNCCs and maybe the motocrossers out west would like the WORCS races. It's hard to tell.

Rodney Smith has had a great career in off-road following his motocross career. Ty Davis has also added a decade on to his professional career, and so has Mike Kiedrowski. How long do you foresee yourself being an off-roader?
I think myself and [Suzuki team manager] Mike Webb's plan is that we're thinking maybe five years. That would make me 37, almost 38 years old. So that's kind of a long-term goal. I try to take it race by race, year by year. Right now I have a two-year deal with Suzuki, and I definitely plan on honoring that. And I'll just see where it goes from there.
You were talking about Rodney Smith and Ty Davis. They've accomplished a lot of different kind of racing, and that's what I want to do. I want to say that I won a national, a supercross, a WORCS race, and maybe a Six Days Enduro win. When I get done, I want to maybe be one of the best all-around motorcycle riders. That would be cool to me, kind of like Everts, how he won the Six Days, how he won the beach race, etc.

Or even like Mike Kiedrowski, who won nationals, supercross, Motocross des Nations … that's an admirable and reachable goal for you.
Yeah, thank you very much, and I plan on achieving my goal this time.

You mentioned your son racing earlier—when are we going to see you at Loretta Lynn's?
Maybe when my son gets a little older. I asked Evander if he likes off-road better than motocross, and he said yeah, because he gets to ride longer. He got fifth this weekend, so he was pretty happy.

Last question: Any sponsors other than American Suzuki that you want to thank?
Moose, FMF, MRM, Smith, Dutton Motorsports, DC Shoes, ECC … and all of the team sponsors for the Suzuki team.

Cool. Thanks a lot, Ryno.
Thank you, DC.