Thursday Rev-Up: Fortitude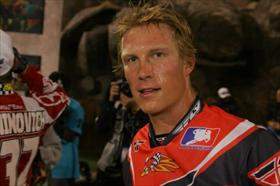 Andrew Short looks like the man to beat in SX Lites out west

Fortitude (For"ti*tude)
1. Power to resist attack; strength; firmness.
2. That strength or firmness of mind which enables a person to encounter danger with coolness and courage, or to bear pain or adversity.
Hello, everyone, and welcome to the Rev-Up. The 2006 Amp'd Mobile AMA Supercross Series will make its way to Phoenix, AZ, this weekend for Round 2. But before we get to that, how about that season opener, folks?! A sold-out crowd, a wicked track, and RC and James starting 12th and 15th in the Supercross main, and Chad Reed back there somewhere, too! Even though both of the pre-race favorites won their respective classes (Andrew Short and Stewart), the racing action that led to the checkered flag in both main events left a lot to the imagination as to how the rest of the season will go. Let's recap both main events from Anaheim 1 and get Revved-Up for Phoenix!
Supercross Lites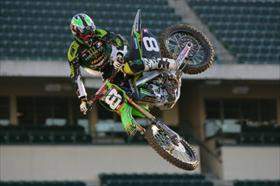 If Grant Langston rides all 15 laps in Phoenix like he did the first 10 in Anaheim, he will win
There were two names that impressed me the most out of this division, and they were both
Ryan Villopoto
. In 2003, I watched the Alessi brothers beat that poor kid at least 15 times in a row. I mean, one of these days, when he is old enough, he is going to have catch up with Jeff Emig and share a few beverages and bench-racing stories, as I have never seen two men define the word "bridesmaid" the way these two have—Villopoto in minis and Fro in SX in the 1990s. Four weeks removed from a broken collarbone and the rookie damn near steals the win against a stacked field of tiddler pilots?
Meanwhile, his much more decorated and (believe-the-) hyped rival, Mike Alessi, was dodging Tuff Blox around mid-pack. After what I stood witness to in 2003, I'll call it poetic justice. Oh yeah, Andrew Short won. At this point, anything less than a win out of him or Grant Langston is something of a failure. They should have been trying to shake down LaRocco in the Supercross class. Oh well, maybe next year….
Ah, but let's get down to brass tacks. As this division moves to Phoenix, the scent of revenge is crisp in the air. Langston appears to be riding supercross very, very well. That yard sale he put on in the whoops on lap one would have sent 75 percent of the riders back to the pits. Instead, Zulu went berserk and salvaged his title hopes by clawing his way to fourth with the fastest Lites laps of the night. So I'll make a Joe Namath prediction and say he will win in Phoenix this Saturday night.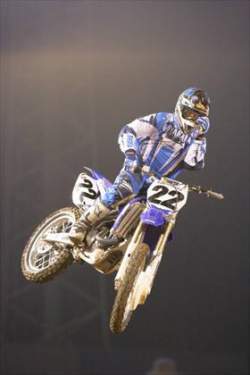 Chad Reed should be even more inspired this weekend
Another thing that had me laughing was how quick everybody has been to discount
Mike Alessi
. I'm telling you here and now, that dude is going to be on the podium soon. Don't forget about Nate Dawg, either. He'll be back.
The dark horse nomination for the Lites division in Phoenix is a two-headed beast. They're both Rockstars by the names of Mills and Lawrence. Uh, what happened gang? This ain't fun-day at Glen Helen, you know.
Supercross
Whoa, how about that Chad Reed? I told you last week that he was pissed. Nothing spells anger like setting the fastest lap time of the night and still finishing second. But the coolest thing that is manifesting is a bit of nastiness between #22 and #7—did I hear some smack talk? I think I did. Reed wants to win; he'll get dirty to do it, too. And by gawd, there is nothing wrong with that at all. That, my friends, is racing. Bang 'em all, let Whitelock sort 'em out.
And then we have James Stewart. No Bubba to speak of here, folks. That guy appears to be long gone. This has all come as a shock to everyone—including the guys that gave him the 24-karat-gold street bike with #259 stamped on the powder-coated frame! But I digress. James is riding extremely well. He is riding Supercross faster than anyone has before him. This isn't a surprise—this was supposed to happen. James is the chosen one. And to be honest, after his summer of 2005 discontent, I am really happy for all involved with the Stewart camp for their recent success. It's now three wins in a row, folks. Read 'em and weep. And not just three in a row, but three convincing wins in a row. He is absolutely flying. Reedy and RC sacked up and matched the pace last weekend, but they looked janky doing it. Stewart has been Dr. Smooth so far. Ah, but does he have fortitude? Is he really ready to overtake the man that has the most "4titude?" We shall see.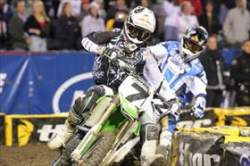 James Stewart is on a really good roll right now - still undefeated with #7!
I received an e-mail this week that triggered the title of today's Rev-Up. The e-mail explained the "4titude" butt logo RC has been racing with. Take a gander back to the top of this page and the title of this week's column. Read it again, damn it. Now, before I really get fired up…. No, hell with it, I'm already fired up! Did you see RC going for it last weekend?! I did. He was twisting it hard, folks. Our champion, our "Greatest Of All-Time," who has nothing to prove, went out there and pinned it and went for the win. For who? For Suzuki? No, he gave them their championships last year. For the record books? No, McGrath's SX record will never be matched—RC said as much at the press conference.
Ricky Carmichael
is out there doing it for you fools! Yeah, maybe a little personal pride to boot, but RC has always done everything he can to push our sport the only way he knows how: not by having cool hair or cool cars or being God's gift to marketing, but by setting the standard of effort and heart.
This might be it for Ricky: the last dance, ladies and gentlemen. He will not go easy into that good night. He will fight. Ricky Carmichael epitomizes "fortitude." And I say he wins it this weekend in Phoenix. There, I said it.
In all seriousness, let's catch up with the reality of all of this. Take away the super-hot 30-second-board girls, take away the big corporate sponsors, and take a harder look at the Asterisk Mobile Medic's Mule. It's out there for a reason, my friends. You want to know why all of these ridiculously sexy women come in droves to watch our sport? Do you think it's because the riders have chiseled abs and biceps? Nope. Nothing breeds sexiness like fear and danger, and this is the most extreme sport there is. I get nervous watching my brother draft stock cars at Daytona, but what really makes me scared is seeing guys like young Jake Weimer go down on a triple.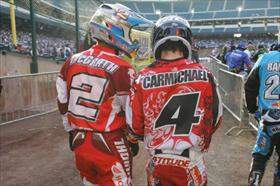 MC and RC both know about fortitude
I apologize if this comes across as negative; it is only intended as a message of respect. Respect what these gladiators are giving to you. When you hear the "Voice of God" echoing through the stadium and see the laser beams shooting through the smoke and feel the goose bumps climb up your arms … take a pull off your beer or Coca-Cola and pour a little on the ground for all the riders that got us to this event horizon. Supercross isn't just a 16-race series; it's a lifestyle and a mindset. Is your mind right? Do you have the fortitude to handle it? I guarantee you those maniacs on the starting line do. They can handle pain and adversity, and they have more courage than most people you will ever encounter this side of Baghdad.
They have fortitude.
Thanks for reading, see you next week!