Between the Motos: Jeff Emig
Jeff Emig is a Hall of Fame motocross rider with three outdoor titles and the 1997 AMA Supercross Championship to his credit. "Fro," as he is known, was on hand at the Anaheim 1 season-opener this weekend where James Stewart, riding for his old team (Kawasaki) and being assisted by his old mechanic (Jeremy Albrecht), captured a convincing win. With all that in mind, we thought a little bench-racing was in order with one of the sport's all-time greats.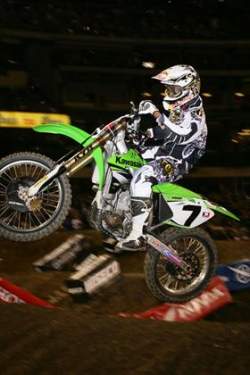 According to Fro, Stewart is doing next-level stuff on his KX450F. The future is now.

Racer X: Jeff, 2006 is up and running. What was your first impression of the Anaheim 1 AMA Supercross main event?
Jeff Emig: I guess the most shocking thing that I witnessed was the amount of intensity and aggressiveness that Carmichael, Stewart, and Reed rode with on their 450s. In the last few years we've seen them ride the 250 two-strokes completely to their limits, and the power delivery and the way that a 250 reacts compared to a 450 is completely different. I mean, you can push a 250 and it will just kind of sign off when it has to—it's light and nimble. Well, the 450s have this abundance of power, and they also react a little differently. So I didn't expect to see those guys ride them quite as hard as they did at Anaheim, because it didn't look like that at the first two rounds up in Canada.

Let's start with James. There were some things he was doing that seemed like next-level stuff, like coming out of from under that tunnel and tapping his back wheel on that middle jump and going over everything. He almost missed a couple of times, but he kept on doing it. Do you think he's pushing it too hard this early in the season?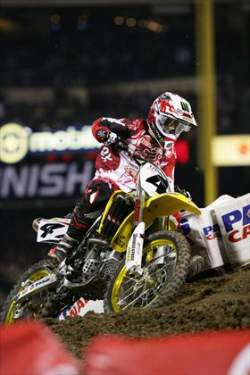 Fro says RC should be more mad than disappointed. He was right there.
I didn't think that he was pushing it too hard, no. Actually, I didn't expect to see everybody riding 450s this year, outside of Vuillemin. So I think this is the next evolution of supercross, because these bikes are only going to keep getting better. If you remember, at Anaheim after the first whoop section, there was a double, and then they started triple-triple-tripling that section. Well, I talked to J-bone [Albrecht] after the race and Stewart was talking about how he didn't even have to go wide in the turn—he could just go through the middle of the turn, like under a lapper, and just "braaap" and jump the first triple. I think what you're going to see, and what a lot of the difference is going to be with Stewart, is that the Kawasaki 450, for whatever reason, this thing gets really good traction. I don't know whether it's the chassis design or the power delivery, but it seems to me when I watch him, he just seems to get better traction without having to have the rpm very high.
I was watching at Vancouver and there was a section where James was coming down those rhythm sections and landing in a space maybe about the size of a salad bowl, then blasting back up over two or three more jumps. Has Stewart started to make some of these track designs obsolete?
I think Stewart is the next evolution of the supercross racer. We've seen him do things on his 125 that have blown us away; now he's going to have this next-level, revolutionary machine and it's going to have more power than what the tracks can handle. And yes, the track design, like, it could soon be obsolete, and he's only had three races on this thing. Imagine another three years from now—he's going to be jumping some pretty amazing stuff, because he seems to have that ability in these rhythm sections to jump four, land in a small area, and then jump another three. He might have jumped 120 feet with only touching down once!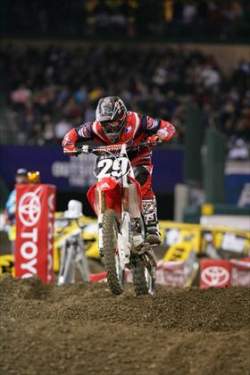 Emig studied Andrew Short's run through the whoops and just can't figure out how he does it.

You mentioned the two-strokes earlier—did Jeremy and Vuillemin's bikes sound like 85cc bikes out there to you? Did they just seem out of place?
Yeah, they really did, especially the first time I walked out to the track for practice and there were only a few bikes on the track. The difference in the sound was like driving your regular car compared to an NHRA drag racer! Obviously, I miss the sound of the two-stroke; I guess in a perfect world in my mind we would run two-strokes indoors and four-strokes outdoors. That way you'd have to run both the bikes and the technology would keep growing with each motorcycle. But I don't make the rules.
Well, what about in the SX Lites class? First of all, Andrew Short looked like a seasoned pro out there—he looked like a machine.
Yeah, he looked fantastic. Andrew probably went through the whoops better than anybody. You know, I study that a lot, and I can't really figure it out. Obviously, entry speed is important, but he just seems to float right on the tops of them, and he definitely showed maturity and confidence, in that he had to come from pretty far back. I think that
Ryan Villopoto
was extremely impressive also, coming off of a broken collarbone.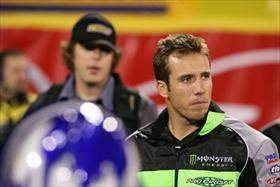 Langston is a warrior, according to Emig

And that was truly his first supercross!
Yeah, being his first supercross, he seemed to handle the pressure well, and he seemed to be confident, and a lot of that has to do with his training with Randy Lawrence. He's coming off of an injury, but he's done the work for the last year that had him prepared for this main event. I think he went out and that's what he expected to do himself. And I think
Billy Laninovich
is going to have a lot better races, too. I think you're going to see Billy kind of unleash the fury as he gains confidence and keeps getting on the podium.
Speaking of unleashing the fury, I was watching Grant Langston the first ten laps of the race. He didn't move up after he got to fourth, but man, he worked his ass off and put some amazing runs together down through those whoops that were also pretty incredible.…
I think a lot of people around me know that I really like watching
Grant Langston
ride. The reason is that he's a warrior, and he approaches this with a fire burning inside. I mean, I can see him taking off his helmet and having face paint on and carrying a spear to the starting line or something! I think it really showed at that first national last year, where he just clawed to catch up to [Mike] Alessi. But I think you're going to see a lot more ride like that this year from him—he's just an awesome guy to watch race.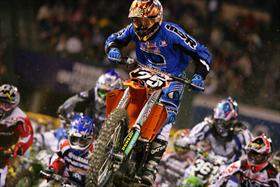 Jeff's friend Nate Ramsey had a bad night, but Fro expects him to rebound quickly

As far as disappointments going, Nate Ramsey was very fast but had a bad main, Mike Alessi had a really bad night, and then you have Jason Lawrence …
… who really didn't have a night!
I was watching Lawrence in practice for this, his first supercross. I was with SX Live! announcers Jason Weigandt and Jim Holley up in the press box, and we were astonished because he and Ryan Mills were out there fooling around together. Subsequently, neither qualified.
Yeah, when I retired, I remember David Bailey telling me that it would all become so transparent now, that all you've got to do is see the results and you'll know who is working hard and how my mind would kind of cut through all of the bullshit, and it's really starting to feel like that for me. Don't take offense to this, but sometimes I don't read all of the interviews in the magazines—I'll kind of flip through them—because I've seen so much of it for 25 years, and you kind of know who is working hard and is focused and who's not, just by the results. And the rest of it could be excuses or just a little bit of bullshit.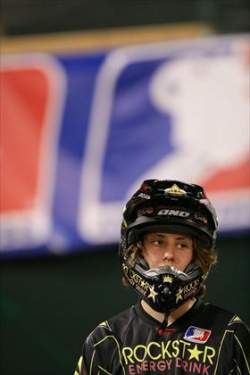 If J-Law doesn't get more serious soon, it's going to be a short ride

No offense taken, and I know what you mean.
But specifically, in
Nathan Ramsey
's case, he's a friend of mine and I know he works hard. I'm fully confident that Nathan will come back and win races, it's just unfortunate that he started off with a 12th place. But he's going to come back strong. I also think the start at the first round is one of the most important parts of the whole series, so it's tougher now. I was really surprised of
Mike Alessi
and the troubles that he had—a lot of people were. And, of course, with
Jason Lawrence
, it was pretty transparent that he's not approaching this like a Ricky Carmichael or
Chad Reed
or any other champion would. He's going to learn, and he's either going to get his act together and he's going to start making steps towards being a better racer, or he's going to get paid this year and he'll be doing something else next year.
You talk about how transparent things are and the amount of work that a RC or Reed puts in.… So what do Ricky and Chad do now?
Well, I'll start out with Reed. He just needs to keep trying to get better each week. He wasn't that far off of the win.
Bubba
won handily, but Reed also put in a really good ride there. It seemed like he was in there for 15 or 16 laps, and he's going to get better. Maybe he's going through a little bit of a transition with the machine, but he'll figure it out. RC, on the other hand, I don't think he's far off at all. I think that they're going to do what they've always done, which is work hard the next week, improve the little things, and come back strong. It seemed like his bike could've gone through the whoops a little better, especially that one lap that he crashed, but Ricky had passed everybody and was in the lead when he fell down. Everybody makes mistakes. But I don't think that Stewart would've won as easy as he did if Ricky wouldn't have went down.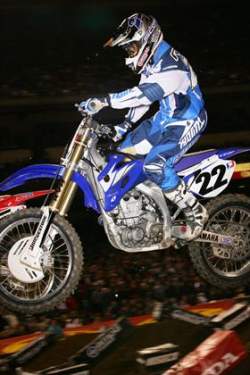 Reed was definitely faster and smoother than he was in Canada

So it's too early for Reed or Ricky to change anything up? Is the advice from one former SX champ to two others is stay the course?
Stay the course. I don't think Carmichael has any reason for alarm. I think I'd be more pissed than anything. I mean, he's gotten beat three times in a row here, and that doesn't happen very often. With Ricky, he will approach it as a challenge he wants to take on. He'll say, "Okay, I can still beat you and I'll still come out on top." And that's what great about Carmichael: Ricky's the greatest champion that we've ever had, and knowing him personally, hell, he's won 13 or 14 championships, so he's not going to get flustered now. He's going to use his knowledge and experience to figure out the best way to achieve the goal.
With that in mind, it should be a great season.
Like I said, and with this I'll come full-circle: The intensity that the top supercross riders rode with was the beginning of the next level. We're starting a new era now and I'm not going to miss any of it!
All right, champ, thanks for the bench race.
Thanks, Davey.