Between the Motos: Larry Brooks

Larry Brooks has been around forever. He was tougher than nails when he raced as a top-10 pro for years, and he has carried that passion over into his thriving career as a team manager. With the 2006 Amp'd Mobile Supercross Series coming up, I sat down with the Red Bull KTM team manager to find out how he got where he is today, what it was like working with Jeremy McGrath, and how he mended fences after the Mike Alessi debacle at Glen Helen.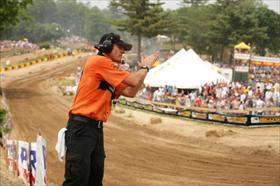 Larry cheers on his Red Bull KTM riders

Racer X: Okay, Larry, tell us how you got to be the team manager for the Red Bull KTM race team.
Larry Brooks: I started out racing. In fact, I spent 13 years on the national tour, and before that, I raced minibikes for Suzuki and R&D Racing. My first gig as a team manager was with the Chaparral race team. Me, Greg Schnell, and Brian Deegan were all racing and I was the acting team manager also. The next year, the team was sponsored by Yamaha, and as Yamaha's support team we had Phil Lawrence, Chad Pederson, Michael Brandes, Jimmy Button, and Travis Preston. That year was pretty good. My first couple years taught me what a team manager had to do on a daily and weekly basis.

And your next hire was a pretty good one.
[Laughs] Yeah, the following year we were lucky enough to get Jeremy on the team with Button. Yamaha stepped up our support and gave us full-factory equipment. Jeremy won eight main events that year and Jimmy had a couple podiums for us too. That was huge when we would go 1-2 at a supercross. I can't even explain how cool that was; it was a blast. Working with those two guys was great. They are a lot of fun and we are all still friends.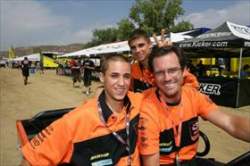 Brooks shows his sense of humor with team riders Mike and Jeff Alessi
The next couple years we had Steve Lamson and Jeremy, and MC won the championship both times. After that, he started his own team with Yamaha and Mazda trucks, and then the next year was with Yamaha again, but with Bud Light as the sponsor. I was fortunate enough to go along with Jeremy and act as team manager for him both of those years. Things went well, even though we didn't win any championships on our own. That was kind of the changing of the guard when [Ricky] Carmichael stepped it up. He is still the guy to beat to this day.
How did you end up with KTM?
When Jeremy retired right at the start of the 2003 season was when I came over to KTM. My first year, we had
Grant Langston
and Ryan Hughes going 1-2 in the 125 Nationals, which was really good. I had never finished first and second in a championship before as a team manager, so I was stoked. The following year we had a rough time. We had the same guys that were finishing out their existing contracts, and we didn't have our 250F yet. All the other teams were running four-strokes and we were still racing the 125. The riders were having a hard time getting starts, and they were getting bummed out. It was time to make changes, and the next year we let everyone go and started fresh with some young riders that we felt would excel.
That would be Josh Hansen, the Alessi boys, the not-so-young Nathan Ramsey….
Yeah, and we had a great season last year with this team. We won a bunch of 125 Supercross races—I think five in the US plus both Canadian rounds—and finished second in every series [Ed. note: But
Mike Alessi
was DQ'd at the final round, relegating him to third in the series.] And I think we were the winningest manufacturer in the 125 class in 2005. It was a special year for KTM. And for this year we've massaged a few things on the bike that we thought we could improve and I think we will have an even better season in 2006.
Is it a handful dealing with young riders like the Alessi boys and Hansen?
Actually, my biggest problem is that I have a team full of winners. They all want to win at the practice track and in practice at the race and qualifiers and the main events. None of them are good at losing. It's hard to deal with a bunch of guys that have the potential to win. Controversy is going to break out eventually. I can't slow these kids down. I can tell them to take it easy or relax, but you can't break their spirit and discourage them from wanting to win. They are like racehorses that way. It is a challenge dealing with all these winning personalities, but I'd rather have that problem any day than deal with a team full of losing personalities.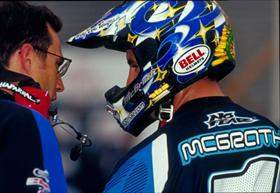 Larry and Jeremy in the Chaparral Yamaha days

When Alessi and Ivan Tedesco had their now-infamous run-in at Glen Helen, I saw Mitch Payton look over at you and say something—and it didn't look like he was happy. I know you have been friends for a long time, so how did you guys deal with that?
It was a bummer that something that happened on the track between racers got in the way of our friendship. He doesn't agree with the way that KTM went into that race because we were competing against his guys. But it's the guys on the track, and we can't control what they do in a situation like that. Mike made a bad decision at the time and it worked against him. I think he got enough penalties and fines to last him a lifetime. It cost him second in the points, rookie of the year, and a ton of money. Hopefully, he matured because of it. I just don't think that the way the riders handle themselves on the track should affect how we get along off the track. Mitch and I are both competitive and both enthusiasts, and we both get into it. We had a long talk after the race for a couple hours. We patched things up, and we decided to let what happened that day stay at
Glen Helen
. We are both just kind of walking away from it.
Sounds like you're ready for another great season, LB. Good luck.
Thanks, Ping.