Remember how when you were a kid—or maybe you still are—you couldn't wait to see all of the new gear, the new numbers, guys on new bikes right before the first race of the year? Whether it was waiting for last week's
Cycle News
(which might be another week in getting to you) or the next
MXA
with all the cool new "zoot capri," as they used to call it, that was one of my favorite times of the year.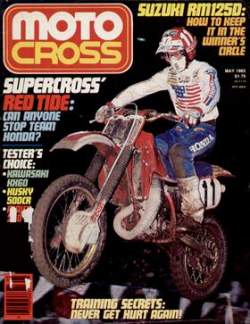 When the old mags came, it was often the first time we'd get to see the new stuff!
In the last couple of weeks, we saw two very interesting races in Canada, but we didn't necessarily see everything. There's bound to be new gear, new teams, new graphics, new attitudes, new everything at Anaheim. While the riders weren't holding much back on the track, the teams and gear companies probably were. That makes the anticipation of Anaheim even greater.
I remember watching the 1983 Anaheim SX on TV. It was a rare motocross broadcast for back then, and David Bailey won his first AMA Supercross main that night. The show was on several weeks (maybe a couple months) later, and I remember being glued to the set trying to figure out what the Little Professor was wearing.
Then, sometime in March, the May issue of MotoCross, the only sister mag for MXA from Hi-Torque, came out with this shot of Bailey on the cover, and I was just blown away. That's the kind of anticipation that this time of year always brings, even now with the WSX races up in Canada and all, we still don't see the full deck until Anaheim.
But we've been lucky enough here at Racer X to be in on a few cool secrets, glimpses of new gear and new products that will be lining up at Anaheim in three weeks' time. That's because we are once again the proud producers of the souvenir programs for the 2006 Amp'd Mobile Supercross Series. That means the teams and PR firms are supplying us with advance shots of what you're going to be seeing on the posters that you pick up in the pits, with riders wearing the SX gear you see on CBS and Speed all winter long. It's like being a kid all over again, waiting every day to see what comes floating through the mailbox (electronic now) from the industry's best designers and racers….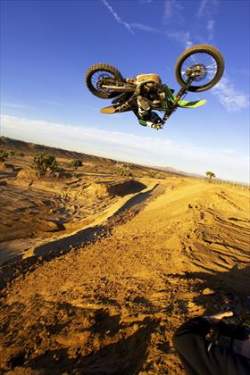 Check out this Hoppen shot of Chris Gosselaar for Monster Energy / Pro Circuit Kawasaki
photo: Frank Hoppen
Everyone here working on the program was stunned by the news earlier this week that
Kevin Windham
had broken his arm. He was the key missing ingredient for Canada, and after his taste of success at the Motocross des Nations in France must have inspired him to come out swinging when the '06 season started. Instead, Windham—the smoothest rider of all—was the first to fall. Our best wishes for a full and speedy recovery to one of the nicest guys in motocross.
I wasn't at Vancouver, but I listened to Jason Weigandt and Jim Holley on the Supercross Live! webcast. I even took some notes to maybe pass on here, then I thought, What the heck—why not just have Weege write up some of the cool things he saw in Canada, which was "RCanada" last year, but now seems more like Stewartland….
Last year's Vancouver race had some of the strangest dirt ever seen on a supercross track—actually, it wasn't even dirt, it was "glacial till," whatever that was. But this year they brought in all-new dirt, and it was good stuff—not nearly as rutted as Toronto.
But there was one drawback: rocks. There were lots of rocks in the stuff, and even though Dirt Wurx spent a weekend pulling the big ones out, there was still plenty left on the track. On Friday in practice, Chad Reed got nailed in the chest with a rock and had to pull over because it hurt so bad.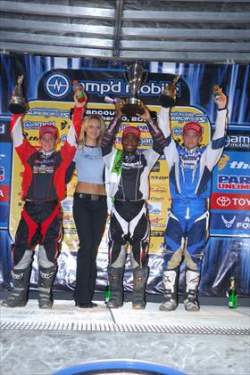 The new Visiting King of Canada is James.
photo: TFS
Reed had a tough weekend. He looked much more aggressive in practice here. Reed didn't look like himself in Toronto, and he even admitted he didn't jump some of the tougher Toronto combinations because he was "scared." Strange for a supercross champion to say that, but either way, he had it fixed in Vancouver because he was jumping everything Ricky and James were, and then he figured out the fast way through the whoops. The second whoop section was very tough, and most of the riders resorted to jumping through them. But Reed was blitzing the top, and lo and behold, about halfway through the first practice session on Saturday, he logged the fastest lap. He was finally back in the game.
But at the end of the session, Reed had to pull off when something went wrong—from my vantage point (standing in the mechanics' area on the floor) I think a rock dinged his fork leg, and suspension fluid was dripping all over the place. Either that or a front brake problem? Either way there was fluid and Reed missed the final lap of that first session.
And then, unfortunately, when he was hitting those whoops in session two, he crashed and got up slowly. Reed said he tweaked his knee and had to spend the rest of the afternoon on an exercise bike to keep his knee loose, or to keep the swelling down. He was moving pretty slowly after the main—in fact, he could barely even get up on the stage where the riders sit for the press conference. And that stage is only about a foot off the ground. But Reed had Dr. Jeff Spencer on his side, and that guy is a miracle worker when it comes to injuries.
With Reed unable to put in a fast lap in that second session, James Stewart put in the best time there—and by a pretty large margin. Carmichael's time was second best (and what the heck is wrong with Ricky's starts?), and then David Vuillemin actually put in the third-best time of all of the supercross riders. But believe it or not, Davi Millsaps' time in his second session was faster than that! Only #7 and #4 went faster that #118. With nearly a second and a half faster lap than any other Lites rider, Millsaps was the obvious favorite in the Lites class.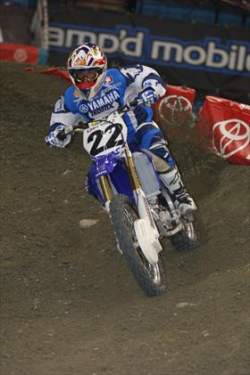 Chad had a rough tour of Canada
photo: TFS
More on that in a second. What's telling in the Supercross class is that Carmichael found the speed he didn't have in practice, and he went much faster in his heat. In fact, he put in a faster lap than Stewart. So the showdown was on in the main. Carmichael and Stewart lined up side-by-side, but unfortunately it failed to materialize when Ricky wheelied coming over the gate and got a bad start. Then
Ivan Tedesco
bobbled in turn one and Ricky and Reed both got jammed in behind him, while Stewart made a pass on holeshot master
Kyle Lewis
and took off.
By the time RC was into second, Stewart had 8.8 seconds on him. He actually pulled away just a little bit after that, and then RC started reeling him back in over the last few laps. The final gap was 7.4 seconds. Was Stewart slowing down? Was Ricky getting stronger? We'll have to wait until Anaheim. Carmichael did mention that his training is not set for him to peak at the two races in Canada. We'll see what happens when he does, because Stewart was going about as fast as me and Hollywood have ever seen a supercrosser go!
Vuillemin, by the way, looked really sharp in his debut North American supercross ride on the BooKoo Honda. DV12, by the way, wanted to race Toronto, but he was already contracted to race the Geneva SX, which he won. Anyway, he looked great in practice and was aggressive early in the main. Last week on DMXS, DV said he was not sold on the four-strokes and thought he would have an advantage on a two-stroke, especially in turns. And it looked like he did—for a few laps. Then he started dropping back, and ultimately five 450s finished in front of him.
Also worth noting about DV's interview on DMXS Radio: He said when he was negotiating with Yamaha, they were going to tell him which bike he would have to ride, but his guess is that Reed would have his own choice, since he was the title favorite. But he never really got to the point to know if the YZ250 or 450F was the bike of choice anyway. But he also said that while a guy like Reed was probably free to chose whatever bike he wanted, he probably wouldn't be free to switch back again, because then it would make the original bike look really bad.
Translation: Chad is staying on the 450.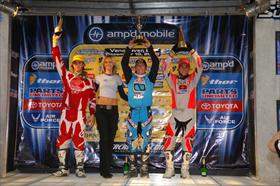 Nathan won Vancouver for the second year in a row
photo: TFS
In the Lites, Millsaps was the early favorite after his win last week and his fast practice laps. But then he got a horrible start, even worse than his usual standards. Millsaps was probably 15
th
early, but luckily for him there was a huge whoop section and he made up tons of time there. Still,
Nathan Ramsey
got the holeshot on his Red Bull KTM—Nate was the first rider of the night to actually hold his line on the inside of the first turn, even when rolling over the first jump (most of the time the rider on the inside would get slowed down and someone from the outside would take the lead). But Nate held them all back, and then he took off with
Billy Laninovich
behind him.
Millsaps made his way up to third, and then Laninovich bobbled in a rhythm section, letting Millsaps into second. But while Millsaps showed bursts of speed, he couldn't put together consistent laps. He would nail a jump or whoop section one lap and then have problems the next time. So Ramsey, riding like the veteran he is, took the win.
But if Millsaps ever figures it all out, he will be impossible to beat. And he's still only 17!
You know who was the biggest surprise of the weekend? Ryan Sipes. WBR/Yoshimura Suzuki coach David Bailey said Sipes would be fast, and that's pretty much standard talk for any team at the beginning of the season. But this was for real, because on Friday, Sipes went faster than anyone on a Lites machine: faster than Short, Ramsey, Hansen, Laninovich, anyone. Well anyone except Millsaps, who had his gearbag lost in customs and didn't make it into that first practice session.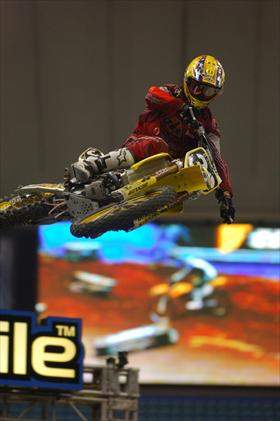 The kid from Kentucky looked plenty fast
photo: TFS
Sipes remained strong all weekend, close to the fastest times in Saturday practice, and then running in a podium position during the main. He made a few mistakes which cost him, but if he can get comfortable with that pace, he will be a force.
WBR now has Bailey as a riding coach and Todd Jacobs as a team trainer. Bailey says Jacobs takes the riders, Sipes, Ryan Morias, and newcomer Mike LaPaglia, on the bike rides and to the gym, while Bailey analyzes tape of the practice sessions. So when the riders return from the road work with Jacobs, it's into the classroom with Bailey. Now that's a serious program!
Sipes ended up fifth on the night, but he rode much better than that.
That's it from Weege in Canada; this is from regular reader Reese Dengler: "I've watched the Vancouver Supercross three times now and James Stewart's front forks hardly compress during his heat race and final! If you watch the forks it looks like he was only using the first 8" of travel. Obviously this did not affect him much but it seems strange and is very noticeable. Even landing from the big doubles and triples his forks never did seem close to bottoming, (I even watched a lot of the race in slow motion)."
Anyone else notice that? He did look incredibly smooth, for the most part!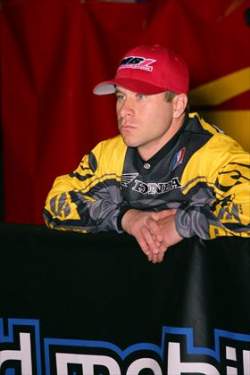 Start calling him JTEuros: Jason Thomas is a traveling man
photo: Simon Cudby

Jason Thomas dropped us a line from Munich, where he's racing a big German Supercross tonight. JT Money might just be the guy who traveled the most in 2005 as a professional racer—the man never stops!
In case you thought brand-new dad Jeremy McGrath's popularity was slipping, our 10Q prompt—posted earlier today for the next issue of Racer X—proves otherwise. From the time we posted the opportunity to send in a question for MC, we've been receiving more than a question a minute. We'd done a lot of 10Qs, and they always elicit plenty of responses, but never anything quite like this. If you've got a question for the King, go here and read the simple rules. But make it good, because there's a couple of hundred others in there already!
Now, let me go old-school here for a minute. While digging through some photo archives, I came upon a shot from the 1972 Los Angeles Superbowl of Motocross—now known as the first modern supercross, promoted by Michael Goodwin—of a mysterious rider and a mysterious flagman.
The racer I pegged for one of the Swedish factory Husqvarna riders at the event, but the flagman really threw me for a loop—he's the EXACT spitting image of Robin Hartfiel of Motorcycle Product News!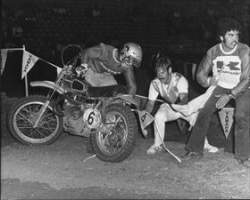 Who are those guys?
photo: Racer X Archives
So I sent Robin the pic, and he was definitely at the race, but he reminded me that he was all of 11 at the time and several years away from starting his famous mustache. But he was curious about the Husky rider, guessing that it was maybe
Arne Kring
.
So the picture circulated among a group of Robin's friends, which included such longtime moto men as Rick Doughty, Dangerous Joe Bonnello, Mark Blackwell, Paul Golde, and even Malcolm Smith himself, trying to figure out who the Husky rider was.
Doughty had the first guesses: "Bengt Akront or Ole Ludefisk or Arne Bermasterson. One of them for sure!" Of course, all of those names were made up, which reminded me of this true story from back when I was a kid:
Back in 1975, my dad hosted one of the last Inter-Ams ever. By then the series had bled into a summer afterthought, and the Europeans who used to come—the Swedes and the Czechs and even Heikki Mikkola—had pretty much quit coming over. But the race was billed as a big international brouhaha, and the only "Euros" he had were Peter Lamppu and Jan-Eric Salqvist (who were by that time from California and Canada, respectively), plus an Italian Suzuki rider named Tony DiStefano.... He was that desperate. But then he came up with an alternative, a new hero from behind the Iron Curtain who was being "flown in by the United States government as an act of international diplomacy." The rider's name? You guessed it: Jaborg Jaborg. The local newspaper and radio dudes never figured out that it was someone my dad made up….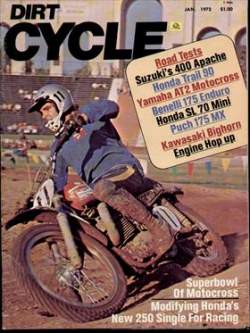 What about this guy? Anyone know?
Soon it was discovered that the Husqvarna rider was
Bob Grossi
, brother of
Billy
and former factory rider. That led to the next mystery from my collection (which never gets picked, by the way, by the Throttle Jockey boys for "Your Collection"). It's an old cover photo from March of 1973 of a guy riding, well, I don't really know. And I have no idea who it is: Any guesses?
Letters@racerxill.com
Let me turn this over to Ping out in California:
'Tis the season for receiving injuries, apparently. After Windham's accident this week, Matt Walker crashed at the Yamaha test track and was taken to the hospital. His injuries were not as severe as originally thought.
Then Motosport Outlet Honda rider Danny Smith tried jumping a triple in first gear. That never works out right. His prognosis is two badly sprained ankles. Smith should be ready to go come January 7, but from what I understand, it is mildly entertaining watching him walk up and down his stairs right now.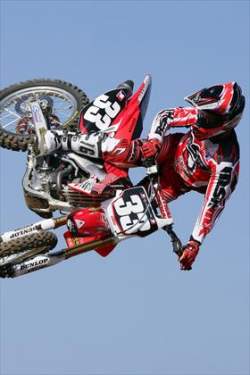 Danny looks good here, but you should see him on the stairs
photo: Simon Cudby
Between these three riders and
Villopoto, Adams,
and
Turbo Reif
(who dislocated his hip at last weekend's BooKoo Arenacross in Long Beach) we've lost some good talent this preseason. But Villopoto is still planning on racing the West Coast Lites Series. He should be released to ride nine days before the Anaheim opener and Ryan is confident he can be ready.
Tucker Hibbert is the latest addition to the Motoworld Yamaha team for the 2006 season. The team also includes Stephane Roncada, Chad Johnson, Justin Brayton, and Richie Owens. The team has made great strides since last season at a time where satellite teams are struggling to make it. Kudos to Paul Lindsay for making it happen.
If you've seen Moto Brew logos around but aren't sure what it is or where to get it, you soon will. The motocross-inspired pale ale is now available in California at all Bevmo stores across the state. It can also be purchased at Specs in Houston and from anywhere in the world at www.beeronthewall.com. Moto Brew is currently brewing a light version and will have five different styles by the time the supercross finale rolls into Las Vegas this year.
The big stadium event last weekend wasn't in Vancouver, despite public opinion, but rather at Mike Kidd's BooKoo Arenacross series in Long Beach, California. The bad news is that spectator turnout was dismal; the good news is that the show is awesome. Arenacross has to be one of the most underrated disciplines of motorcycle racing. I watched the first few heat races with Villopoto and amateur rider Tyler Keefe and their jaws were on the floor. In every lap you can see someone get taken out, crash, make a pass or T-bone someone. It is really incredible to watch!
And it is just as gnarly on the track as it looks. I signed up in the 450 class just for kicks. I figured I'd have a little fun while the series was in the LBC. I did have fun until just before the main event. A freak electrical short in the arena's speaker system ignited a fire on the roof. The building was evacuated for over an hour while the Long Beach Fire Department extinguished the blaze (which was mostly just smoke).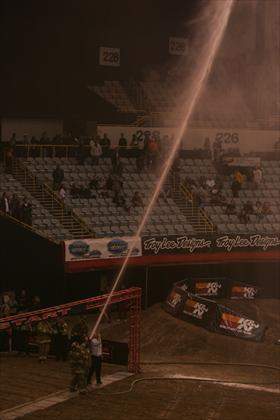 The halftime show at BooKoo wasn't planned, but it was interesting
photo: Jeff Hain
At just after midnight, they resumed racing, but only about half of the spectators returned. That means about a dozen people, firefighters included, saw Turbo Reif win the 250-class main event. I almost pulled the holeshot in the 450 main and went through the whoops in second. At the end of the whoops is the first really tight corner. I mean, really tight. Nine of us tried to squeeze into one line and the result, for me, was a broken front-brake lever and a bloodied finger. Maybe I should leave arenacross to the professionals.
Josh Woods and Josh Demuth are the two players in that series. The championship is close between the two of them and their battle will continue this weekend as the series moves to Phoenix. With the Clear Channel Arenacross series on a break, regulars Brock Sellards and Jeff Northrop will both be in attendance in Arizona. Brock is carrying momentum from the other series where he is picking away at Chad Johnson's early points lead. The Ohio rider is currently in California poking around for an East Region SX Lites ride. Sellards says he won't ride the nationals but he still wants to race supercross.
This week, the BooKoo Series has moved to Glendale, Arizona. That's where Mike Kidd's crew is getting a real test, as he explained on Mototalk:
"Last night [Thursday] a hockey game was played at the Glendale Arena. After covering the hockey ice with plywood the first load of dirt was not dumped on the floor of the arena for tonight's arenacross until 4am this morning!! Shane Schaefer and his track crew are going WFO with trucks and equipment to have the track completed, sponsor signage, starting gate, finish line overhead all ready for practice by 3:30 p.m.
"More than 60 pros have pre-entered in both the 250cc and 450cc classes with over 250 pre-entries for Sunday! This event is looking to showcase arenacross to a new market. Teams and riders attended the MMI school yesterday for a demonstration of mechanical lesson in motocross set-up and dyno runs. It was a huge hit to over 500 students. Be sure and catch the racing tonight on www.racearenacross.com with live announcer broadcast, chat, and timing/scoring."
Back to the old school: Check this sano bike out! It's the latest creation from Vintage Iron, just in time for Christmas.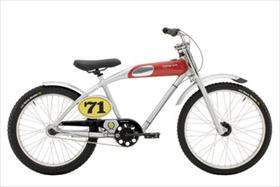 Now that's cool!
While flipping through an issue of
Complex
magazine, we came across a motorcycle unlike anything we've seen before. It's a hydrodgen-powered prototype called the ENV, made by a company called Intelligent Energy, and it's truly a departure from the norm.
According to literature posted on the company's site, "In an urban or off-road environment, [the ENV] can reach speeds of 50 mph. It is also virtually silent (with noise emissions equivalent to an everyday home computer) and its emissions are almost completely clean." Sounds interesting, but if they're ever going to try to pitch their fuel cells to the motocross industry, they'll have to find a way to make the bike reach 50 mph faster than 12.1 seconds. (And can you imagine what the race would sound like?)
Want to watch some racing this weekend? "The Red Bull Supermoto-A-Go-Go and Red Bull Last Man Standing featured on NBC-TV. Both motorcycle events to be segments on Saturday's NBC World of Adventure Sports television action and adventure sports series. Hosted by Pat Parnell of NBC Sports, the program features an array of outstanding action and adventure sports events. NBC-TV World of Adventure Sports. Saturday, Dec. 17. 3:00 pm ET/ 12:00 pm PT."
Oh, and a special thanks to
Transponder
for hooking us up with these cool
Racer X
ornaments!
If anyone wants to grab that amazing
Paced
moto video (
www.pacedmx.com
) from the Grand Prix series, IMPACT VIDEO and KTM USA
are both distributing the film here in the States.
Motocross lost Tim Aston this week. For those of you who don't recognize the name, he was a top young talent in the 1980s, coming out of NorCal right around the time Ricky Ryan, Rodney Smith and the Vohland brothers were emerging. But Aston lost his right leg in a street bike accident and his motocross career ended. He tried to race afterward with a prosthetic and hand-operated rear brake, but his hopes of a professional career were impossible. Aston died this week after losing his battle with leukemia; he was 39.
Do you remember Mark Reynolds? He was the really, really great guy who worked at OMS who was killed by a mountain lion near Anaheim almost two years ago. Mark had a dream to help underprivileged children learn to ride bicycles, and his foundation continues to do wonderful things in the community, all across the country. Check out this news report from earlier this week.
In more good deeds, Leeann Tweeden's USO diary in the latest FHM just got posted online She wanted to share it with us, and remind everyone that "during this holiday season, remember those serving in uniform around the world and that are far from home! Merry Christmas and Happy New Year!"
That's it—time for the company Christmas party (part 1). Wish me luck. Thanks for reading Racerhead, and enjoy the get-ready-for-Christmas season. Look for a special Racerhead next Friday.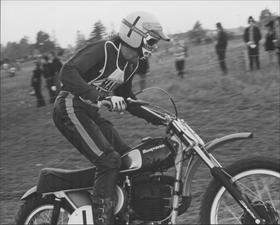 1972 AMA 500cc National MX Champion Mark Blackwell
photo: Dick Miller Archives