Thursday Rev-up: Bullring Ballet, Part 1
Hello, everyone, and welcome to the Rev-Up. It's been said that professional motocross really doesn't have an off-season. After all, less than 90 days separate the final moto at Glen Helen from the series opener in Toronto—with the MX des Nations and U.S. Open in between. For guys like Ricky Carmichael and Chad Reed who make seven-figure salaries, they can use that time to go fishing, visit family, and basically get some much, much-needed R&R, all the while doing testing and training and revving up for next season. But there is another breed of professional racer out there that cannot afford such luxuries. This breed uses that small check they get from the AMA to pay some bills and just hopefully make it to the next round and pay more bills. And when the racing stops, so does that paycheck. For them, there really is no off-season…. They race arenacross.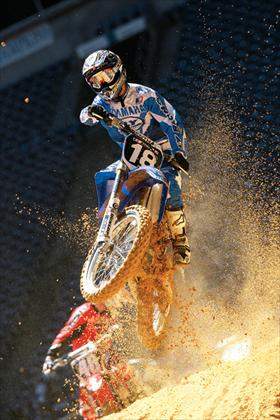 Brock Sellards will head to the arenas for 2005-'06
When the temperature begins to drop and the snow begins to fall, the bounty hunters of professional racing begin looking to the tight confines of often barely-heard-of arenas. Typically home to Monster Truck shows and hockey matches (or games, or whatever they call then), the venues of choice for arenacross are mere shadows of the awesomeness of Edison Field. Seating maybe 10,000 instead of 50,000-60,000, with barely enough room to get a 450cc out of first gear, how are these events successful in the slightest way?
Simple: The racing action is super-intense, and it's the only show in town. Arenacross is rough, it's dangerous, and it's surprisingly lucrative. Back in the day, a rider could make very good winter out of racing the arenas. And then, as time passed, a rider could even make a career out of arenacross—especially now with two separate series running around the country this winter. This is the best opportunity a journeyman racer has ever had to pad his pocket doing what he loves, because the animal that is arenacross is now a two-headed monster. I am of the opinion that this is going to be a good thing for professional arenacross riders, because AX was never meant to have 20 factory riders vying for a 15-rider gate. Two series will give more riders more of a chance to make some cheddar.
Anyway, this is part one of my Rev-Up doubleheader I have planned for "Bullring Ballet," as the traditional AMA National Arenacross Series ramps up this weekend in Albany, New York.
Arenacross is awesome, folks! It's two nights of racing, dashes-for-cash, and even jumping contests. I raced professional arenacross in the 1995-1997 seasons, and I make no understatement by saying those were the best years of my life. This series is so much more personal and close-knit than supercross. The tracks are tight, the exhaust burns your eyes, and you can almost smell the breath of the spectators when you stuff your way into a qualifying position. And even if you don't qualify, you can still nut up and go big in the jump contest and win the $200—Clifford "The Flyin' Hawaiian" Adoptante made a career out of doing just that, then he went on to become one of the world's best FMX riders!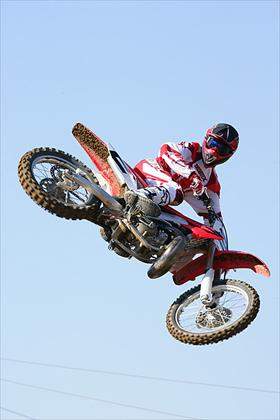 Jeff Northrop will try to parlay his second-place AX finish into a title this season
Arenacross gives the little guy a chance to beat Goliath. Sure, he might be on a bike that doesn't have $8,000 suspension, but if he goes out and feels smooth in practice, he might be able to harness the energy from the crowd to get himself pumped and maybe, just maybe, get mean enough to beat those fast bastards!
The typical arenacross track has four turns, a double, a triple, and a set of whoops. You don't have to be
Bubba
to cut a fast lap, but to win, you have to be ultra-aggressive, consistent, and tough as nails. The cunning arenacross warrior is not above knocking somebody down. He is also enough of a man to accept when he left the door open and it happens to him. It's a give-and-take affair in the tight confines of the bullring.
Some supercross specialists have jumped down to arenacross and been very successful. Names like Gaddis, Antunez, and Stephenson (who is still Mr. Dash for Cash to me) come to mind. Now it's Brock Sellards' turn to give it a whirl. Maybe this is what Broc has been waiting for…. Furthermore, Sellards is a perfect example of why these arenacross series are so necessary. Brock is a great person and has put in his time with the sport of motocross, but as more and more young kids enter the pro ranks, jobs became harder to find for seasoned pros. Hopefully he can find a new home and a new place in the bullrings, but he'll have some stiff competition from the likes of last year's series runner-up, Jeff Northrop, constant threat Chad Johnson, and even the remarkable 40-year-old legend
John Dowd
, who's coming to Albany to give the boys a workout.
Stay tuned for Part 2 next week! Thanks for reading, see you next week.