RedBud Track 'n Trail
Buchanan

,

MI
Race Center: RedBud Track 'n Trail
Lucas Oil AMA Pro Motocross Championship
RedBud
has become the easy answer to the "what's the coolest race?" question, and this year's event presented all the usual highlights. Even Friday rain couldn't mess with the vibe, because the sunshine powered through on Saturday and dried up all the mud. Couple that with the usual elements—big crowd, good racing, a fun track, and the idea that everyone in the crowd agrees on something—
RedBud
is awesome—and you have the recipe for a great weekend. It's kind of like the KFC folks. As long as they have the colonel's secret blend of 11 herbs and spices, they're gonna' crank out some tasty chicken.
(Although now I see KFC is advertising that they're a real restaurant with a "cook" making all the food in the back. Yes, I'm sure there's a real Emeril back there at your local KFC. This from the company who once tried to change their acronym to Kitchen Fresh Chicken, and once put out an ad about how healthy their fried food was because it was low in carbs. So now I'm starting to wonder about the mystique of this place. Let's just forget it. RedBud > KFC).
Anyway, RedBud had it going on as always. Everyone left happy and headed into a well-deserved break. With July 4th lined up for Monday, even the office grunts were probably slated to get an extra day.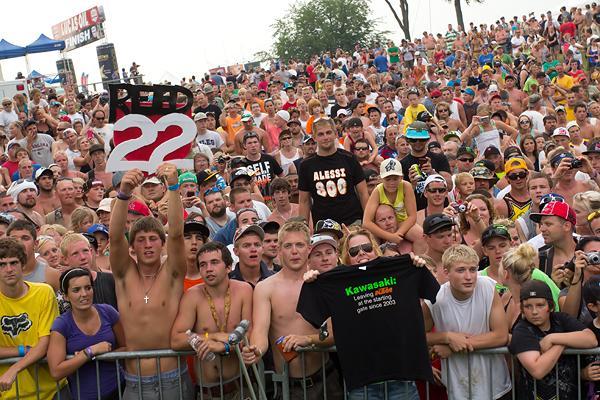 As usual the fans came out in droves for RedBud.
Photo: Andrew Fredrickson
Then things turned strange. On Monday morning, I first heard about the Josh Lichtle situation. Monday morning, two days after the race. From what we know now, Lichtle, a privateer from Michigan, passed away in the hospital, perhaps from complications from heat stroke.
I remember Lichtle, as do many, from his performances in the amateur ranks. He was fast, but things never worked out at the pro level. All thoughts go out to the friends and family. Injuries are commonplace in this sport, but death is not, and in fact this is the first time ever in the 40-year history of the AMA Motocross Championship where a rider has passed. That only makes this situation harder to understand. I'd imagine more details will eventually surface, but that's not going to make things any better for Josh's family. So, we're all thinking about them this week and we'll always remember. This is not something anyone braces for when a loved one goes to a motocross track. Injuries, yes. Not coming home at all? No. Godspeed, Josh.
Adding to the strangeness, at the track on Saturday, I'm not sure if anyone knew about Josh's condition. I was at the track until 9 p.m. on Saturday, a good eight hours after the first 450 moto began, and not a single person seemed to know about this. I didn't hear any, "Hey did you hear about Josh Lichtle?" questions or "Hey, have you heard anything about Josh Lichtle?" And this is not the kind of thing people would be shy about. If anyone knew that a rider had gone to a hospital in such dicey condition, people would have said something. It's like he left the track for casual observation, and then things took a turn for the worst several hours later.
I knew nothing about this until I picked up on a tweet from Davi Millsaps on Monday morning. This one is so beyond anything we're used to hearing about, I just don't really know what else to say until we know more.
Anyway, no doubt this passing of one of Michigan's own will forever leave a mark on the 2011 edition of the RedBud National. Up until the news about Lichtle, the event was great, as always. Now it will be remembered as the race where a rider died, although I'm sure by the time we return to the track next year we'll have a better understanding of what happened on Saturday.
It has overshadowed the weekend. Made the rest of the headlines a little smaller. But they're still headlines, nonetheless. So let's dig into them.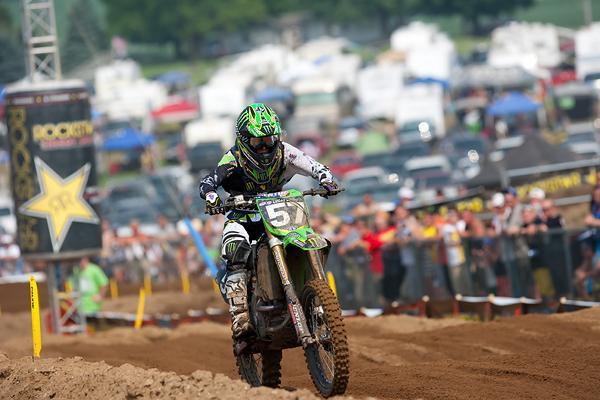 Is Baggett the next RV?
Photo: Andrew Fredrickson
I'm excited that the first half of this championship provides no clues for the second half. All three championships are clearly up for grabs (250, 450, WMX).
In the case of the 250 and 450 classes, we have two twins tearing it up speed wise, but neither leads the points. Ryan Villopoto and Blake Baggett are clearly cut from the same mold. Five years ago, people were making a lot of parallels between Ricky Carmichael and Ryan Villopoto because they had both had the short, red head, Pro Circuit Kawasaki outdoor dominance thing going. But Baggett and RV are even closer, because, well, they are actually even closer to each other. I literally saw Baggett and RV hanging at Loretta's together for years as kids. RV lived at the Baggett house for a while. They now share the same trainer, they still ride together, and they're both still on the green bikes.
And when they both drop the hammer, well, they do some damage.
Baggett once again looked merely mortal during the first half of his motos on Saturday. Those tricky, muddy off-cambers forced everyone into the same line, and then mud bog through it like it was a GNCC race. Blake loves to run outside and inside to find passing room, but that wasn't working in those conditions. You had to go through the one good line. But by the second half of the race, though, he had it figured out, he deviated a little less from the main line, found his way past Dean Wilson and Ryan Sipes, and, yes, dropped the hammer.
Second moto was interesting. For the first half, Wilson stayed close. Now, clearly Dean is a competitive guy and he's not happy about missing out on the overall wins this year. Especially not to Baggett. He wanted to beat Blake, for sure, and he was going after him. But once again, at the halfway mark, Baggett turned it up. Turned it up. He ran a 2:17 on lap five, then all of a sudden ran a 2:14, a 2:13 and a 2:14. It was obvious he had flipped the switch. We were on a commercial break during the TV show, and when I saw Blake just crush the section between LaRocco's Leap and the finish, I turned to my broadcast teammate Jeff Emig and just gave the bye-bye wave. In just that one section, you could see Blake could bring speed no one else could match.
About 30 minutes later, we saw the exact same thing from Villopoto. He wanted to end things in a hurry. So he just taped the throttle wide open and crushed that section, too. He was gone.
Villopoto's competitors are not surprised. Ryan Dungey has been on the receiving end of a Villopoto sprint before. I've compared Villopoto to an RC car before—it's like he just puts the throttle on full and tries his best to steer around trouble. There's a certain robotic quality to his speed, where he seems to have no fear of what he might hit. He just pins it.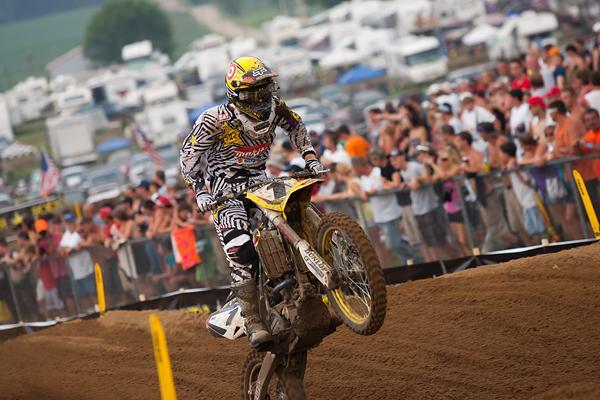 Dungey's 2-2 finishes were not enough to overtake Reed for the overall.
Photo: Andrew Fredrickson
The Dunge would love to just beat RV straight up, but it's not going to happen all the time (to his credit, he got it done last week in Colorado. But it won't end like that in every moto). Although he wants the wins, his best quality is his consistency. Reed, meanwhile, doesn't even seem to care about any of that. He knows he's not going to just dominate Villopoto every weekend, so he takes his swings when he can, and protects points when he can't. Yeah, Reed got passed by Mike Alessi in the second moto and that cost him a chance to stick with the Ryans, but he later admitted he probably wasn't fast enough to beat them anyway.
So far the consistency is working—RV may have been the fastest at his peak, but it's impossible to say which of these three riders is the championship favorite. Dungey and Reed have been down this road before, they can work with these circumstances.
I'm not so sure the 250 guys are as ready. Coming into RedBud, the other riders found solace by thinking Blake couldn't bring this kind of speed every weekend. They can't think that any longer. RedBud was not Blake's style of track. I asked him afterwards if he had much experience in soft, muddy, wet, rutted conditions and he said no, he had never been to RedBud and had never really ridden on dirt like this. He's used to dry, dusty, baked, hard stuff out on California. He was only seventh fastest in qualifying, but he figured it out during the races. And once he dropped the hammer….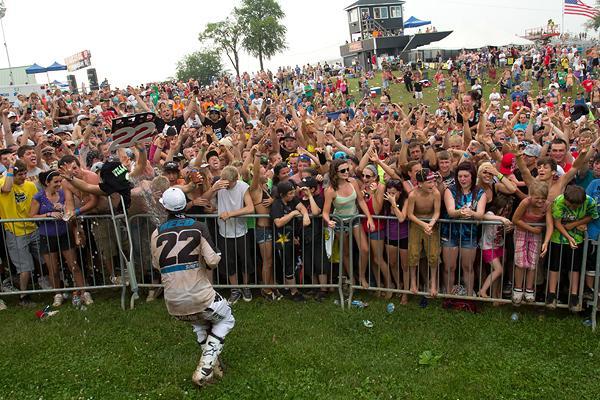 Reed celebrated his fourth overall of the year at RedBud.
Photo: Andrew Fredrickson
So if you're Chad Reed, you're holding the points lead, four overall wins, and going on vacation (he is, literally, on vacation right now). If you're Ryan Dungey, you're not super pumped on sitting third in points, but you believe you have a shot. But if you're Dean Wilson, you're frustrated. If you're Tyla Rattray, you're frustrated. Both of these guys are riding awesome. They're fast, they're fit, they're focused. They're giving it everything they have. But this Baggett deal, this is alien. The speed doesn't even make sense. Ten years ago, I taped the RedBud race on TV and rewound the race over and over. Carmichael was in the middle of his first perfect season, and I was trying to figure out where he was going so much faster than everyone else. The tape just confused me more. He would just go sitting down into the biggest bumps, and for some reason, they didn't seem like bumps. He just went. Just gassed it. As if he was missing all the rough stuff or something. I could never make sense of it.
Baggett is kind of similar. There are a few highlight sections—like that spot between LaRocco's Leap and the finish—but around most of the track, it just looks like he's riding on a different track than everyone else. Where are the braking bumps when this kid goes into a corner?
What makes it tough on those guys is that Baggett came out of nowhere. To think, this kid left Loretta Lynn's two years ago without any sort of deal whatsoever, and had to hit a few pro nationals and show his speed to get any sort of ride at all. At least Villopoto left Loretta's with a PC deal signed and ready. At least Villopoto only had to turn the tables on one rider—Mike Alessi—to become the man. Baggett? He wasn't on anyone's list. Now he's the fastest man in the 250 class since, well, RV. And RV? He's the one they compared to RC. That's some pretty good company.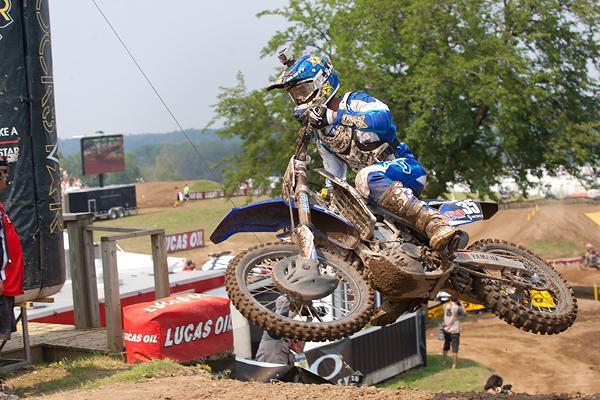 Can Cunningham stop the PC train?
Photo: Andrew Fredrickson
Through the first six rounds, we've been asking if anyone else could join the trio up front. In the 250s, the competition has fallen away a bit. Justin Barcia is now racking up the crashes and bike problems and illnesses—everything that could go wrong is going wrong. Eli Tomac, it seems, is just not going to catch fire like everyone expected him to. He was lucky to escape from the weekend without a major injury. Wil Hahn looked good in his return from injury, but those front three are on another level than everyone right now. The closest comp may actually come from the DNA Shred Stix Star Racing Yamaha duo of Kyle Cunningham and Ryan Sipes. This team has really stepped up this year and Kyle and Ryan have shown the stuff needed to compete for a win. They just need to bring all of the elements into the same moto.
In the 450s, I think Brett Metcalfe is set for a strong second half, but man, those three up front are flying. Kevin Windham, Davi Millsaps and Mike Alessi are good, but the big three seem just that much, um, gooder? It's a tough road this year in the big class when you have three guys pushing each other up front.
That's it for Redux this week. Be sure to check out Notebook for more, um, notes on the weekend. I'm taking a weekend off. And once again, Godspeed, Josh Lichtle.