By: Geoff Meyer/MXLargeIt was easy to look at German sensation Ken Roczen in the last month and think he had turned into the next James Stewart. The fastest MX2 man on the planet, but he was making too many mistakes. Many said it was because he was tired, or the others had found their speed and he suddenly felt the pressure. Now after the Grand Prix of Spain and the Grand Prix of Sweden he is back at his unbeatable best.We caught up with the Red Bull Teka KTM Factory rider and asked him about his weekend and what it felt like to be back on track after losing out to Tommy Searle in France and Jeffrey Herlings in Portugal.
You had that period where you made a lot of mistakes, crashing many times. Why was that?
Roczen: Well, we did some testing with suspension and we had some downs, because it didn't go as good as I wanted. Spain finally I started riding smoother and standing on the bike more. It's always good to have another gear, I can see when somebody is coming and I can just shift up and go away from them. I see my speed is really good, and I try to get good starts in the race and not rush and not make stupid mistakes.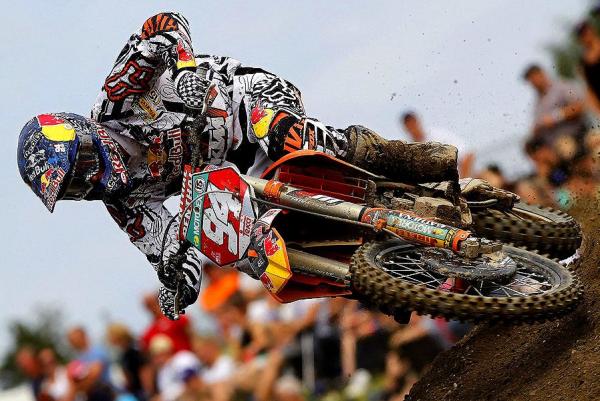 Roczen was domianant in Sweden going 1-1 for the overall.
Photo: Ray Archer
In Sweden you looked totally in control. Can you explain how your weekend went?
It was a good day for me and the track was kind of nice, but also tricky, it wasn't easy to ride. I had two good starts and that is a plus point on this track. The track was nice on Sunday. I wanted to push in the last two laps of the second moto and I got sweat in my eyes and it was difficult. I feel really confident, and a lot of things can happen and you need to keep a clear hear and a small mistake can finish your championship. All my friends will be in Germany and the last two years have been crazy, but I just need to focus on my riding and the fans make it even better for riding. I felt good today, and I kind of rode smooth and I didn't make big mistakes. I still push 100%, but I try and be more focused and before I went out there and put the hammer down, now I try and be a little more careful.

Being clearly the fastest guy, does that add pressure?
Actually it feels good; I don't have to be scared of anyone. Even if there is a little mistake in the start I don't have to rush or anything, as long as I am top ten it's all good and by the end of the race I am really fit and I can maybe ride a second or two faster than the other guys.

Do you think your injury helped you get your concentration back?
Sometimes you need something to hit you, because you kind of wake up again and focus a lot more, if everything goes good.

In that period you were making the mistakes there was a lot of talk that you were getting tired from all the racing you have done. What do you think of that talk?
I mean (smiling); I am probably the guy who hasn't been riding as much as the other guys. Because of the Supercross I took it easy during the week, I don't even ride sometimes during the week. I like to ride on the weekends and try and find a good middle thing so I don't do too much.

Obviously you have mentioned for a long time that you would like to race in America and there was always a question mark over would you race in Supercross and Motocross and now you have finally decided to race both AMA series' in 2012. What made your mind up?
I love my team in America, they are really great people and I love to have them around, and once I am there I don't really want to come back. I will try it for 2012 and see how I like it.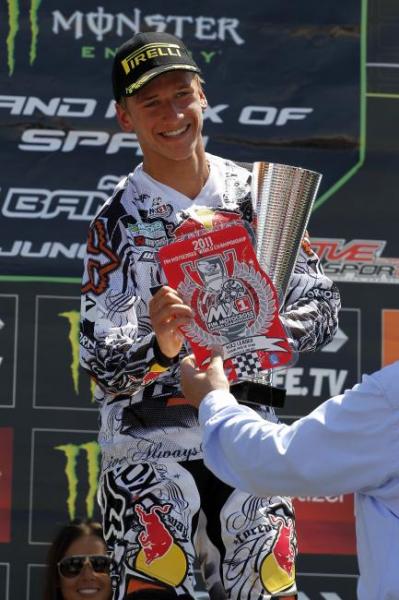 Roczen is planning on racing in the United States full time in 2012.
Photo: Ray Archer
A German in America, we don't see that often, how will you deal with the different culture?
I have no problem to go there, I really like it there and the team I have around me and I have a lot of friends over there so it's going to be really good and it should also be fun.

Let's say you get a big points lead and can ride a National in America, would you do that?
I won't do a National this year. I have something in my mind, but not going to the Nationals. I won't move to the 350cc for a race, but I have something in my mind, but I don't want to say anything right now.

Tommy Searle had picked up the pace (before losing it again in Sweden), are you happy about that?
I think it's good. Also Gautier is going way faster than at the beginning. It would be good for me if some guys can get between me and Jeffrey, because it's really tight at the moment. It's almost half of the season and its going quick to the end, but also really slow, so we see what happens in a month or so.

As the Championship gets closer, will you feel pressure?
I actually know how to deal with pressure, but I can also ride better if I have a good points lead, it will make me relaxed, but really I don't have trouble with pressure. It shouldn't be a problem.