Amateur riders on the cusp of turning pro in AMA Supercross and Motocross now have more opportunities to get first-hand experience on pro-level tracks and a teaser of what life is like in the pro ranks more so than ever before.
Monster Energy AMA Supercross has created the Supercross Futures program, and the AMA Pro Motocross Championship now has the MX Sports Scouting Moto Combine program—which both allow riders the opportunity to compete against one another at select professional AMA Supercross and Motocross events. But the biggest factor for these programs are the schedules they follow. Strict, pro-like schedules and longer races provide these riders the opportunity to experience what it is like to be a professional rider, from the qualifying sessions to the media obligations to the length of the races (again, on difficult, pro-level tracks).
Both the Supercross Futures and Scouting Moto Combine programs are for B and A level racers alike, with several first-year B level riders going against A level 250F riders.
Casey Cochran is one rider making the most out of these amateur-to-pro programs—and he is taking full advantage of being a B class rider competing against older, more experienced 250F riders. In 2022, Cochran competed in the RedBud National Scouting Moto Combine event against other top amateur racers. He even finished third in the second moto, while racing aboard a Husqvarna TC 125 two-stroke. Now, Cochran is competing in the Supercross Futures program aboard a 250F as a member of the Rockstar Energy Husqvarna factory amateur racing team.
Despite still being a B level rider, up on a 250F—although still with limited time on it—Cochran is off to a strong showing to start the 2023 season. The Florida native managed two second place finishes in the first two Supercross Futures main events of this season. There are no points standings in the program, as these first four rounds of futures are qualifying rounds for the championship finale at Salt Lake City, Utah, on May 13. However, Cochran is determined to hit all qualifying rounds. And the #66 is turning heads in the process.
The transition to big bike is not always a smooth move that guarantee success—immediate or in the long run. Cochran is working towards getting as many gate drops under his vest as possible. Enter the Supercross Futures program and the big spring amateur nationals, including the Ricky Carmichael Daytona Amateur Supercross (RCSX) and the James Stewart Freestone Spring Championship. Cochran said a preseason injury sidelined him for a few months, so these extra gate drops are key for his continued learning of the 250F.
At the RCSX event last week, Cochran claimed three heat race wins and three overall podium finishes, finishing second overall in 450 B and third overall in both 250 B and Schoolboy 2 (12-17). Afterwards, I caught up with Cochran on Monday just moments before his family hit the road for Texas. Check out what he had to say about the RCSX event, Supercross Futures program, Scouting Moto Combine events, and more.
Racer X: Take us through the racing today.
Casey Cochran: It was definitely interesting. It wasn't a great day overall for me, I guess. Just a few mistakes that we need to clean up. The starts were good, just got to be patient and work on myself and get that in for Texas. So, we're going to come out swinging in the next two Texas races because I came up a little short here. We're going to try and put everything together and come back and get some wins.
So you had some strong heat races. Even though you didn't have the greatest mains, does that kind of build your confidence, or where are you at with those heat races compared to the main event results?
Yeah, for sure. The heat races, it was a perfect day yesterday. Basically every holeshot except one and won every heat race by a while. So, I was feeling good coming into today. I didn't feel good today, honestly. The track, I didn't flow on it as well. The speed was there. In the first moto, just a silly mistake from me. Second moto, a first-turn pileup. Rode good all day. The speed was there. Got some podiums still, but we want the win. It'll come.
You've been doing the Supercross Futures this year and those have gone really well. How is that able to help you just further your experience with supercross? You haven't even been on a 250F for that long, right? It's only been a couple months really. Kind of after Loretta Lynn's? Or had you been on it before that?
Basically the plan was to get on them after Loretta's. So I got on the 250 after Loretta's, or a little past actually because I had that FIM Junior Motocross World Championship. I got on them [250F] and maybe the second week, I broke my thumb and was out for almost two months. So, that was November and December. Basically got back on the bike in December. So, I've had December, January, and February to figure out this 250. It was a tough transition, honestly. I thought the 125 transition would be the hardest, but the four-stroke is definitely a tough one. Starting to come around a little bit and getting it under my feet. Just got to get more confident and comfortable on it.
Related: 2023 RCSX Photo Gallery
So really only been doing the 250F and supercross for about since December-January. That's kind of impressive what you've done in Supercross Futures, considering you're going against A level riders such as Daxton Bennick, who has been on the bigger bike longer and has a little bit more time and experience. So, what's it been like being able to race against some of those guys that are almost going to turn pro soon being that they are a little bit older?
I've been really happy with my riding in futures, especially racing against the guys that have been on 250s for years, two years, three years. So, to come out and be able to compete with those guys and be on the podium with them with only a few months on the bike, especially A2 because I only had maybe a month and a half, if that. So, I was super stoked to get out of there. My goal was a top seven and to come out second in those first two, we were pretty happy with that. We've just got to keep that ball rolling for the next few. Hopefully be able to build the speed up and contend for that championship in Salt Lake. We'll see how that goes. It's been interesting too with the riding schedule with motocross and supercross, switching back and forth with these spring [amateur] nationals. So, once we get these over with, I think we'll have to switch back again for Loretta's. It's a tough schedule this year. Really trying to balance both acts and be able to get comfortable on everything, especially with the new bike, the new team. It's been good so far, though.
So, you're going to hit all the qualifying races for Supercross Futures no matter what and then do the championship finale and then Loretta's after that?
Planning on that. Then really wherever the road takes me from there. I don't have any plans for pro or anything yet, so we're going to maybe A next year and just continue to build. I want to get as much time on this 250 as I can before stepping into the pro ranks. So, we'll see how that goes. Hopefully be able to build next week at Freestone.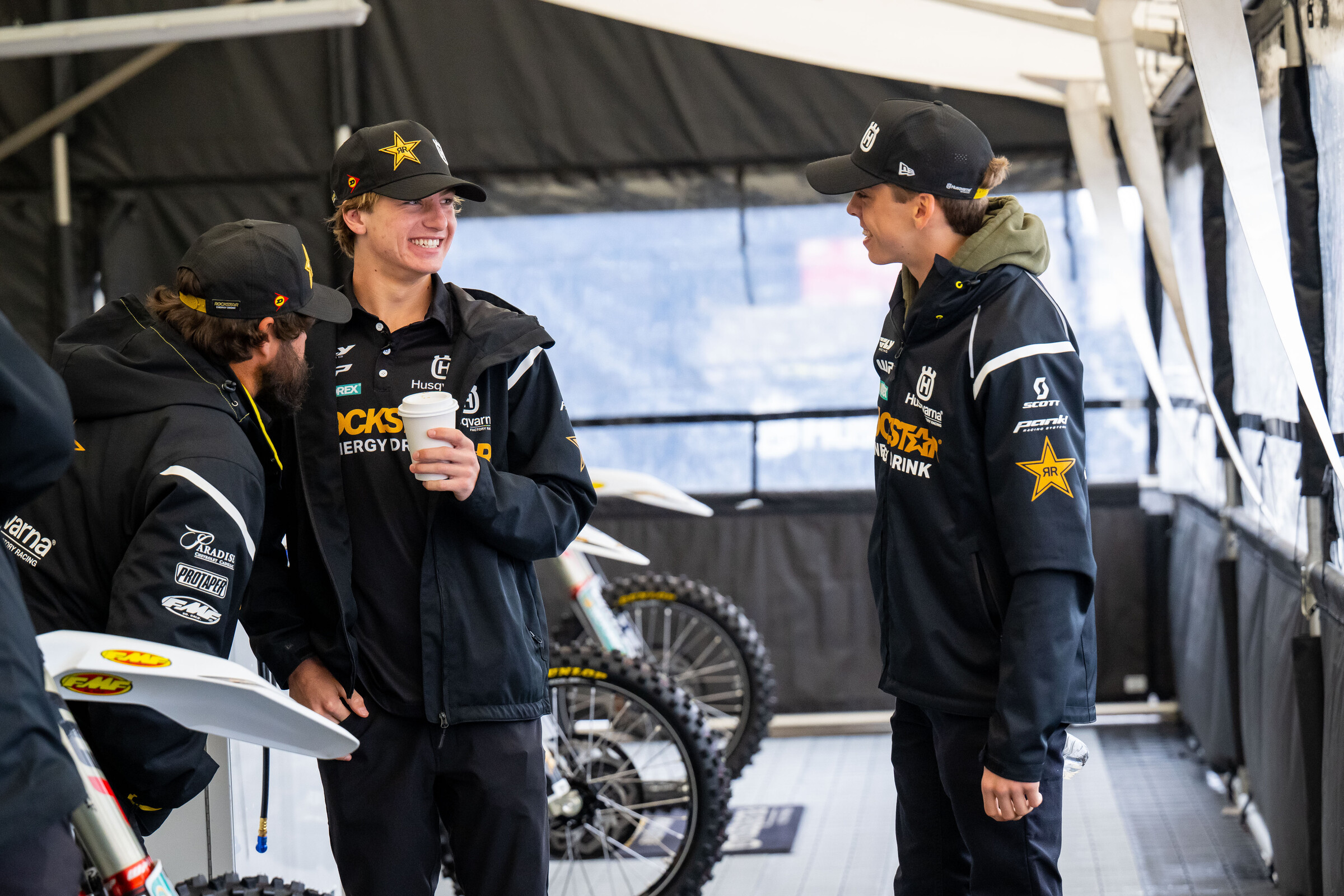 Looking a little bit ahead, but your deal now, I know it's an amateur team and like you said, nothing for future for pro, but is it a one-year deal with the factory Husqvarna amateur team?
It's basically just right now I have a two-year deal. This is B year and then an A year next year. I guess they're the ones controlling it, so if they wanted me to move up if I had to, I guess I could next year. Maybe do some outdoors next year. We'll see about that. Just depends on how I'm feeling on the bike. We're just playing it by ear each day.
This will be your first year at Loretta's on the big bike. Do you have specific goals for yourself? Not to rush it too fast and to kind of get the experience, but I'm sure the futures stuff and these spring amateur nationals and just any gate drop on the big bike is going to help you a lot heading into Loretta's this year.
Right. Every gate drop is important. To get as many as we are this year, it's a busy schedule with the futures. We'll have areas, regionals, Loretta's, the combines. I'm going to try and do those as well. So, it's a busy year for me but the gate drops are good. As many as we can get. The more racing, the better I can feel in a race situation on the bike and get more comfortable and thin out these mistakes that are biting me right now.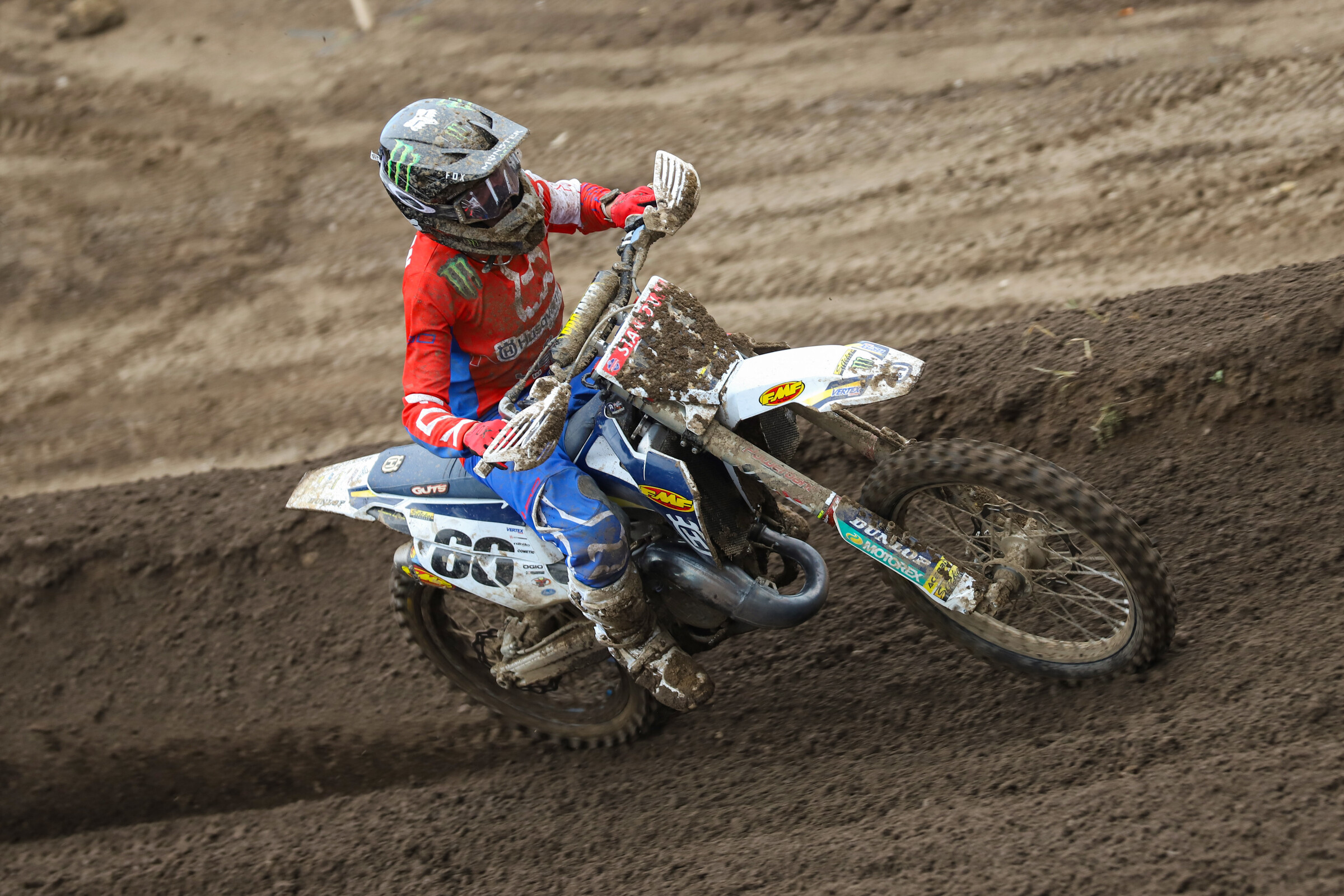 You mentioned the Scouting Moto Combines. So kind of the same thing, it's a little bit different from Supercross Futures, but what has that been like being able to get experience? You did it on the 125 last year against 250F guys that are again, a little bit older, a little bit more experienced. What was it like just being able to be on the same national-caliber track with them and learn lines from them and stuff like that? Just being able to get those gate drops in, so now whenever you're able to do it on a 250F, more experience, a little bit older. Then you can go out there and perform a little bit better.
The combine I did last year was RedBud on the 125. It was interesting racing all those factory guys, because that was a stacked class with [Chance] Hymas and [Haiden] Deegan and everyone. I went like 7-3 or something, but a third in the second moto, I was super pumped with that. So, it's going to be the same crowd we're racing in futures right now, I'm pretty sure. I'm ready to take it outdoors after Supercross Futures is over and see what we can do out there, because I really enjoy those combine events, the long motos. I like long motos. We've got the best program I could be on at Aldon's [Baker's Factory], so the fitness is there and the more laps, the better for me.
So you're heading to Texas pretty much as soon as we're done here.
Yeah. Practice starts Wednesday at Texas. So, we've got tomorrow off and then it's back for another week of racing. So, it's pretty back-to-back schedules for the amateur guys.
That's good you got at least one day off to get there and then get everything settled in.
Yeah. I guess we're just driving through the night. Going to get there tomorrow around noon, probably. Just get ready to go racing on some outdoors.