Indianapolis, IN
Indianapolis
Monster Energy AMA Supercross Championship
Red Bull KTM's Aaron Plessinger seems like he's always having a good time. It's rare that you see the Hamilton, Ohio, native do anything without a smile on his face. However, the last two weekends of Monster Energy AMA Supercross Plessinger struggled a bit after putting together three straight top five finishes at Rounds 4-6. He finished sixth overall at the Triple Crown in Arlington in part due to a ninth place finish in the first race of the three race format, and then followed it up next weekend with an actual ninth place finish at Daytona. It was a little peculiar given that Plessinger has thrived at Daytona in the past but instead seemed to struggle all day.
Those two rough rounds were erased on Saturday night in Indianapolis though as Plessinger started in eighth place and charged forward the entire main event to end up comfortably in fourth. At times, he was the fastest rider on the track and showed consistent speed to that of the leaders who were all just a little bit too far gone by the time Plessinger made it up to the front. So, what was different this week?
"I don't know, I just felt different today," expressed Plessinger. "Felt a fun vibe, signed a lot of autographs, you know, it was cold. But it was different. I liked it. I was having fun. The team could tell I was having fun all day and I just didn't really take it too serious. I hate when I do that. I think I did that the last two weekends. I was like, 'Dude, I've got to podium now.' It's not a bad mindset to have, but it doesn't work for me, I guess. I just had fun all day, and it kind of worked out for me."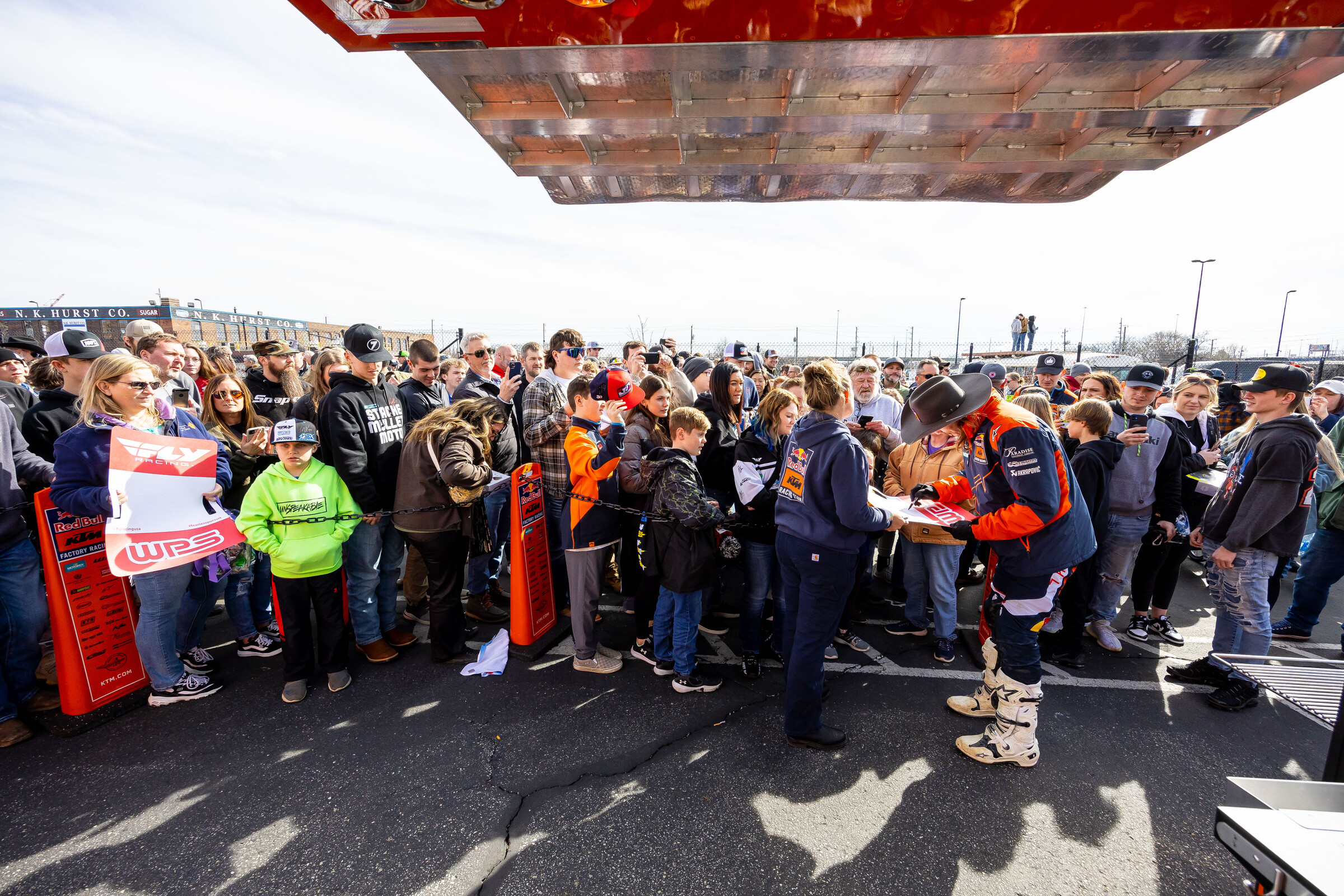 It sounds simple enough that a guy who always looks like he's having fun would actually ride better when he is having fun. But as Plessinger puts it, those solid results in February changed his own mindset to start focusing on finding that next step. He picked up a podium in Tampa and suddenly it becomes the floor level of his own expectations. And then when he starts putting those expectations on that a fourth in Oakland the next week wasn't good enough, the riding itself begins to suffer in the following weeks.
As it turns out, it was probably the perfect time for Indianapolis to come up in the schedule as it pertains to Plessinger. His hometown in southwestern Ohio is just a two-hour drive from Lucas Oil Stadium in Indianapolis which makes it the closest race to home for AP. Sometimes that doesn't matter as the pressure of more friends and family in the stands can be a detriment. But for Plessinger, he felt right at home.
"It's just good vibes here," Plessinger explained. "A lot of friends, a lot of family. I saw a lot of people today that I haven't seen in like 10 plus years. So it's always good to get back here. I was joking around saying this weather makes me miss home, but it kind of does. I haven't snowboarded in a while. I would say this off-season but there's not really snow in the offseason but might have to try to get back up here more often."
Maybe that's the solution then. It sounds counterintuitive to take focus away from racing and instead goof off heading into a race weekend. But hey, Ken Roczen was spotted hitting huge jumps with X Games gold medalist Tyler Bereman on Wednesday last week and suddenly Roczen was back in the winner's circle of Monster Energy AMA Supercross on the weekend. If we see Plessinger hitting the slopes this week, maybe big things are coming.
Back on track though, one thing that most riders agreed was not fun was navigating the track in Indianapolis. The typically soft dirt broke down mightily and presented one heck of a racetrack for the riders. Plessinger is known for excelling in those conditions, so perhaps it's not a surprise to see him do well. But even he understands just how challenging it is.
"It's way, way more technical than you would ever think," said Plessinger. "I mean there was ruts literally every lap that would change dramatically or drastically. It was just crazy. This track always has a tendency to be soft and, I don't know, I adapt to it pretty well and I like it. I wish I could say I podiumed tonight, but one off is not too bad. I just got to get back up there next weekend."
Well next weekend will come quick as we head to Detroit for Round 10 this coming Saturday. Plessinger has just one 450SX race in his career at Detroit where he finished up 12th back in 2019 during his rookie season with Monster Energy Yamaha. But Detroit can be similar to Indianapolis at times in that the dirt loaded in is usually a little softer than more southern venues on the circuit and we're in the home state to Plessinger's second home also known as RedBud where the fans have essentially given Plessinger the mascot of RedBud moniker.
Now that we have four different winners this season in Eli Tomac, Chase Sexton, Cooper Webb, and Ken Roczen, the question remains, "Who's next?"
Justin Barcia was so close in Indianapolis, but Aaron Plessinger has every reason to believe he can break through for his first career 450SX victory in the coming weeks as well.