Arlington, TX
Arlington
Monster Energy AMA Supercross Championship
The Arlington Supercross this past weekend was a bit of a home race for Muskogee, Oklahoma's Colt Nichols. The Honda HRC 450SX class rookie had just a few hours' drive south into Dallas for the race this week and certainly expected the vibes to be good as he went into his second career Triple Crown race in the premier class. Unfortunately for Nichols, it was the exact opposite of good vibes as he struggled throughout qualifying and never really got things going in the night show either. His 9-16-15 scores put him 14th overall at the end of the night for what is his worst result so far this season. On the heels of a promising ninth place finish at Oakland last week, it was a tough pill to swallow for Nichols in Arlington.
After the race, we spoke with him about the struggles and what he hopes to do in the coming weeks to turn the ship around.
Racer X: Fourteenth overall tonight, but the first main was good and then let's just pretend nothing else happened after that, right?
Colt Nichols: Yeah. It was about as shitty as it gets, really. I honestly don't know what to say. I've never felt that out of tune with the track and the bike in a while. Left me a little dumbfounded, honestly. I honestly didn't even really know where to begin all day. Pulling my hair out a little bit just in frustration. Felt like a lost cause a little bit. A lot of it is on me. I just need to get my head in the game a little better. Figure out how to get myself right. It was just a really, really tough day at the office. I haven't had one of those in a while, to be honest with you. We've got to be a lot better. Luckily, we get another go at it in seven days. I'm looking forward to Daytona. I think that's going to be a good race for us. We'll be back in Florida this week, a little bit of a reset, new tracks, new people to ride with. I'm excited about that. So, we just got to be better and we're going to do it next weekend.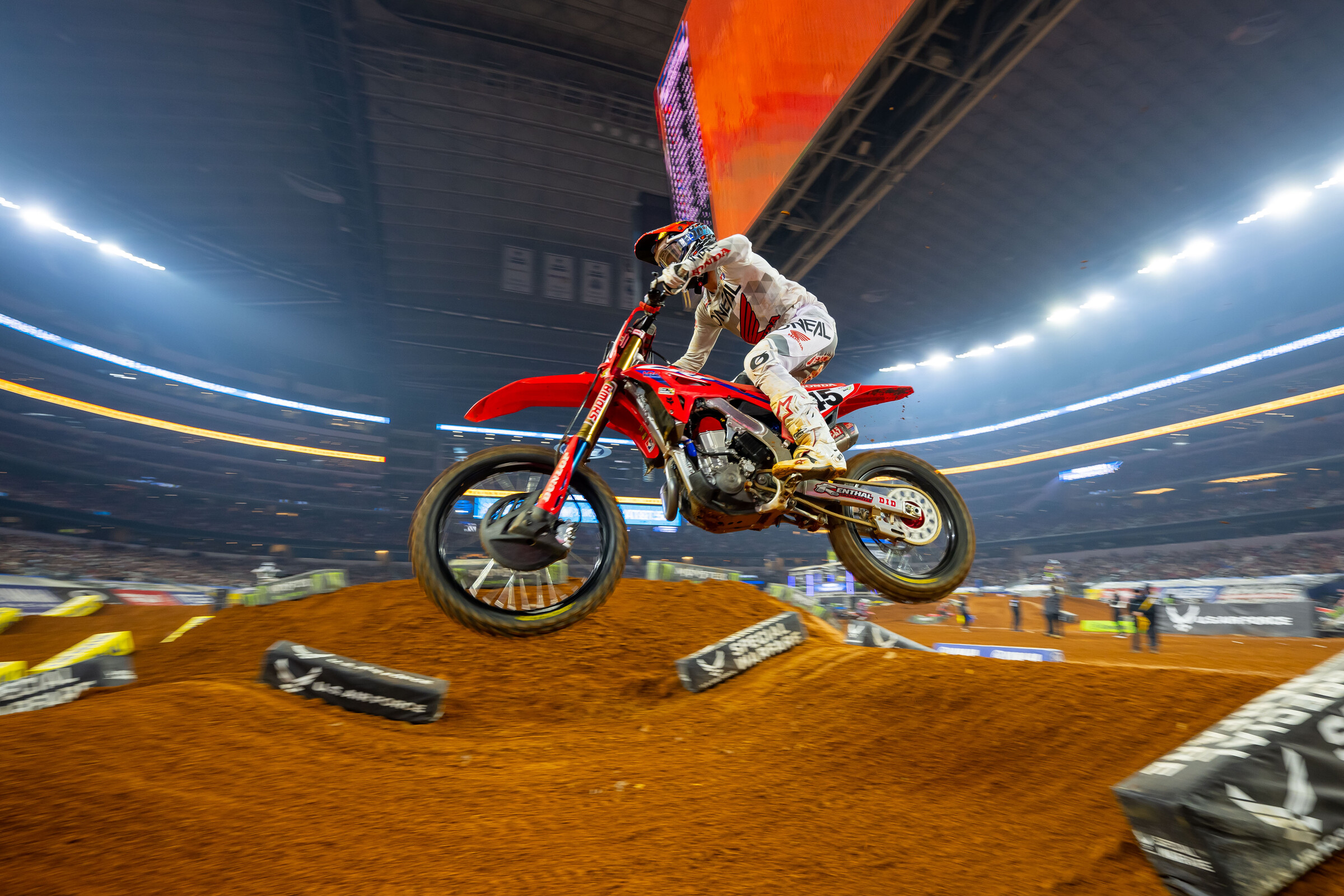 Take me through the dragons back and the whoops. The dragons back had kind of a single-triple line developing in it and the whoops got notchy, so some guys started jumping whoops. What were you doing and what did you think was the best option?
Survive, honestly. You want to see how not to go through it? Watch me go through both of those. It was a mess. It just seemed like I couldn't do anything right today for some reason. A lot of it is on me. I needed to figure it out quicker and I just felt like I couldn't. So, I don't know what happened. Combined with some crashes, that obviously didn't help my cause. We just needed to figure it out and I just didn't in all three of the mains. So, frustrated to say the least, but like I said, we get to go again in seven days. Pull a tear-off, wipe it clean, and go again next weekend. That whoops section was tricky, man. It was edgy. As soon as you got on the gas, it felt like you were skating left to right. Same with the dragon's back. It was just really weird. I don't remember the dirt really being like that each time here. I certainly couldn't figure it out, so it was definitely a tricky track tonight.
Like you said with the dirt, did it kind of take you off guard a little bit? This is a local-ish race, so you kind of maybe know what to expect a little bit. Did it just throw you for a loop, then?
It really did. I'm used to the red dirt. I grew up riding this stuff. It's weird. This red dirt, it's awesome until it's not. It starts to pack in and as soon as it packs in, it gets like ice. That first 250 heat, there's a lot of traction. You can really go. Then by the time we get out there, it's kind of settled in a little bit. The first main I felt like I had a little more traction. I felt like I could kind of go some different places. Then after that I just felt like I was riding on ice all day. I just need to figure it out, and I straight up didn't. Horrible day at the office. But like I said, we get to go again next weekend. Not going to hang our heads. Try again.
Daytona next week, do you like Daytona or is it just another race?
I actually do like Daytona. I've only raced that race I think once before, but I do like Daytona. It's a good race. It breaks down pretty good. Big track, so the laps are a little different. But I'm looking forward to that one.