Some inventions, tools, and techniques have advanced the sport of motocross significantly since their inception. The Racer X staff explains some of those advancements in this feature, "Next Level," and this month, we're taking a look at the advent of fuel injection on motocross bikes, something that completely revolutionized the game of modern motocross.
Fuel injection first found its way into production on a mainstream motocross machine in 2008, when Suzuki made it part of the RM-Z 450. Yes, other, smaller brands tried it, like the Cannondale of the late 1990s, but Suzuki was the first to add EFI to a proven platform.
Some of you might be young enough that you've never even ridden a carbureted bike, but most of you probably have, and you'll certainly remember some of the headaches involved with it, not the least of which was learning how to get a carburetor properly jetted. What part of the throttle range was underperforming? Which jet was associated with that range? Or maybe you needed to change the clip position, or swap out the needle for a different taper? What's an accelerator pump? What's a leak jet? How do you know if you should adjust richer or leaner? How do things like temperature and altitude affect jetting?
Even if you know the answers to all these questions and your bike is perfectly tuned, it still wasn't going to be as precise as fuel injection. Carbs could only work so well, especially on four-strokes, so even the best factory teams and bike struggled with coughing and hesitation, which is very scary when jumping rhythm sections.
"With fuel injection you're basically letting electronics do the jetting for you," the legendary factory wrench Mike Gosselaar told us when we spoke to him for this piece. "It's supplying the fuel into the engine without disturbing it. There are a lot of bumps in motocross, and if you have a carburetor with fuel in the bottom of it, in a float bowl, stuff is bouncing around in there. It's never super consistent. Fuel injection pressurizes everything and puts the exact amount of fuel into the combustion chamber that's required to make it perfect. Everything is metered by a computer. You're not covering a wide range of throttle position with a jet. The computer knows exactly what the throttle position is, what the engine temperature is, what the air pressure is, and it knows exactly how much fuel to put in. A good rider feels so much more connected."
Taking the guesswork out of keeping your bike running smoothly certainly eliminates headaches, but it also improves safety. Remember the bog some of the pre-fuel injection machines used to have? Imagine having your bike stumble just as you're about to launch over LaRocco's Leap, or while navigating an extremely technical rhythm lane in supercross. Fuel injectionreplaced that bog with throttle response that's crisper than a snack cracker. Heck, nowadays you can even adjust your fuel injection and ignition timing with your phone!
"For the average guy, it makes it much simpler. It senses engine temperature, air pressure, and makes adjustments for those things," Gosselaar explains. "With a carbureted bike none of that was happening. If there's a change in temperature you had to change the jetting. Change of altitude or pressure, you have to change the jetting. Fuel injected bikes compensate for quite a bit."
Another remarkable aspect of fuel injection is how well it operated right away. It's pretty common to have a learning period of a few years when new designs or systems are put into production on motocross bikes, but fuel injection was immediately next level.
"It went into production in 2008, but 2007 was when Ricky [Carmichael] first rode it. It was actually pretty good," Gosselaar recalls. "A funny story, we went and did a press shoot with the bike in Ricky's last year of racing. They wanted to have him premier their new bike, so we went to a private track somewhere up in Oregon and did a photoshoot up there. Ricky rode that bike for the first time, and I remember telling him, 'Just take it easy, we don't know anything about this bike, it's a preproduction unit. Just be careful, don't do anything stupid, and don't hurt yourself.' He still had a couple races he was doing for the rest of the year. He went out on the track and he might have cruised for half a lap or so, then all of a sudden he's just whipping around on the thing and pinning it through the whoops. I was like, 'I can't believe he's doing this on this thing, all it takes is one little bog and he's on his head!' He was just whipping around, and finally he came in and he was like, 'This thing is amazing!' The next race was Unadilla, and I think we all know how Ricky felt about Unadilla, and he said, 'Call up RD [Roger DeCoster] right now. If he'll fly this bike out there, I'll race Unadilla this weekend.' That's how much he liked riding that thing. It was unreal."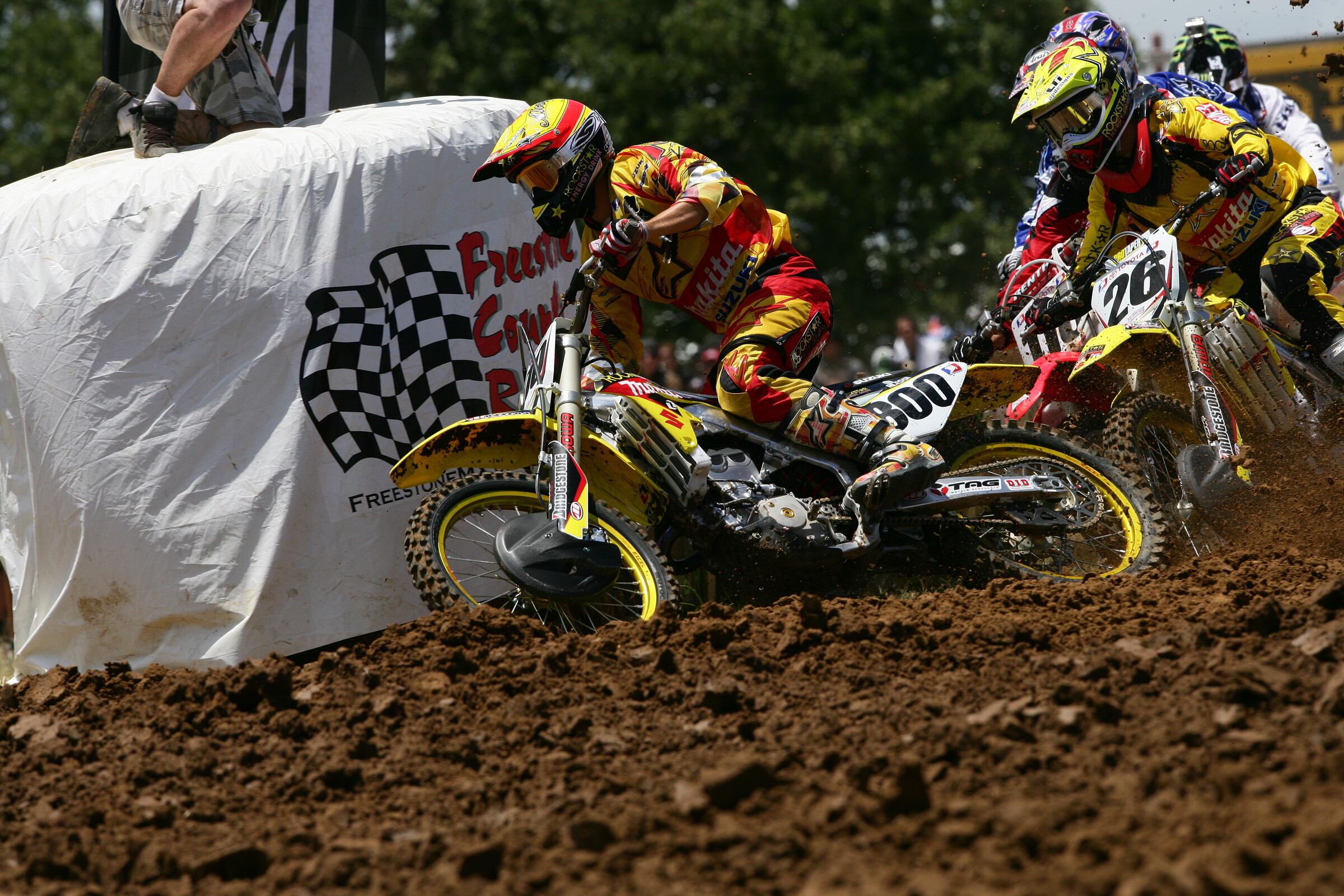 Fast forward to 2023, and there hasn't been a carbureted four-stroke on the gate in years. Fuel injection immediately made bikes perform much better, while simultaneously removing a huge amount of work out of keeping them running properly. That's next level!