San Diego, CA
San Diego
Monster Energy AMA Supercross Championship
Following a win at the first round at Anaheim 1, fans and media members alike started wondering if Jett Lawrence could have a "perfect" season and win all the main events en route to the 250SX West Region title. Then, Lawrence won the second race of the season in San Diego, California, as he led all 19 laps of the main event at the first race at the all-new Snapdragon Stadium and so the "perfect" season question remains.
However, the 19-year-old is focused on taking it race by race with the bigger picture in mind. His consistently good starts this year have helped him to lead all 35 laps in the two 250SX main events so far this season and his bike appears to be setup well early in the season. This is not good news for his competitors, but there is still a lot of racing to go and anything can happen.
After the racing had concluded for the night, Lawrence spoke to the media during the post-race press conference.
Jett, your starts. Really, really good. The first heat race in Anaheim we saw, you talked about it on the podium. Had a little bit of a mix-up there, but since then they've been really good, even in qualifying. Is it change? Is it just everything coming together, the bike, you? They're becoming automatic. Just take me through where you are at with the starts, because they've been great.
Jett Lawrence: Starts have been pretty good. It could be just Lady Luck. They've been going good. I was surprised myself, because I didn't practice any starts in between the two weeks, just because every track we went to was muddy and rainy and that stuff. So, it was a bit hard to try and do starts all this weather the past two weeks. I think they've just been clicking. The bike is feeling awesome, and the track being dry and that stuff. Hopefully we can keep it going. There's obviously going to be one start where it doesn't go as to plan, but we'll make sure we try and keep that out and not have one of those. So, we'll wait and see.
The end result is the same obviously from the opening round for you, with the main event win. But today it appeared to go smoother in general. How would you compare the two rounds so far for you? You were pretty much flawless today.
I think the biggest thing with Anaheim was the track was just very unpredictable. You didn't know what was going to happen no matter what rut. You could have taken it the lap before, but it shot you different every time. Where this track from Anaheim was definitely a lot easier, in my eyes. Everything was pretty fairly easy to get. At the start it was obviously a lot trickier because of the deep ruts and that. It was hard. But once we got closer to the main, those turns got a little bit harder. I think this weekend I just was able to go a little bit more my speed that's comfortable, that faster speed, where Anaheim was kind of more like trial riding, almost. You just were trying to make it through the rhythms, through everything. I think RJ and Cameron could also say the same thing. It was just kind of like making it through Anaheim with those sketchy curves in the up-ramps and into some of the berms. I felt like that one we played very, very smart. Then this weekend, we were able to do our normal speed which was a big difference. I had a blast kind of going back to normal speed with some of those rhythms.
You've been in this class for a while. You've been on this bike for a while. It has made some improvements and some advancements and some part changes, but now that you're a couple years into this and things are just kind of going the way that they're going, how is it for you to not just think, it's going to go this way, and not let your guard down a bit?
You made me feel real old with that one. That's the biggest thing with racing. Each year is never the same. It's always different. Now I feel like one with the bike. Last year we got the bike pretty good and kind of looped all the way back around to the same setting. Had a few little part changes and that stuff, but nothing too major. I think just the biggest thing is being calmer and that stuff just helps me. Obviously the biggest main thing is putting myself in a good position to have a good chance of podium or winning. So, I think that's the big thing. It's kind of using all the stuff you've learned and making sure you stay calm. Young Jett would have just been trying to send it and trying to set the world's fastest lap time for no reason. So, now it's just kind playing the smarter route and obviously just trying to make it through the night and just kind of gauge off of some of the other boys' body language and how they're trying to attack and see and stuff like that.
When you get the lead like you have the last two weeks, are we seeing like, I'm going to try to get as big a gap as I can possibly get, or are you trying to manage it? As long as I keep him there or I inch away slightly, that's all I need to do?
It all kind of depends. I didn't really get to see who was in second at the time, but I ended up hearing it was Phil. So, go him. But, as a few laps went past, I seen McAdoo was there. So it kind of all depends. Obviously for the main guys and on this coast is RJ and Cameron. So it's always like, if you have a bad start, that's who the main guys are looking for, because those are guys that can do it. We all do the similar pace, so it's always like, where are they at on the track? So, this weekend I could see RJ was a little bit back on the start, but Cameron was right there from the start, I think just behind Phil. It's just kind of going off what I see, and what I see in those glimpses of how they are with body attacking. I'm pretty sure it stayed fairly the same, the gap, for most of the time. I think when Cameron made those mistakes in those rhythms, I think that's when I maybe pulled a bit. It kind of just depends where I'm at on the track to really kind of put through how I'm going to do my race.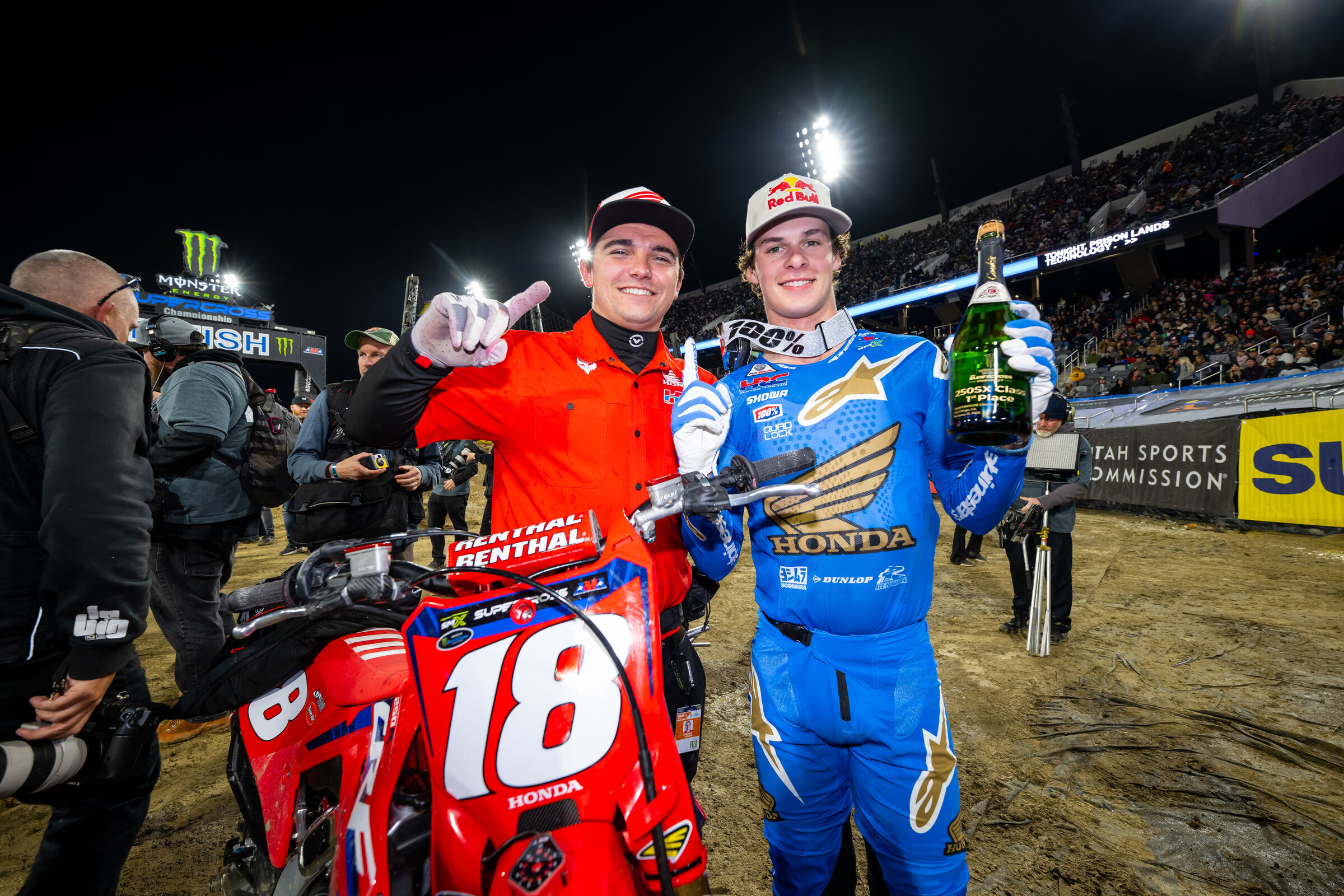 Snap Dragon, new stadium, a lot of history on this land with Qualcomm, but this is all-new. It was a sell-out crowd tonight and fans were into it. What does it feel like for you guys to come into a new place like this where there is a lot of energy and it's fun for the fans, fun for all of us to figure out a new floor plan and a new track? I know Jett you're still new to a lot of these places, especially on the west. You missed a couple years on the east. What's it like coming into a place like this with this kind of energy, sold-out crowd, somewhere new?
Jett: It's pretty cool. On the way here when we were driving, obviously "O Show" [Johnny O'Mara, trainer] is in the car and he's talking about how many times he raced here, and Ricky also. I was talking with RV [Ryan Villopoto] and he was saying he never got to race at Petco or anything. He raced here and he retired in 2014 and I think he said the year after it changed to Petco. So it's kind of cool the history the has been placed here. I had no idea. So, that's kind of the funny thing. I'm all learned out this morning with O Show's history lesson, but it's cool. The crowd was sick today. They were awesome. Just having that new stadium feeling I felt like was something new but also pretty sick.
First Triple Crown of the year. Really cool for the fans. I think fans really enjoy it. As a rider, not always so much, but what do you think? How do you feel about triple crowns?
We're just waiting to get there, man. You know how the Triple Crowns have been lately. We're looking forward to them. Those ones are always exciting because you have the short break in-between. It kind of breaks up that rhythm a bit. We're looking forward to it, Anaheim 2. Just going to go in with an open mind.
250s have been in opening ceremonies this year. Really cool I think for the fans. Jett, you're a superstar. I think it's really cool for the fans to get a chance to see you guys out there with the lights, high-fiving the crowd. That's pretty cool. What do you guys think about it?
I think the one best thing about that is the 450 guys, all respect to them, they obviously deserve that stuff, but I feel like the past few years the 250 kind of gets down-graded to not as gnarly just because it's not on a 450, but we're out there doing… Tonight I'm pretty sure we were doing similar lap times to the 450 guys, and doing the exact same rhythms and that stuff. So I feel like with that, it kind of brings us up and obviously they get to see our faces a bit more, top three guys going. I feel like it gets the better connection from the fans to the riders which helps our sport a lot, I feel like. It's that more one-on-one kind of touch. The RJ fans get to see him before the races, same with Cam and I. I think it just builds up the 250 a bit to actually give us some more limelight than just always the 450 being the main one.