Anaheim, CA
Anaheim 1 (A1)
Monster Energy AMA Supercross Championship
As the gates dropped and the pyrotechnics launched into the sky for the first main event of 2023 Monster Energy AMA Supercross, few could have expected what would happen next. As the riders for the 250SX West class stormed towards the first turn, there was suddenly the shocking image of a Kawasaki bouncing in the air just behind the scrum of riders. As everyone rolled through the first corner and continued on with the race, the settled dust left only Austin Forkner and his now bent up machine laying in the soil.
In the blink of an eye, Forkner's night, season, and perhaps year was over. Small contact with the bars of RJ Hampshire had sent Forkner slightly to the right where he made contact with the rear tire of his teammate Cameron McAdoo. In hitting McAdoo's rear tire, Forkner's front tire then knifed hard into the dirt, ejecting Forkner off the bike some 30 feet down the track. On Tuesday, the damage was finally revealed when Forkner took to Instagram to explain his injuries.
"It's an ACL tear, full thickness ACL tear, lateral meniscus tear with displaced flap, posterior lateral tibia plateau, non-dispersed fracture, so like the top of my tib-fib is cracked, medial meniscus tear, MCL sprain, and grade two PCL injury," explained Forkner. "So, not completely destroyed, but it's ACL. Anything other than ACL, I mean the ACL is the long one that's six months, all the other stuff is just extras that they'll fix when they're in there. Oh, and I have a break in my hand also. Just a little bone in my wrist or hand in there. It's not a huge deal. It really isn't even too bad other than when I crutch, it doesn't really hurt."
All of it amounts to another rough blow to Forkner's career which has been marred by injury. Forkner entered 2023 as the winningest 250SX rider ever to have never claimed a championship which will remain the status quo this year as well. In the last two years, Forkner had championship ending collarbone injuries in the second round of 2022 and the third round of 2021, but he more notably tore his ACL in 2019 when on the verge of a championship in 250SX East.
The speed has never been in question for Forkner, it has always come back to his injury history which even he himself was honest about on Tuesday.
"Honestly at this point, I feel just embarrassed," said Forkner. "I'm obviously extremely disappointed in myself, but I'm just disgusted with myself. Unless you've been in this situation or something similar, it's hard to really explain, but I just don't even want to look people in the face. It's tough because now this is my third year where I've been out of the championship after two races, a max of two races. I didn't even make the first race this year, and now I'm out for a while. This one's tough. This one's really tough just because of the past couple of years."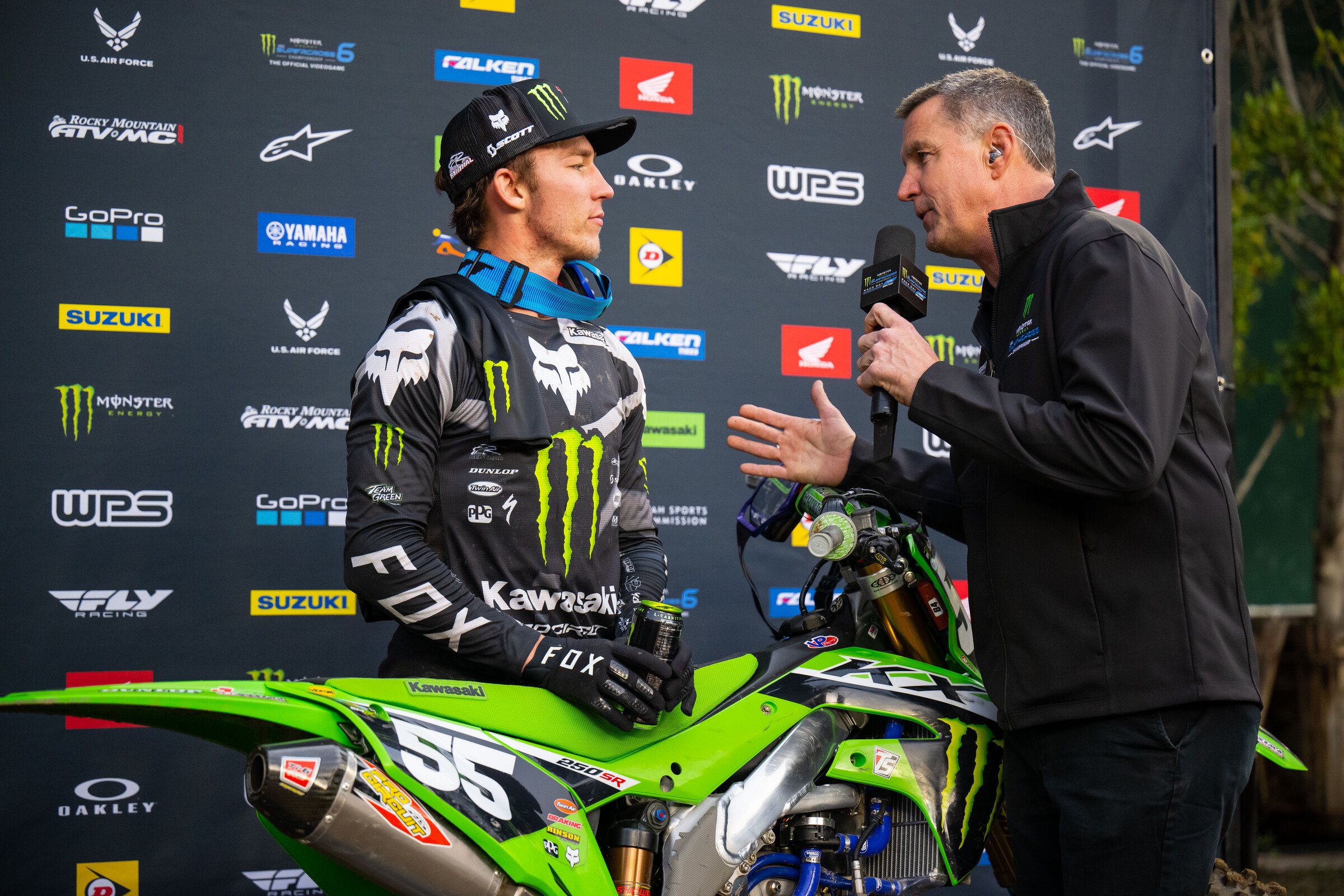 Forkner was having a solid day prior to the crash as he certainly expected to be in championship contention from the get-go. He qualified fastest on the day and came from being off the track well down the field in his heat race all the way back to third place. Jett Lawrence would eventually win the opening main event of the year, but Forkner was one of the riders many had an eye on to contend against Lawrence for the 2023 crown.
To dissect the crash further, Forkner absolved anyone else of blame for what ultimately was an unfortunate sequence of some common things that happen in the close quarter starts of supercross racing.
"The actual crash itself, I'm not blaming anybody," Forkner said. "People say, 'Oh it was a start crash and it wasn't 100 percent your fault.' I don't like having that outlook. I like taking responsibility where I can. If I would have gotten a little bit better of a jump, I could have had the wheel on those guys, and they wouldn't have come over and we wouldn't have hit. Either way, I mean me and RJ [Hampshire] got together out of the gate a little bit and my front wheel was off the ground just a little bit and those guys started to come over from the outside and my front wheel was up so I couldn't move around because my front wheel was off the ground. They came over and I let it down into the back of Cameron's [McAdoo] wheel, dabbed my knee, and right when I dabbed my knee, I knew it was done. From the moment I dabbed my knee until I got ejected, I knew right then that my knee was done. I was on the ground and the doctors came over and were like, 'What's wrong?' and I was like, 'Honestly, everything else, nothing is too bad, but my knee is done.' I'm all scraped up and stuff but I knew my knee was done."
For now, Forkner will take quite a bit of time away from racing to recover as no timetable has been established by either him nor the team. Going back to 2019, Forkner tore his ACL at Nashville in early April, tried to race two weeks later in East Rutherford, but then did not race again in 2019. It is believed to be that this 2023 injury is on the same left knee he injured in 2019 as well. Time will tell if we see Forkner again this year, but we hope his recovery goes well until we next see him behind the gate.