Millfield, OH
The John Penton
GNCC Racing
Main Image courtesy KTM Images/Mack Faint
Been a tough season at the top of the off-road ranks this year. The injury bug has sapped a lot of the contenders in the GNCC ranks, and now the defending champion and points leader, Ben Kelley, has been caught, after a big crash at an AMA National Enduro over the weekend. Also, Steward Baylor, last year's GNCC runner up and the AMA National Enduro Champion, has now gone down twice.
Baylor got off to a solid start by claiming the overall win at the Sumter National Enduro in South Carolina in early February. Then, Baylor was battling inside the top five late in the opening round Big Buck GNCC when he hit a surprise root that caused a big swap and crash. With several injuries—including a broken wrist and fractured C7 vertebrae—the #514 somehow remounted his Yamaha and finished the race! He later learned the extent of his injuries, and returned to the series a few weeks later, this time on the sidelines hanging out in a neck brace. Once healthy enough to return to riding, he stated on Instagram he would be focusing primarily on the Kenda AMA National Enduro Series.
Ben Kelley took the win at the opening round Bug Buck GNCC. Then he won again the following round. Then again, the third round, fourth round, fifth round, and sixth round! In doing so, the Red Bull KTM rider tied the record for the best start to a GNCC season since the 2006 season when Juha Salminen won the opening six rounds. BK530 rides so smooth—he is basically always standing with his toes on the pegs with an arch in his back to stay low. His ability to run a high pace for the three-hour duration has seen his rise to the top of the XC1 class come quickly. Now with the start he had in 2022, he doubled his XC1 win total from 2019 through 2021 as he sits with 11 career overall wins. With Baylor and potential race winners and championship threats Josh Strang and Thad Duvall all going out with respective injuries, Kelley was firing on all cylinders and hitting full stride at the top of the field (and add XC2 #1 Johnny Girroir to the list of "out with injury" as well as he suffered a crash at the opener that has had him sidelined since).
The July 2022 Issue of Racer X Illustrated
New England's New Off-Road Heroes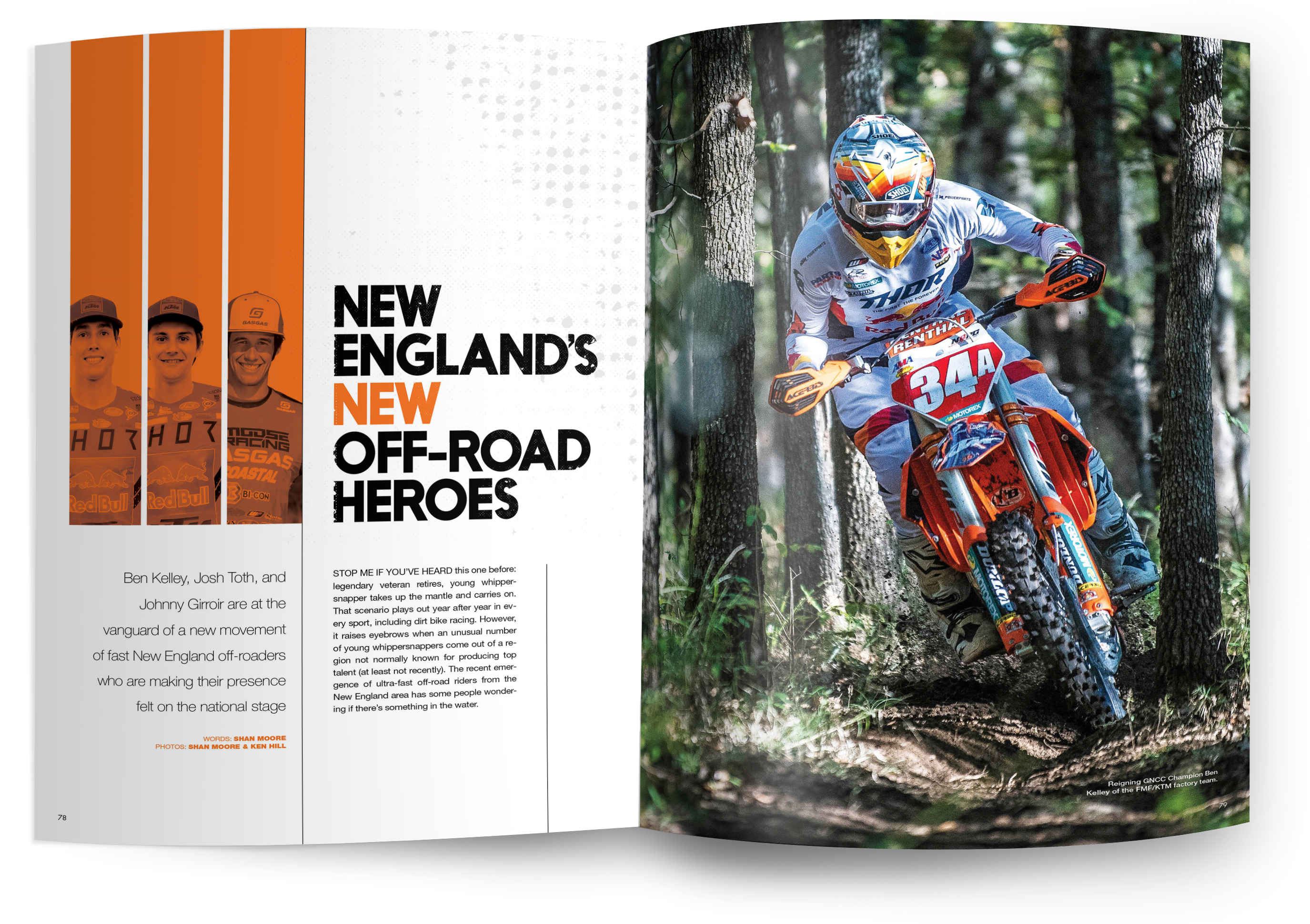 Ben Kelley, Josh Toth, and Johnny Girroir are at the vanguard of a new movement of fast New England off-roaders who are making their presence felt on the national stage.
Read Now
Preview Now
However, over the weekend at the Lead Belt National Enduro in Missouri, the East Coast off-road scene took quite a blow as both Baylor and Kelley suffered separate injuries. Baylor had been putting in motos during the last few weeks and made his return to racing at the third round. Immediately, he picked up where he left off, topping the first test. Unfortunately, he said in a video on Instagram he hit some loose rocks that shot him into a tree he could not avoid. He ended up with a broken eye socket, cheekbone, jaw, and "a few other things."
"Most likely will be seeing a plastic surgeon this week, hopefully they will be able to make me better looking," Baylor joked in the video. "…Just a bummer, bad situation, bad luck. It was just a really freak accident."
Baylor responded to some of the comments he was receiving about him "rushing back to racing too quickly."
"Some of the comments I've seen were saying I came back too early or that I wasn't prepared—that's not the case at all," he said. "I've been doing this every day since I was two years old, so 25 years now. You don't forget things in ten weeks. I know my boundaries; I know what I can and can't do. This was no different, it was just a freak accident. They happen. We're looking forward to trying to get back out there and paying the bills. It's been a while. Had a string of bad luck after six years of really no injury, just one knee surgery."
As for Kelley, he hit a tree as well in a separate crash where he said his leg got crushed against a tree as he flung towards another tree.
"It all happened so fast, there wasn't too much I could do. …Soon as it happened, I knew it was bad," Kelley said. "I was basically in shock. I couldn't believe it happened."
Kelley said in his video the injuries including a dislocated shoulder and a compound fracture to tibia/fibula. He has undergone surgery on the leg—which he said was "very successful" but will need an MRI done on his shoulder to determine the full extent of the damage done to his shoulder.
The New England native goes from having one of the best starts to a GNCC season in history to a tough injury with a return to racing still to be determined. The schedule regularly has a natural break following the Snowshoe GNCC in June and usually resumes in early September. Still, with his injuries it might be too much of an ask for the #1 to come back and finish the season's final four races.
After six rounds, Kelley (180 points) sits with a 65-point advantage over second place Jordan Ashburn (115 points), who sits ahead of Trevor Bollinger (114 points) by a single point. A GNCC overall win pays 30 points.
The seventh round John Penton GNCC—one of the typically more technical layouts of the season—is scheduled this weekend in Millfield, Ohio. Unfortunately for Kelley, his great start to the GNCC season is cut short after those six wins as he will not have the chance to write history with a seventh-straight win this weekend. At this point, he doesn't know when he can gett back to racing, or any idea if he can salvage a championship that at one point looked inevitable. For Baylor, the updates from the hospital have been a little too frequent this year, as well, and it remains to be seen when he can return to the track.
Get well soon, Stu and Ben.
GNCC
| Position | Rider | Hometown | Points |
| --- | --- | --- | --- |
| 1 | Jordan Ashburn | Cookeville, TN | 187 |
| 2 | Ben Kelley | Harwinton, CT | 180 |
| 3 | Trevor Bollinger | Morganton, NC | 148 |
| 4 | Craig Delong | Morgantown, PA | 141 |
| 5 | Grant Baylor | Belton, SC | 109 |
Full Standings