Detroit, MI
Detroit
Monster Energy AMA Supercross Championship
With several changes to Malcolm Stewart's program for 2022, many had questions about how his year would go. Coming off his best 450SX season to date with the Monster Energy Yamaha Star Racing team, when he took his first premier class podium and five total top five finishes and sixth in the 450SX standings, he was now entering the first year of a two-year contract with Rockstar Energy Husqvarna. Stewart would be transitioning to a steel frame machine for the first time since 2013, he would be training with Aldon Baker at the Baker's Factory facility in Florida, and he would also be racing the Lucas Oil AMA Pro Motocross Championship for the first time since 2014.
To start the year off, Stewart qualified fastest overall at Anaheim 1 season-opener, a first in his 450SX career. While qualifying fastest has not ever guaranteed strong race results, it can be an indicator of what is to come. Stewart went on to finish seventh in the main event following a get together with Marvin Musquin that possibly cost them both podium finishes. Stewart rattled off three straight fifth-place finishes at the Oakland, San Diego, and Anaheim 2 Supercrosses, although rumors in the industry circulated that the Husqvarna and KTM riders were not happy with the set up on their factory FC 450 and KTM 450 SX-F editions. Then Stewart tuned 3-2-4 finishes in Glendale into a new career best for second overall, his second career 450SX podium.
"The first couple rounds we were just learning the bike," Stewart said after the Glendale Supercross. "Putting it in the race conditions, you start to learn how the motorcycle works and stuff. I feel like we did a really big turnaround this week. …Our starts were really, really good. I think this Triple Crown, if anything, only helped me get more data for the motorcycle."
The extra data on race day (with three important starts and different races) appears to have helped the team. Stewart then rattled off two fourth-place finishes before his tangle with Jason Anderson in Arlington at the eighth round. His 5-6-3 finishes gave him fifth overall on the night in Texas, but there was potential for more. At the Daytona Supercross, Stewart was flying in qualifying and stole P1 overall on the board from Anderson late to take his second top qualifying spot of the season. Then he checked out of his heat race and seemingly won easily. Many wondered if that night—in front of his home crowd—would be the night that he earned that maiden 450SX main event win. Of course, when the gate dropped in the main event, we all know what happened next as Stewart and Anderson got into a few times and it cost them both a chance at the win.
Fast forward to the tenth round and once again, Stewart is the fastest qualifier. He takes his heat race win and moves into third about halfway through the race. Anderson crashing out of the race allowed Stewart to inherit second place, but Stewart still had to bring it home. He did just that.
"The track was pretty technical," he said in the press conference Saturday night. "It was dangerous out there. That's for sure. It was ready to bite some people, I can tell you that, and me included."
So, in the first ten rounds, Stewart has three fastest qualifiers, three heat race wins, and three main event podium finishes. Safe to say he is blowing his 2021 season out of the water. He is faster around the entire course (as opposed to mostly shining in the whoops in recent years), he has a much-improved level of fitness, and now his results are coming around as they improve the bike. While the Ford Field track broke down, Stewart stayed strong.
"Again, like we did all of our testing in the past, a lot was on the East Coast dirt, so like I said, we had more data for East Coast type of things than we did on West Coast, cause where Aldon and where his whole training program and stuff, everything is on the East Coast," Stewart said on Monday night's PulpMX Show #497. "We definitely have gotten a lot better, and of course, we are still testing, you know, that's just part of it. We're still finding more and more things that I like about how the bike works and things like that. Of course, when it gets in more rutty conditions, it seems to get even better. That's just because what we kind of had our setup as in the past, in the off-season."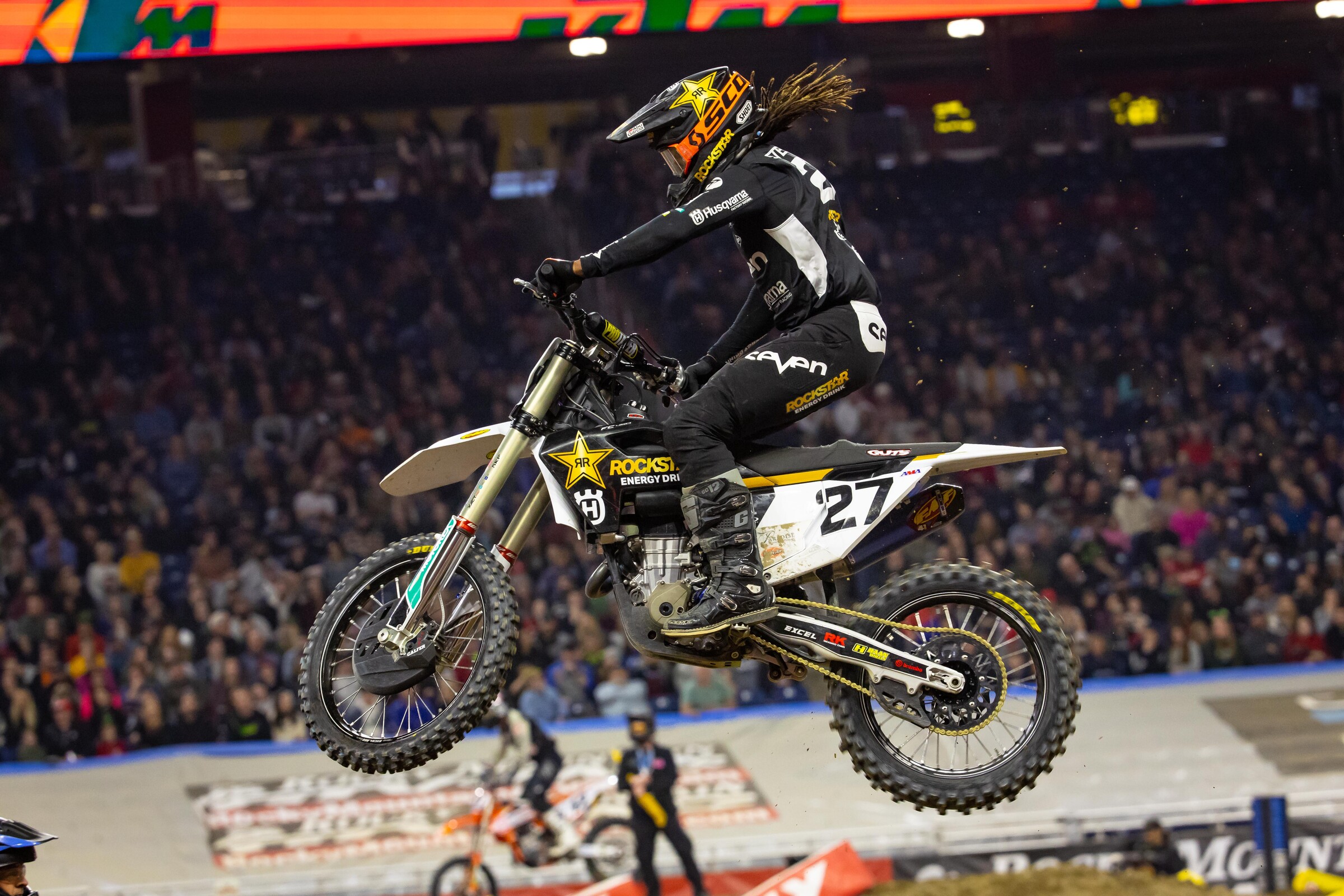 "So, for Indy, I'm pretty stoked on cause in the past, Indy's been pretty rutty so I feel like this is where my bike could even be even better," he added. "And then the next following week is in Seattle that's another rutty track. So, I feel like we are definitely in the right direction with setup wise. Again, it's just a matter of getting a good start and doing what I did this past weekend."
Stewart is hoping to continue to click off solid result after solid result to end the season strong.
"The mindset is still the same from A1, it's just get podiums," said the veteran. "We're about the end result, wherever you finish. It's been kind of the same mind that I've been going with and start off by the day. Obviously, every rider has set goals they start off. I feel like I hit the reset button for me. Start with qualifying, to the heat race, and then the main event. I feel like when you start executing that, it starts becoming natural to you."
After the main event in Michigan, Stewart also acknowledged the hard work from Baker, who he has said has made a significant impact on him this year in both his fitness/training and his mentality.
"I feel great," Stewart said after Glendale. "I think it's more of an overall package for me, with obviously training with Aldon and being on Rockstar Energy Husqvarna. Like I said, this was always one of the motorcycles I wanted to ride, so when I finally got the opportunity, it was like, you believe in it."
With sports (and anything in life really), confidence is key. Not believing will almost always guarantee failure. Stewart's confidence in himself and the program behind him is stronger than ever—and it is showing on race day.
"Of course, anybody who knows Aldon, he works hard," Stewart said of his new trainer. "He's definitely a hard worker. Even in mid-season we're still itching and scratching to do different programs to make myself better. Of course, I'm a newcomer between me and Aldon. I have never experienced any of the stuff that we've been training. So, just giving him data and stuff over the weekend. We've been doing minor adjustments and stuff. …Every race that we do, we just go back with the team and get data and move forward from there. Aldon has definitely been really, really doing everything he can to help me out and get me to the front. Obviously, we're trying to do our best to get to the front and hopefully we get one of these wins soon."
A win feels like it is right around the corner for the #27—will it happen?
"Yeah, I definitely believe it's coming," Stewart said on getting a premier class main event win.
In a similar situation is Pierce Brown. Now Brown, mind you, is only 15 main event starts into in his 250SX career, but you can see the Utah native quickly improving. Like Stewart, Brown had some adjustments in his program this off-season that are taking him to the next level.
Brown is back with the Troy Lee Designs/Red Bull/GasGas team for a second season on the GasGas MC 250F but one of the biggest changes has been some personnel around him, including the team's new crew chief Josh Wisenor, who moved over from Honda.
"I think it's everything, just a mix," he said on the factors that have elevated his season. "We have Josh on board. He's amazing. He's really helping develop the bike."
Another big factor has been Wil Hahn. Hahn was brought under the team tent for the 2021 Lucas Oil AMA Pro Motocross Championship to work with the team's sole 450 rider Justin Barcia but took on training 250 riders Michael Mosiman and Brown during the off-season.
"With Wil, he just holds me accountable every single day and that's just something I've never really had before," Brown added. "I think that's kind of where the growth this year from last year came from. I needed today bad. I put together a solid day for me. I went P2 in qualifying, won the heat, P3 in the main. My first podium, I was P12 in qualifying and it was just all over the place. So, I'm happy to have a steady, drama-free day and just happy to get the ball rolling."
Just like Stewart, Brown is starting his way stronger in qualifying and has gotten two heat race wins in three heat starts so far this season. Come main event time, he is still learning. A second place in the final Triple Crown race in Texas was part of the growth. Cameron McAdoo, still young himself but with almost three times the number of starts as Brown, caught and passed him around the halfway mark. The Monster Energy/Pro Circuit Kawasaki rider took advantage of a slipup from Brown entering the whoops, which allowed the title contender to move into second place behind Jett Lawrence.
"That's just one of those learning things that I've got to get under my belt," Brown said on McAdoo capitalizing on his mistake.
"Then after that it was kind of just damage control," he said later. "I'm happy with how I rode. I would have changed some stuff from the main event if I could go back, but live and learn."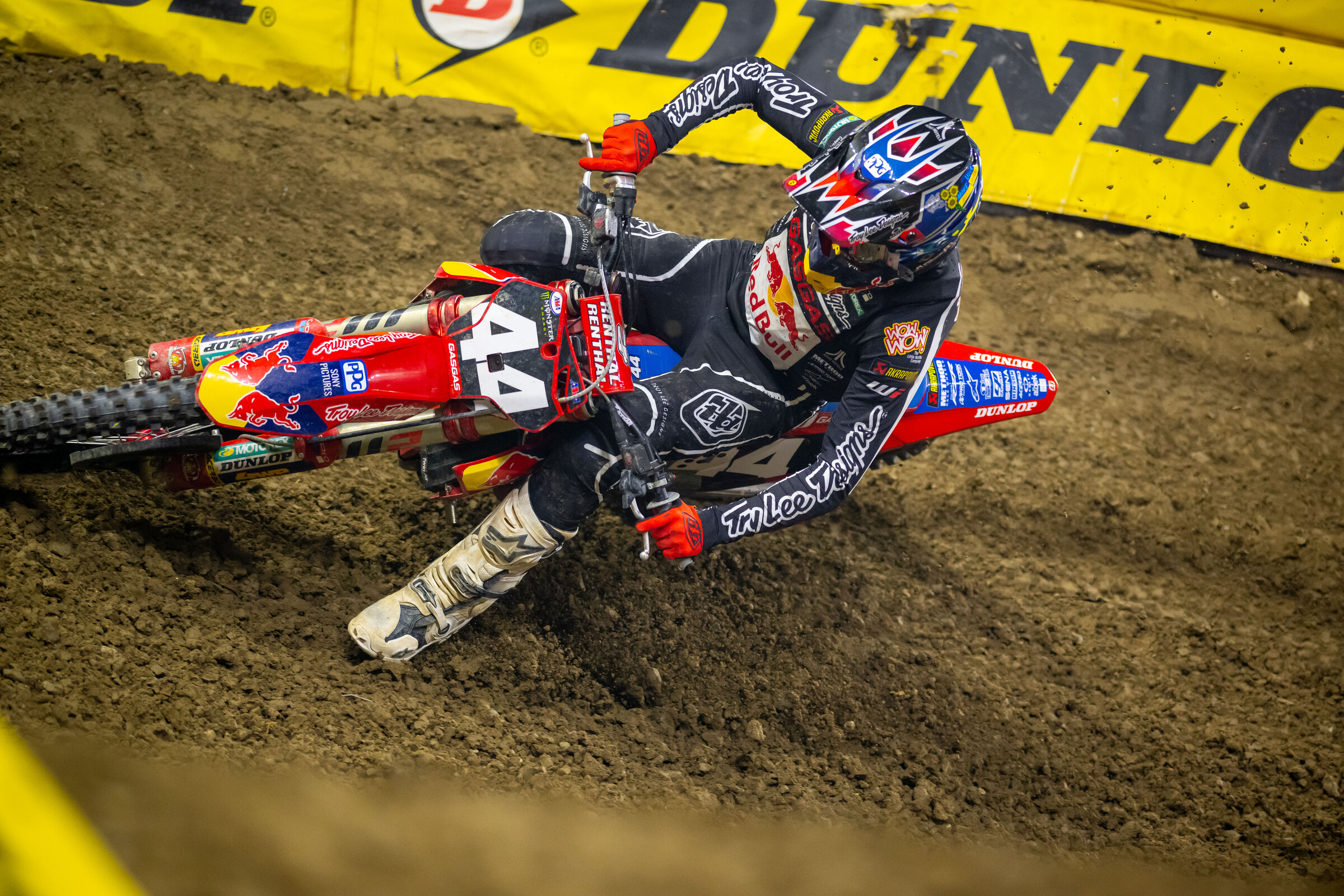 Brown's third place was his second career podium finish following a third at the 2020 Daytona Supercross. Another factor in Brown's '22 season has been him entering this year fully healthy, as last year was not the case. A knee injury in 2020 hindered his preseason prep of bike testing and race pace entering the 2021 season. But being out front with the lead group will help Brown's skillset rise. He tried to make a quick pass on Stilez Robertson and run with Lawrence in Detroit before the #18 got away. The GasGas rider knows in order to be up there with the lead group, great starts are a necessity week-to-week.
"Starts, for sure," he said on what will help take him to the next step. "I just need starts. I didn't have very good starts tonight, but my first three to four corners were just carnage, and I was just somehow making passes left and right. That saved me tonight. I need my starts dialed and then I just need to get more time up front with the boys and just learn that pace and learn how to just maintain for the full 15. That's one thing I liked tonight."
For Brown and Stewart, pieces are falling into place. They're maturing, they're fast in qualifying and the heats, and now they're starting up front in the mains. It feels like a win is right around the corner. Surely all the people who have helped them get to this point feel that way, too.