Detroit, MI
Detroit
Monster Energy AMA Supercross Championship
Just like that, Eli Tomac is sitting on a massive points lead in Monster Energy AMA Supercross. In Detroit, he scored his third race win in a row, but larger than that, second-ranked Jason Anderson went down while running second, and from there Tomac was not only off to a pressure-free win but also a big gain in points.
Anderson, Cooper Webb, Chase Sexton, Dean Wilson, Marvin Musquin, and Dylan Ferrandishad their troubles in the Detroit main event. Why? Eli offered his thoughts on that and more in the post-race press conference.
Eli, you're well aware of what happened out there in the main event to the competition. I know on the podium you said you saw a lot of this, but what was it like for you on that track? Obviously everyone was looking for that balance. You found it tonight. How difficult was it?
Eli Tomac: It was a tough racetrack. One of the strangest surfaces I've been on, with the combination of it being rutted in some of the lanes and kind of sticky and grabby on your tires. It could pull you left to right. At the same time in some of the bowl turns you could easily wash it or push the front end. I can't believe what I was seeing after halfway, for how many of the best guys I was seeing down on the track. That just goes to show you how gnarly the surface was.
You were aware of where you were and the lead that you had? Did that change the way you rode late in the race after seeing everyone go down and knowing the surface you were on?
Yeah. I knew it was sketchy and it could get you at any time. I was just trying to watch Malcolm. We were both pushing a good pace, and that was about it. Like I said, I could not believe what I was seeing. Then even at the end, I saw Marvin go down in a turn and then I saw Dylan holding his hand. It was like all of the top guys at one point that had some sort of crash or mistake. It was unbelievable.
You've actually been historically one of the most endurance durable riders of the last six, seven years. You've had a long run. Is there something you're able to do, especially when the tracks are tricky like this, to avoid the same problems that a lot of the other riders had? It's pretty impressive how few races you've missed through the years.
It's hard to say. I feel like you just try to be as much in control as you can, and that's it. That's always the fine line is how much risk do you take and how far do you push it.
This was a super tight championship just several rounds ago, but now it's over 40 points separating you between second and third place. I know it's way early in the season, but is this to the point where you can already start talking about managing this championship?
You can, but there's a lot of racing left and a lot of things can happen in one night. Obviously, you saw what happened tonight. We're in a great position and we've been solid, especially the past few. We've been good on all conditions. It's just a nice place to be in.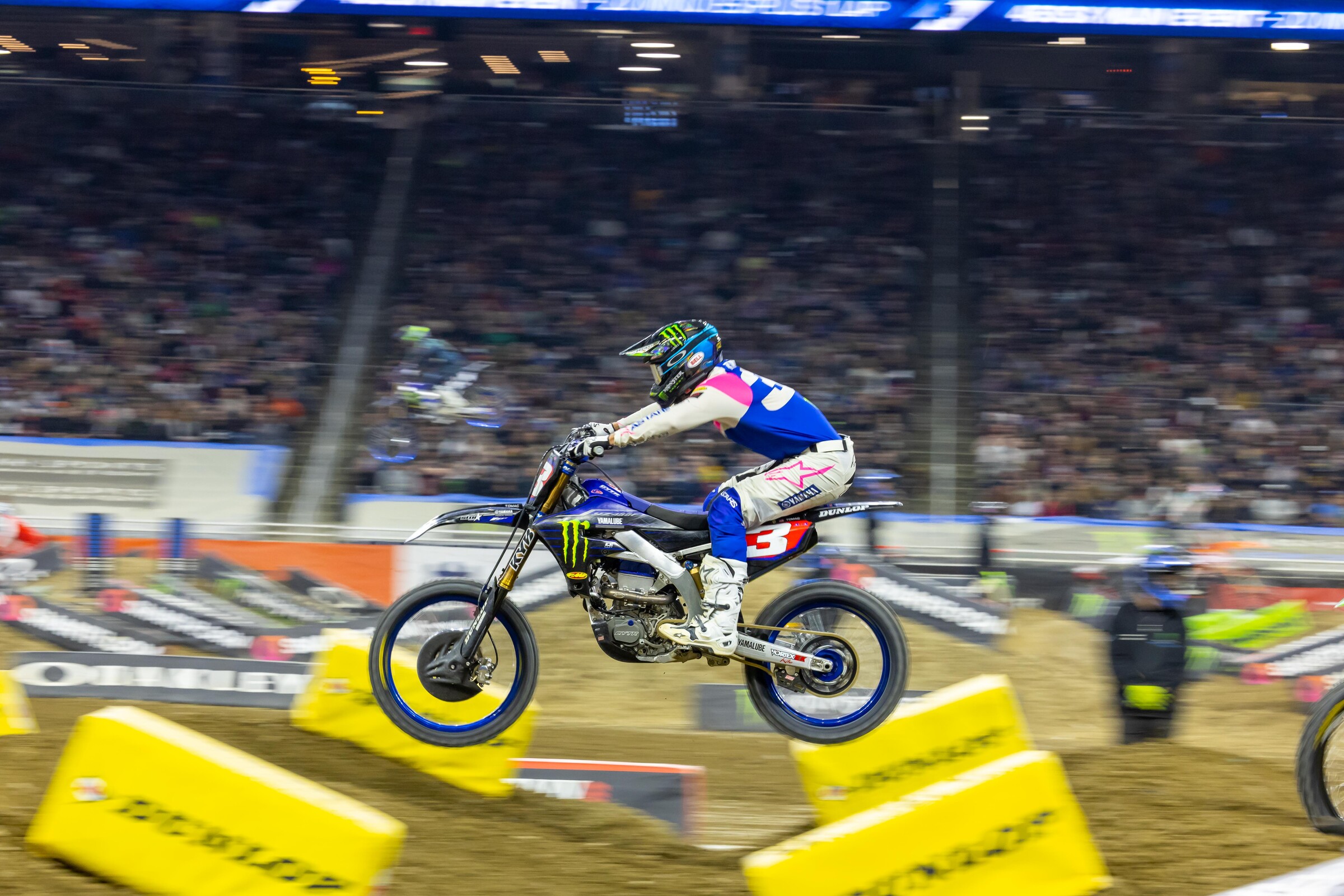 On those nights where you're not feeling it, do we expect you to continue to push for wins?
Like I said, I try to stay in my zone. I don't know where that's going to go, where that's going to take me, but just try to stay in control.
For your level and for where you are, you didn't have a great start. Can you talk a little bit about how you navigate from where you were at the first corner all the way to getting to the top of the leaderboard? How do you keep your cool and your competitive edge when you see that you're not in a great start or a great position and there are so many riders in front of you?
Going down the straightway, I probably should have had the holeshot and then I got bumped by Chase going into the first turn. It bumped me outside, and then everyone goes underneath you. After that, my best line was in the whoops. That's where I was making passes early. I was just going up the right side and that's where I got most of the guys. That was my spot tonight. Then I made one pass after the finish line that next bowl turn. The whoops were my savior tonight for getting to the front.
Supercross
| | Rider | Time | Interval | Best Lap | Hometown | Bike |
| --- | --- | --- | --- | --- | --- | --- |
| 1 | Eli Tomac | | 27 Laps | 0:44.537 | Cortez, CO | Yamaha YZ450F |
| 2 | Malcolm Stewart | | +03.556 | 0:45.163 | Haines City, FL | Husqvarna FC 450 |
| 3 | Justin Barcia | | +05.606 | 0:45.061 | Monroe, NY | GasGas MC 450F |
| 4 | Marvin Musquin | | +24.992 | 0:45.570 | La Reole, France | KTM 450 SX-F |
| 5 | Justin Brayton | | +36.733 | 0:46.108 | Fort Dodge, IA | Honda CRF450R |
Full Results
After the heat race, you said the track was deceivingly sticky and pulls you around, especially when we saw Chase have that crash. Then in the main event, you got the bad start so you had to decide where you were going to push, where you were not going to push. Where is that middle line where you decide it's risky, but I've got to chance it here, maybe not chance it there?
Like I said earlier, it was the whoops. That's where I made, whatever it was, three passes in there on the right side of the whoops. Then I got Jason just setting him up after the finish line and to get a slingshot into that bowl turn. That was it. The rest, it could get you at any time. Just had that spot in the whoops.
So no point where you're like, I don't know what's going to happen in this section of track? I'm just going to play it safe, or just pushing the whole time?
Once all the crashing happened and then I saw where we were at and the gap I had, I backed it down, especially in the whoops. Was definitely thinking a lot in those rhythm sections. I'm like, there's just a lot of really good guys that have crashed. Something is gnarly with this thing. So, yeah, the mindset changed.
Watch the full 450SX post-race press conference below: