Austin Forkner Confirms Broken Collarbone in Crash With Jett Lawrence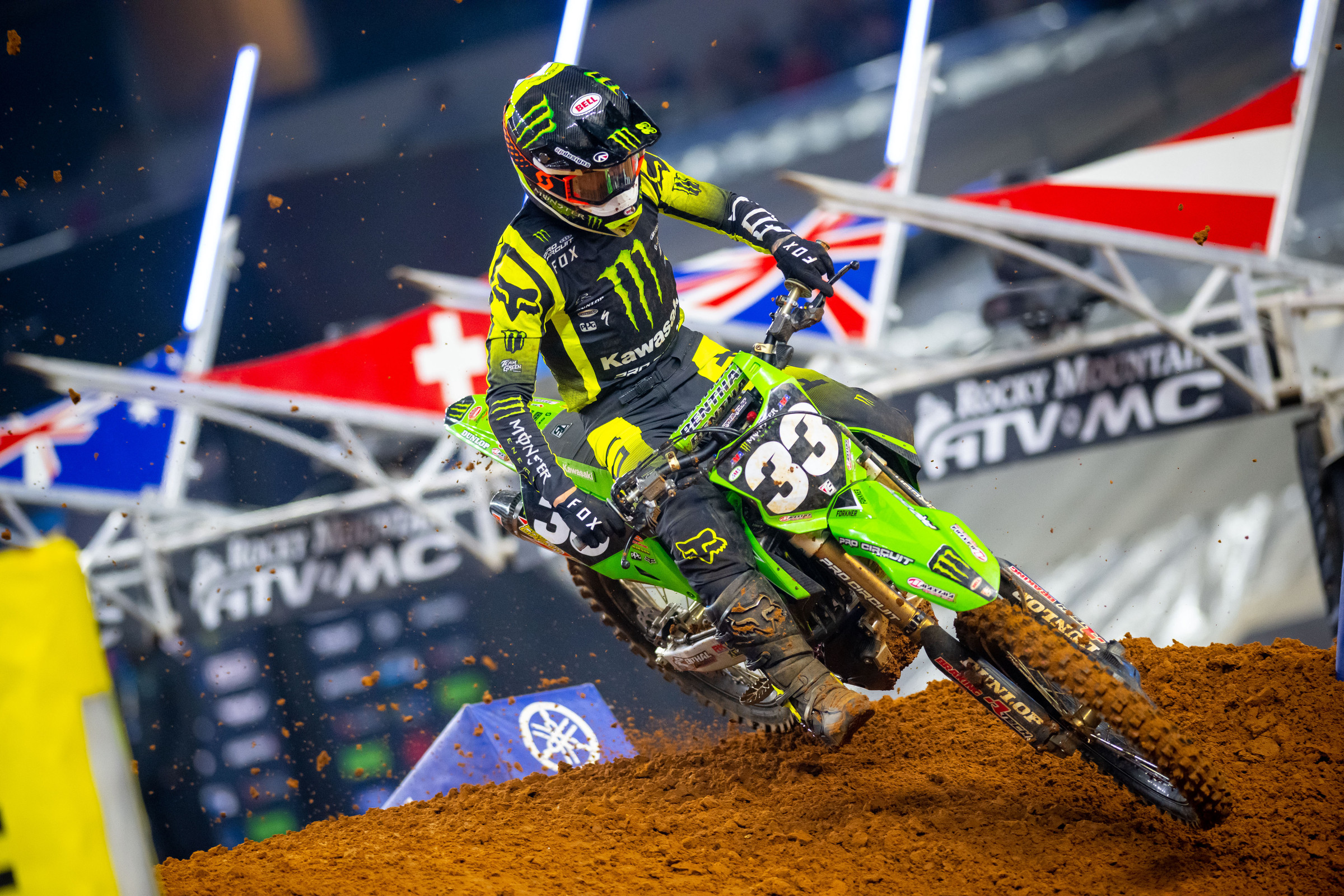 Arlington, TX
Arlington
Monster Energy AMA Supercross Championship
Late in the third race of the Arlington Supercross Triple Crown, Honda HRC's Jett Lawrence passed Austin Forkner in the whoops to take over third place. Lawrence got sideways exiting the whoops and went wide around the outside of the berm before the finish line, then clipped a Tuff Block and swerved to the right while in the air. He looked over and saw Forkner there but by then it was too late—they made contact and then both slammed to the ground. Lawrence picked up his bike and continued on as Forkner was tended to by the Alpinestars medical crew. Eventually, Forkner was able to walk off under his own power, although his night was done.
Our Jason Weigandt was on site for the race and went to the Monster Energy/Pro Circuit Kawasaki team truck after the race to find out more on Forkner's injuries. Initial word was a "hurt collarbone" but X-rays at the track were non-conclusive so Austin set off to get further tests done to determine the severity of the injury.
Mitch Payton told me Forkner hurt collarbone but the x ray at the track didn't show anything broken for sure. So he went to hospital for more x rays. I think having plates in there already makes it tricky

— Jason Weigandt (@JasonWeigandt) February 27, 2022
This evening, Forkner took to Instagram to confirm he has indeed suffered a broken collarbone (Note: This is the same collarbone he broke during qualifying at the third round of the 2021 250SX East Region). Below is his full post.
"Well, collarbone is broke.. but after watching how hard I hit I'm lucky it wasn't worse. Same one from last year just broke around the plate and through a couple screws. I knew it was broken as soon as I got up. I've just been dreading making the post about it, but I guess here it is. You know, I really was trying to make changes this year to my riding and my mentality to be ok with not being the fastest guy at every race, or settling for a 3rd or a 5th at times so I would be at every race and make it to the end of the season. And if that left me with a championship then great, but if not then so be it. But that's why this sport is so damn tough because sometimes none of that matters and things just happen. Anyways, it is what it is. I do really appreciate all the support from everyone, it means a lot. I'll be back."
In the post-race press conference, 18-year-old Lawrence said he was "gutted" about the situation. Lawrence said the following on the incident:
"It sucks, what happened. I got wild. I obviously didn't learn my lesson from the first time I got wild once, and I thought I could balls my way through it. But got a little sketchy in the whoops again. Most people saw what happened after. I don't really like talking about it much because I feel gutted about it. Just a stupid mistake on my behalf of hitting a Tuff Block and taking out another rider. Just pissed at myself. I really can't say much. I'm sorry to the Forkner family, Austin, and his chick. I was looking forward to racing him this year, because I think a lot of people can agree he's definitely one of the most talented guys on a supercross track, he has shown many times. I just feel sick about it, really. I don't have much else to say about it."
Forkner finished second behind Lawrence at the 250SX East Region season-opener in Minneapolis, Minnesota, last weekend and had finished of 1-4 in the first two Triple Crown races until the crash. Although he did not finish the third race, he scored 19th, giving him seventh overall.