Turn Your 2021 CRF300L Into a Pure Racer with Akrapovic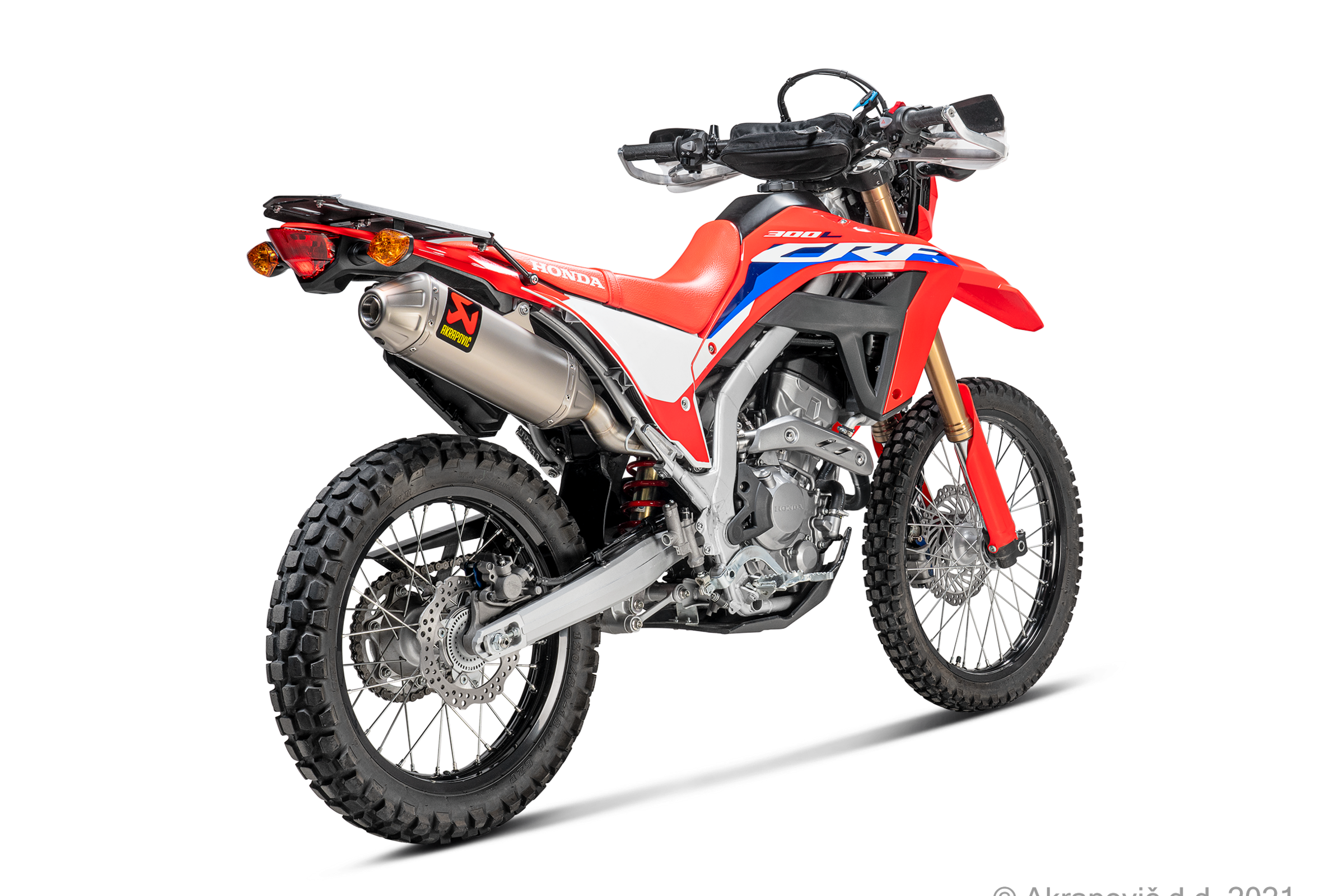 An upgrade of the beloved CRF250L, Honda's CRF300L is the company's smallest-displacement street-legal dual sport bike, making it the perfect machine for those of us who like to vary our riding terrain. But if you want to turn yours into a dedicated racer, Akrapovič's new custom CRF300L exhaust offers unbeatable performance gains—and weight reductions.
Akrapovič, of course, probably needs no introduction. Now in its 31st year, it was founded in Slovenia by former racer Igor Akrapovič and has grown into an international exhaust powerhouse. Across all motorcycling disciplines, it's amassed 153 world championships and countless victories ranging from MotoGP to MXGP, from Le Mans to Dakar. (The company's insistence on design excellence to match its engineering standards has also earned it multiple Red Dot design awards.)
Akrapovič mastered the use of titanium and super-alloys and is at the forefront of carbon-fiber components. You can count on increased performance, innovative design, lightweight construction, quality workmanship, durability, and of course that unmistakable Akrapovič sound.
The company's new Honda CRF300L / Rally 2022 Slip-On Line (Titanium) is perfectly sculpted to follow the lines of the CRF300L while offering more of a racing look. The end cap and the outer sleeve are lightweight titanium, while the link pipe is high-grade stainless steel; the end effect is a weight savings of over 49% compared to stock. The performance boost is clear, with perfect throttle response across the rev range and power gains of 1.3 hp at 5,100 rpm, with torque increased by 1.8 Nm at 5,100 rpm on the dyno against a CRF300L with a stock exhaust. Installation is easy plug-and-play, and no remapping is required. An optional stainless-steel header is also available.
It should be noted that this custom racing exhaust is for racetracks and closed courses only and does not meet emission compliance requirements for street or highway use. This one's a racer, folks.
Akrapovič operates from state-of-the-art factories in Slovenia, where facilities include an on-site titanium foundry, metallurgical laboratory, and high-tech production machinery. Akrapovič employs over 1,500 staff and distributes its products to more than 80 countries. To learn more about the Honda CRF300L / Rally 2022 exhaust system, visit them online.