Many people know Jeremy Albrecht as a former mechanic for Factory Kawasaki riders Jeff Emig and James Stewart, and even more even know him as the team manager for the now-defunct Joe Gibbs JGRMX team. Well, you better get to know J-Bone as an AMA official also! Albrecht is still employed by the Joe Gibbs Racing squad during the week (obviously, they're still in operation on the NASCAR side) but he will take on a new role this year on weekends at Monster Energy AMA Supercross. Here he talks about his new role and coming back to the races in 2022.
Racer X: J-Bone, you're going to be back at the races. You've taken a new role. Tell us what that is.
Jeremy Albrecht: AMA Official is the title. Just being a liaison between the riders, the teams, and the AMA. So, it's a new position. I was talking to [AMA's] Mike Pelletier for a little bit there and he was trying to figure out what they wanted to change, since they are no longer with the FIM, and just trying to figure out a way to make things different and make communication better. So, this was one role that they felt like was needed and could help. I think they talked to teams and some other people. They asked me if I would do it. Trying to figure out if I wanted to give up weekends [at home] again because it's been kind of nice not having to go. But in a weird way, I do miss it. I'm excited for the role because I think it's something that I feel like I'd be good at. We'll see. I told them I'd do it this year and see how it goes. See what they think of it, what I think of it, and I guess what the industry thinks of it.
What appealed to you about it? Like you said, you're giving up your weekends again after having a couple years off the road.
I guess just all the things that I wished would happen before and probably complained about before that would make things better, and that's the communication between everybody. For me to be able to be the guy to be in-between, and I feel like I could be good at that. The fun part will not be when there's penalties, but it will be divvied out between three of us, so not one of us is going to make the decision. If someone jumps on a [red] cross flag or cuts the track or whatever, we'll deal with that as it comes. They said it's a new role, so it could change, or they might end up doing something a little bit different as we get going here. I never thought that I would do something for the AMA. I wouldn't have called them and searched it out and wanted to be an AMA Official that hands out penalties and everyone is mad at me. I think they liked that I was a mechanic. I was a team manager. So, [I've had] different roles and then to do this, maybe I would look at things differently. Look at it as a team or what other people think in the industry. I think it appeals to me. We will find out.
Did Coy Gibbs tell you you're crazy for taking this?
I texted him this whole long thing and I talked to him about it. What I wanted him to know is it's not like I'm out begging for a job. I don't want him to think I don't like it here [at JGR]. I do like it here. He has treated me good. Everything has been great here. They [AMA] asked me to do it and I had to think about it for a while. I told him I had a hard time deciding. Then they made a new role that sounded more like something I would like. So, I'm like, I'll give it a shot. I'll do it this year and see if you guys like me and see if it's something I'm good at and I like. It's just Saturdays, at least. I can still do my job here [at JGR] and go fly to the races after work and do that job on Saturday.
I feel like for all the reasons that you said, you're going to be good at it. You're going to get a little bit of a look behind the curtain because you like to sit back and complain about things that are going on, and now you're going to have a reason why things are done the way they are.
Even when I did that TV job [Note: Albrecht worked as a field reporter at one of the late-season rounds last season], there's definitely way more to it than you think when you get on the inside. It was cool to see the TV side of things, and now I'll see the official side of things. It does help to learn and do more. Maybe at the end it makes me more rounded and whatever the future holds. You never know.
I understand you'll be one of the guys also working with the track crew and the riders and asking them what they think?
Yeah. They said if there's something that needs to be changed on a track, the riders would come to me, and I would go work with them. There's definitely some things that will probably be changing as we go, but that's one thing they did tell me. I didn't ride like these guys ride, but I did ride. It's better than not ever having done it. I can build some jumps, too. If they want me up on a tractor, I can do that too.
When we have rough riding penalties or jumping on a cross flag or whatever, yourself and Tooley [Tim McAdams] and Pelletier will meet after the race, look at video, talk to the people involved in the incident and kind of come to a penalty following the rulebook and everything else. Is that sort of what I understood?
Yeah, that's right. I re-read the rulebook and a lot of stuff is in there. I don't really know why we always complain, like, "Why did that guy not get this penalty?" It's in there, what the penalties are. Obviously, if they do it worse it should be more. If you cut the track or you make progress off the side of the track, how do you think there's no penalty? That's the thing. I do think that we'll be able to tell the difference. I've seen riders go off the track and you can tell they didn't try to get back on any time soon. They totally cut out a section. That's not normal. But if you go off and it's a mistake and you hop back on a little way down just to be safe, that's fine. I feel like I could call that okay, but whoever did it is not going to like the decision, unless it's a warning.
That's the hard part. It's definitely not going to be a great conversation all the time. I remember when I had riders, your job [as team manager] is to go fight for the rider. Sometimes you know you're even wrong, but you still are supposed to go fight for your rider will think they're not your guy if you don't! So, I'm sure we'll be hearing some things from some people. But I feel like if you at least look at it and explain it and you're consistent, that's the main thing. Be consistent and make the same penalty no matter who it is. If it's the top guy or the last place guy, it should be the same. It doesn't matter. The way I look at it, I don't need this job. I'm doing it because I do think that I can help, in all the things I have complained about. I would like to see if I can do it better. That's usually what we all think, so we'll see. Put your money where your mouth is! Here I am.
This is going to happen at the races, from what I understand. We're going to try to get penalties decided after the races?
Yeah, right there. They said they have some new cameras set up that we can watch stuff pretty much right away. They definitely want to improve, which is cool. That's what I liked.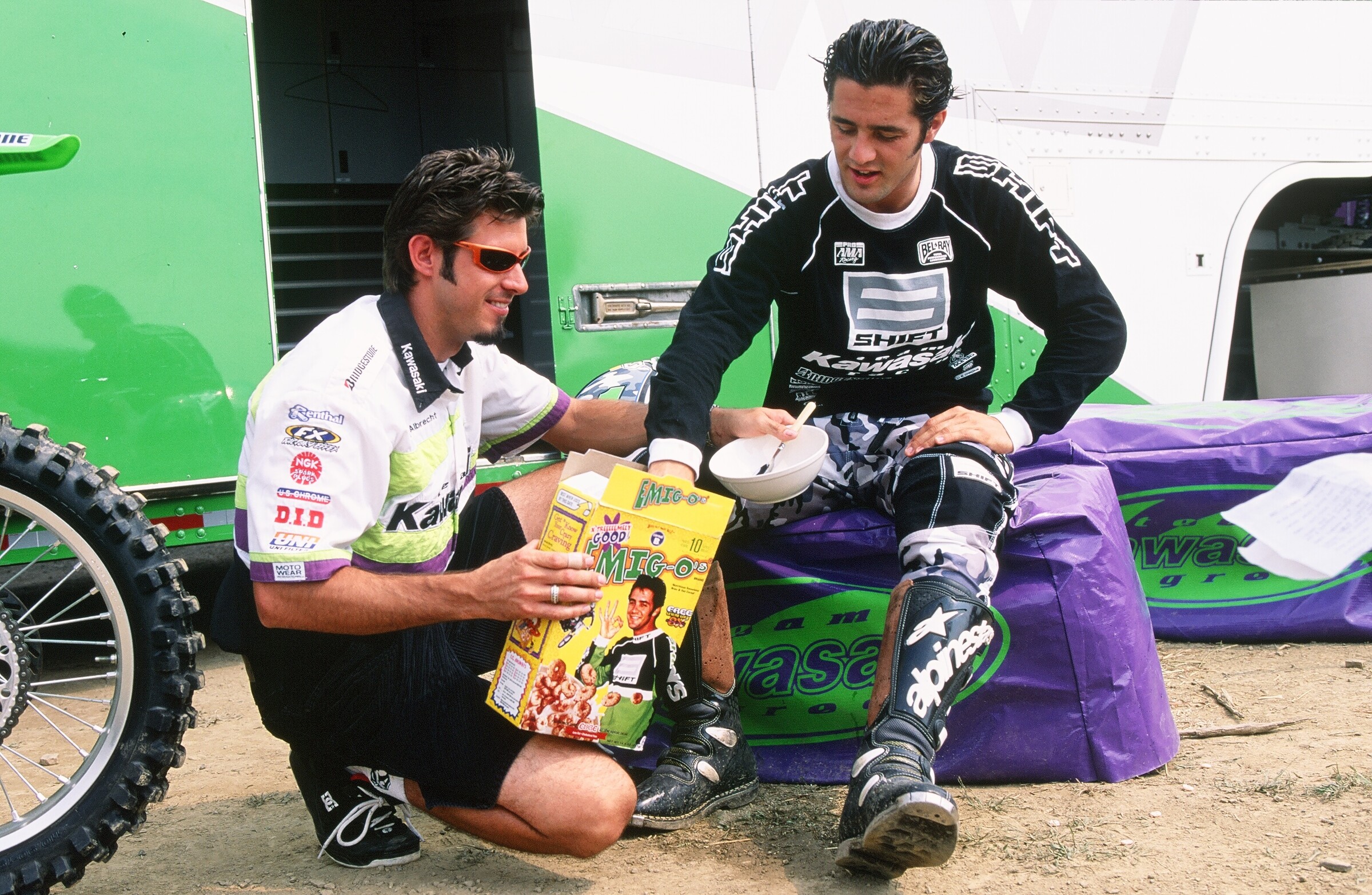 Are you looking forward to being back at the races? It's not quite the same juice as a team manager or as a mechanic, but are you looking forward to seeing people? It's part of the family, right?
Yeah, definitely. It's weird. That's where my struggle is. Why am I trying to do this? What is the reason that I want to go do it again? I did want to go. I'm used to it. I did ask my kids. It is only supercross, so I will have time to take them racing still. I am going to miss a couple to take them to some Loretta Lynn qualifiers. I got it all planned out ahead of time. They worked with me, and I've worked with them on what they're wanting. I'm excited to get back. I watched every race last year on TV. I definitely had fun watching it. It was weird not being there. Really, it was only one year, which is weird. It feels longer than that.
What are you going to do if your old rider Phil Nicoletti has to come in the truck?
[Laughs] He's going to be mad. He's going to be hot. I at least know what to expect. I remember him and [John] Gallagher were yelling at each other. He probably will be mad, but to me, if you're wrong, how much can you yell? To me, this is where we'll see if it's different or not. I felt like before, I didn't have any problems with Gallagher. Obviously, a lot of people struggled. But usually, it turns into an argument, and it doesn't need to be. If you're wrong, you're wrong. It shouldn't be emotional. They're going to be, but I don't need to be. Of course, they will be. Hopefully if I'm calm, then it shouldn't escalate, and we can talk through it. We'll see if I can stay calm. I don't know. Maybe there's a reason that it didn't stay like that! I finally get to see what it's like. Maybe you won't see me complain ever again.
---
Main image: 2020 Anaheim 1 Supercross press conference, photo by Align Media