Minneapolis, MN
Minneapolis
Monster Energy AMA Supercross Championship
With less than a month before the opening round of Monster Energy AMA Supercross, we've all been bench racing about who we think are the favorites, who's going to improve, who's is in a 'must win' situation, and all the other topics that arise at this time each year. In all these discussions there's a rider I think is being overlooked. Jordon Smith will be lining up in 2022 as a privateer on the Fire Power Parts Honda Racing Team. A majority of Jordon's career has been plagued with injuries causing his results to not reflect his potential. The last three seasons have seen Jordon injured after just four races. Prior to that, Jordon finished fourth in the 2017 250SX East Region Championship, but he actually went into the final round leading, until a crash at the Las Vegas final cost him dearly. The following year he finished second in the series behind Zach Osborne. Jordon has the talent to win races and be a threat when healthy. While I recently talked to him to get his thoughts on moving to a privateer team after riding for three of the elite 250 teams, about dealing with injuries, and a few other topics.
Racer X: Let's go back to your amateur days. Early on, what were your goals and expectations at the amateur level?
Jordon Smith: When I first started coming to Millsaps Training Facility, winning a Loretta's Championship never crossed my mind. Before MTF, I got a fifth at Loretta's. We were absolutely stoked. It was the best finish I could have gotten. Everything worked out for me to get fifth. Being a young kid I had a lot of motivation. Working hard was never a problem of mine.
You had four consecutive second-place-finishes in a row at Loretta's. How did that effect you? Was it motivating? I feel like that could eat you up.
It was more like, when I got that championship the next year it was a weight lifted off my shoulders. I knew I could do it. I wanted to keep that going. In my opinion it was good for me going through those seconds. It kept me hungry. It couldn't have come at a better time in my career. It really opened some doors to get a pro ride. It opened the door for me to get a ride at GEICO.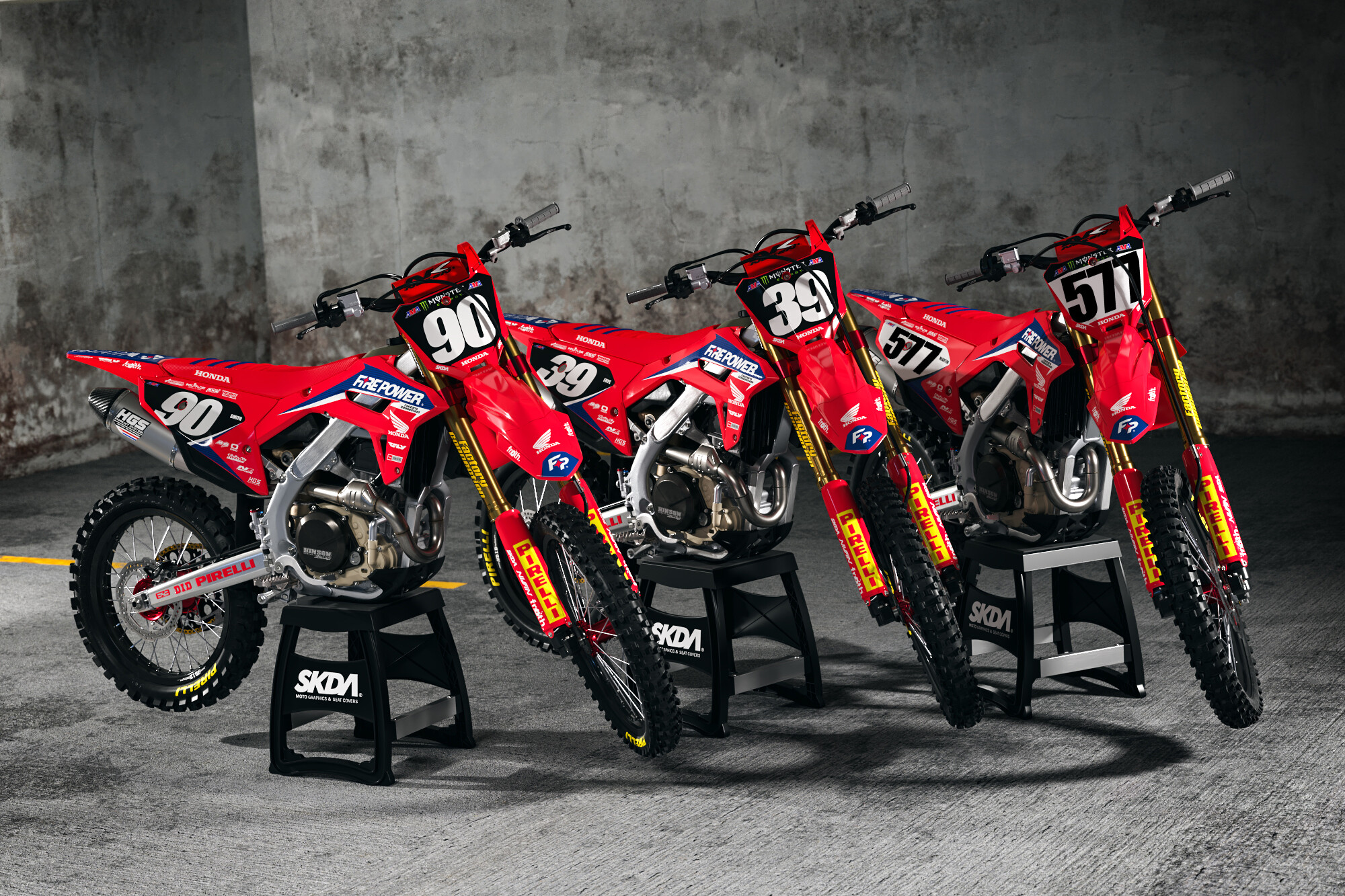 You said, "Winning a championship never crossed your mind." When was the point that it changed? Was it the seconds or a point prior?
It was really my first year at MTF. I was 10. I was racing guys like Adam Cianciarulo, Cooper Webb, and just a crazy list of guys. My first year there on a 65 I almost won at Loretta's. That March I won my first National Championship at Lake Whitney. That was when I knew I could really do this. I won one title and was inside the top four in every class. It flipped a switch. From then on, I was hungry to try and get it done.
Once GEICO and other teams showed interest, was there an elevated sense of expectations or pressure on you?
Not that I remember. I always wanted it for myself. I dreamed of it as a kid. My parents worked really hard. They sacrificed a lot to get me to the point I was at. I did all the hard work, so I went to the races prepared. I never felt a ton of pressure. I knew if I did what I knew how to do, everything would take care of itself.
How did you feel as a rookie in 2015 at GEICO?
It was a tough year for me. I have to back up. I broke my femur and tore my ACL in my first 'A' Class race at Mini O's. My whole year I wasn't up to par. I then struggled coming back from my injury. Then right before my first pro race in supercross, I had a bike shut off and I broke my hand a week and a half before the first round. I had surgery and lined up for round three in Atlanta. It was terrible. I didn't make the main. I barely made the night show. They had a huge set of whoops, and I could not make it through them to save my life. I got better throughout the year. It wasn't the results I expected of myself. I tried to take every race in stride and learn from it. I was willing to work to get better. I don't know that I ever felt comfortable one day my rookie year.
What was the most surprising adjustment going from amateurs to pros?
You can have such a successful amateur career. Maybe you had one or two guys your whole time growing up in amateurs that were at that level. Then you go to the pros and there's 15 guys. Sometimes it's hard to swallow finishing eighth straight up.
In 2017 you went into the finals leading the points and having four podiums which included two wins. That race ended with the incredible come-from-behind push by Zach Osborne to pass Joey Savatgy for the championship. People may forget that you were ahead of both of them. If not for a crash, you could have been the champion. What did you take away from that night after having a chance to reflect on it that was useful moving forward?
After my first two seasons it was rough. I moved to TLD and I didn't have a great off-season. I wasn't riding great. I was getting smoked at the test tracks. And then I went to the races, and I get a second in the first round. I was off in practice and had a terrible heat race. Then I got the holeshot in the main and ran up front. Each race I got a little more confidence and then a little more confidence. Then I got back-to-back wins in Detroit and St. Louis, and I knew I could really do this. From the start of the season to the end my confidence level was completely different. Even though I didn't finish it at Vegas, I left knowing that next year I'm going to put myself in the same position.
After two consecutive seasons being very close to winning a title, I don't remember there being much pre-season talk about yourself being a contender in 2019. Did that bother you? Or do you even pay attention?
It doesn't really bother me much. If anything, it motivates me more. But I'm pretty motivated as it is.
Injuries have been a large issue throughout your career. Is there anything you think you could have done differently? Or is it just racing?
It's just racing. It just happens. You get into situations. You could go back and say "I shouldn't have pushed through those whoops in Dallas in 2019. They were slick." But I was trying to catch [Austin] Forkner. I felt like a beast that year. You feel like you can do whatever you want to do. Other times you aren't 100 percent. You don't have enough time on the bike, but it's time to go racing. That's when bad things happen. I wouldn't say I would have done anything different. It's racing. It happens to the best of us.
You've rode on the highest level of teams. This season you'll be on a privateer team. What is that like for you? Is there motivation to prove I should still be on a factory team?
There's definitely motivation in the beginning. No factory teams wanted to give me an opportunity. I'm gonna try and prove them wrong. Yarrive [Konsky] has been awesome giving me the opportunity to go racing. He's put a lot of effort in. The whole team has. Martin Davalos is our team manager. I think we have a good program. I don't feel at a disadvantage at all. We'll be able to give it a good run. Yarrive has given me everything I need to be successful. It's cool to see people I've built relationships with throughout my career stepping up to help.
What's it like working with Martin Davalos?
We're good buddies. We golf a lot together. Having him to help Yarrive, who's in Australia, has been good. He's helped with some test riding, also. It's really cool. Martin is one of the fastest guys on a dirt bike. He's so funny. He has one-liners for days. He's just awesome.
My last question is how's the bike? I've heard Jamie [Ellis] at Twisted Development builds some fire breathers.
Yeah, it's coming along good. I've been on factory bikes since I was 16 years old. Jamie's done a great job on the motor. We just had a three-day test with Factory Connection. That went good. We're running East Coast for sure. So we have about two months to prepare. I have only been back on supercross for about three weeks. I'm pumped with where we are.
---
Main image courtesy of Jordon Smith's Instagram