Washougal, WA
Washougal
AMA Pro Motocross Championship
Hailing from California's Central Valley town of Los Banos, Colby Copp is an up and coming professional motocross racer who has been making progress and improvements in the professional ranks. One unique thing about Colby is that he also happens to be a talented football player, and has been facing a crucial decision in his life—football or motocross?
Success in motocross takes full time dedication, and it is rare in our sport for a competitor to have such a diverse array of sporting talents. This year, Copp qualified for all three the Lucas Oil AMA Pro Motocross Championship rounds he entered, and he'll line up for more at the final two rounds. He also continues to attend college in search of a degree. Somehow, Copp makes it work!
Racer X: Colby, thanks for chatting. Tell us a little about yourself and your racing.
Colby Copp: Well, I am twenty years old, and come from Los Banos, California. I started riding when I was three years old. My grandpa raced flat track and my dad also just loved dirt bikes. I had an older brother that raced also, so it kind of just stuck within the family and we just kept going. My dad bought me a PW50 and I started racing the Churchill at Barn Burners. That was just a local flat track thing, and I was riding in circles. I didn't know what I was doing, but it got things started. I then got a KTM Junior Adventure, the 50, when they started coming out. We then started racing motocross when I was about five years old, and it went from there!
For 2021, you've been racing supercross and the nationals. What year did you turn pro?
I earned my pro license from the amateur races in 2020, and then 2021 was my rookie year with supercross, and now outdoors. Basically this was my first year racing in the stadiums and outdoors.
I understand you are also a pretty serious football player, too. Correct?
Yes. I started playing football in sixth grade. Even since then, I have just stuck with it throughout the years of high school and stuff. I was the quarterback, so in high school I led the league in passing yards and touchdowns. I got selected to be on two all-state teams. I was going into college to play football and continue my pro racing on the side, but COVID[-19] stopped my football so I kind of just stuck with racing since that was still going. So, I just stuck with racing and it has stuck with me now!
Where are you going to college?
Gavilan College in Gilroy is where I am going, there is just no football right now. That's where I was going to head to play football at a junior college, then hopefully get better at football and get better at racing. Now the football program is suspended due to COVID so I'm just taking classes. I wanted to take both sports to the highest level so that I can prove some points that you can be at the highest level at multiple things.
What are you going to school for?
For the time being, it is general education. I was going to get my business degree and really just try to keep my options open right now. My main goal right now is just to get my general degree out of the way and then pick a major when I'm done with that. With racing motocross, it's hard to try to balance everything out, so my main goal right now is just to get a degree of some sort and then just continue from there.
How has your experience been with the nationals and with supercross? What are some of the highlights?
Supercross was a lot of fun. It was just mainly a learning curve for me because I had to go back east and race on different types of dirt, different types of stuff that I've never really experienced before, or at least stuff we don't have out here in California. The competition was really stacked throughout the entire class. My goal was to keep getting better and never go backward. I made three night shows and got close to making a couple of main events, actually. So, that was really awesome for me. I felt like every time I got on the track and got behind the gate, I learned something and was able to improve.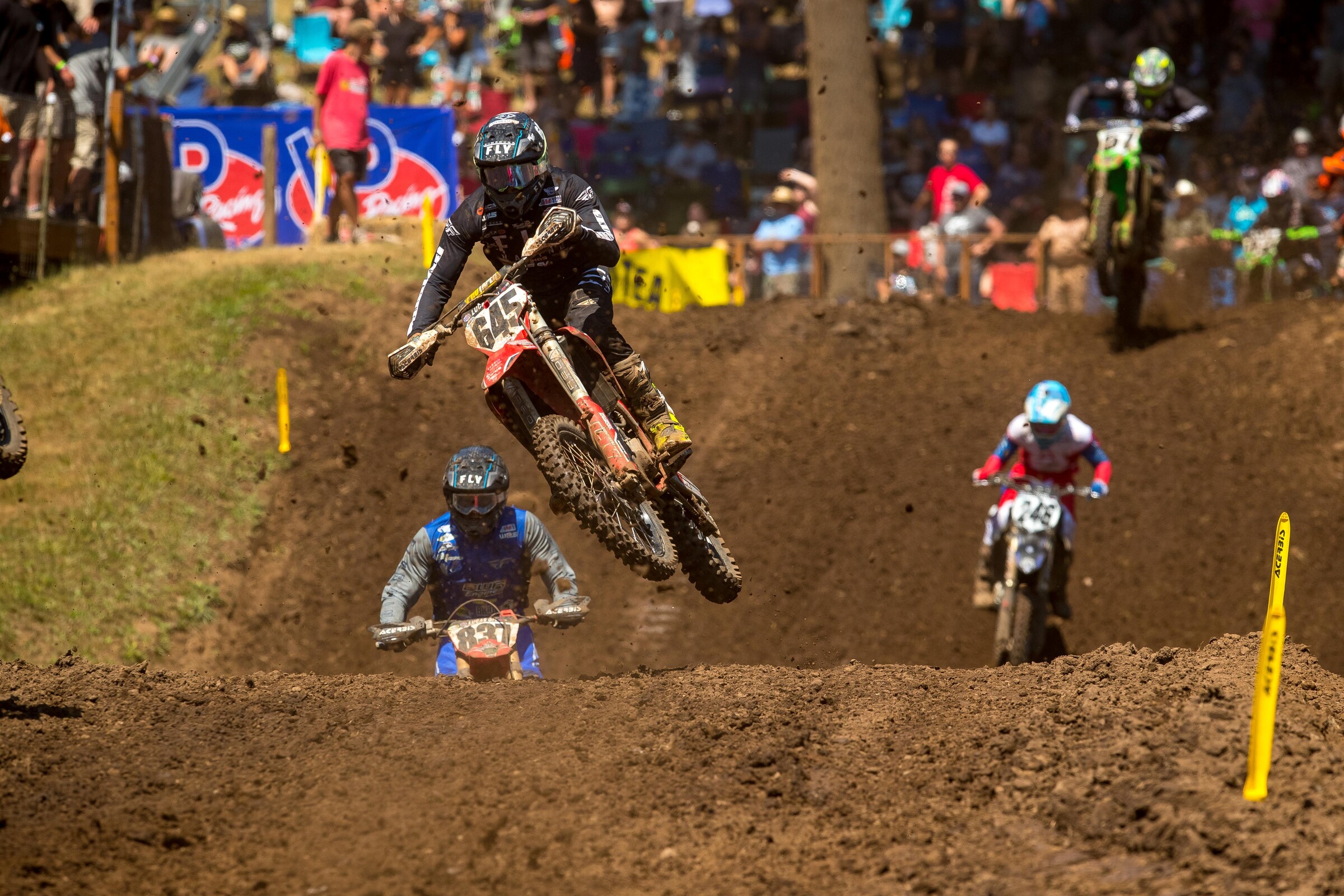 How about your outdoor races?
Outdoors, my goal was to qualify for every national and then just keep going forward, no going backward. I'm proud to say that's what I've been doing. [Note: Washougal was his best so far with 39-29 moto scores for 34th overall.] Just getting into the top 30. Now I'm working on getting into the top 25. My next goal is to get within the top 20 and top 15. I'm just trying to get a lot of confidence to go into 2022 ready to try and make some statements.
So you made the motos in every event you attended?
Yes, that's correct. I have been riding the 450 class. At round one at Fox Raceway, I won the consolation race and put myself in the mains. That was my first time, and I was able to gain experience and learn how it all goes with the long motos and the fast pace, and not mention the super gnarly tracks! It honestly was like nothing I have ever raced before, between the pace and the rough track. There was no way to train for it, other than just get out there and do it. At round two in Colorado, it was much better as I had some experience from the prior week and I felt good coming in. However, I blew my bike up in the first qualifying session and had to borrow a motor from a friend. That motor was tired, it had over 80 hours on it and was down on power, and this was compounded by the elevation. However, the good thing was that I made it into the mains through the consolation race and I was able to move my way forward in the motos and push and run inside the top 25 for a while! That felt really good. After that, I took a break from outdoors as my plan was to only to do the ones closer to California as it costs a lot of money and logistics are tough to make it to all the East Coast rounds. So with that, I took a lot of time to work hard and improve my speed and cardio to prepare for Washougal. At Washougal I qualified 24th in the morning, so no consi, which was good. In moto one I was comfortably running about 18th after the first 15 minutes, but then another rider jumped into me in the air and I broke my thumb. That sucked, but I pushed through the pain to line back up for moto two as I was able to battle my way into the top 20 once again. But then the pain set in, and I dropped back and settled for a 29th on the day. Now I have just been grinding away to come out swinging for the last two California rounds and with the goal to get inside the top 20 with consistency.
With the 2021 season winding down, are you going to try to do the whole series in 2022?
Right now, for 2022 I'll do the whole West Coast supercross season, and then if I have enough support I'll try and do every outdoor race. Right now, I'm doing everything that I can just to make it all happen.
How do you work your training? How do you plan to get faster in the next year or so, and knowing that you live pretty far from some of the California tracks?
I spend a lot of time in Southern California. I either stay at my buddy's house or I'll just hop between hotels and just go and work my butt off down there. I'll come home during a break and then I'll take a couple weeks back home. I'll train some little kids to make some money to help pay for my racing. That also helps my riding a ton, helping out a bunch of little kids. It's a lot of fun to manage a bunch of different things at once.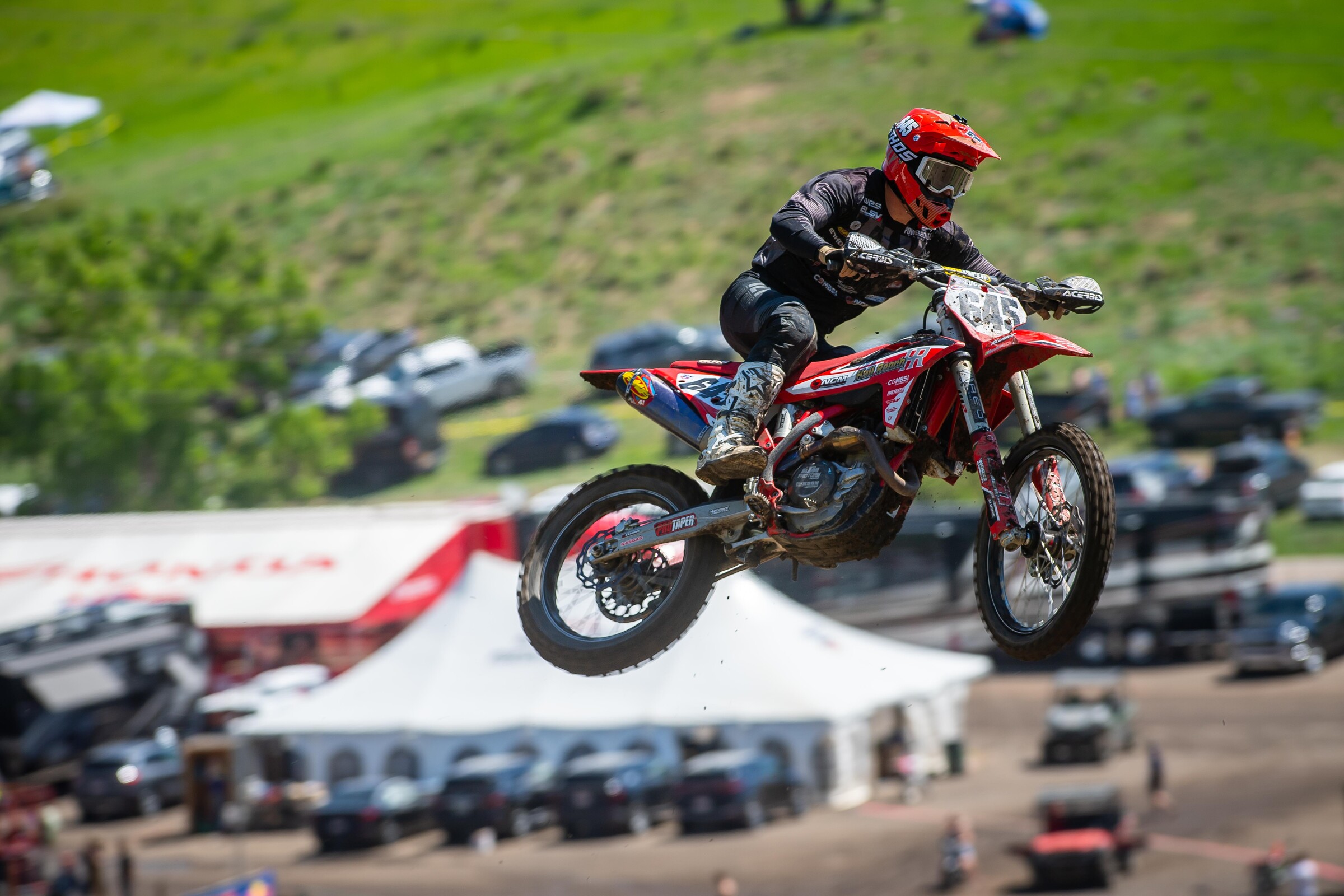 You have a track that is right beside the main road into town. I've been looking at it longingly for years every time I drive by! It's been around for a long time. What's the story with that?
We call it the Farm. We say if you ride there, you're farm tough! It's right off of the freeway coming into Los Banos. We've got a supercross track there now, but it's grown every single year that I've been racing.
Thank you for chatting and good luck for the rest of the season! Do you want to give a shout out to any sponsors?
For sure! I've been doing title sponsors for every round of racing that I've done for anyone willing to help me. I put their logos all on my bike for each race and it helps me out a ton to be able to go racing and make it all possible. Those guys include Tom Ditulio, HyperX Stacey, Grass Ranch, The Compound Gym, Frontier Lube, Combs1 Equipment, NCM Concrete, Kori Wines, Hall Ranch, All Laced Up, Deatherage Family, Seagreaves Insurance, Picazotat2 Jon Esquivel, HDW Transport, Fly Racing, Ethos Vision, Fist Handwear, Guts racing, Asterisk, Works Connection, FMF, AEO Powersports, Research Engineering Performance, Pro Taper, Odi, Ogio, Elusive Graphics, Laced Belts, Acerbis, CenCal Cycles, Pirelli Tires, Moto Tape, and Haeseker Racing.