Rancho Cordova, CA
Hangtown
Lucas Oil AMA Pro Motocross Championship
Dylan Ferrandis put up 1-2 scores at the Ironman National on Saturday and as such he saw his championship lead over Ken Roczen extend out to 50 points. The margin is exactly the gap Ferrandis needs after next weekend's race at Fox Raceway to clinch this 450 Class championship one round early before the finale at Hangtown. So, even on a day where Ferrandis didn't capture the overall win ( which went to Eli Tomac) he still actually took a huge step towards a monumental moment in his career.
After the race, Ferrandis spoke with the media via Zoom about his day and his approach down the stretch of this title run.
Dylan, you mentioned on the podium the sawdust and track conditions. I felt like the track looked very racy, but you were concerned with the slickness because of the sawdust. Do you want to elaborate any?
Dylan Ferrandis: I just hate wood chips. Honestly, it seems bad for the racing. They didn't put that everywhere on the track, but if you look, I think the section where they put the wood chips, I think nobody ever passed someone in that section. So, it just makes the track not racy at all when there's wood chips. But lucky they didn't put everywhere on the track. I don't understand why many tracks they start to do it more and more. It's really bad for the sport because for us as riders, it just makes us uncomfortable. You cannot trust where you put your wheel. It's my opinion. I was just unhappy for that because Ironman especially is one of the favorite tracks of the circuit for many riders. The past few years have been great, and this year there is a lot of wood chips, so I was surprised and not really happy about that. Anyway, the track was good. We were able to have good racing. But I think if you look more closely, every section where they put those wood chips was just not racy at all.
Obviously with the championship and how the points are sitting entering this next weekend, is there anything you're going to do differently heading into this weekend? Is there anything next week that you really want to do so you can get this possibly wrapped up? Are you going to push it next week or just get through it? Can you talk a little bit about that and that balance?
I don't know. We'll see how I feel next week. There's still four motos and points to get, so I still have to push and try the best I can and try to beat Ken. If at the end of the day next weekend I can get one point on Ken, it's going to be done. Right now, I still need to get these points. Still going to work and see what we've got next week.
Numerous times you've been on the podium, and you've been very, very respectful of Eli Tomac and saying how you've looked up to him and wanted to race him. How does it feel that potentially next season you will be teammates with Eli? Is that going to be something cool that you look forward to?
Yeah, for sure. Eli is one of the best of the sport. I always look at the best. I don't know what to say...I don't really know what he's doing exactly next year, but if he's coming to my team it's going to be great. I hope we can share a lot. It's going to be a great experience to have one of the best in the sport as a teammate. So, for sure, looking for that. Those guys I always looked at when I was in 250 and now, I have to beat them, so it's hard. I try to not really think about it and stay focused on winning. For sure, today in moto two he was just unreal. He was on it and there was nothing I could do and nothing anybody could do. On days like this when he wants to win, the good bike, the good setup, the good setup, he's almost unbeatable, I think.
You're on the verge of winning a championship in the 450 class. How does it feel to be the same category as Ryan Dungey who won the 450 motocross championship in his rookie season and the 250 supercross championship?
Just try to not think about it. For sure, it's unreal. Right now, my position is so awesome. I just try to not think about it because I could just cry thinking about how crazy it is and how good it is. I really try to not think about that. I just want to take it race by race again and try to do the best I can, and we'll see at the end of the day. For sure, this motocross season has been a dream. It's unreal what I did. I'm really happy. Like I said, I don't want to think about it. We'll see at the end of the season.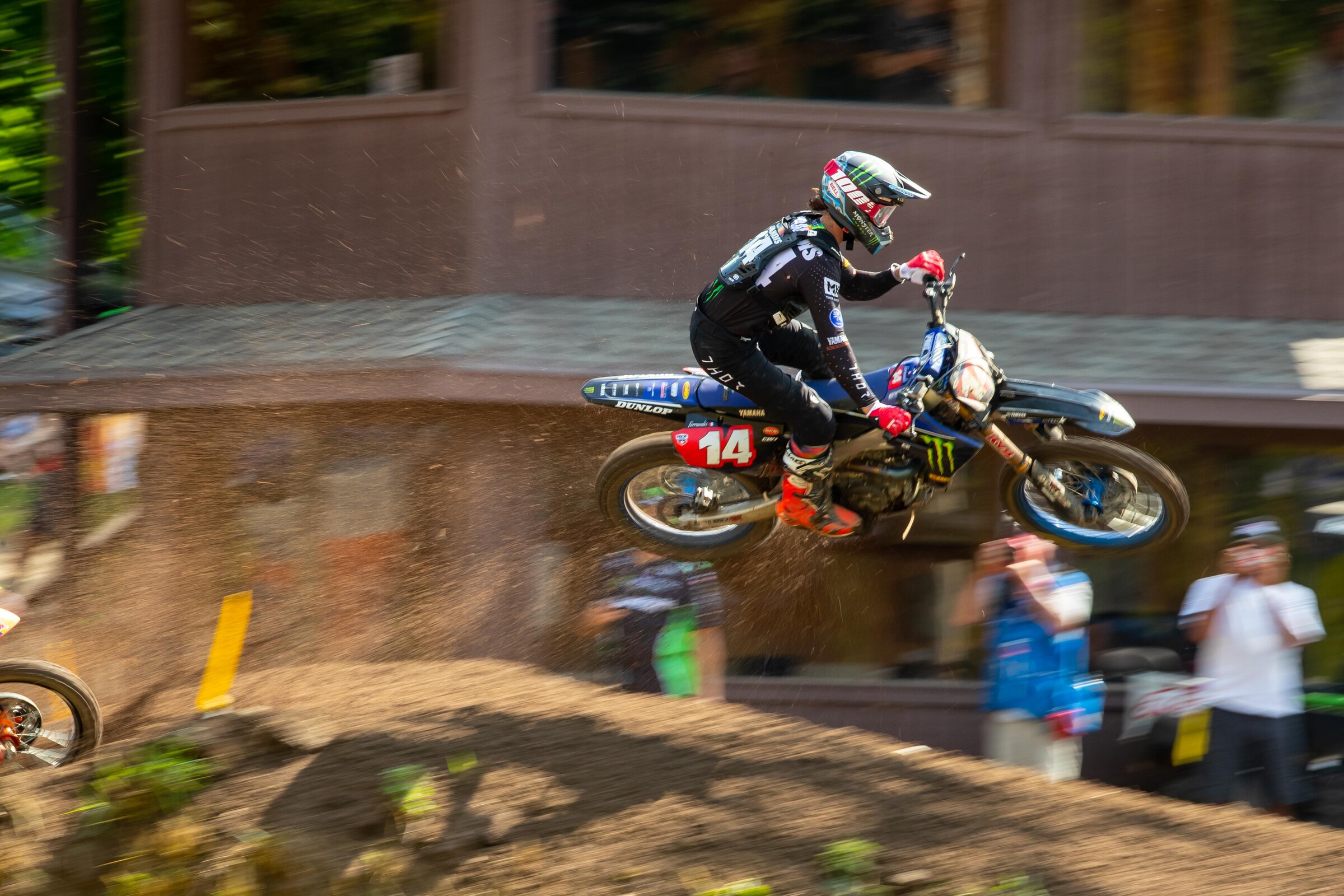 You said physically maybe you were a little bit beat down from last week. Just talk about the feeling you had physically today. Maybe not at 100 percent energy?
Yeah. I don't know. I was feeling good this morning and practice was good, then in the first moto when I took the lead and I needed to push, I was just feeling no energy and no power. I was tired. For sure, it was enough to win the moto, so I kind of was surprised a little bit. I just tried to stay focused on myself. I was thinking, if he [Tomac] got me, it's fine. It's not really my main goal. My goal is to beat Ken. So, I was just trying to do my thing and if Eli got me, I was like, okay, it's fine. He never found a way to pass me, but I was tired. Then the second moto was even worse. I got the holeshot, so it helped me, but for the first few laps I was just low energy. I just survived all day. It was not really a fun day for me. I suffered a lot. The way also I pushed last weekend, I kind of knew about it. In Budds Creek I pushed that hard to get the win that for sure there's consequences after and I felt it this weekend.
You're based in Florida now. Are you still working with David Vuillemin? I know he's in California. So how does that relationship work actually as you try to manage this?
Yeah, for sure. We're still working together. He does all my program on and off the bike. It's been great. The 250 I think he was there every time because I needed to make some really big progress on the bike, off the bike and everything, but now I feel like I'm getting at the point where I'm close to being good at everything. In 450 it's more about getting the bike set up the way you like and the best. That's why also we decide to [have] me staying in Florida and him staying in California because we did so much testing and when we do testing and stuff it's hard for him to train me and it's hard for him to help me, also. It's been like this for the summer, and it works great. But everything has been great. Following the [Vuillemin] program 100 percent. I think he's really happy right now.
---
Watch the full 450 Class post-race press conference from Ironman: