Mechanicsville, MD
Budds Creek
Lucas Oil AMA Pro Motocross Championship
Monster Energy Kawasaki's Eli Tomac has been tantalizingly close to his first overall win this year on a number of occasions. He's racked up three moto wins and several more podium finishes but has been just short of that overall win. Now, with another podium result going 4-3 at the Budds Creek National for third overall, time is running out for Tomac to stamp a victory as a bookend to his time with Kawasaki. After his day at Budds Creek, Tomac spoke with the media via Zoom about that elusive first overall win of the year and what he expects from the final three rounds of 2021.
Eli, another podium result for you. You were up there with all four. It was the four of you guys in both motos. That second moto you were really right there, kind of knocking on the door of both Ken [Roczen] and Dylan [Ferrandis] there. Talk about your day. You're getting closer and closer it seems like to that win that everybody is maybe waiting for you to get. Just talk about how the day was for you and how you're feeling about continuing to rest and potentially getting to that point where you can get on the top step of the box here before the season is over.
Eli Tomac: Today I had a little bit of everything. I had a couple good starts, and then moto one was disappointing because I was there on the start and then just ended up getting passed. I got a little tight and kind of was just riding around in fourth that whole time. So, that was disappointing. I knew I'd feel better for moto two, which I did. I rode better. Dylan and Kenny were in front of me. We were all going pretty close to the same speed. We were all kind of bunched up at one point and were there, but nothing really happened for my situation. Happy with riding in moto two. It was okay. Just still looking for that win.
Obviously, an overall podium on the day but you're still searching for that win. Are you having fun? Is it frustrating on a day like today? You're trying it, you're giving it your all. You're gelling with the track. You've got the speed but you're not able to get it done. Is that kind of frustrating for you, or are you having fun battling with these guys?
It was good to be at the front of the race. That's for sure. Frustrated from moto one but was happy with the riding in moto two. So, that was it. I'm scratching my head on how I haven't gotten an overall yet, but I had good second motos beforehand and would always just underperform in moto one. We're close, but still getting beat. That's it.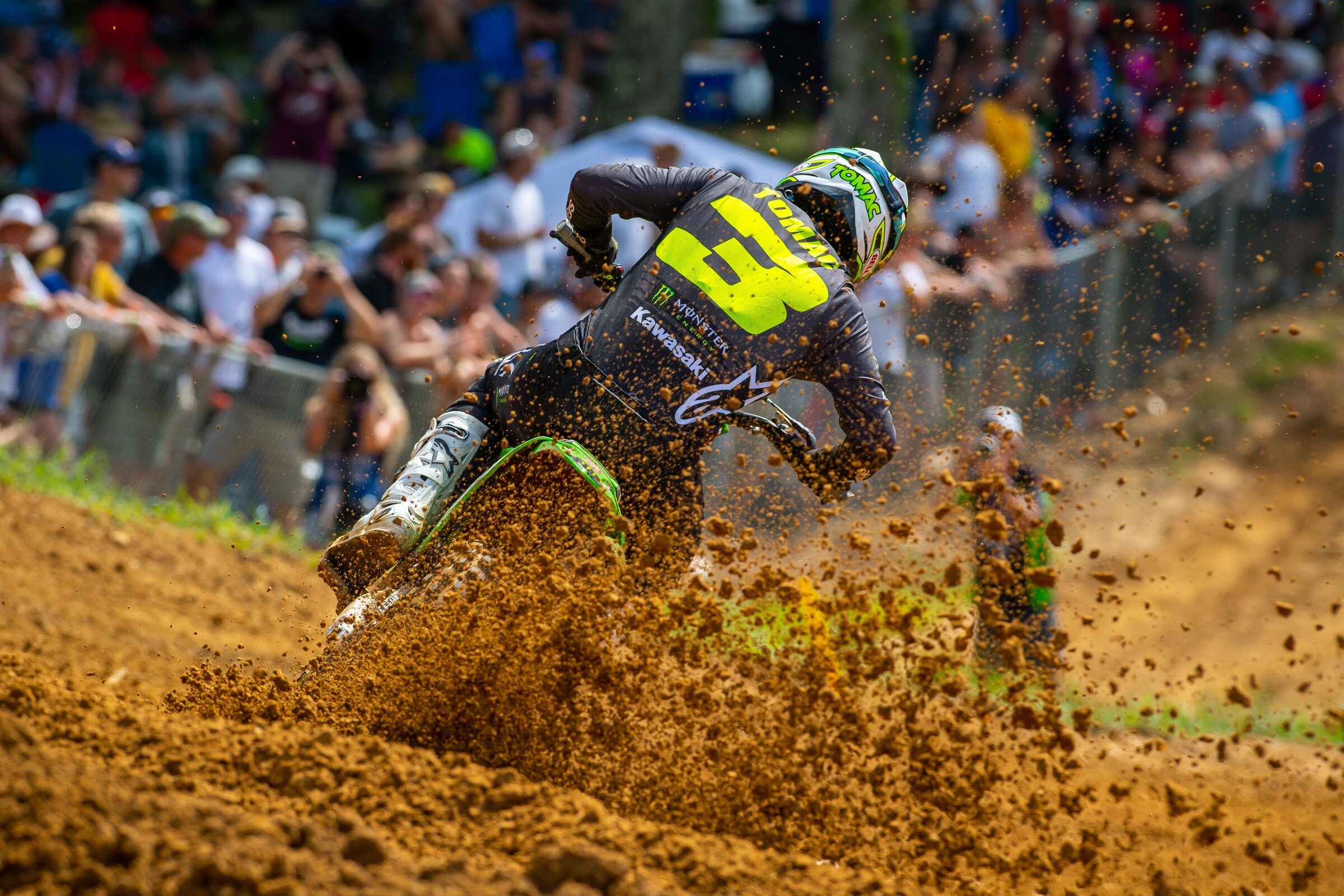 You're at this point in your career, I guess, [where you're] considered a veteran and a champion in supercross and motocross. Can you talk a little bit about what it is you think about Dylan Ferrandis that you're impressed with or that gives you a challenge? What is it about his riding style, in light of your abilities and your background and history in the sport?
For one, he's been fast, and he's been really consistent. He hasn't messed up at all yet. He's kind of just well-rounded. That's how I kind of look at the guy. He's just doing everything right. He's just well-rounded. He's solid everywhere. That's what I see when I'm behind him. He has good endurance. A lot of guys are kind of hit and miss, even how I've been this year between the two motos, but he's been solid for moto one and two. Just solid.
Obviously wrapping up your time with Monster Energy Kawasaki, what would it mean for you to get another win for those guys? Is that something that's kind of on your radar?
I've been so close, and I want to do it. There's no lack of motivation there. I'm searching for it and searching for it. We've got three to go and I think it's very well possible if my starts were better. It's going to be close. We're close. I just need to get that first moto dialed in and then start in front of him in moto two.
Your time at Monster Energy Kawasaki is coming to an end in a few weeks. When can we expect an announcement from you with your plans for 2022?
October 1 is normal contract for us, so October 1.
I think you've won the last two years at Ironman, so is that something that gives you confidence leading back to these tracks? You obviously have a lot of success at all different kinds of tracks.
Yeah. I look forward to them. I looked forward to Budds this year. I wrapped up the title there in '19, so I was looking forward to this weekend. We had a good race there last year. It's a good track. Looking forward to it. We'll see what she brings.
Watch the full 450 Class post-race press conference from the Budds Creek National below.