New Berlin, NY
Unadilla
Lucas Oil AMA Pro Motocross Championship
Chase Sexton was hoping to follow up his victory at the previous round of Lucas Oil Pro Motocross, at Washougal, with another at Unadilla, but those hopes were dashed almost instantly with a crash just moments into the race. Sexton went sliding and swapping through the second turn in Unadilla's first moto, and at first, it looked like he was hurt. Sexton talked about it in the post-race press conference.
"Yeah I got a good start, I think I was third our fourth and I was kind of trying to block Cooper [Webb]. He was alongside of me and I didn't want to give up the position," said Sexton. "I got on the gas really hard and I ended up losing the rear end. It felt like forever—I did like three or four swaps. Honestly that kind of slowed me down a little bit and that honestly probably helped me. Really, I knocked the wind out of myself. I wasn't really hurt. I thought I broke one of my ribs, but they were just super sore. So I just caught my breath and got on my bike probably 40 seconds behind the last place guy, and salvage something. It wasn't ideal but that's how it goes sometimes."
Somehow Sexton rallied back for 11th place in moto one.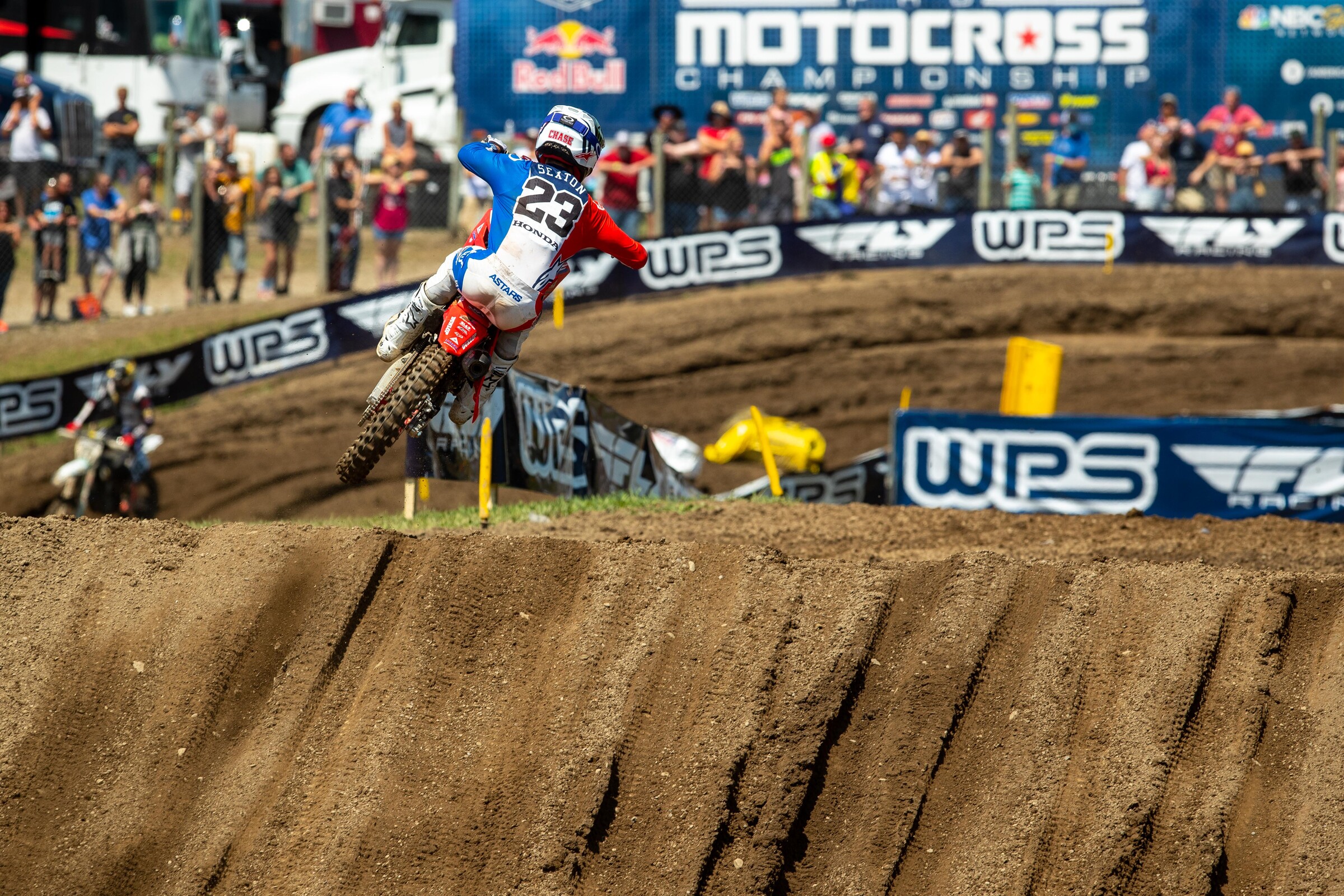 "Yeah I mean I was obviously frustrated," he said. "Going down on the first lap of the first moto, it almost ruins your day, from then on you're fighting an uphille battle. I want to be on the podium in every moto, and when you go down when you're in a pretty good spot, you get frustrated. I feel like I turned my mindset around, and I knew if I got a good start in the second moto I'd be in a pretty good spot. 11th in the first moto is not great, I was pretty frustrated, but it was my fault and I didn't blame it on anyone but myself."
Sexton's bike look mangled after the crash, but the damage was mostly cosmetic, with one side panel gone and another hanging off the side of the bike. He said it really didn't bother him.
"I got up and I couldn't really breathe very well," he said. "I couldn't take full inhales which was kind of scaring me a little bit. My bars were a little bent, but you have to be able to ride with that stuff."
"I came out in the second moto and got the holeshot," said Sexton in a Honda PR. "I tried to run away as fast as I could, but Ken [Roczen] obviously is really good at that too, and he's faster. I felt like I rode pretty good. Definitely got roosted a lot today, so I'm going to be a little bit sore from that and the crash, but I'm looking forward to Budds Creek and will try and get some wins under my belt before the season's over."