Millville, MN
Spring Creek
AMA Pro Motocross Championship
So Phil Nicoletti is now out of the Lucas Oil AMA Pro Motocross Championship with a torn ACL. Luckily, Phil has a distraction from his grumpy life: questions from you. His ClubMX team is also going to bring him to some of the races still. Do you have a burning question you want to ask Phil? Send your question in to phil@racerxonline.com and Phil will be glad to answer.
Phil! You were on a headset at Millville. What do people actually talk about on a headset? You can't talk to the riders. You don't do pit stops. Do you do all this talking just to make sure the mechanic writes "breath" on the pitboard?
Mike
Mikey!
I did have a headset at Millville. It's a cool experience to be on the other side to see what goes on. But you are correct, a lot of information gets passed around, just to end up writing the riders lap time, or a quick little phrase. Most times if the team is organized, they will utilize the segment splits. So mid moto if the rider knows where the segments start and stop, the mechanic can write "clean up S3." It comes in handy when you have a guy chasing you down, but the rider still won't know where the time is really coming from. But for the most part it's just information like split times, lap times, if the rider went down, if something is wrong on bike, etc.
Of course, because life sucks, two laps in to the second 250 moto, my headset died. So all I could do was listen and not speak. Maybe they did that to me on purpose to get me to shut up. But that wouldn't make any sense to me...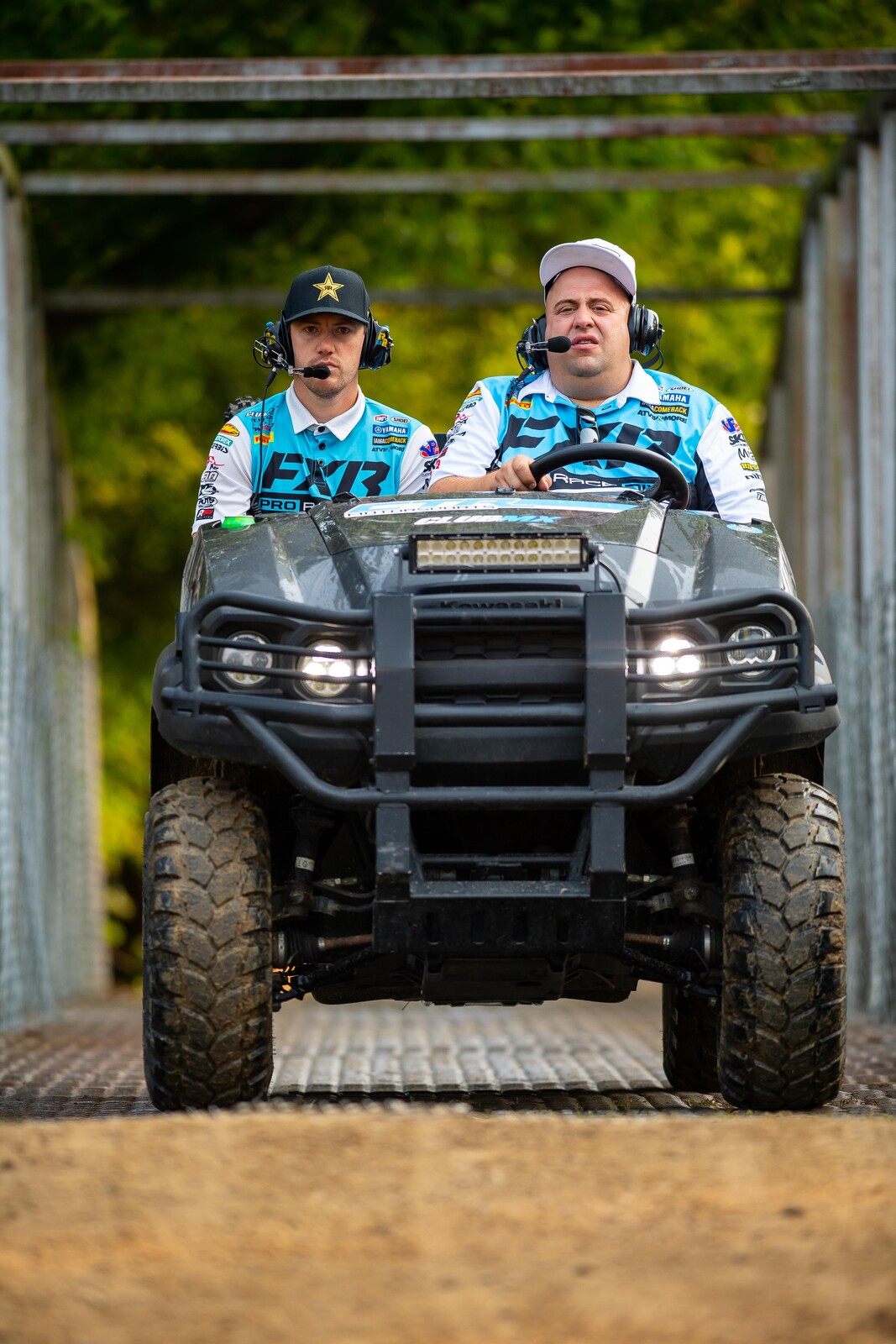 Hey Phil, I know you were watching the motos at Millville. Did you see some of Barcia's crazy moves? The guy was sliding through the corner at the top of Mt. Martin and then launching off the hill while he was washing the front end! Nuts! Then, after the race, he says he doesn't even remember stuff like that. Is this what you mean when you say a guy is MENTAL???
Jake
Jakey Boy,
Bam Bam is finding his stride! Man did he ride a helluva first moto. I thought for sure Ferrandis was going to get him with five or six laps to go with that amount of pressure being applied. But in Barcia fashion, and as tight as those Troy Lee Design pants were, he had WIDE LOAD stamped on as butt patch! Then the two-lap board came out, and you were going to have to snipe Bam's front wheel from the top of Mt. Martin to get that win from him. The way he was protecting and blocking, he was prepared to die for that win. I'm sure he was in such a state of mind, he and his bike were running at 15,000 rpm. This is not the guy you want to try to pass late in a moto like that. Hey, Ferrandis has passed just about every 450 rider this year, but even he couldn't figure out how to get around Justin with two laps to go. Sometimes you have to ask yourself: are you prepared to die just to make a pass?
Hey Phil, your boi Coop went flying when he and Sexton scrubbed together and touched tires. Good for Coop that didn't end up worse. Watching that crash back, I don't understand why it doesn't happen every week. How do riders know which direction the other guy is going to scrub?
Jeremy
Jeremy,
Man, that was SKETCHY AS HELL! Coop for sure saw baby Jesus when he was high sided mid-air. I'm sure he had to chuck those riding shorts out also. But damn was he lucky. Coop wasn't too happy. He was pissed that it was a racing incident that should have been avoided at that level. So, Jeremy, you asked "how do you know which direction they will scrub?" Coop's my boy, no doubt. But I believe it was more of a misjudgment on his part. The track flowed in the direction which Sexton scrubbed. I'm not saying people didn't scrub the way Coop did, but most of them went the way Sexton did. But in the end, it was just a freak racing incident. Like how in the hell do two rear tires touch and one dude gets catapulted? Meanwhile the other guys lands A-okay? But 99 percent of the time most guys have a feel for which way to scrub. I know it's weird, and none of it makes sense, but it's just an instinct. Coop and Chase's instinct didn't line up well last Saturday though. Hey, how about my guy getting back up and finishing the race? If there's one thing Coop has learned from me, it's how to take a hit and get back up.