Millville, MN
Spring Creek
Lucas Oil AMA Pro Motocross Championship
The Millville bump really worked in favor of Jeremy Martin this year, as he turned around a terrible season marked by injuries with 1-1 scores and his first win of the year. Jeremy's parents own the Spring Creek track, which hosted the Lucas Oil AMA Pro Motocross Championship's Circle K Spring Creek National.
How was Jeremy able to fight through the pain of a broken wrist and broken fingers to win? Can he carry this forward? What are his plans for next year? The Monster Energy/Star Racing Yamaha rider addressed some of this in the post-race press conference.
Jeremy, obviously this has been a trying year for you. It hasn't gone the way you anticipated, but you're showing everybody what you're made of. A big 1-1 for you in front of your hometown crowd, on your home track, your third win at this track. Talk about your day. Talk about what it feels like to overcome as much as you have so far this season just to get back on top of the podium, and even full season. I know you think the championship hopes are maybe dashed, but maybe not. So, what are your thoughts about everything that you did today?
Jeremy Martin: Today was really cool. It was really special. It's been a terrible, terrible year for me obviously this year with getting hurt in supercross and then being in contention right away for the outdoors and then going down right away. I was like, my God. I feel like I kind of know what I'm doing when I'm out there, but it's been a rough year. So, to get a 1-1 today at the hometown track was really, really good, obviously. I'm kind of supposed to win at home, right? So, that was nice. Hopefully we can carry some momentum into Washougal. Just really happy about today. Got good starts. Stoked.
Where were you physically coming into this round? What did you expect from yourself today when you lined up?
Honestly, if I would have gotten a moto win and just an overall podium spot today, I would have been stoked. Last week after Southwick, I rode on Tuesday and I did a 30-minute moto and I was pretty happy. I made it about 20 minutes in and then I kind of faded. I was kind of struggling. Obviously the hand was hurting me. I finished out the day. I rode a little bit on Thursday. Then I was just ready to go for the hometown race. I'm able to start riding a little bit more, which is really nice to find the edge and to get the groove. I'm also not trying to ride too much, because my wrist obviously does kind of bother me. The hand is definitely better, but still a little bit painful. I don't know. I'm just stoked. To get a 1-1 at the hometown deal is a really special deal.
You have suffered a lot of injuries. How do you explain how you were able to come back and win the race today at your hometown after what you've been through? What keeps you mentally stable or focused, despite what you've been through?
Sometimes I kind of wonder if I can keep it together. I think the biggest thing is we're in sport, and you're going to get hurt. I accept that my sport is risky. I just want to win and I want to be the best. I'm willing to do whatever it takes. I understand that sometimes in life we're not always dealt ideal cards. You can sit back and you can cry about it and you can say, why me. I like to think that I'm a fighter. I want to be able to make the best of my situation right now. I feel like I'm trying to do that. Life isn't always perfect. This stuff is shaping me up for the next part of my life too, for phase two after my career is done. There's going to be setbacks then, too. So I think it's just a part of life.
You have the home field advantage, the home track advantage here and we talk about it a lot, but I'm curious if there are things about the track that you know from having grown up here that was helpful for you to kind of conserve your energy or conserve your body throughout the day, whether it's jumping through braking bumps a certain way or line selection or things like that?
That's a really good question. I kind of feel like for me, to say what really benefits me on this track, I know how I should ride it. So like in practice, I didn't have that limit. I'm like, man, I don't know if I'm going to be able to race these guys today or be able to be strong enough. Justin Cooper was just crazy fast and I was P5 in practice. So, we made a couple adjustments and I was able to find what I wanted for the track to flow and the comfort. Then that's when I kind of came alive. As far as hopping bumps and kind of having a home field advantage, I know that the track has kind of developed a harder base over the years, with a little bit of kind of a looser sand feel. I try to hop bumps every weekend in every race and I try to wheelie bumps or do this or to that, pick up lines… Justin Cooper got a couple good lines and stuff like that that I wasn't taking. So, I kind of caught some of them and then vice versa. Mosiman was kind of saying earlier today that he even saw some lines that he kind of caught me, and then I felt someone come on me and I was like, man, I need to change it up here, because he caught me. So, I guess I just adapt to whatever the day or the outcome or what the track is providing.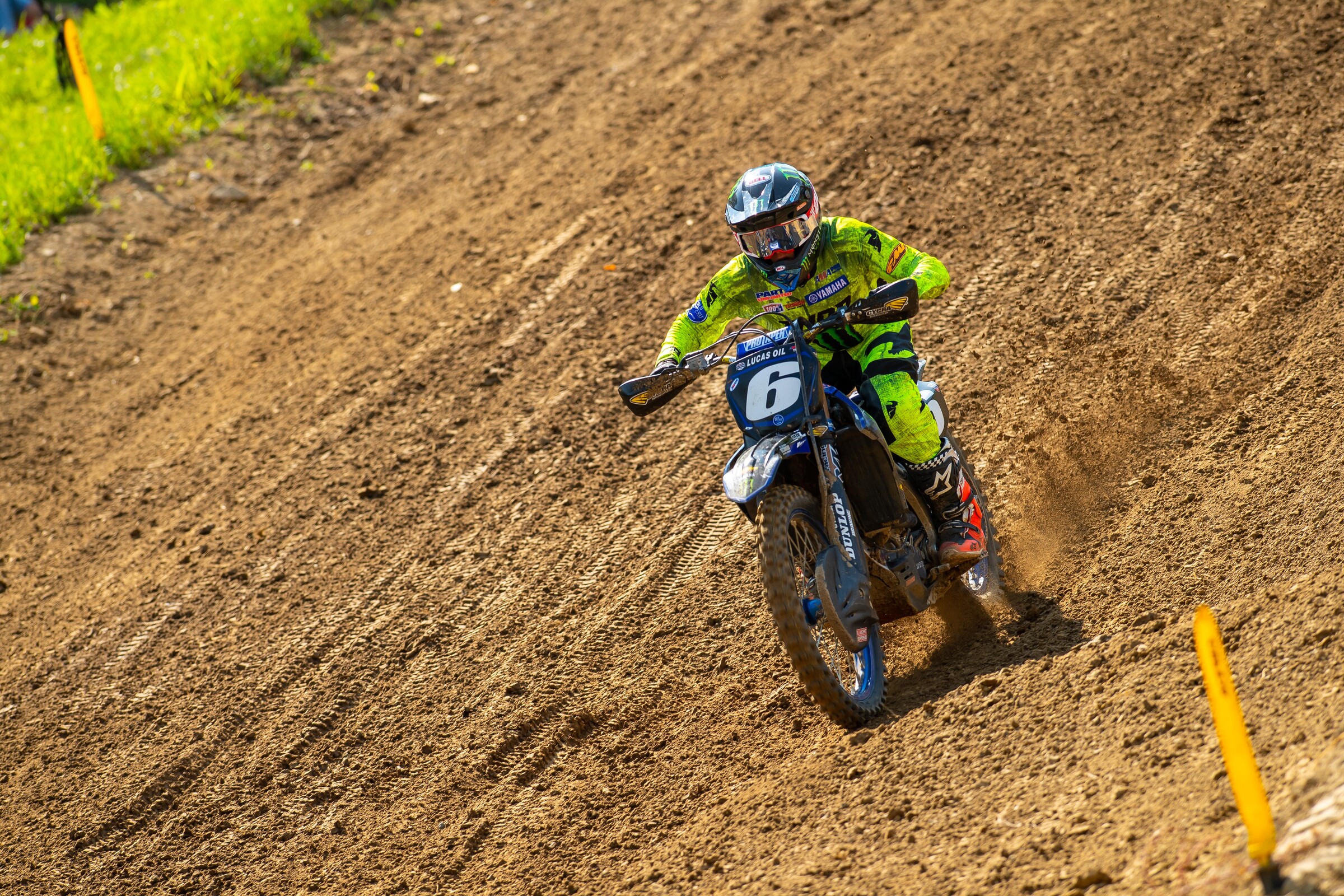 I'm not sure what your plans are for 2022, but rides like this show what you're capable of, so for you, where would you ideally be next year? Would it be at the same team? Would it be on the 450? Can you shed any light on that situation? We'll see. I made some comments in the beginning of the year obviously that this will be my last 250 year, but I didn't even feel like I got a fighting chance yet this year, honestly. I'll take it on the chin. I'll get a lot more comments, but I'll probably be 250 again next year and go from there. That's probably my future, to be honest with you guys. There it is.
It'll be the same team or potentially different?
I don't know. Have to wait and see. I'm not supposed to say nothing.
Jeremy, last year at Millville you were on the GEICO Honda and you and Ferrandis had that epic battle. Now you're on that Yamaha that you were chasing all last year. Was it much better riding that Yamaha around Millville this year and having that extra power?
It was kind of funny. I haven't done Mount Martin all year. It was just a lot of work to doze it in, and not to mention my dad doesn't like to open it up because it is so steep. It grows grass most of the year and that kind of keeps the soil much better at the top. But I hit Mount Martin today, and I was like, wow. That was sweet. I felt like I was on a 450. Then I tripled out and I landed and then I clicked the next gear and I was like, man. This thing was barking pretty hard. I was impressed, that's for sure.