Southwick, MA
Southwick
AMA Pro Motocross Championship
It's surprising this one wasn't even surprising. Before the gate dropped for the first moto of the 250 Class at this year's Twisted Tea Southwick National, I mentioned the fact that the first four rounds of the Lucas Oil AMA Pro Motocross Championship has produced four different winners in the 250 Class. That's when my broadcast partner Grant Langston said he could easily see a fifth winner today, in Honda HRC's Hunter Lawrence.
That was a great pick, because Hunter not only won the day, he did it with 1-1 moto scores. Hunter rode smart while other 250 riders were crashing all over the place, putting his worldwide experience through Australia and Europe on display. What's actually surprising is that Hunter had not already won this year. It might have been the least surprising surprise to see him net a victory.
What is shocking is that his win just set a record. This is now the first season in the 250F (formerly 125) class with five winners in five races. Can we get a sixth this weekend at Millville? What if, say, Jeremy Martin righted the ship and got it done?
We'll see about that on Saturday. For this week's The List we break down previous 125 and 250F campaigns with four winners in four rounds—and who became the second-time winner at round five.
Stats are courtesy of our own Mitch Kendra. We feel secure about this because PulpMX stat man Clinton Fowler later posted the same stats on his @3lapsdown Instagram account.
1986 (Holland, Kehoe, Bowen, Dymond)    
In 1985, Team Honda's Ron Lechien cleaned up in the 125 nationals on a super-trick works Honda "RC" 125. The AMA production rule came along for 1986, though, which gave teams like Yamaha and Suzuki some hope they could win the 125 National Championship. It looked good for those teams early, as Suzuki men George Holland and Erik Kehoe won the first two rounds (Gainesville and Hangtown), and then Team Yamaha's Keith Bowen won round three at Southwick. Honda's Micky Dymond won High Point, making for four winners in four rounds. Then the series went to Lakewood, Colorado, and Bowen won again on his Yamaha. Dymond, on the production-based CR125, would eventually get control of the championship and keep the #1 plate in Honda's trophy case. Kawasaki's Eddie Warren would later get some race wins, making for five winners for the season.
1989 (Kiedrowski, Holland, Bradshaw, Ward)    
A pretty wild season. George Holland (now on Team Honda) is the defending 125 National Champion, but his shoulder would become a problem. Enter new kids like his teammates Mike Kiedrowski and Larry Ward, and the explosive rookie Damon Bradshaw on a YZ125. Those four riders swap wins at the first four races. Holland would win round five, at High Point, to become the first repeat winner. The shoulder would eventually take him out of contention. Yet another Honda rider, Guy Cooper, would collect wins, and Kawasaki's Jeff Matiasevich would win a race also. The series turned nuts at the end with Kiedrowski and Bradshaw battling for the title, and Cooper in the hunt. Kiedrowski would win the title by three points over Bradshaw.
1991 (Cooper, Henry, Swink, Kiedrowski)    
After Honda dropped Guy Cooper following '89, he then won the 1990 championship for Suzuki by a single point over Kiedrowski. Kiedrowski then moved to Team Kawasaki for 1991 and won the title again. The MX Kied was pretty steady, but the start of the '91 season was a little unpredictable. Cooper won the Gainesville opener, then privateer (!) Doug Henry won the all-time epic rain race at Hangtown, which only ran one moto because a river was basically running through the track. Hey, that Henry guy won't amount to anything, right?
Brian Swink then dominated High Point on his Peak/Pro Circuit Honda to take the points lead. Kiedrowski finally scored a win at round four (RedBud) and backed it up with another at round five (Lake Sugar Tree). He and Cooper battled to the end again, and Kiedrowski won the title by 16 points.
In those days, the season was split between the 250 nationals and the 500 nationals. Suzuki didn't make an RM500 so they would dispatch 250 riders into the 125 class once the 250 season ended. Mike LaRocco and Larry Ward won races on RM125s before the season was over.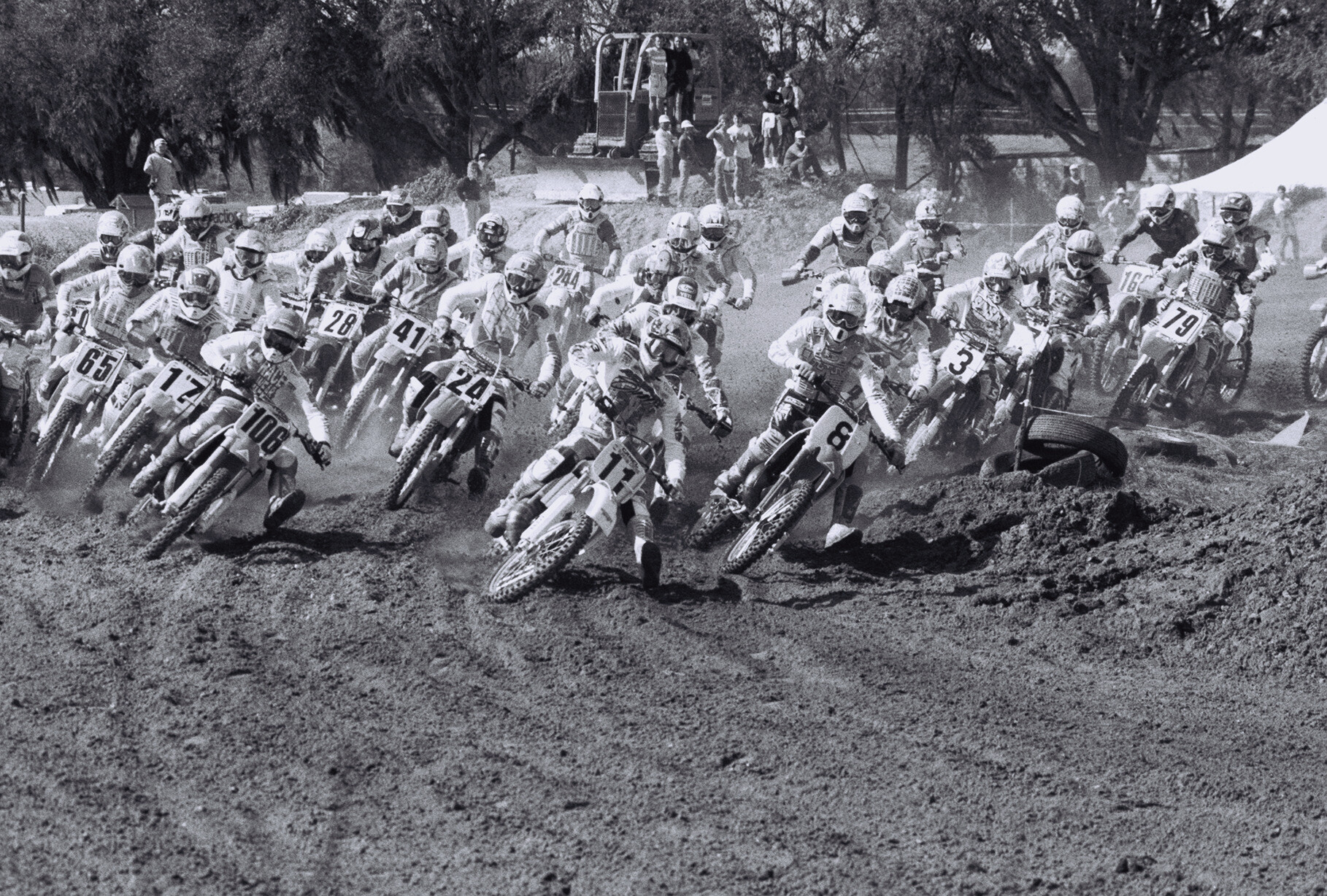 1994 (Emig, Huffman, Lamson, Henry)    
An epic start to the season which can be forever relived through a legendary Fox Terrafirma clip featuring music by Alice and Chains. Do you even '90s, bro? Go to 20:30 to start it.
Jeff Emig and Damon Huffman won the first two races, then Steve Lamson won round three before defending champion Doug Henry won round four. Round five was at Southwick and Henry of course won his home race to become the first repeat winner.
Henry had an illness to start the year but went on to recover—to a degree—and win the title. He was taking IVs between motos though, which other teams didn't like, and it eventually led to today's rule which disqualifies a rider if he takes an IV on race day. This has nothing to do with four winners in four rounds but it's interesting trivia.
1995 (Reynard, Hughes, Ferry, Lamson)    
Another great season. Robbie Reynard bounces back from supercross injuries to win the Gainesville opener, then Ryan Hughes won Hangtown, and Tim Ferry won High Point. Steve Lamson, who was hurt early in the season, took round four at Budds Creek. Lamson then went on a tear, winning round five (Southwick) and making up some 60 points to complete an epic championship comeback against Hughes and Huffman.
2000 (Roncada, Lamson, Smith, Pastrana)    
Stephane Roncada won the opener on his Yamaha of Troy YZ125, then Lamson jumped in the way-back machine to win at Hangtown on a Honda CR125. Shades of his 1995-1996 championship days. Kelly Smith won on a muddy day at High Point on a KTM (a race forever talked about by his mechanic, Steve Matthes. Sorry Kelly). Travis Pastrana went 1-1 at Southwick to notch his first-ever 125 national win, marking four winners, but then Roncada went on a huge run and put together a win streak. Late in the year, Roncada hurt his knee and Pastrana caught fire (coincidentally right around ESPN X Games time). Pastrana dug out the championship in a final round showdown at Steel City.
2010 (Tomac, Pourcel, Rattray, Wilson)    
Surely you remember Eli Tomac's incredible debut at Hangtown, when he won the overall in his first ever pro race. Title favorite Christophe Pourcel won the second race at Freestone in Texas, while the Texas heat got to Tomac. In these days, Monster Energy/Pro Circuit Kawasaki KX250Fs were the bikes to have, and Pourcel's teammates Tyla Rattray and Dean Wilson quickly racked up wins of their own. At round five at Thunder Valley, Pourcel went 1-1 to become the first two-time winner of the season.
Now here's a crazy fun fact: Four winners in four rounds, but none of them would go on to win the title! GEICO Honda's Trey Canard caught fire in the second half of the season, starting with 4-1 scores for the overall at RedBud. That made for five winners in six rounds. Canard kept on winning overalls while Pourcel, struggling with some sort of health issues, would routinely crush the first motos and then struggle in the second race. That allowed Canard to close up in the standings. He ended up winning the title when Pourcel crashed out of the final round.
2021 (J. Lawrence, Cooper, Swoll, Hampshire, H. Lawrence)
First to five! We have two Lawrence brothers with wins, we have two riders (Justin Cooper and RJ Hampshire) winning overalls by going 2-2, we have veteran Jeremy Martin winning two of the first three motos but not having an overall (yet). We have all kinds of craziness, and we're not even halfway home. What will happen next? Previous seasons show the first half doesn't always indicate what's to come.