Southwick, MA
Southwick
Lucas Oil AMA Pro Motocross Championship
At the Southwick National, Monster Energy/Pro Circuit Kawasaki's Jo Shimoda picked up his first moto podium with a third-place finish in the first moto, and then finished fourth in moto two to claim his maiden overall podium finish with second overall. Monster Energy/Star Yamaha Racing's Justin Cooper fought through the field in the first moto after an uncharacteristic start before finishing sixth. He was leading the second moto but eventually got passed by Hunter Lawrence. The #32's 6-2 on the day landed him third overall. Monster Energy/Star Yamaha Racing's Colt Nichols had a tough round four (outside the top ten in moto one and then a DNF in moto two due to a bike issue) but he rebounded at The Wick 338, finishing 4-5 for fifth overall. Shimoda and Cooper attended the post-race press conference, and we grabbed Nichols for a quick interview during a media coral. Read their thoughts on the fifth round.
Jo Shimoda | 3-4 for second overall
Jo, talk about the day for you. Better starts, it seemed like. What was it like running with the group up front early instead of having to dig your way out late?
Jo Shimoda: Two good starts. For sure, it was good to me. Running up with the front guys definitely makes the race a lot easier. Don't really get the roost in my face, so it was nice. I loved that.
How much different was the pace? Did it feel different being up front, or battling for eighth, battling for first, is it all the same?
To me, the guys up front are a little faster for sure, but it was nothing really I couldn't catch up to that pace. If I'm there, I feel like I can follow them.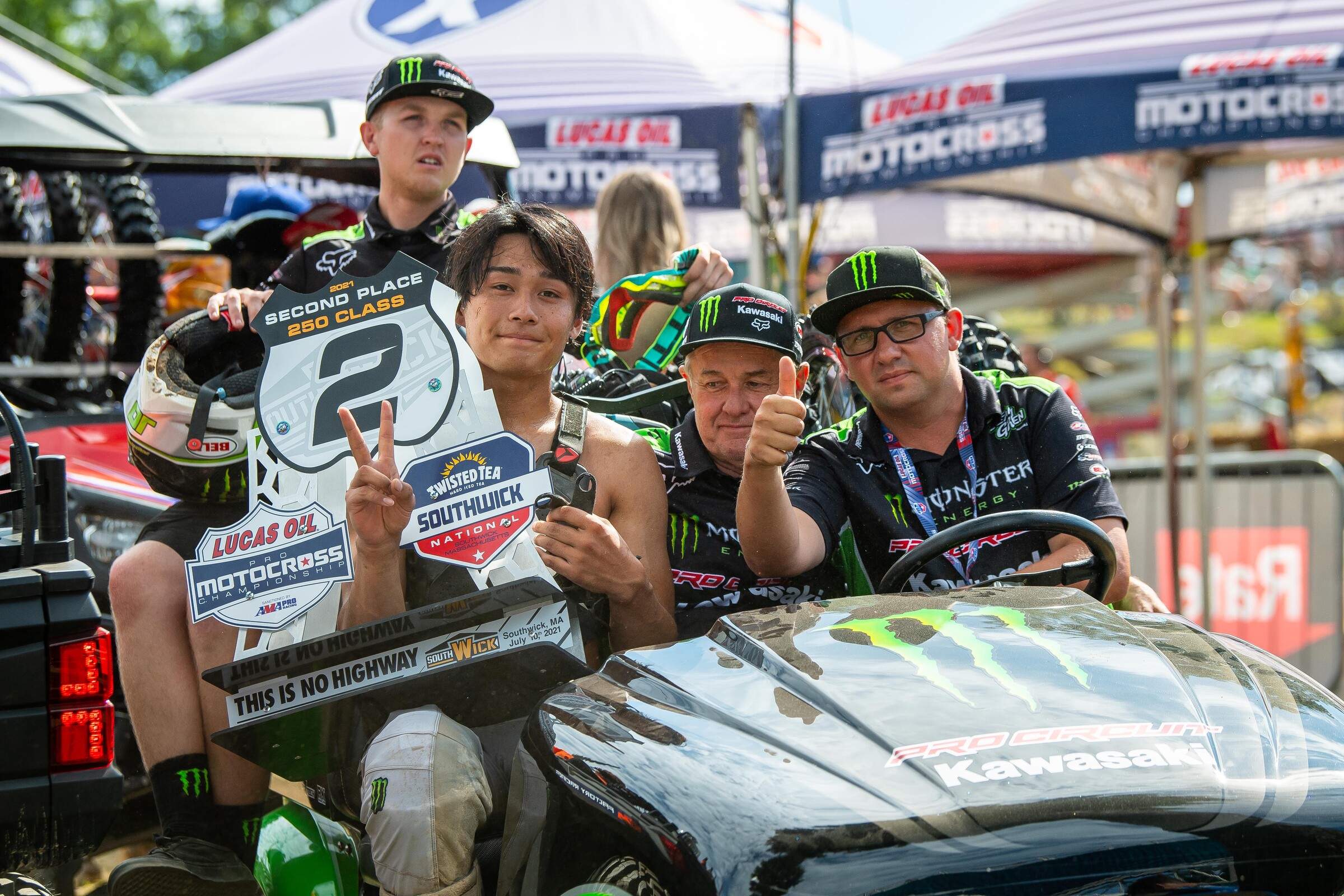 Weege [Jason Weigandt] and GL [Grant Langston] made mention a couple times that with the team, you were kind of an extra guy. They added you. But now you're pretty much the only guy, it seems like. Austin [Forkner] is having a horrible year. Has anything changed for you under the tent? Any added pressure? Or is it just business as usual?
Nothing really changed under the tent. Even if I'm the fifth guy and the last fill-in guy, none of those guys act like they don't care. They actually do care about everything. They're all in for it. There's nothing different now than before.
You've been pushing your limits each weekend and you keep increasing your goals or changing your goals to bigger goals. How does it feel now that you can finally get that first overall podium and you have a result you're super proud of and everything is paying off? Can you talk a little bit about that?
Definitely nice feeling. A podium on supercross on a podium on outdoors feels a little different. Outdoors I feel kind of better because it's a long moto. The fast guys could catch you or you had a good pace, then you have to be super consistent, not making mistakes for 35 minutes. So, the feeling of the podium today was for me much better than supercross.
Do you feel like you earned it more just because it's a lot tougher?
Yeah. I feel like I did a lot more work.
Tell me how that podium celebration went for you. I saw you handing out a couple goodies to the fans. Tell me how that whole experience was for you.
They were loud for every guy that's on the podium, but I love to have that energy, to have the people who celebrate for you. I love it, for sure. Gives you good motivation for the next moto or even for the whole season. I love the energy.
Did you also feel an extra push this weekend being your mechanic is from this area?
No, I actually didn't know about that.
Southwick this weekend, the best result you've had so far. Landed yourself on the podium. Does sand come natural to you, or is it just sort of you got yourself in the right place with some good starts this weekend?
Like you said, just starts. Been thinking about starts my whole pro career, I would say. It's just something that I was struggling really bad. Not small mistakes, it's a big mistake for me not up there the first couple laps. The race is over. The guys are super fast. It's hard for me to catch up to the front. I know I needed it. Today we made super good increments. I think we need that kind of start in every single race.
So do you think it's repeatable? Are we going to see more Jo Shimoda up front?
Yes.
Great year. Supercross a lot of success, motocross looking perfect. Next year 2022, are we coming back to Pro Circuit Kawasaki or is there going to be a change coming up?
No comments on that.
Can't give us anything?
Can't give you guys anything.
Justin, the fact that you're a supercross champion and the points are very tight, does that give you confidence and comfort that this is a long series and you will ultimately prevail as a champion?
Justin Cooper: Yeah, for sure eyes are on the championship. We're not even halfway yet, so it's a little early still to talk about championship, but we're obviously keeping track of where we're at and we're not trying to lose any points. It's a long season and I think everyone is getting pretty tired, so it's going to be important to keep this momentum rolling and be the strong guy every weekend. I've been trying to stay consistent and doing what I can with what I've got. From here on out, it's just the same plan. When we start getting into the closing moments of this championship, that's when it will be time to see who's going to step up and take it, I feel.
How was the track from your perspective, considering all the rain that they had through the week?
Yeah, it definitely started out really wet. That was pretty obvious in practice. Even the straightaways were rutting up pretty bad. It was hard to keep your line and stuff like that, but they kept prepping it and the sections that got bad, they would kind of fix up. It turned out to be a good racetrack. They'd smooth out the rough line. You had the main rough line and then you had an outside was just prepped. It would kind of even it out and make a little bit more passing, which I felt like I needed for the first moto because there wasn't really many lines. Overall, I think it was a good track. It's obviously one of the roughest tracks of the year. When we wake up tomorrow, we'll feel that. Good to get this one out of the way.
Can you just describe what happened there in moto number one? We saw you way back. Just take us through that first turn.
They held the gate way longer than they have all year. I think someone next to me flinched, and it kind of got me to flinch with them. It was a long gate drop and we were pretty zoned in on the gate dropping pretty soon. As soon as I did that, I pulled back and then it dropped. So, as soon as I got out of the gate, I was kind of close. I was banging some bars with some people, but all in all I had to shut down and just go into the first turn like 20th. Then going down that next straightaway I couldn't see anything where I was going. I couldn't pull a tear-off because I was going down a straightaway and there was braking bumps and all that. I think I ended up hitting the back of someone going up that next hill. It was a long moto from there on. I just had to give it everything. I kind of had to pay the price in the second moto. I didn't really have the energy to keep a really strong pace. Once Jett got behind me in that second moto, obviously the championship came into my mind and I pulled everything out to try and get away from him. But I definitely paid the price by giving it all I had in the first one just to make it to sixth.
The championship is tightened up again. We're down to three points between yourself and Jett. His comments on the podium, do you have any retort to that? He's obviously fired up and ready to take this down to the wire. Are you ready to do battle as well?
Oh, for sure. I'm fired up, too. I think I showed that in the first moto that I want this really bad. I gave it all I had today, and I'll continue to do that until the season ends, and I'm sure he will too. So may the best man win this thing.
When you were training here in California with your Star Racing team, it seemed like you guys did a lot of testing, a lot of training at full race speed. You said in a previous answer that you and other top riders are probably getting tired. Do you moderate or change your training during the week now that you're in the middle of a championship fight in the middle of the series? Or do you still go as strong as you have been previously during the week?
When we ride together, me and my teammates, we want to practice at our race pace. So, on race weekends, before a race weekend we have the fitness and all that. It's just maintaining at this point. We're getting late in the season, so we're not worried about busting out 35-minute motos every day. We know we've got that. It's just working on little things, little sprint laps and 20-minute motos here and there, just maintaining the feeling. Definitely want to keep yourself fresh. You don't want to go to a race tired. That's a recipe for disaster, I feel. So, just got to make sure we get our motos and time on the bike and show up at the race ready to go and fight for another win.
Have you made the transition to the Florida Star Farm yet, and if so, how has it been?
Yeah. We went after High Point. We're staying in Tallahassee right now at the GOAT Farm. It has been going good. It's obviously a big change coming from California. We've been in California the last few years for this whole series. I felt like it was time for a change, ride new tracks, ride new dirt. It's been a good learning curve; I feel like better for preparation with the humidity and the heat and just the different type of dirt that we wouldn't get in California. So it's been really good. We have most of my teammates down there, including Dylan Ferrandis and AP. So, it's been really cool to ride with those guys who are obviously going really good right now in the 450 class. It's good to have those guys pushing me during the week along with my 250 teammates. All in all, it's been good, and we plan on staying there for most of the summer and making a serious run at this championship. That's the goal.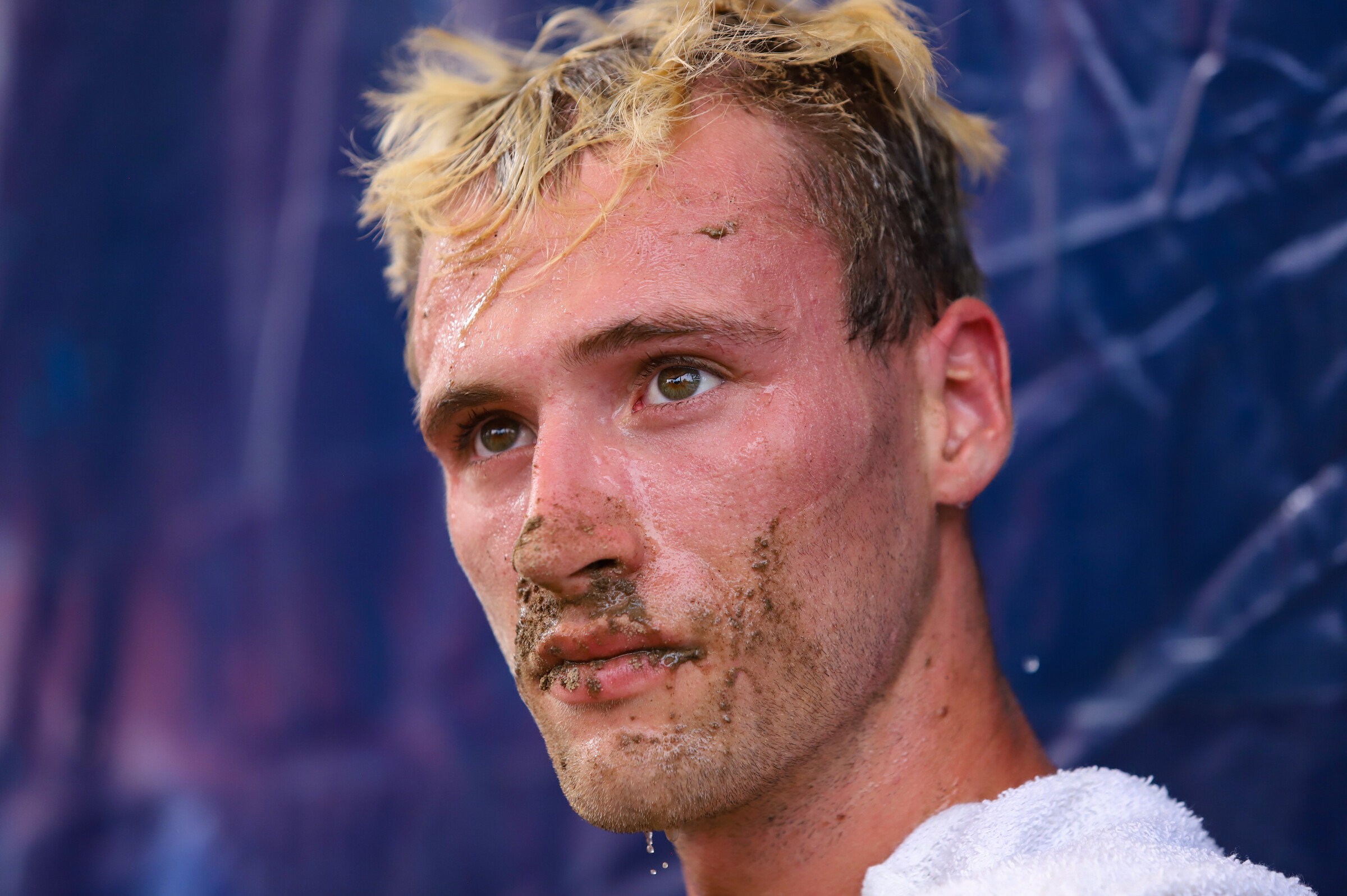 Colt Nichols | 4-5 for 5th overall in 250 Class
Racer X: Take us through your day?
Colt Nichols: Day was progress, so I'm pretty happy about that. I got together out of the gate a little bit better this weekend and just tried to put together two decent motos, [Laughs] I mean RedBud was atrocious, to be honest. I got 11th the first moto and just straight up, got my ass kicked. And then second moto, the bike broke, so that was unfortunate. Then this weekend, I just tried to get out of the gate and have a little more intensity at the beginning of the motos, that's kind of what I have been lacking all year: just getting out of the gate and having intensity. So, it was better at least. Four-five for fifth. It's progress, it's not happening quick enough like I want it too, but of course, we're all in the same boat, we all want progress a little quickly. But it is progress so I'm happy about that. We'll take it into Millville and see what we can do next weekend.
It looked like the lead group of the second moto was just barely too far ahead of you, but you were keeping pace to gap the guys behind you. Was it tough to be in that no-man zone?
Yeah, I got actually a little to the front quicker than I thought, I made some really good passes the first few laps. I was battling with Jett [Lawrence] I think the first three or four laps and he ended up getting by me. I just lost that tow a little too quick. If I could have just been there for two or three laps, I think I could have held on for the rest of the race. But I lost that tow, and I had a few bad laps there and then I was just riding in no-man's land and that's just a hard spot to be in. [Laughs] You're too far back to really do anything with the guys ahead of you but then there's no one behind you either, so I was literally just riding by myself. Just gotta pick up the intensity a little bit, try to get a little further up front off the start and see if I can put it together a little bit better. But overall, like I said it's progress so I'm happy with that.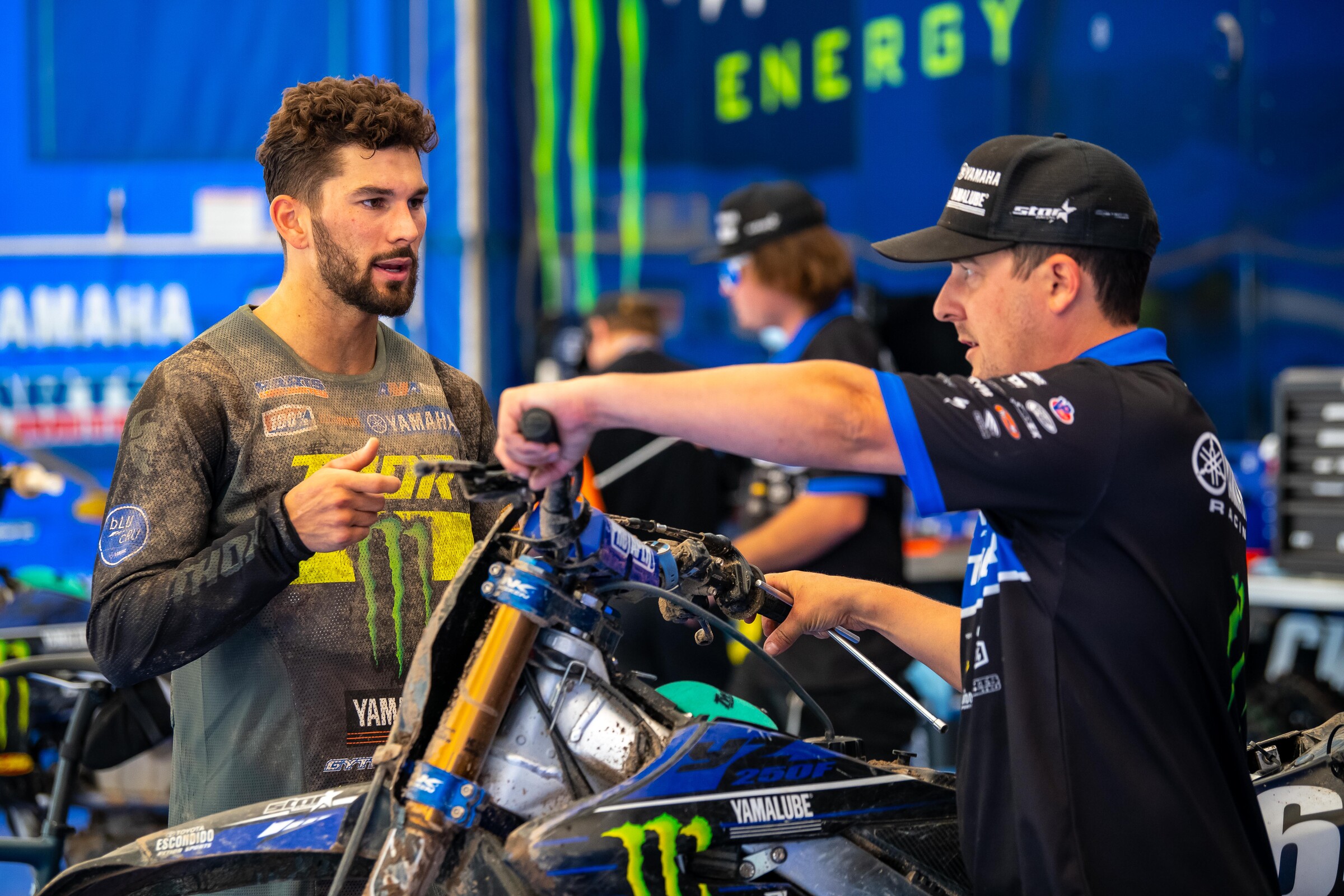 You mentioned that early-race intensity. Is there anything else you can point to to work on there during the rest of the season or heading into the next round?
Yeah, just overall intensity during the week, too. I mean, I would be doing these motos at Pala, at Glen Helen, in California or whatever and it gets so monotonous. And those tracks are not really as rough as we need them to be so it's kinda easy to keep that intensity. We made the move to Florida about three weeks ago and it's been really good for me. The track is a lot rougher, it's harder to ride, it's obviously hot as hell there, so it's been a really good move. And I'm really happy with how things are but obviously they don't go quick enough. But I think some shorter motos and making sure I'm bringing the intensity the entire time I think is going to be the key for me. And then a lot of start practice. We've been doing really well the last few weeks, just trying to get better in that area. RedBud was a crapshoot but today was progress, like I said, so we'll take that into Millville and see if we can do it again next weekend.
Anything you'd like to add or anyone you'd like to thank?
I mean, just the whole team. Dude, they've been pretty patient with me this year in outdoors. It's been a pretty big slap in the face, and I've been kind of eating humble pie every weekend, it's not at all where I thought I would be. And they've still been patient, they haven't given up on me and it's easy to whenever I'm kinda of floundering around in 15th. But nah man, they've been really good, I'm really happy with how everything is going there. We are starting to make really good progress with the bike. We've been making big changes the last few weeks. We're getting there. Just the team is sticking behind me, and I'm pumped about that.